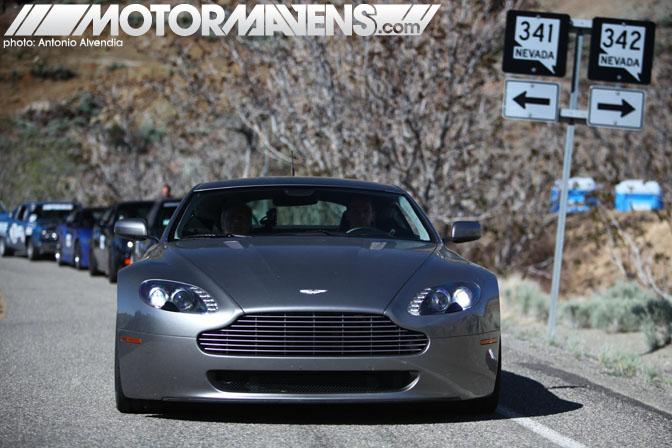 This weekend, the MotorMavens Crew split up and went to several different events – while most of our friends were out in New Jersey for the latest round of the Formula Drift Championship, I decided to check out the annual Spectre 341 Challenge (aka the Virginia City Hillclimb) event happening roughly 30 minutes outside of Reno, Nevada.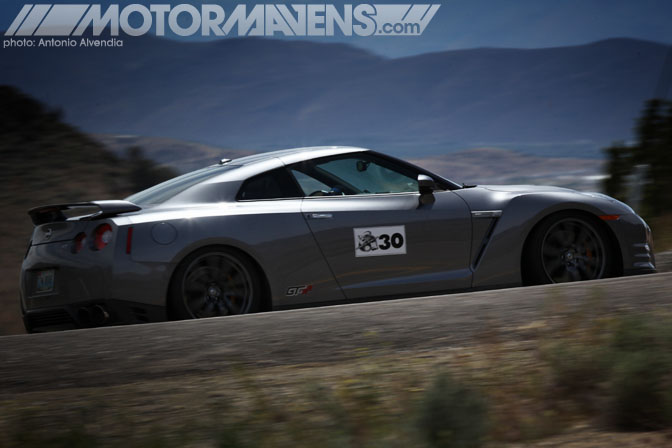 As I arrived into the wild west silver mining town of Virginia City and walked through the parking lot of the Silverland Hotel (the designated paddock area for the race teams), I saw an interesting mixture of professionally prepared race cars, classic American muscle, and privately owned exotics getting ready to run up the treacherous winding road of Nevada State Highway 341.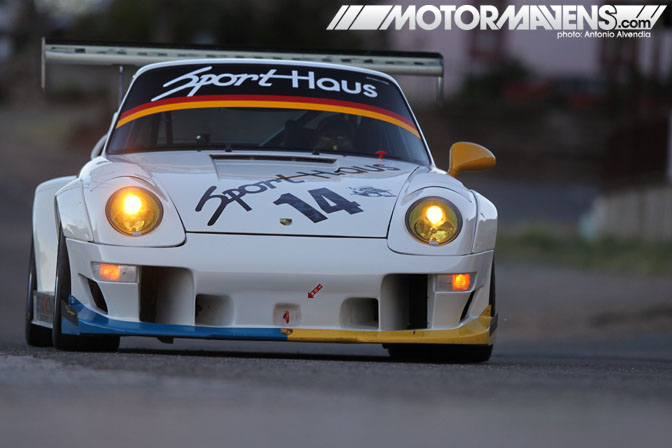 Even though I admired several aspects of all the competitor cars, I'd honestly have to say that the car that made the most impact on me personally was this 1974 Porsche 911 owned by Porsche maven Duck Fuson from Sport Haus in Reno. Before anyone steps up to argue that it certainly doesn't LOOK like a 1974 Porsche 911, I should let you in on a little bit of detail… he changed the exterior body panels, and gave it a Porsche 993 facelift. More on this in a later post – I'll publish a full feature story on this awesome car, so stay tuned!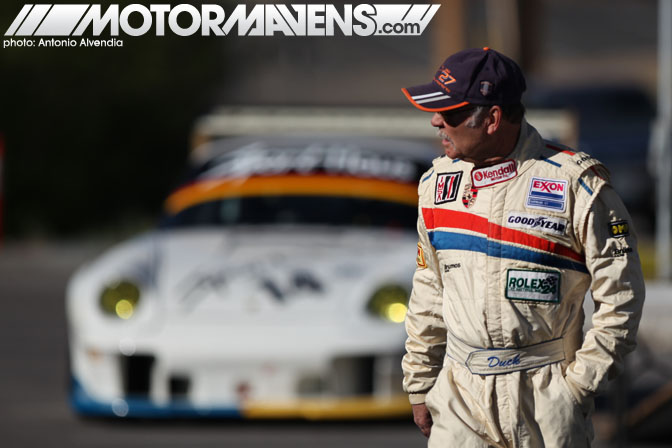 Although Duck lives in Northern Nevada now, he mentioned to me that he was originally from Southern California, and lived near San Diego. He continued to explain that in a previous lifetime, he worked as a cam grinder at Crower Cams. What a small world! I've recently begun talking to Brian Crower and his staff about working together on a project, and Duck says he's known Brian and the rest of the Crower family for years. I was pretty surprised!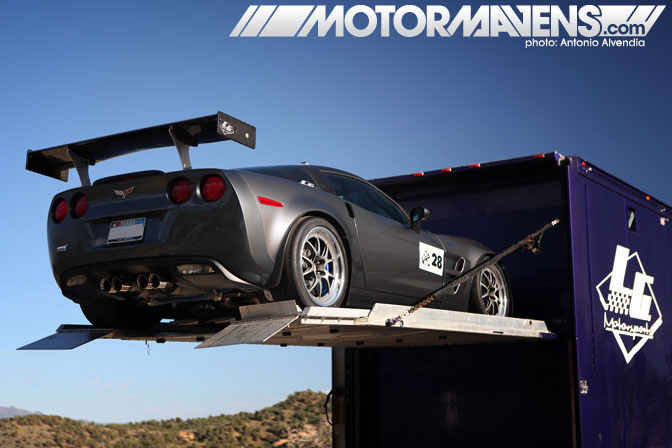 In the paddock area, it was impossible not to notice Lou Gigliotti's LG Motorsports Corvette ZR1 suspended in midair, parked on the elevator deck of his race trailer. LG Motorsports certainly brings its A game when it goes out to events. None of the other competitors had a trailer that came even close to the level of Lou's big rig… but what can you expect? We're talking about a seasoned race driver who has competed in ALMS GT2, the Rolex Grand Am Series, and tons of other professional racing events. Gigliotti is the man. Super nice guy, too!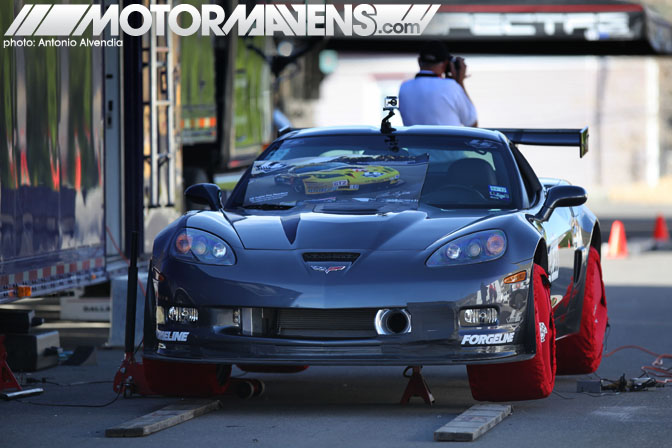 Expensive race trailer aside, LG Motorsports is clearly ahead of the pack when it comes to professionalism in racing. LG was the only team that I observed using tire warming blankets (they were also the only team I saw that had posters and hero cards) before the event. When I asked about the tire blankets, Lou and his son Louis told me their thoughts on running the race.
They thought about everything… they even took into account the fact that the surface temperatures of Highway 341 would be changing throughout the day, so they limited their run time to certain hours of the day to maximize the car's grip on the 341 road surface! The LG team has racing down to a science – there's no question about that. No wonder they won the 341 Challenge last year, with the fastest time overall!
This is Anthony from the LG team using a rotary tool to grind down the car's inner fender; he was working on the car's front fenders before the event – presumably for more steering clearance? I'm pretty sure it wasn't so he could dump the car low to make it look hella flush.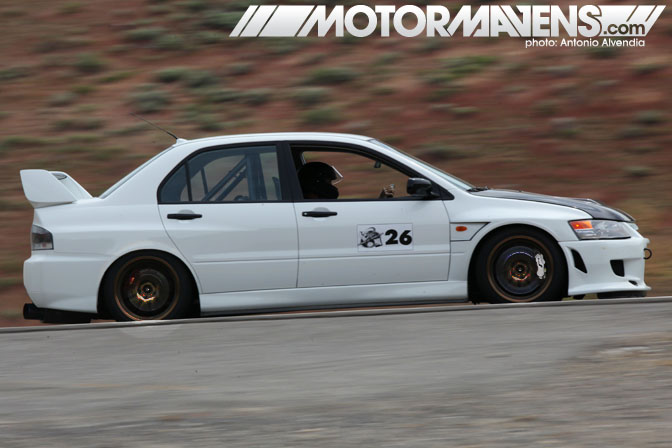 This CT9A Mitsubishi Lancer Evolution 9 might look relatively stock overall, but looks can be deceiving. Inside the car lies a highly skilled driver – Jeremy Kappus. Amidst a field of Porsches, Ferraris, and Corvettes, Jeremy drove the hell out of his Evo as all other drivers took notice.
According to Jeremy, this Evo is the only car he owns, so he daily drives it. From what I heard, it's mostly stock, except for suspension components, upgraded 6-piston Alcon brakes up front, an Autopower roll bar inside the car, carbon fiber hood and fenders from Seibon, and some sort of fiberglass aero front bumper (I believe he said it was a C-West style bumper, but I don't remember exactly).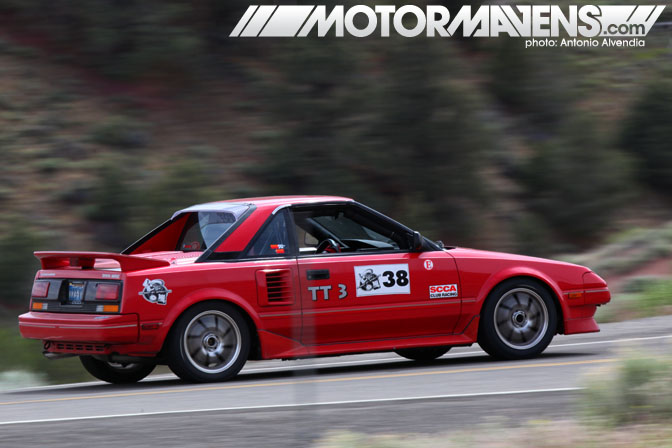 Since I've always had a soft spot in my heart for 1980s Toyotas like this AW11 MR2, I was very happy to see this rare red AW11 Supercharged, owned by Reno local Thomas Berndt. The first generation Toyota "Mid Engine Runabout" only came with a supercharger in 1988 and 1989. This car is a rare bird! When I asked about the supercharged 4AGZE engine inside the car, Thomas told me that he actually pulled the 1.6 liter GZE out, and installed a 2.0 liter turbocharged 3SGTE engine from the SW20 (second generation) MR2. Interesting!
By the way, can anyone guess what type of wheels he has on the car? (I can easily tell what they are, even though the wheels are spinning… can anyone make a guess?)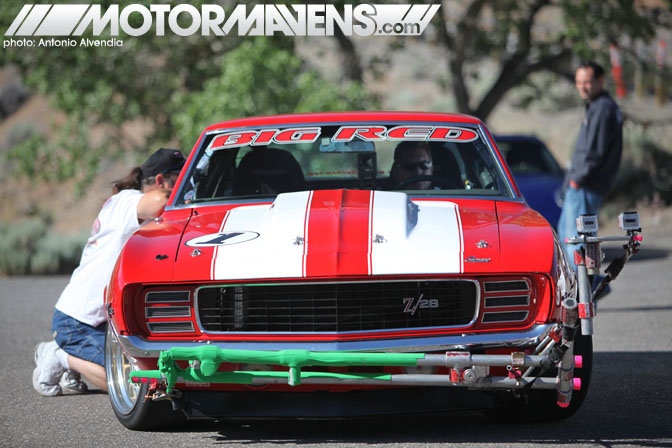 Another interesting car from this weekend's Virginia City hillclimb was this very famous Camaro Z/28, named Big Red. The excessive professional rigging on the front and rear bumpers were set up to provide camera mounts on the car. I found it pretty amusing that the camera guys went through so much trouble just to mount GoPro cameras, which I normally see mounted to a car with very small suction cups.
It turns out that there was an entire crew following the car and setting up camera angles for a new documentary film being shot about the car – apparently, this particular Camaro has quite a bit of racing pedigree. They even had a helicopter buzzing through the mountain pass, filming the car's runs. This documentary film should be interesting to watch.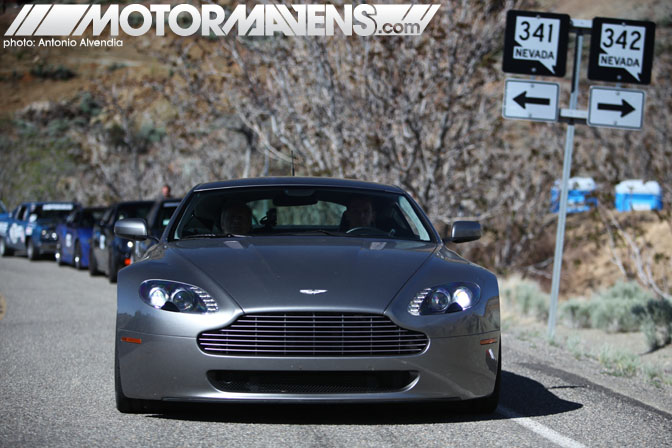 Ooooohhhhhh. Aston Martin. The shape of the grill and headlights on Aston Martins often make me think these cars look like sharks. Sophisticated, sleek, highway sharks.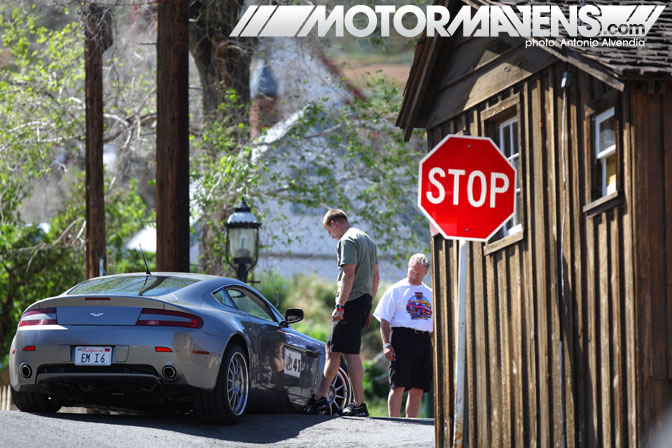 The only drawback to having a nice, low Aston Martin in the hilly mining town of Virginia City NV… if you're not paying attention to where you're driving, you can sometimes get the car stuck on Virginia City's steep inclined streets, or in the case of this Aston Martin Vantage, the high curbs.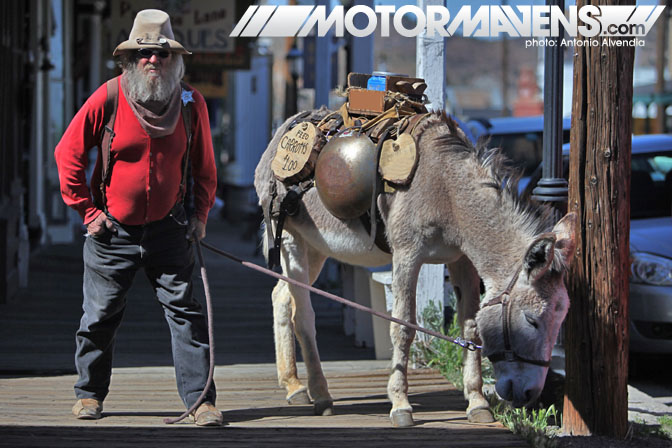 Since Virginia City is one of Nevada's original mining towns from the Gold Rush and Silver Rushes in the mid 1800s, the city has a lot of character. It feels like going back in time to the Wild West! Wooden planks line the sidewalk on Virginia City's main strip (C Street), which is filled with real life saloons, antique shops, and odd looking characters, like Stinky here, who was walking down the sidewalk with his donkey. Right after I snapped this photo, Stinky yelled out to me, saying, "Hey! Are you trying to take photos of my ass?" Hahaha!
I have a LOT more photos to go through, so stay tuned to MotorMavens for even more photos and stories from this year's Spectre 341 Challenge very, very soon!
:: Antonio Alvendia
More stories about Highway 341 on MOTORMAVENS
More stories about the Spectre 341 Challenge on MOTORMAVENS
911
,
993
,
Aston Martin
,
AW11
,
Big Red
,
Camaro
,
corvette
,
CT9A
,
Duck Fuson
,
Evo 9
,
Evolution 9
,
Highway 341
,
homepage
,
Jeremy Kappus
,
Lancer
,
LG Motorsports
,
Lou Gigliotti
,
Mitsubishi
,
MR2
,
Porsche
,
Reno
,
Spectre 341 Challenge
,
Sport Haus
,
Thomas Berndt
,
V8
,
Vantage
,
Virginia City
,
Virginia City Hillclimb
,
Z/28
,
ZR1
---