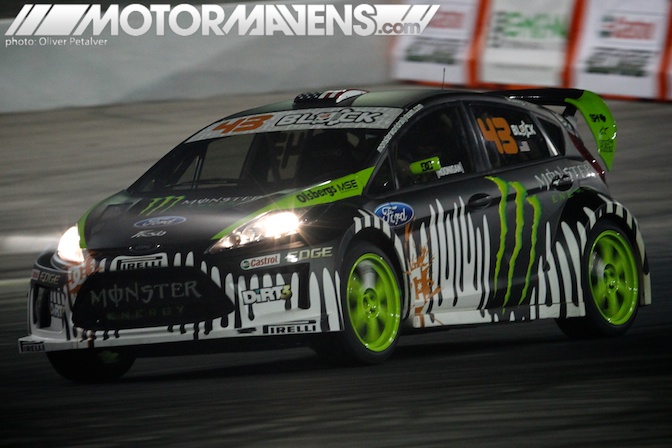 Here are some more much overdue photos from Ken Block's Gymkhana Grid Invitational. Initially, we held on to the pics because the event organizer Chris Willard from Redline Time Attack still owes us $10,000 for all the promotion and marketing we did for this event. At first, "gymkhana" may sound like a martial arts discipline (to those unfamiliar with the automotive version) but it's actually a starting line and a finish line joined together by all sorts of interesting obstacles such as cones, tires, and barrels which, when arranged just so, require a driver to perform all sorts of interesting maneuvers such as reversals, 180 and 360 degree spins, and figure 8s – all while racing against the clock. The reason I stressed that this is the automotive version is because, you may be interested to know, there is an equestrian version as well. As you can imagine, there's a lot less smoke – unless they figured out how to get a horse to do a burnout when I wasn't looking.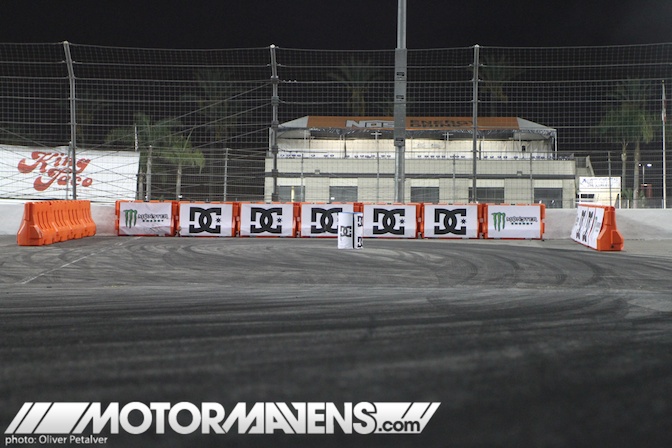 Here is an example of a portion of the course that was designed to fully test the drivers' skill. The goal of gymkhana is to get through the course as fast as possible with the fewest number of mistakes. This course was a true test for the skills of any driver with a firm grasp of the fundamentals of car control at top speed.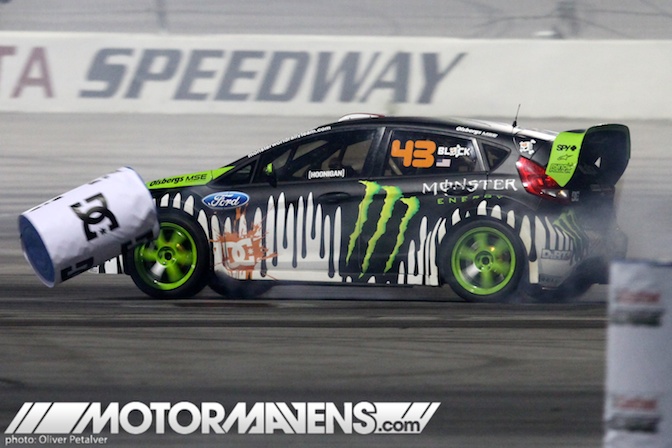 Hitting a cone or barrel resulted in a time penalty. Failure to navigate the course correctly resulted in no score. The event was divided into rear-wheel drive (RWD) and all-wheel drive (AWD) competition classes and various high-powered monsters (like Ken Block's 650 HP BEAST FORD FIESTA!) were piloted by some of the biggest names in Formula D, Time Attack, and Rally. All for bragging rights and beers. The ultimate recipe for fun!
The portion of the event that nearly stole the entire show was the burnout contest. The crowd went crazy as these high-powered machines vaporized their tires – while SCCA officials the world over woke up in cold sweats!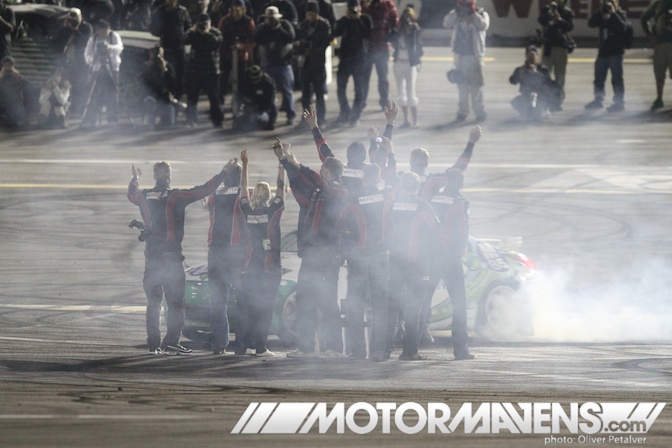 Here you see Kevin Abbrings in the BioMCN Nissan 350Z doing burnouts around his crew while they acted as cheerleaders.  Sure, there's an element of danger – but it's mixed with four elements of fun!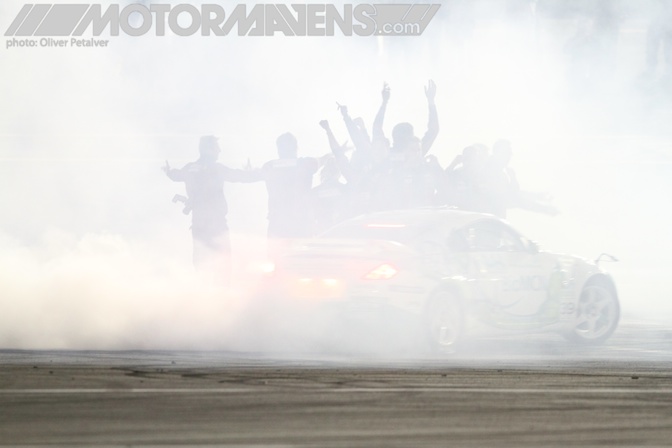 You can barely make out the crew as Abbrings continued to liquidate his tires! Despite the cheerleading by Abbring's crew, Mike Essa in his GSR Autoworks E92 BMW 3-series took the win at the Discount Tire burn-out contest. If you can imagine, Mike's burnout actually beat this one!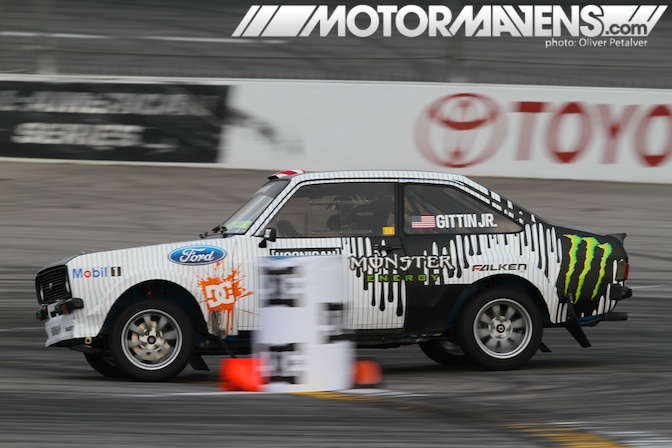 One car that garnered a great deal of attention was Ken Block's other car: a 1978 Ford Escort RS Mark II. Vaughn Gittin Jr drove the converted left-hand drive Ford Escort since his Ford Mustang had mechanical issues.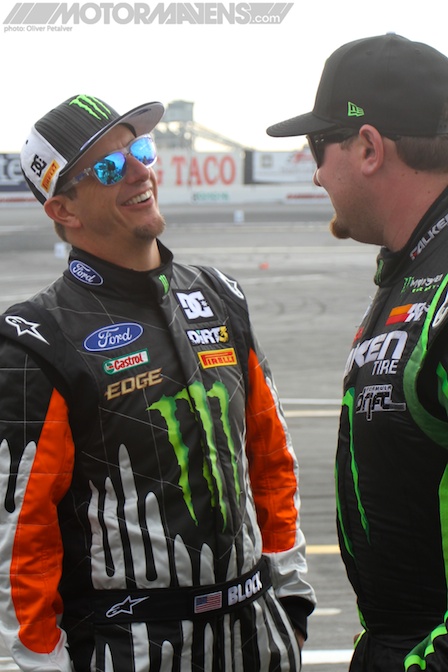 In the spirit of the car loan, Ken Block and Vaughn Gittin, Jr. have a good laugh before the competition. It's cool to know that the drivers are fierce competitors on the course but friendly when it counts.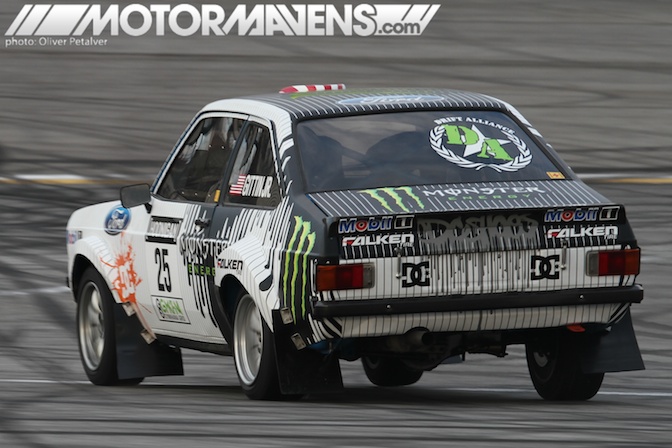 The 2010 Formula DRIFT champion was ousted during elimination by another Mustang driven by Tony Brakohiapa. Brakohiapa (BELOW) was eventually eliminated by Daijiro Yoshihara.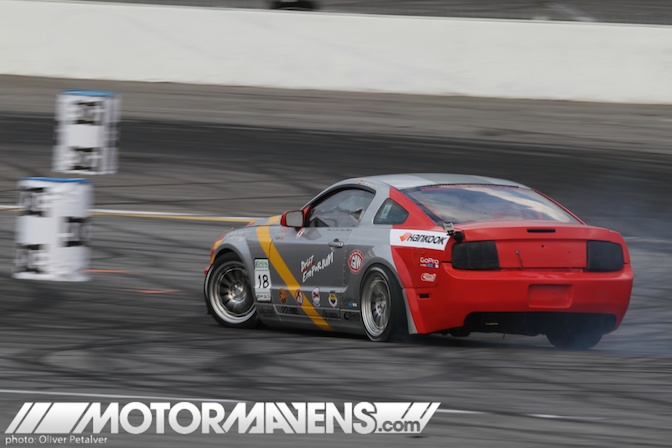 Tony Brakohiapa has been a Formula D mainstay and a perennial top competitor – with no big budget or super sponsors but he was still super successful this year! He did well at this event as well, taking out Vaughn Gittin Jr to make it to the Top 8, while piloting his 650 HP Ford Mustang which was one of the heavier cars in the competition. And we're still loving the Tuskegee Airmen Mustang Redtails livery! Hope to see it again next year!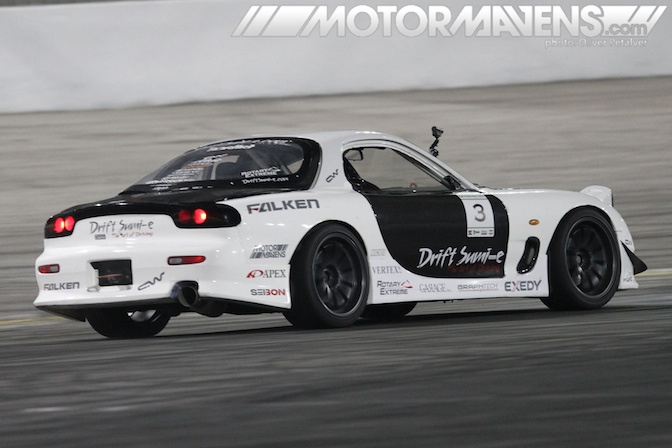 Calvin Wan in his white Mazda RX-7 FD (looking doper then ever!) was ousted by Kevin Abbrings during the RWD Final 8 competition. Not bad, considering Calvin has been on a motorsports sabbatical for the last year locking down his "Father of the Year" award. Baby Chloe must be proud! We missed your FD at the track, Calvin!
In the RWD Semi-Finals, Daijiro Yohsihara went against Abbrings. Although Abbrings was a terror in the burnout competition, it just wasn't in the cards for him to beat Dai.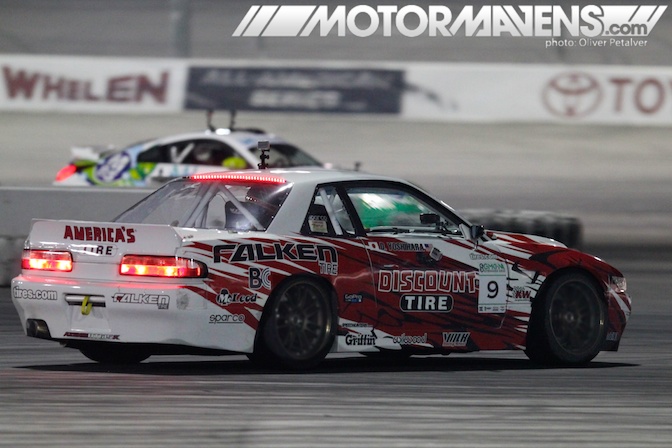 Here's Dai in the Discount Tire Nissan S13 – suspension by Mike Kojima. That should mean something to you. Very skilled driver + "The Suspension Whisperer" = very hard to beat combination. Thus, the battle against Abbrings  moved Dai into the final round. All that remained was to determine who he would be facing –  Matt Powers or John Russakoff.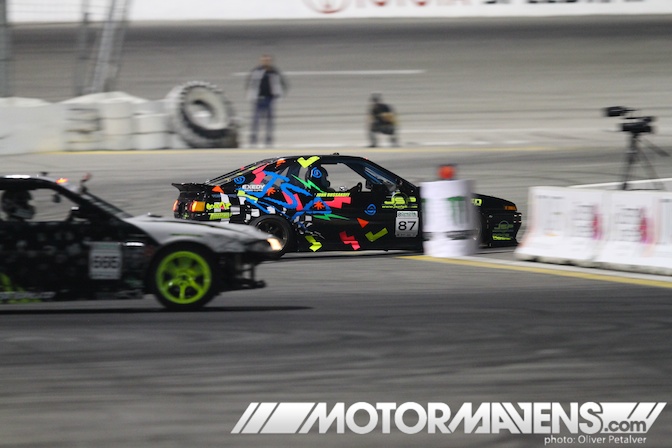 In the first battle against Matt Powers, Russakoff got a penalty and still, somehow, managed to win it.  He lost the  second battle and managed to take the overall win against Matt  by winning two of three – moving him to the finals against Dai. Not an easy assignment.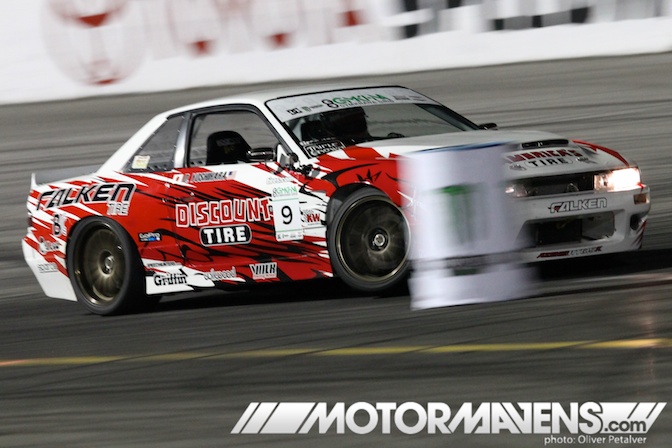 Here's a shot of Dai maneuvering tightly around one of many obstacles – mere inches away. It pretty much looked like this for him all day long. So, even if you had been reading this only seconds after the event instead of a week, it would probably have come as no surprise to you that…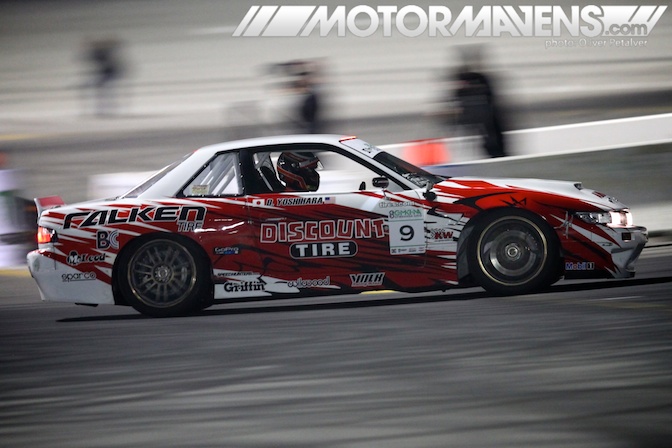 Dai blazed around the track winning the final in two battles against Russakoff to take the overall competition for the RWD class.
In the AWD Semi-Finals, Formula DRIFT 2010 Triple Crown winner Tanner Foust went against Stephan Verdier while Ken Block went against Andrew Comrie Picard.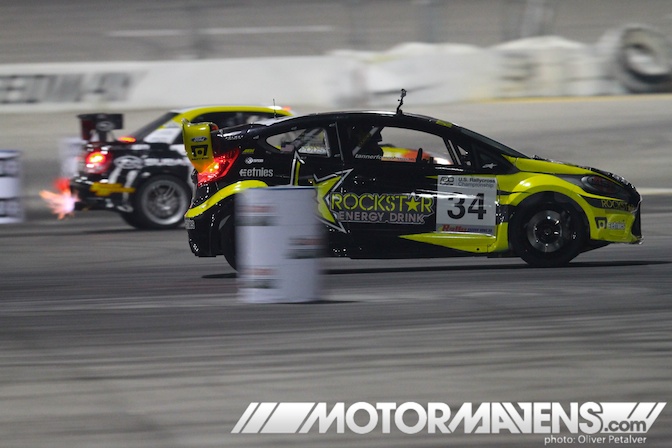 Foust easily took the first two battles against Verdier, moving him into the Finals.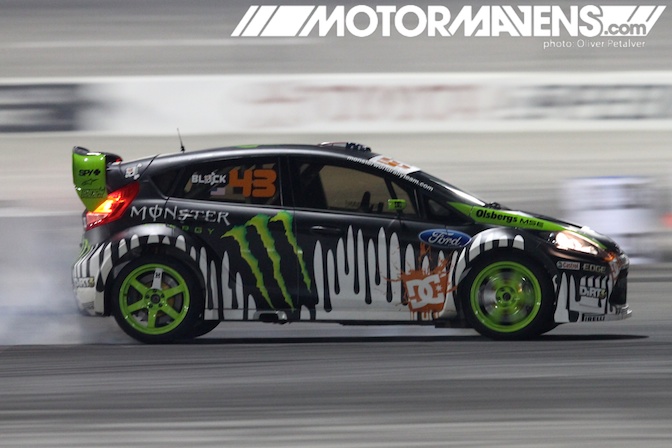 Block, on the other hand, easily maneuvered throughout the course, with no penalties, around Comrie Picard and into the Finals where Foust was waiting.
In a historic battle between legends, both cars ran head-to-head to the finish. In the first round, Foust blazed the course in a lightning fast 49.581 seconds; however, Foust received a penalty in the slalom.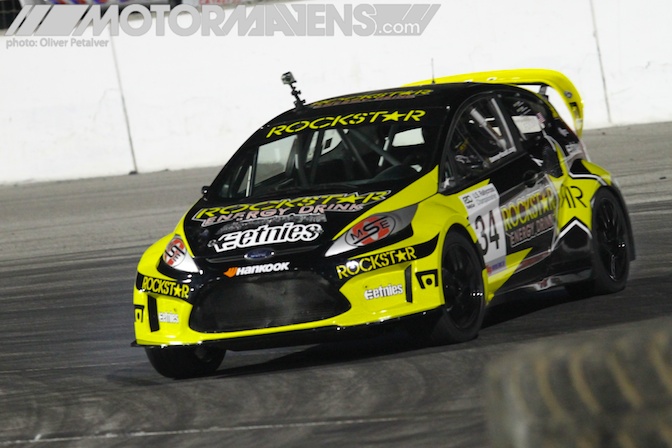 Despite a penalty, Foust took the win and went on to oust Block and take the overall win, adding The Ken Block Gymkhana Grid Invitational  to his long list of accomplishments.
Ken Block's Gymkhana Grid was an absolute blast to photograph. Since we were understaffed, I was unable to take a closer look at our own Mass Appeal event as I had wanted. Keep an eye out for video coverage of both events by Justin Shreeve and Joe Ayala!
:: Oliver Petalver
1978 Ford Escort RS Mark II
,
Aaron biggie Brown
,
Alex Pfeiffer
,
Andrew Comrie Picard
,
Andrew Gillis
,
Avon Bellamy
,
BioMCN Nissan 350Z
,
Calvin Wan
,
Crawford Performance
,
Daijiro Yoshihara
,
Discount Tire
,
Discount Tire Nissan S13
,
Ford Fiesta
,
Ford Mustang
,
Formula D
,
Greg Leone
,
Grid
,
GSR Autoworks E92 BMW 3-series
,
Gymkhana
,
Gymkhana Grid Invitational
,
Invitational
,
Jeff Jones
,
John Russakoff
,
Joon Maeng
,
Jordan Lipman
,
JR
,
Justin Shreeve
,
Ken Block
,
Kevin Abbrings
,
Kyle Mohan
,
mass appeal
,
Matt Powers
,
Mike Essa
,
Mike Kojima
,
MotorMavens
,
Oliver Petalver
,
rally
,
Stephan Verdier
,
Time Attack
,
Tony Brakohiapa
,
Vaughn Gittin Jr
---