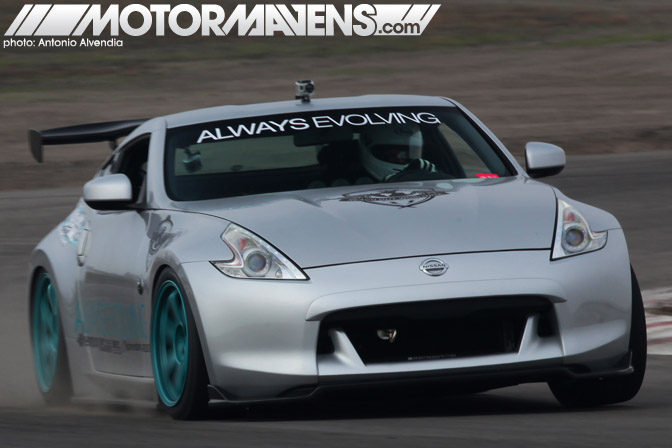 If you saw our previously published story on the R's Tuning Ben Sopra GTR from the Fast & Furious 6 movie, then you already know we were out at Buttonwillow Raceway this past weekend for the Global Time Attack Pro Am with Shift S3ctor. The event wasn't intended to be one of the larger GTA events; it was planned as a Pro/Amateur track day for the guys to shake down their cars at Buttonwillow. The types of cars at the event varied pretty wildly, from expensively modified AMG Benzes to homegrown builds, like Honda Civics and Mazda RX7s.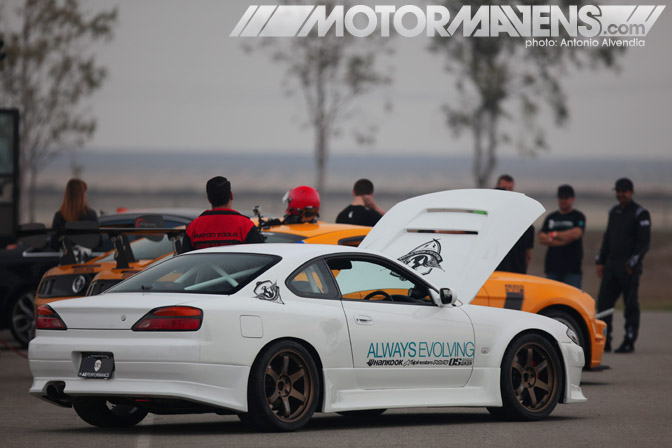 In the Buttonwillow paddock closest to the East Loop, the AE Performance crew set up a pretty impressive pit area, which included this white S15 Silvia and a grouping of Boss 302 Mustangs.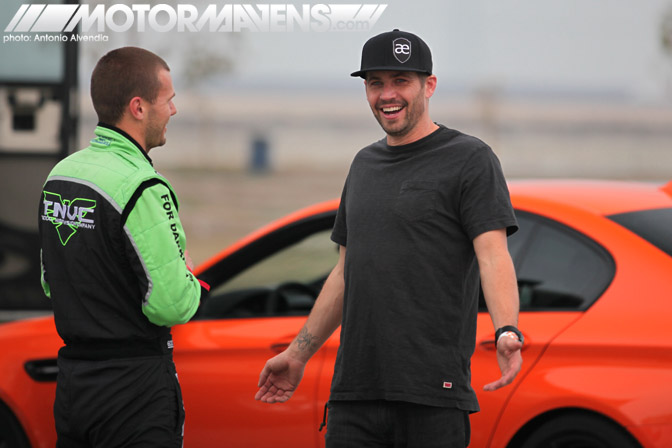 Turns out that the driver of the AE Performance 370Z was none other than Paul Walker, of Fast & Furious fame.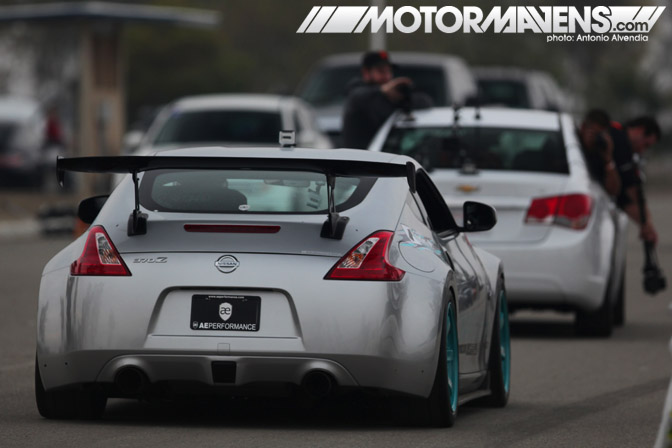 While he was driving the track, his crew was on hand with tons of cameras pointed towards him. Someone told me they were filming some extra footage that might be used as a bonus feature for a Fast & Furious DVD, or possibly some other project…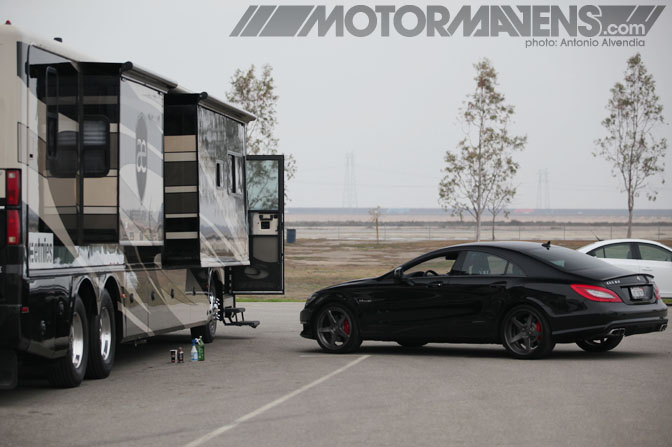 Either way, there was certainly a noticeable difference in the type of trailers the AE crew was working with. When most racers roll to the track with brand new Toyota Tundras or Ford F250s and fully enclosed trailers with graphics, people think they're ballin! Well, look at Paul Walker's setup here, with the deluxe motorhome and everything! They even had a separate trailer that was used as a bathroom… separate from the trailer that pulled the 370Z, not to mention the other cars! (Man, and I thought Chris Rado's track presence was ballin! Paul's on another level it seems. Those NBC Universal paychecks must have a lot of zeros on them! Unfortunately, when I used to work at Universal, most of the zeros on my paycheck were to the right of the decimal point…)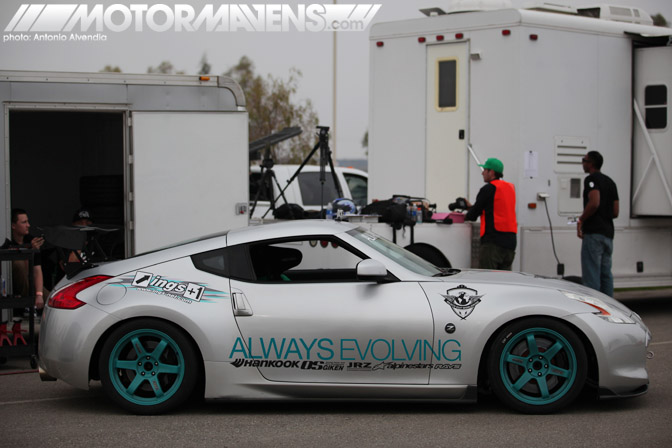 If you look past the stylishly vinyled AE 370Z, you'll see their baller rig. Damn son! I was looking for the Star Waggons stickers on the side, like all the other rigs parked at the Universal Studios backlot. Anyway, enough rambling about that. I love how this 370 looks! It's proof that functional track cars and LOOK good too.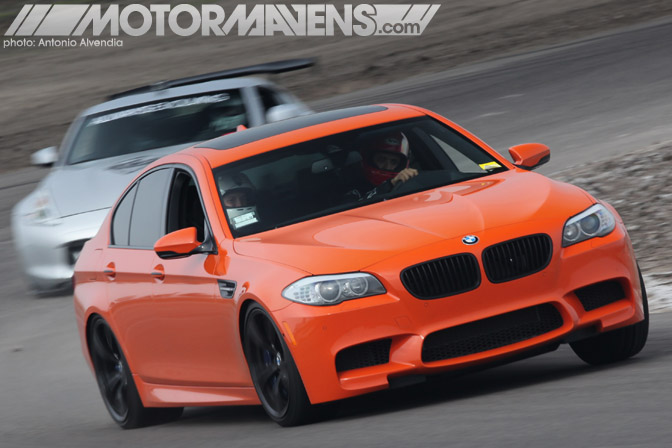 I think this orange BMW M5 was from the AE Performance camp too. At least it was parked next to their pit area. Either way, it looked awesome out on the track!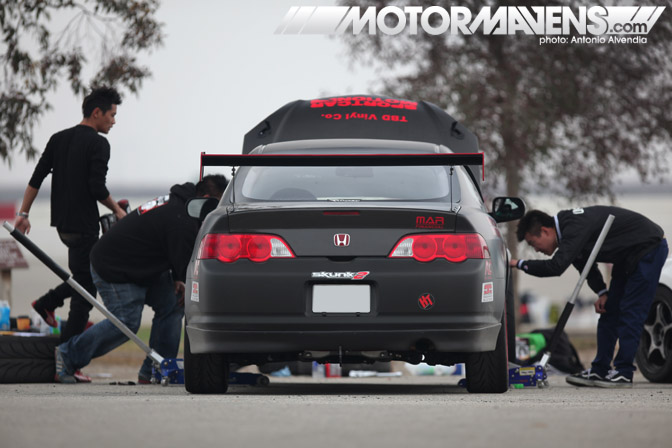 Ballers and their vehicles aside, I thought it was great to see grassroots racing enthusiasts at many different levels participating in the GTA event. A bunch of friends teamed up to work on this matte black RSX – awesome. I love it when cars bring friends together like this!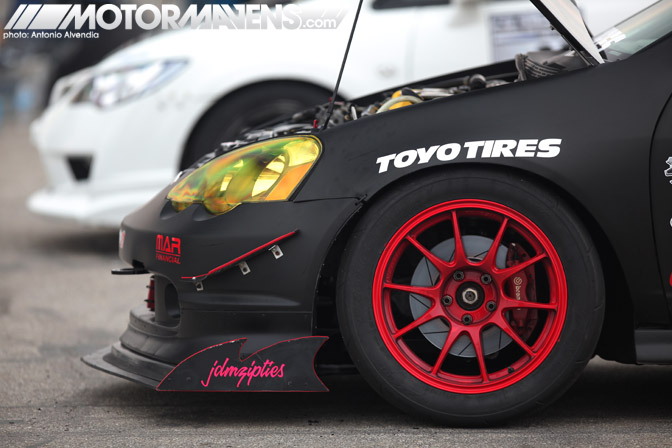 Oh wow, check out the brakes on the RSX! And the front lip, canards and JDMZipties sticker?! Nice!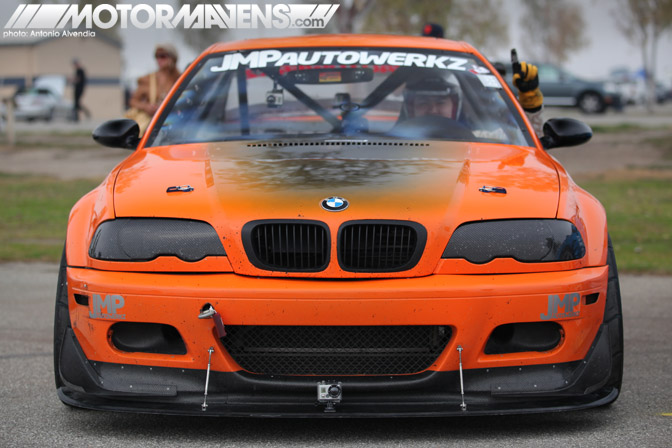 If you don't know the driver of this E46 BMW M3, you better remember his name – Don Pastor. Some race teams are proud to have fast cars, but cars are only as fast as the driver behind the wheel. Don Pastor is a fast driver. With a bone stock motor and some really minor mods in his E46 M3, Don managed to pull off a 1:52.232 at Buttonwillow. This was the FASTEST recorded time of the day. Yes, even faster than the Fast & Furious Ben Sopra R35 GTR. If you owned a car as expensive as that Ben Sopra GTR, wouldn't you be mad that Don's old E46 was even faster (and quite possibly more furious) than your R35? I think I probably would.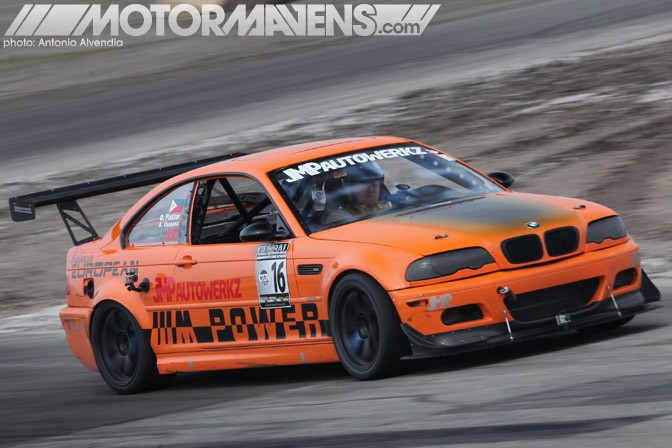 Don's M3 doesn't even have a race car livery for crying out loud – just some stickers on the side. However, his driving skills still pushed him all the way to the top! RESPECT.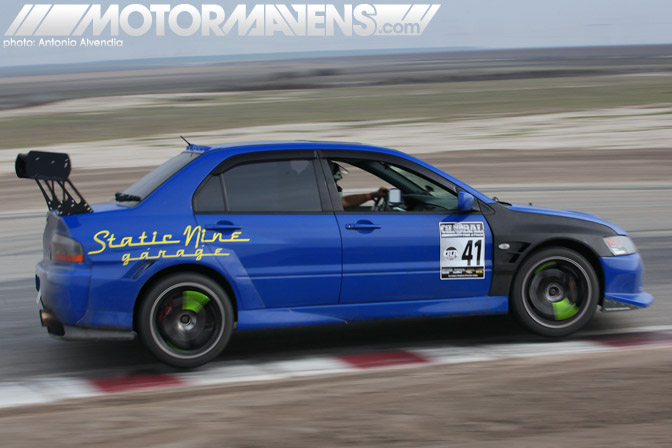 Check out this Evo from Static Nine Garage! It was rounding the corners so quickly, the inner tires were lifting up! Sick.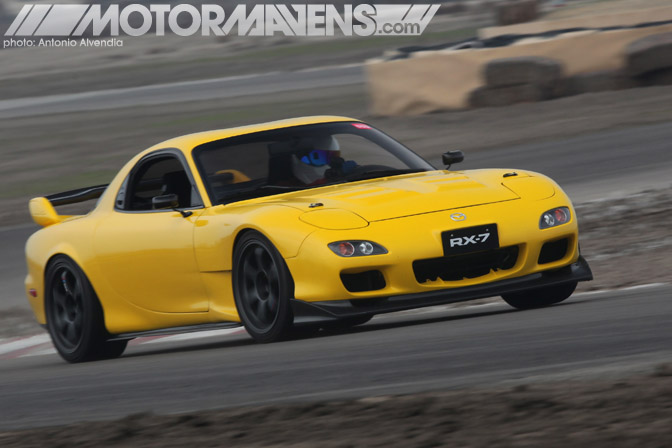 This gorgeous yellow FD looked so clean all day! I loved the little RX7 placard on the front bumper (although I prefer just a plain bumper with no plates), because it made me think of Japanese RX7 minicars from brands like Tomica and Ebbro.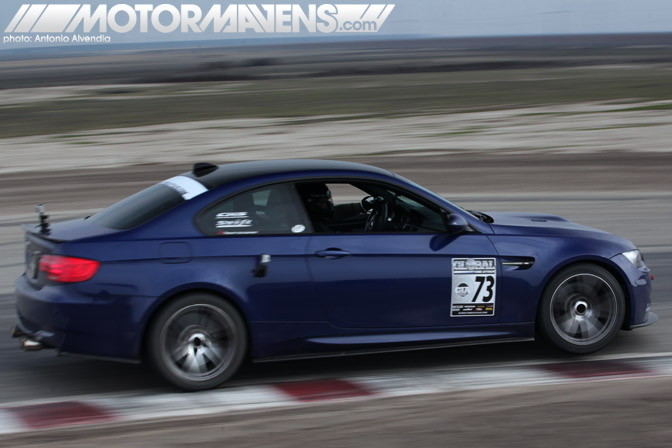 Ooohhh. A new M3 with Swift springs and other mods? Sign me up! I wanna test drive it! The tires were lifting up as it rounded the "Grapevine" on Buttonwillow's East Loop!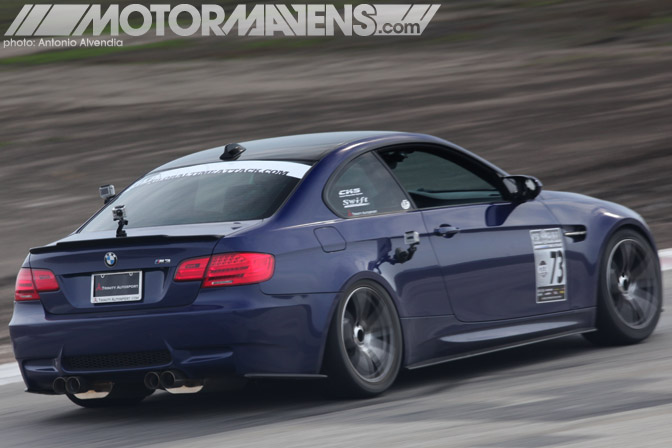 As it sped from the Grapevine to Club Corner, it was cool to see the rear of the M3 squatting down under hard acceleration!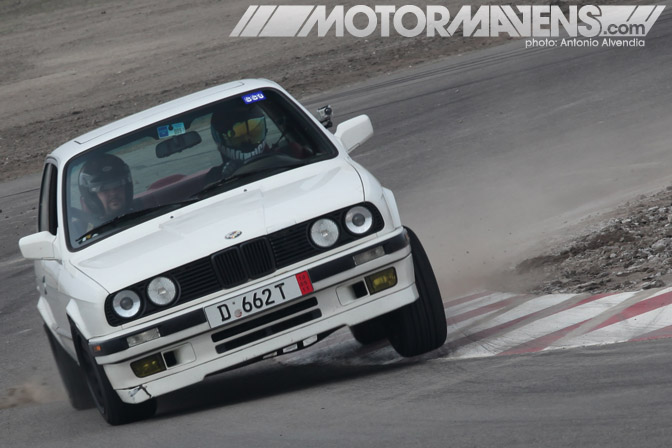 This BMW E30 looked HILARIOUS as it rounded the track! The sway bars must have been completely disconnected, cause it had RIDICULOUS amounts of body roll! It was pretty funny actually, it looked cartoonish as it navigated the corners!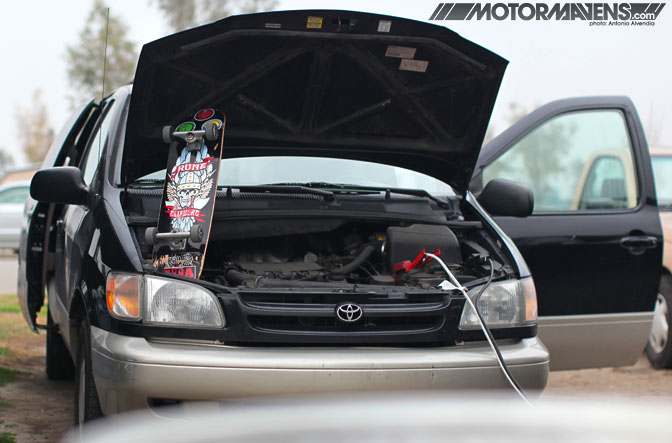 Speaking of hilarious, things weren't going so well over at Global Time Attack mission control. Amanda from GTA somehow managed to drain the battery of the Toyota Sienna cargo hauler they drove up to Buttonwillow. Luckily, someone had jumper cables and a car capable of jumping the Sienna!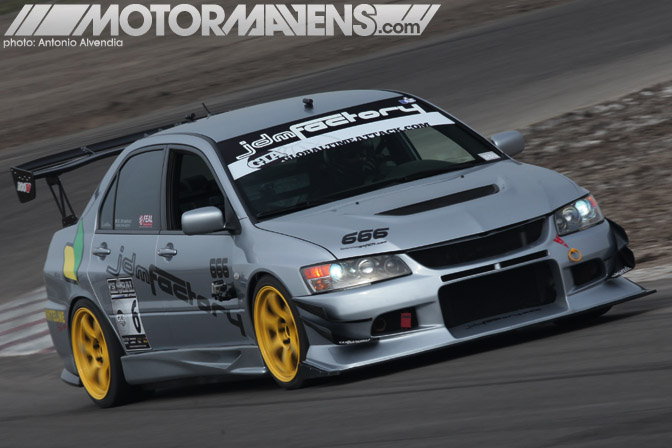 Back on the track, this Mitsubishi Lancer Evo looked pretty aggressive with its super low aero. I wonder what kind of times this thing was putting down! Either way, it's great to see full aero cars like this one out on the track!
Some GTA cars had a minimalist approach to aerodynamics. This Honda Civic looked pretty normal at first glance. It was lowered with wider wheels, canards on the front bumper to direct airflow. Low sideskirts were attached to the car to further aerodynamic direction, and there were big slots cut into the rear bumper so that air wouldn't get caught inside the rear bumper, creating drag for the car. I wonder how much of an issue drag is for Honda Civics such as this one…? I never really looked into it, cause my own car isn't fast enough to make me worry about such things.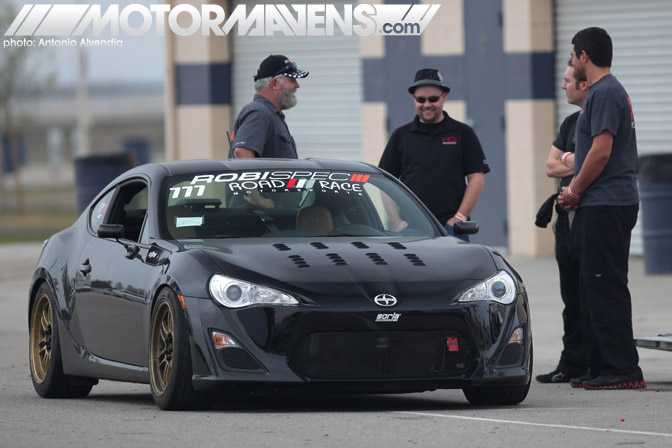 Check out the louvered hood on this Scion FRS from Road Race Motorsports! Or is it Robispec? I don't know. Either way, this FRS looks like it would be super fun to drive at the track, given its functional performance mods. I'm not the hugest fan of those carbon F1 style mirrors though. It reminds me of… (sorry, Paul Walker) Fast & Furious cars and the horrific "show cars" at Hot Import Nights when they were still around.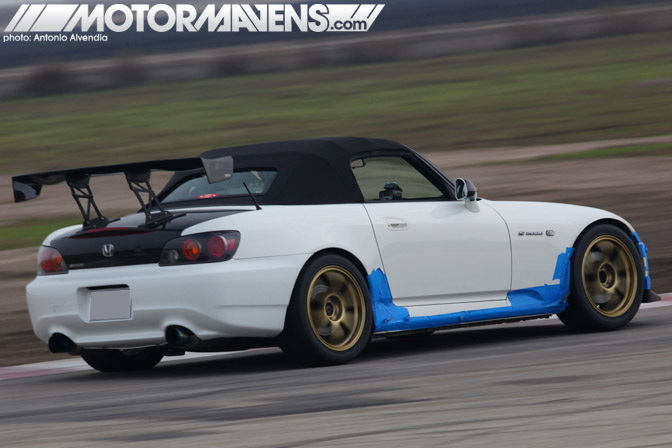 Blue tape graphics! This S2000 was being driven by my friend John from Maxxis Tires! Great to see some industry heads out at the track!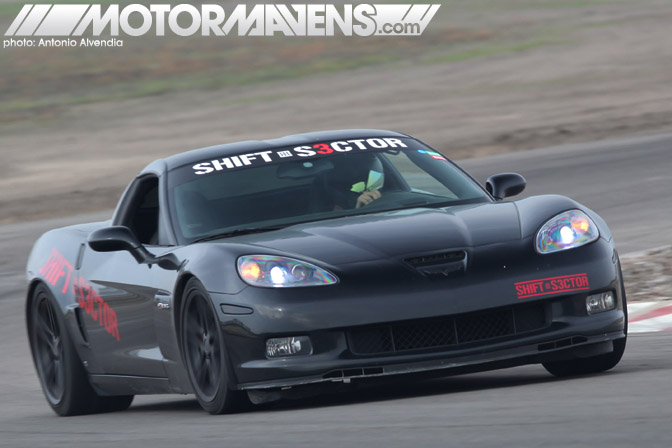 The one thing you need to know about the Shift S3ctor crew is that they like to go fast. Really fast. These guys do top speed airstrip attacks with their cars for crying out loud! Obviously the vehicles in their stable would be fast, with a lot of torque like this black Corvette…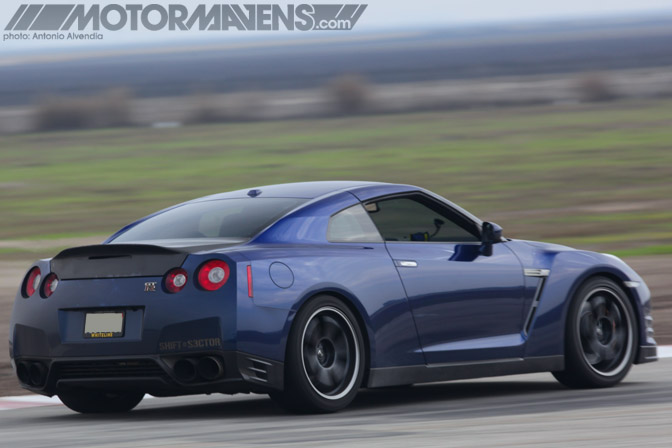 Or this R35 GTR. It's crazy to see how much of a visual difference there is between this stock bodied GTR and the full aero Ben Sopra R35 GTR from R's Tuning, which was also running the track that day. Apparently the GTR has some Whiteline Suspension components on it? At least, that's what the license plate frame suggests…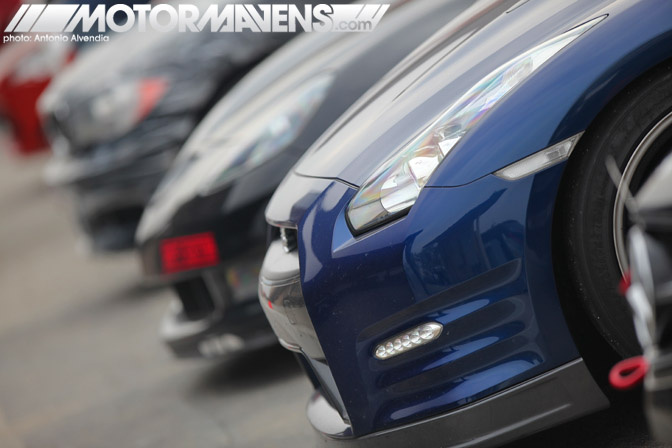 Check out the lineup of Shift S3ctor cars parked on the paddock. These are all pretty much big boy vehicles.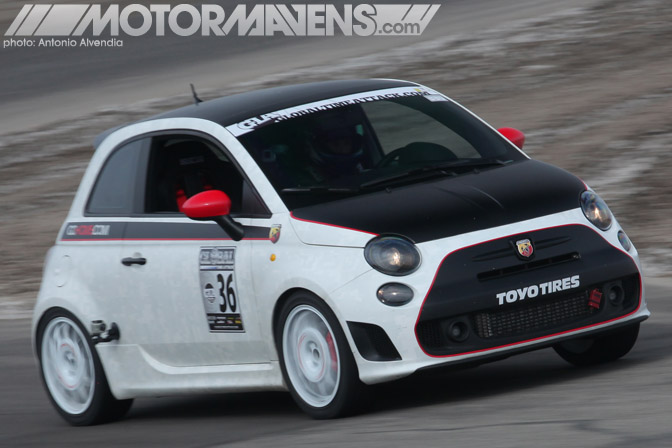 Check out this Fiat 500 Abarth. I know that Fiat 500s were the rage in Europe, but when I first began seeing the new Fiat 500 on the street, I dismissed it as another small, "cute looking" car like the Smart or Mini Cooper. I'll be honest. I'm not a fan of such cars. However! The Fiat 500 Abarth is a completely different animal!
I was recently given the opportunity to test drive a friend's Fiat 500 Abarth, and I had an AWESOME time with it. The 500 Abarth may be small, but it is FAST, and it just SOUNDS so cool – I love hearing turbo noises as I drive around town!
This particular Abarth was equipped with awesome rally-inspired wheels, and I'm pretty sure it was pretty well built. Why do I think that? Well, because it looked and sounded super fast! I'd absolutely LOVE to rip around a track like Buttonwillow or Horse Thief Mile with an Abarth!!!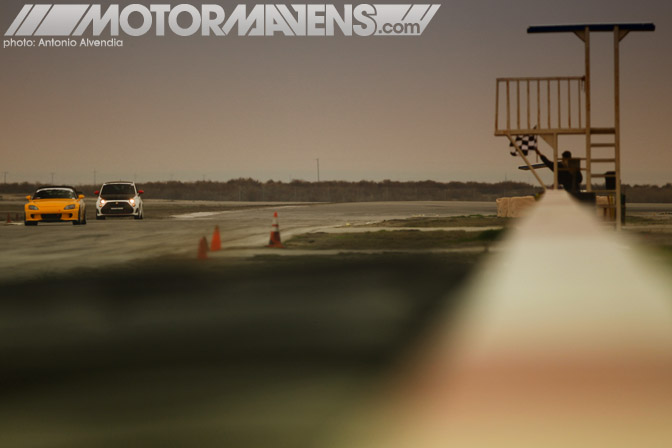 Here's the Fiat 500 Abarth again, hot on the tail of an S2000 as the checkered flag waves! I had a great time at this GTA/Shift S3ctor event. Maybe we should attend time attack events more often?
:: Antonio Alvendia
370Z
,
Abarth
,
AE Performance
,
BMW
,
Boss 302
,
Buttonwillow Raceway
,
Civic
,
Don Pastor
,
E30
,
Fast & Furious
,
Fast & Furious 6
,
fiat
,
Fiat 500
,
Global Time Attack
,
Honda
,
Mazda
,
NBC Universal
,
Nissan
,
Paul Walker
,
R's Tuning
,
RX7
,
S15
,
Shift S3ctor
,
Silvia
,
Star Waggons
,
Universal Studios
,
Whiteline Suspension
---