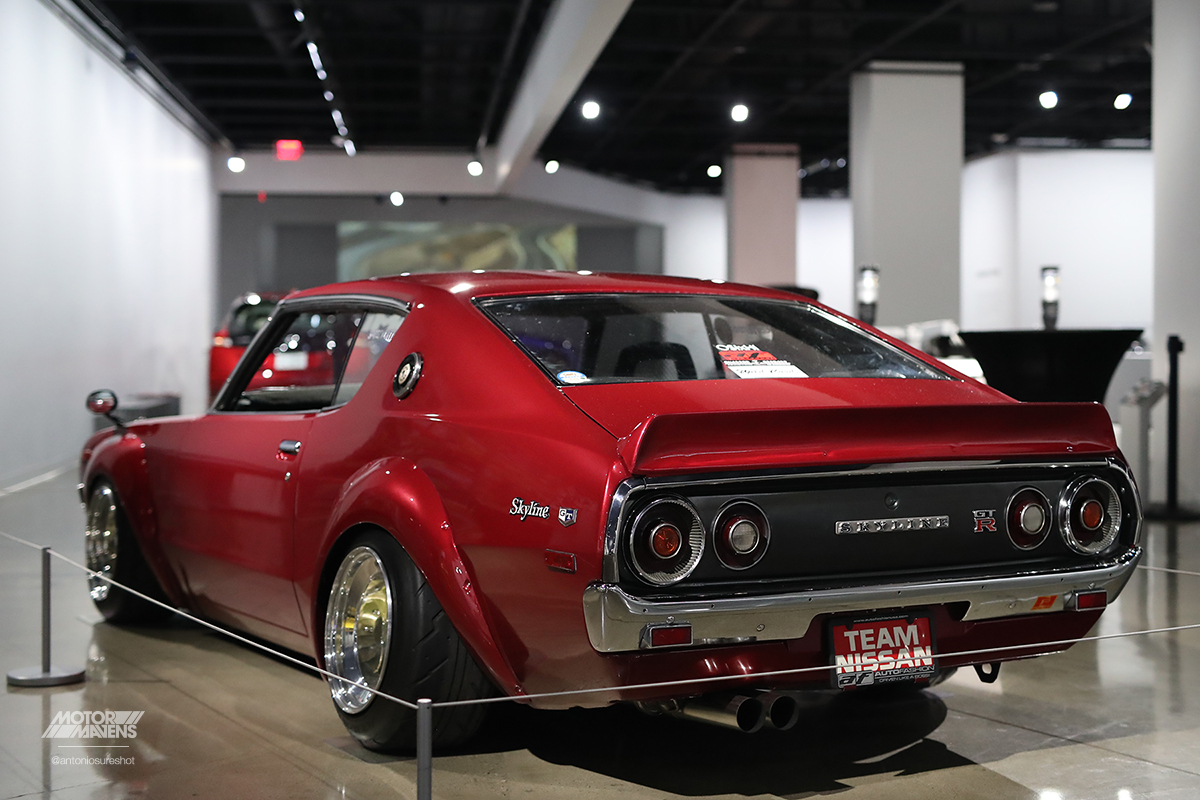 Ever since the very first time I visited the Petersen Automotive Museum in the early 2000s, I always imagined what it might be like if the Petersen actually had classic Japanese cars on display amongst the classic American and European cars on the premises. Almost two decades later, this actually came to fruition, and I couldn't be more excited!
Front and center on display was BosoPat's absolutely stunning 1973 KGC110 Kenmeri Nissan Skyline GTR, right at the entrance of the exhibit. What a freakin honor! Amazing. Big respect to Pat and our friends from Team Wildcards. This is a big deal – a really big deal!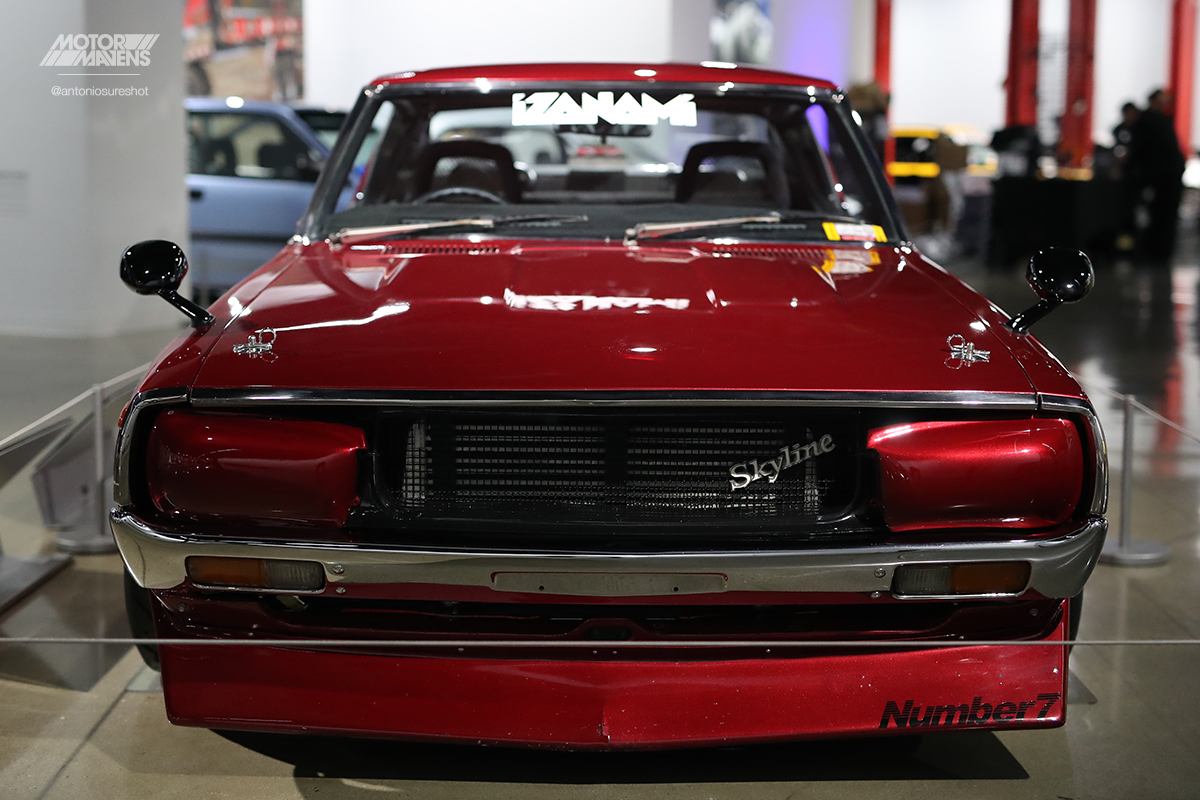 One of the coolest things about this exhibit at the Petersen is the fact that it pays respect to modified Japanese cars – this is the key!
Of course there are other museums out there that have bone stock Japanese cars in their halls, which is kinda cool… but having actual modified, well executed representatives of our kyusha kai (modified vintage Japanese car) culture is seriously amazing.
Having these cars on display made me imagine what I might feel like if my own red 1986 AE86 were on display in the museum. I would seriously be mind blown.
This exhibit is called "The Roots of Monozukuri: Creative Spirit in Japanese Automaking" and pays respect to key elements of Japanese design philosophy. Located in the Bruce Meyer Family Gallery presented by Rolex, "The Roots of Monozukuri" exhibit will explore the theme of monozukuri, or "the art, science and craft of making things," and how it has led to the long-term success of the Japanese automotive industry. Each car will exemplify this theme by highlighting the creativity, innovation, craftsmanship and collaboration central to Japanese manufacturing. Vehicles will include a 1936 Toyoda AA (replica), a 1966 Nissan Silvia, a 1967 Toyota 2000GT, a 1968 Honda N600, and a 1969 Mazda Cosmo. Honestly though, I just walked right past all these bone stock cars on the ground floor at the museum. I think I'm just spoiled because I've been to many car museums… either way, I wanted to get straight to the modified cars, which were upstairs!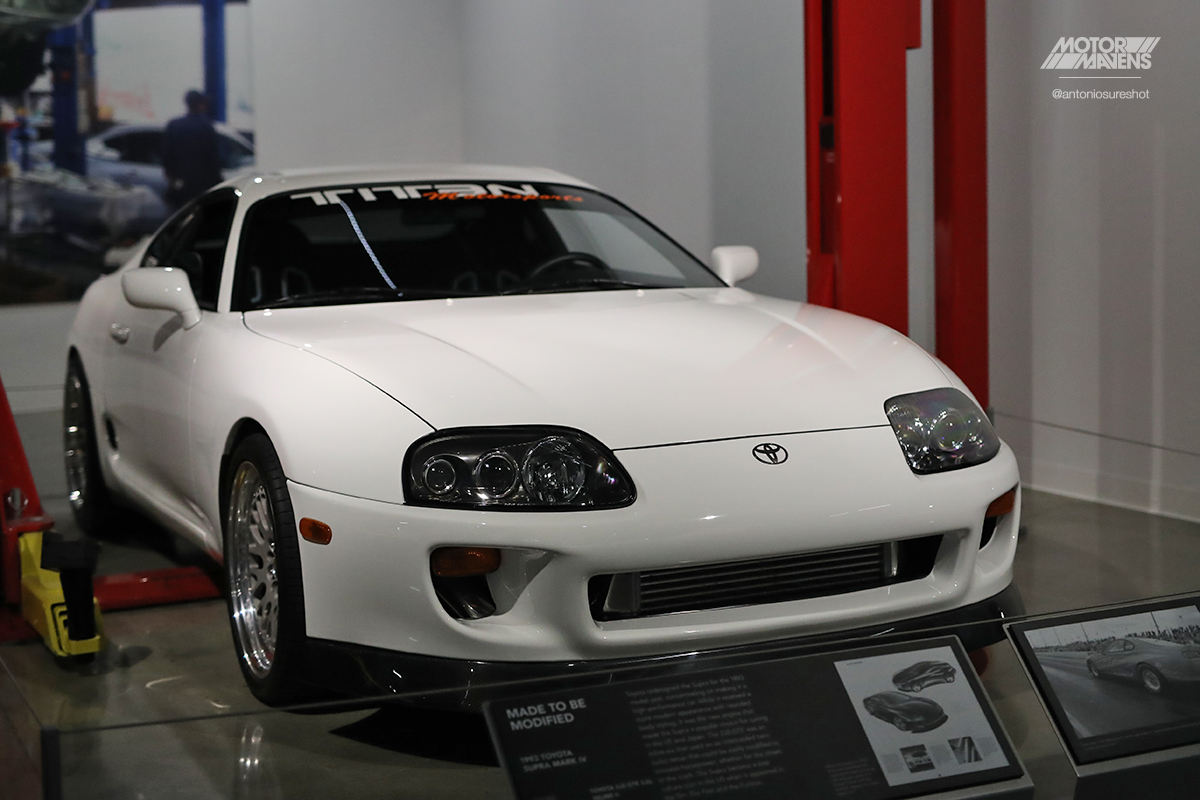 Running concurrently with "The Roots of Monozukuri" in the Customization Gallery, the "Fine Tuning" exhibit upstairs elaborates on the aesthetic and stylistic conversation between Japanese and American tuners. Focusing on Los Angeles and Japanese car customizers, this exhibit will expose guests to cars that they cannot see elsewhere, from drift and drag cars to highly modified customs like this Titan Motorsports JZA80 Supra Turbo, above.
I honestly think this Fine Tuning display is the most relevant thing that relates to the interests of the younger museum-goers, and I applaud The Petersen for putting this exhibit together! Hopefully it pays off with more museum tickets sold also!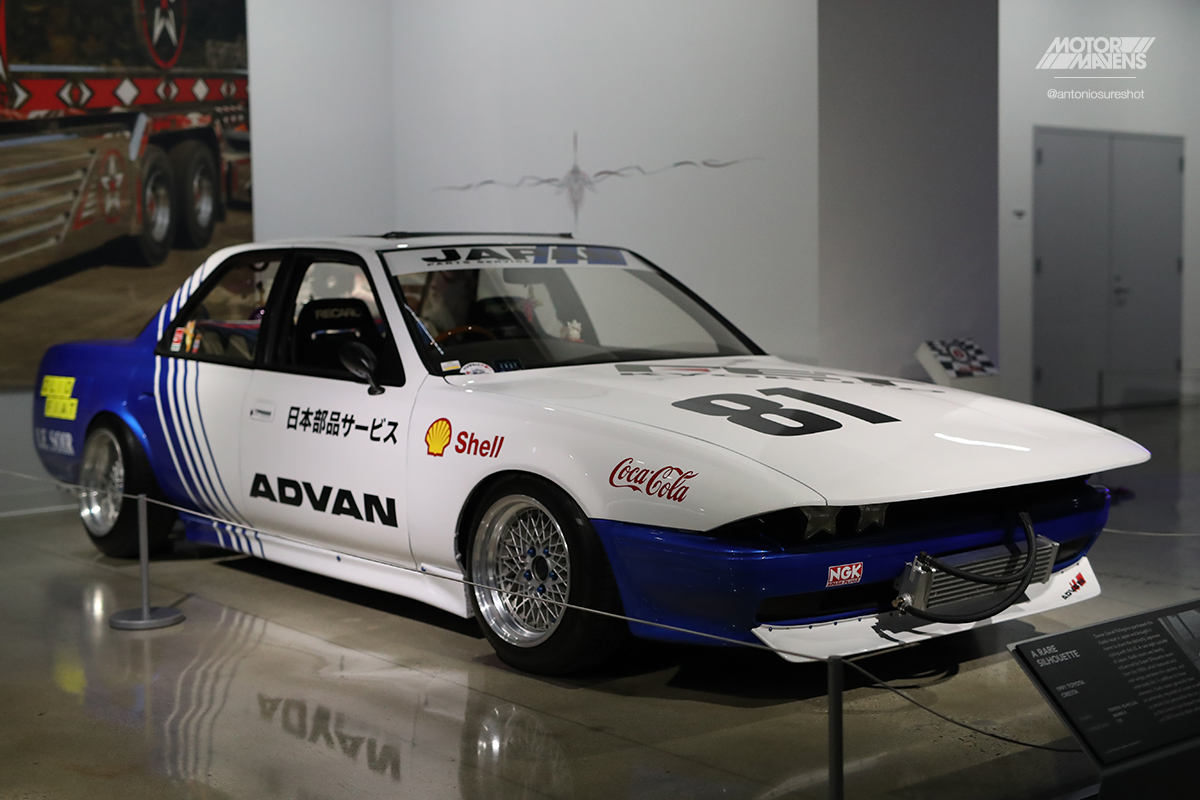 This 1991 Toyota Cresta GX81 Kaido Racer was easily my favorite car on display, just because it's unique and my very first time seeing this particular car in person. It's SO DAMN COOL from the sharknose to the front chin spoiler to the exposed external oil cooler to the paint scheme to the SSR Formula Mesh wheels! Personally, I think it would be even cooler if it were sitting on some non-mesh SSRs, just so it would display the amazing designs that Japanese wheel companies like SSR were coming out with in the 1970s and 1980s.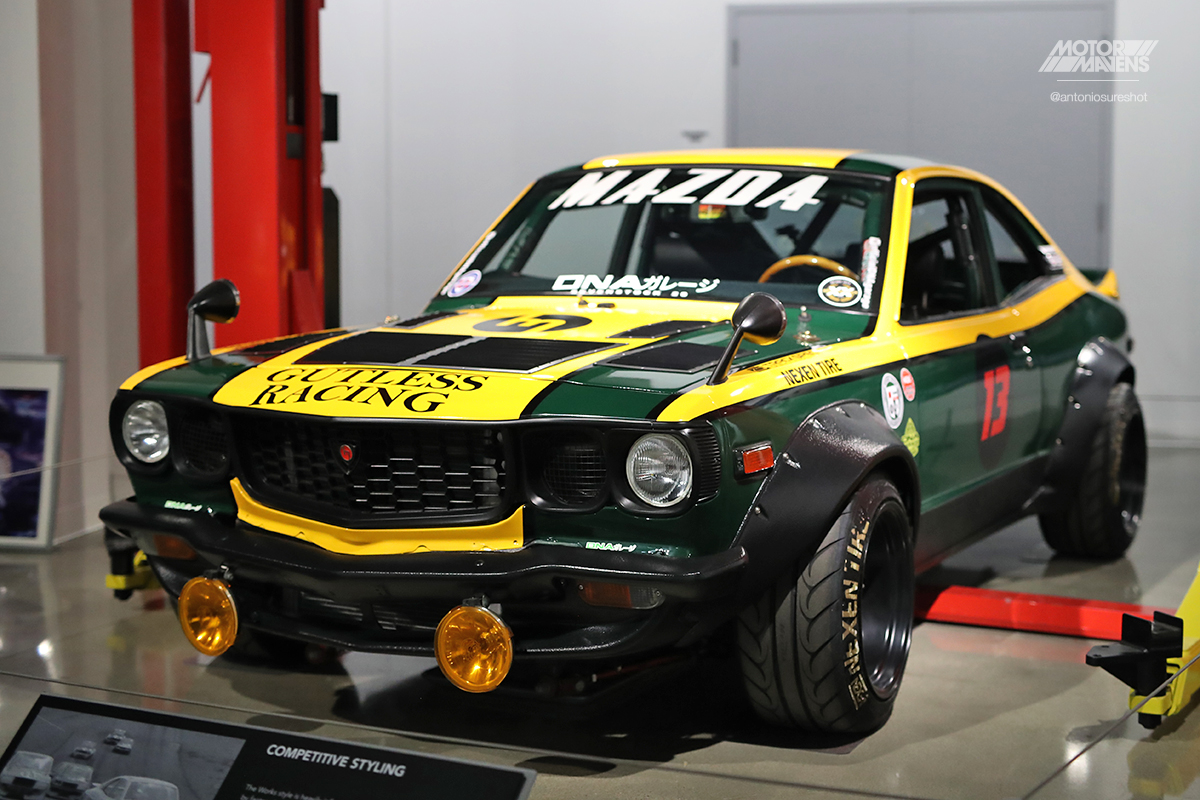 I don't know much about the details of this 1974 Mazda RX3, other than the fact that it was parked outside the Nexen Tire booth at Formula D Long Beach, and has a bunch of modern non-period touches, like the wheels, the tires, and the Trackspec Motorsports hood vents.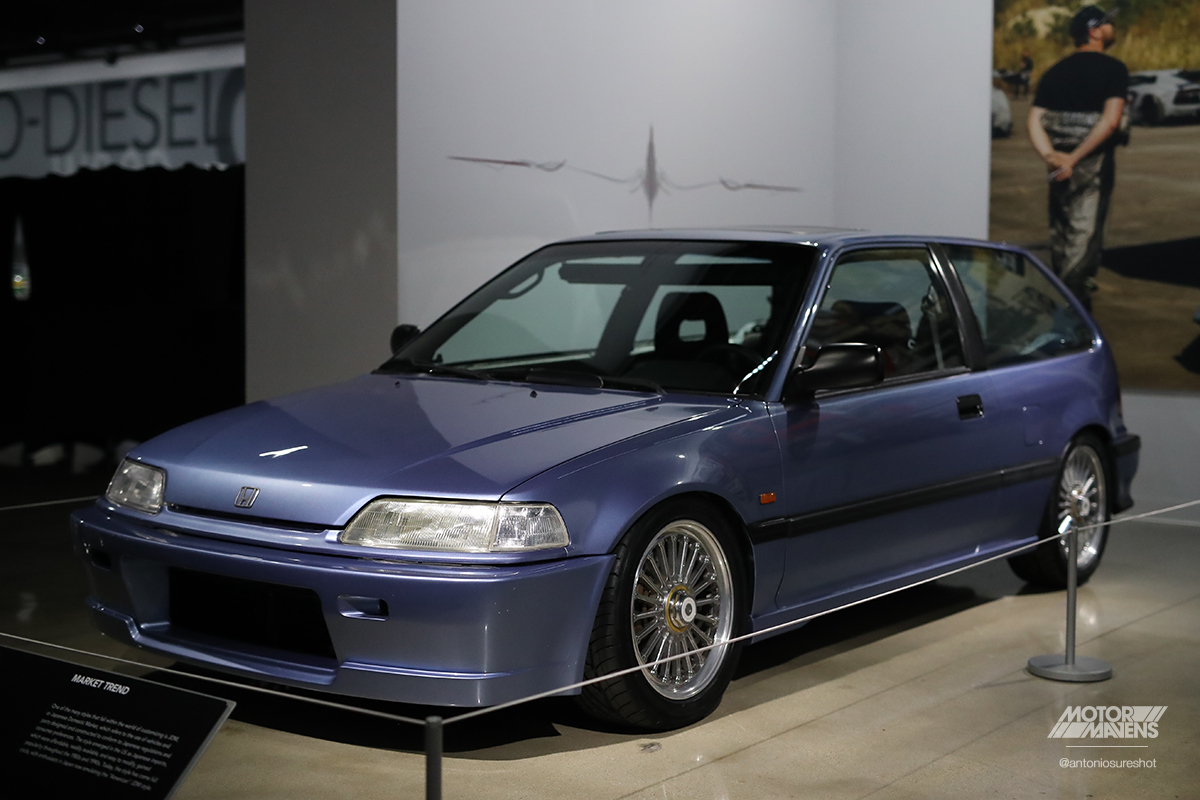 It was cool to see my longtime friend Jonathan Wong's EF Civic honored as part of the exhibit! I'll have to do more content surrounding this car, because it has a really good story!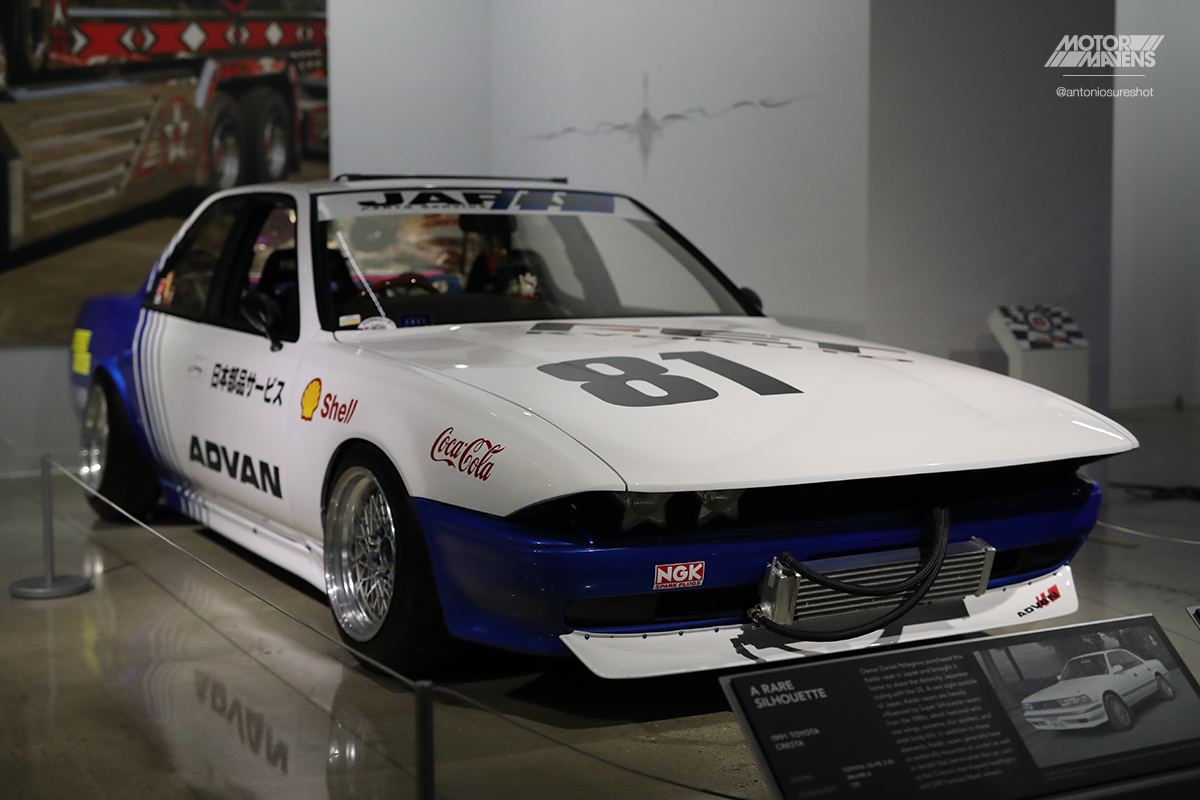 Unfortunately, I didn't get a chance to take photos of ALL the cars in the exhibit, because I was shooting video too. I'll be publishing a video on the MotorMavens YouTube Channel with more footage… but you need to make your way over to the museum to see these cars in person!
:: Antonio Alvendia
---