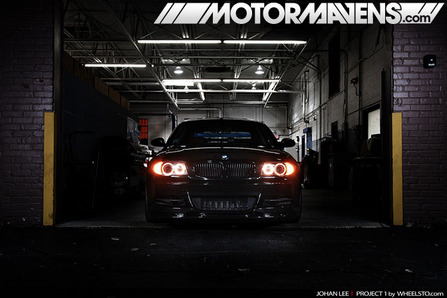 Last June WSTO revealed their very own Project 1 (v1.2). WSTO specializes in performance wheels and modifications with a heavy emphasis on high-quality products for BMW. That being said, the turbocharged BMW 135i would prove to be an excellent platform to showcase the muscle behind their brand.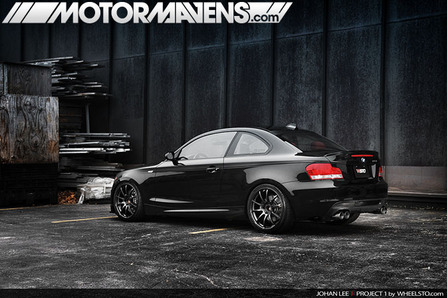 Their attention first went to the rear of the car. Bastuck had released a prototype US-spec quad exhaust system for the 135i. The quad system just like the dual is a full cat-back system (aft of secondary cats) and utilizes Bastuck's own non resonated y-pipe. They opted for the non-resonated version for 2 reasons; less restriction and so they could hear the engine sing. This exhaust really lets the turbo engine sound come through.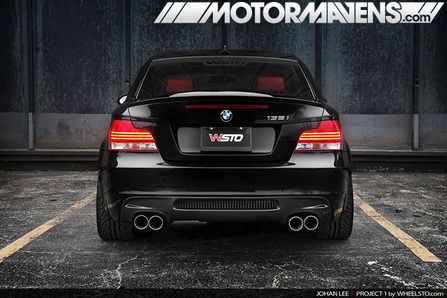 They wrapped the 4 huge double walled 85mm Bastuck tips with 3D Design's Carbon Fiber Diffuser. This is a 100% carbon fiber diffuser beautifully crafted in Japan. The 3D Design diffuser integrated seamlessly into the existing lines of the 1er while accentuating the aggressiveness of the car with its center mesh opening and slightly flared openings for the quad exhaust tips. Fitment with the OEM bumper and larger Bastuck tips was next to perfect.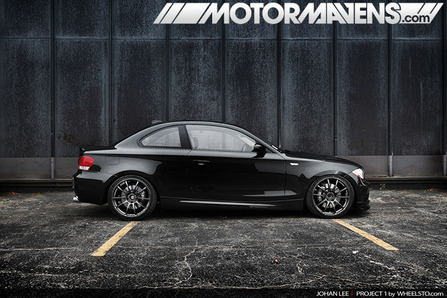 Of course, being WheelSTO they could not overlook the wheels. They feel as though wheels will either make or break a car. Although the design of the wheel plays a major role, it is not just one factor but a combination of design, offset, color, drop in height and even the rubber that defines the overall feel and look of the car.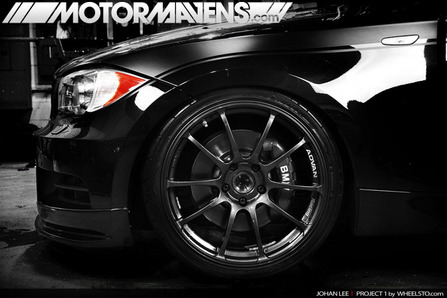 They had always been infatuated with Yokohama Advan's design styles, and build quality. They even thought about trying to fit the aggressive sizing Advan RS (fitment meant for the E90 3 series). I am sure that they could have pulled it off with some fender rolling and camber adjustment and Frank (their resident drifter would have loved it too). Too bad for Frank, Advan released news of the Advan RZ for BMW fitments and even better, an E82 specific fitment. They jumped on the opportunity by calling their Yokohama distributor to pre order a couple of sets.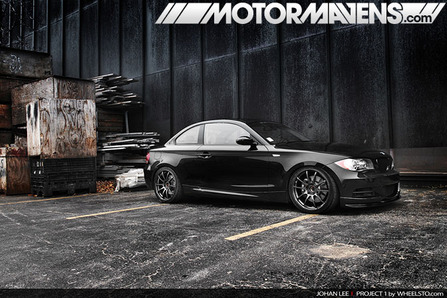 The sizing that was released was 19×8 +45 and 19×9 +50 and they opted for the Gunmetal finish to complete the dark menacing look. They wrapped them in Yokohama Advan AD08, 225/35/19 and 255/30/19. These tires perform incredibly when carving through corners and look great when parked. They run slightly wider than most other major brands and therefore they did encounter some rubbing with their aggressive drop on H&R Sport Springs. With a slightly narrower tire design (perhaps Falken or Toyo), this setup should be a perfect no rubbing solution. Either way, the car felt great and the rubbing was minimal.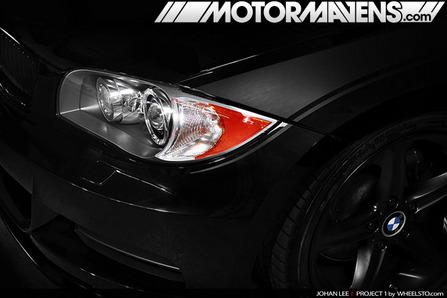 Their 1er (version 1.1) grabbed a lot of attention with the matte black vinyl work they had done on the door panels. Whereas this door panel with huge "WSTO" on the side worked very well for them "commercially", they wanted a more subtle design that will be the envy of other BMW enthusiasts. The vinyl scheme was stripped but they decided to keep the matte black. Only this time, they added two stripes stretching from the headlights all the way back to the tail lights for a subtle street look. They think that this was an especially nice design by their resident designer/photographer, Johan.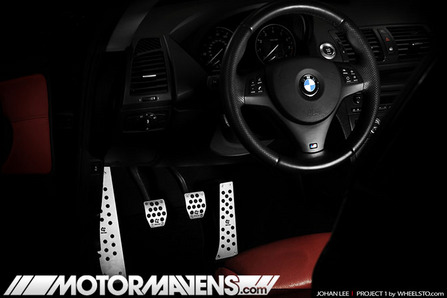 The interior of the car retains it's OEM class, but with subtle upgrades to remind you that this is no run-of-the-mill 1er.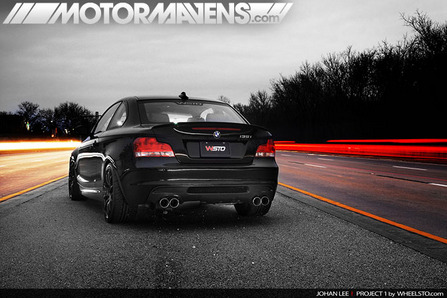 Johan really outdid himself again (he never fails to surprise) and took some amazing pictures of their completed transformation.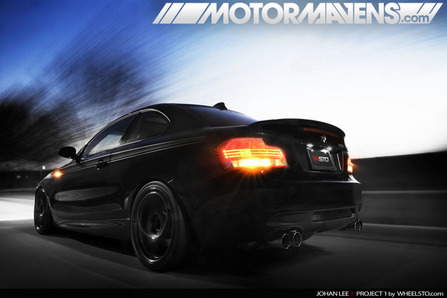 This car really exudes an air of prestige that only a BMW can. The subtle street upgrades only add to this already 'perfect' package. Be sure to check out the official WSTO website for more info about this stunning example of German craftsmanship!
:: Andy Sapp
---