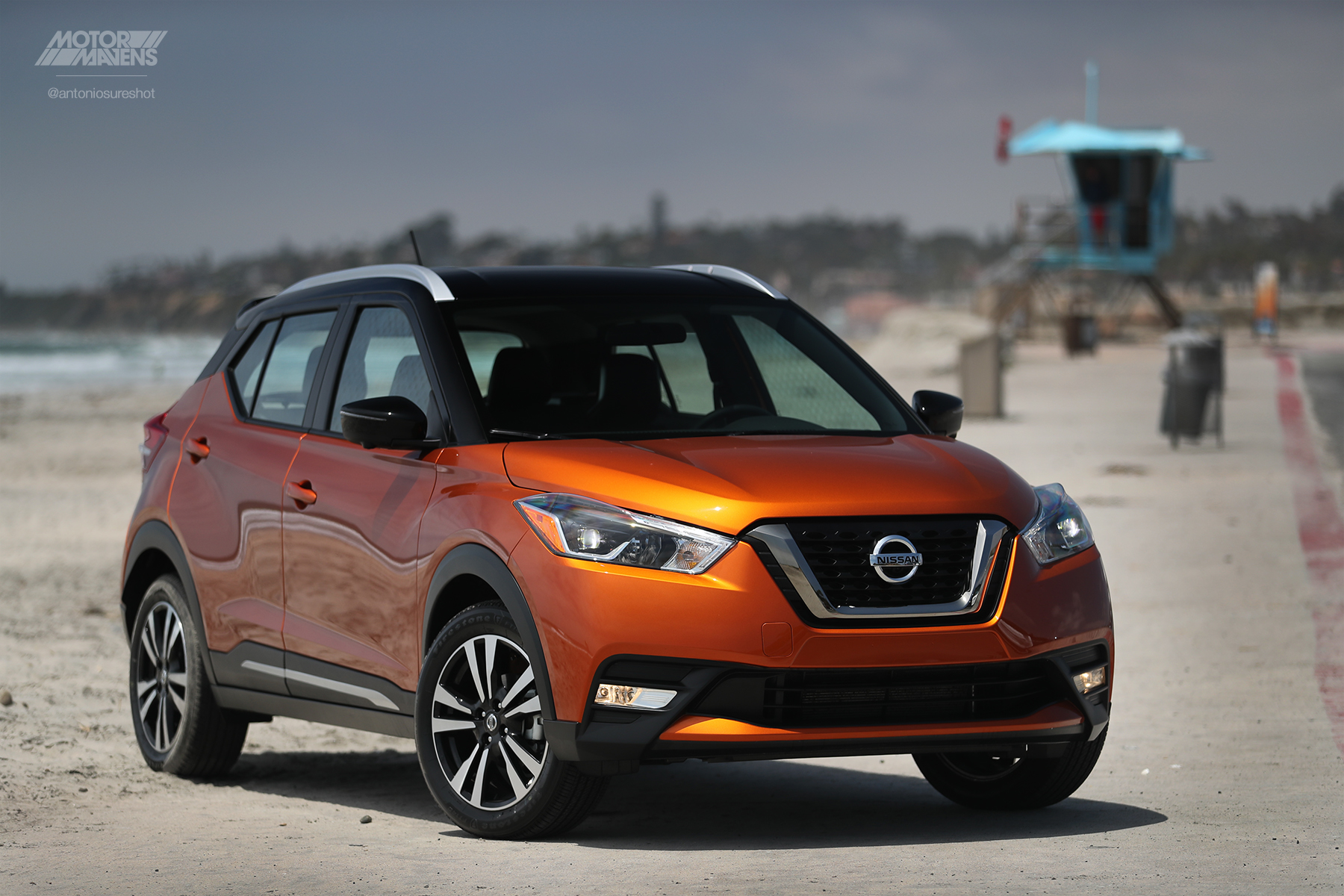 I recently traveled to San Diego to test drive the all-new Nissan Kicks, which goes on sale this month at Nissan dealerships nationwide. The Kicks is a new addition to Nissan's vehicle lineup, and is intended to answer America's growing demand for fuel efficient CUVs (compact utility vehicles) with the latest in mobile technology integration.
Since I love motorsports I am naturally always drawn to 2-door sports cars like the R35 Nissan GTR or Z34 Nissan 370Z, but I've very recently come to the realization that these types of vehicles are sexy on the street and perfect for the racetrack, but they aren't the necessarily best choice for my actual day-to-day duties of driving all over Southern California with a car full of camera equipment. Yes, after a long time fighting it, I've finally come to grips with the fact that a fuel efficient CUV that's easy to drive and has plenty of room for my photo gear is probably in my near future as a daily driver.
This being said, the functionality and price point of the new Kicks is interesting to me for a few reasons – it has a lot of integrated tech features, it has best in class fuel economy (33mpg combined – 36 highway and 31 city), allows me to use less expensive 87 octane fuel instead of the premium unleaded that my current daily driver requires, and possibly most important to me – it has plenty of legroom and headroom to accommodate my 6′-1″ frame.
Upon first glance at the exterior, most will notice that Nissan offers the Kicks in several bold colors, like the 2-tone black and Monarch Orange Kicks SR shown here with contrasting silver roof rails. Although this Monarch Orange Kicks was my first choice from a photographic standpoint, I think the Aspen White version with Super Black roof might be my favorite if I were actually buying this vehicle.
I was happy to see that the SR model included LED projector headlights and halogen fog lights. The lower trim levels come with halogen head lights and fog lights, which I prefer greatly over old technology HID lighting options because you can easily swap the halogen bulbs for brighter LED bulbs, which perform better and cost less than HID bulbs anyway.
The interior of the Kicks is smart and well designed. As I drove around San Diego's beach areas with my new friend Becky (pictured above), I realized that the Kicks will most likely be popular for young minded, stylish individuals that need to make smart choices when it comes to spending money. I'm imagining that it might be good for entrepreneurs who are in the beginning stages of launching their businesses – where every dollar spent really counts, but it's also important to have modern connectivity features in the car.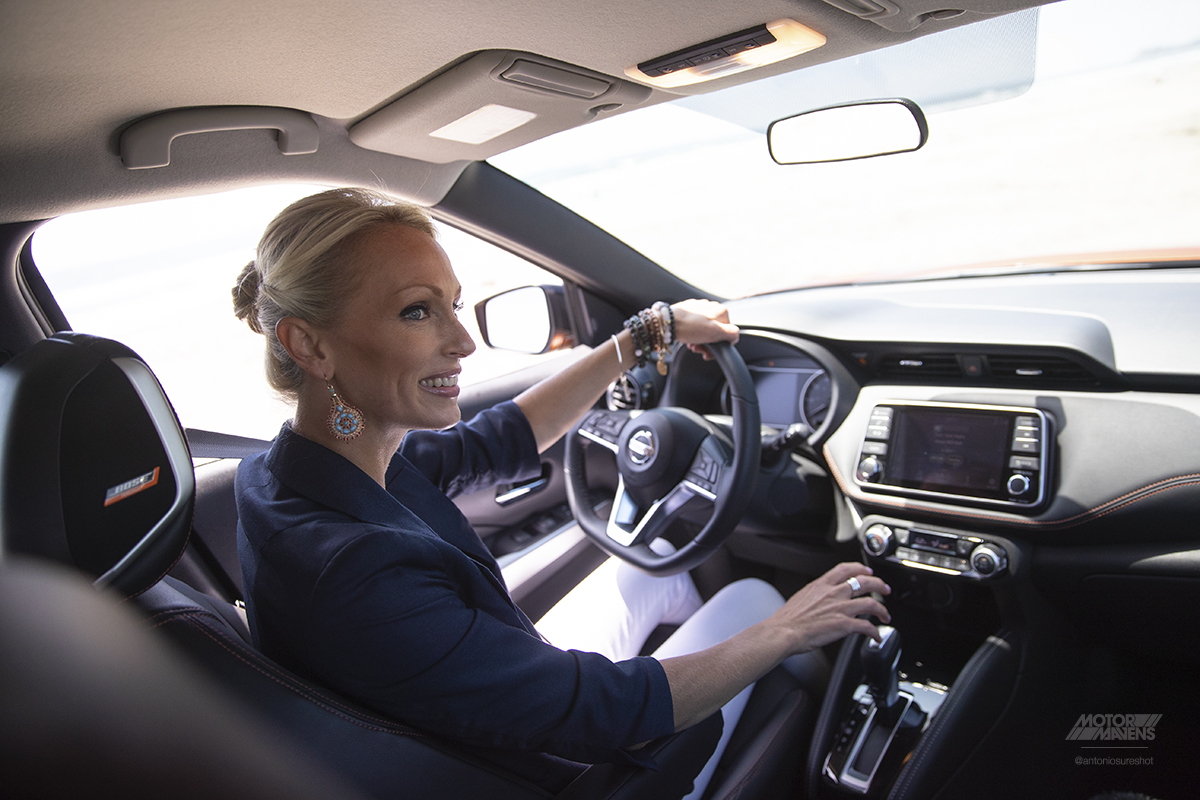 For those who love blasting music, the 7 inch full color infotainment touch screen display on the dash comes standard with Bluetooth streaming, but Apple Car Play and Android Auto are also available.
The Kicks also has intelligent driving aids, like Blind Sport Warning monitors (a warning light on the inside of the rearview mirrors), Rear Cross Traffic Alert for all models SV and above, and Automatic Emergency Braking, which can automatically bring the car all the way to a complete stop if it detects an obstruction in the path of the vehicle, or traffic slowing down. Competitive shoppers might want to note that Kicks is the only vehicle in its segment that offers Automatic Emergency Braking in a vehicle below $18k.
The SR model also comes with an awesome Around View monitor that you can see and control from the dashboard infotainment screen, and you can see different views by pressing the Camera button on the dash.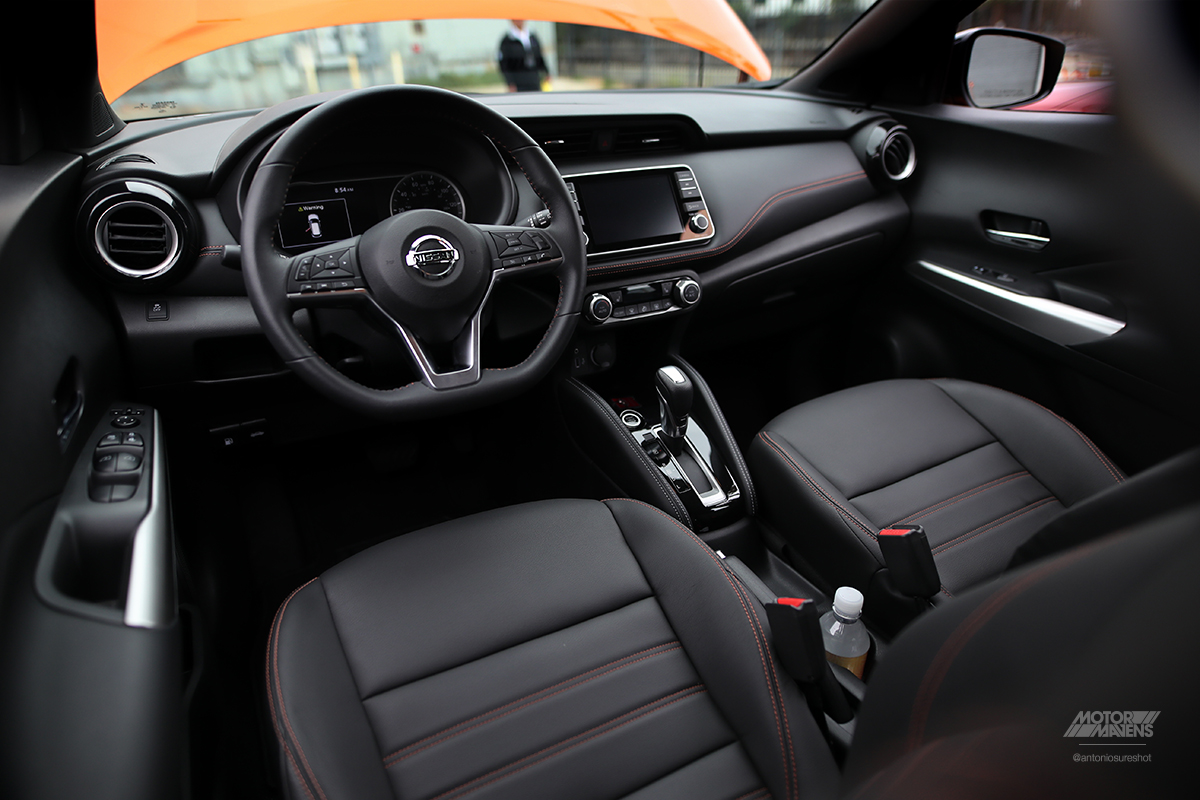 Even though the Kicks looks pretty small on the exterior, the cockpit is well designed and doesn't make you feel like you're in a small car. The headroom and legroom in the Kicks are best in class, with 43.7 inches of front legroom. This allows tall people to scoot the seat all the way back, and also pull the telescoping steering wheel back, for an extremely comfortable ride. The Kicks has much more space than my luxury sedan daily driver, which came as quite a shock. Even with two large adult males in the car, the Kicks does not feel small or too cramped inside. (You know how most men don't want their elbows touching when sitting in a car? This isn't a problem in the Nissan Kicks.)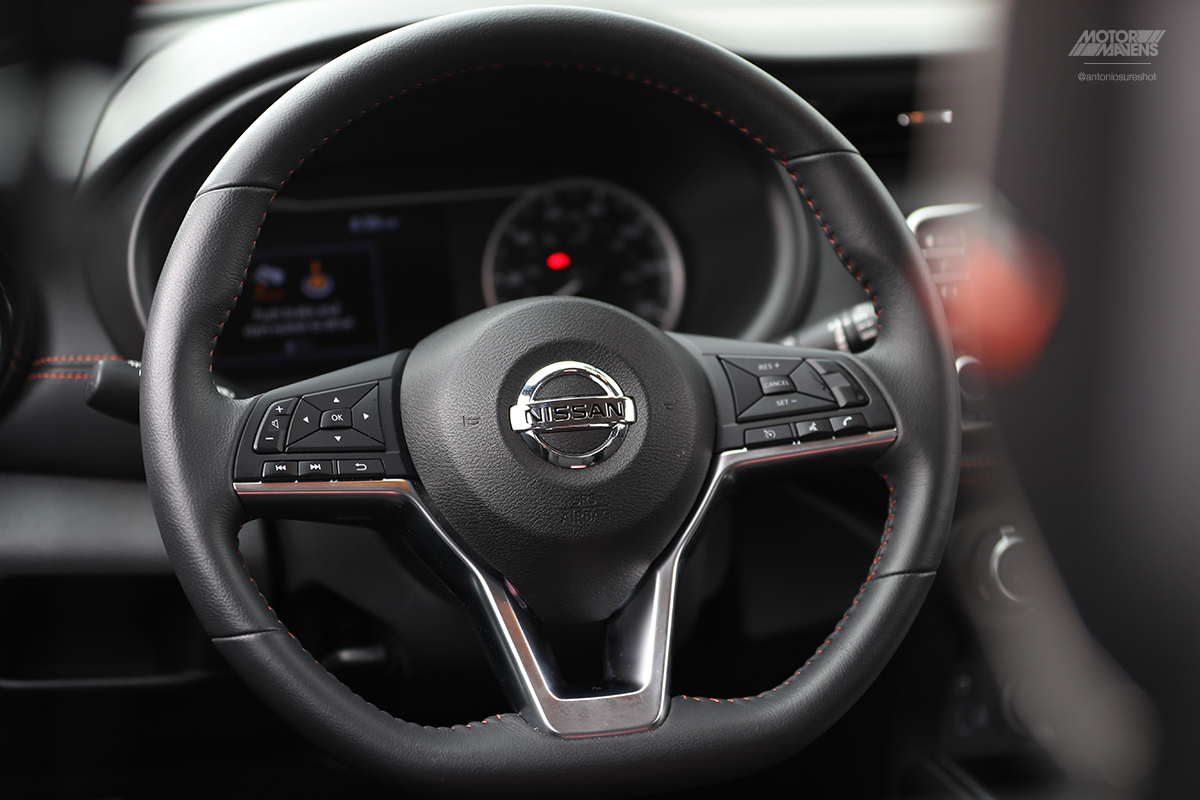 The Kicks comes with a flat bottom, D-shaped steering wheel with all the essential buttons to control the car's audio, telephone, and cruise control functions. The contrast stitching on the inside of the wheel provides a nice, stylish touch. This styling cue continues onto the dashboard and the seats for a premium, cohesive look.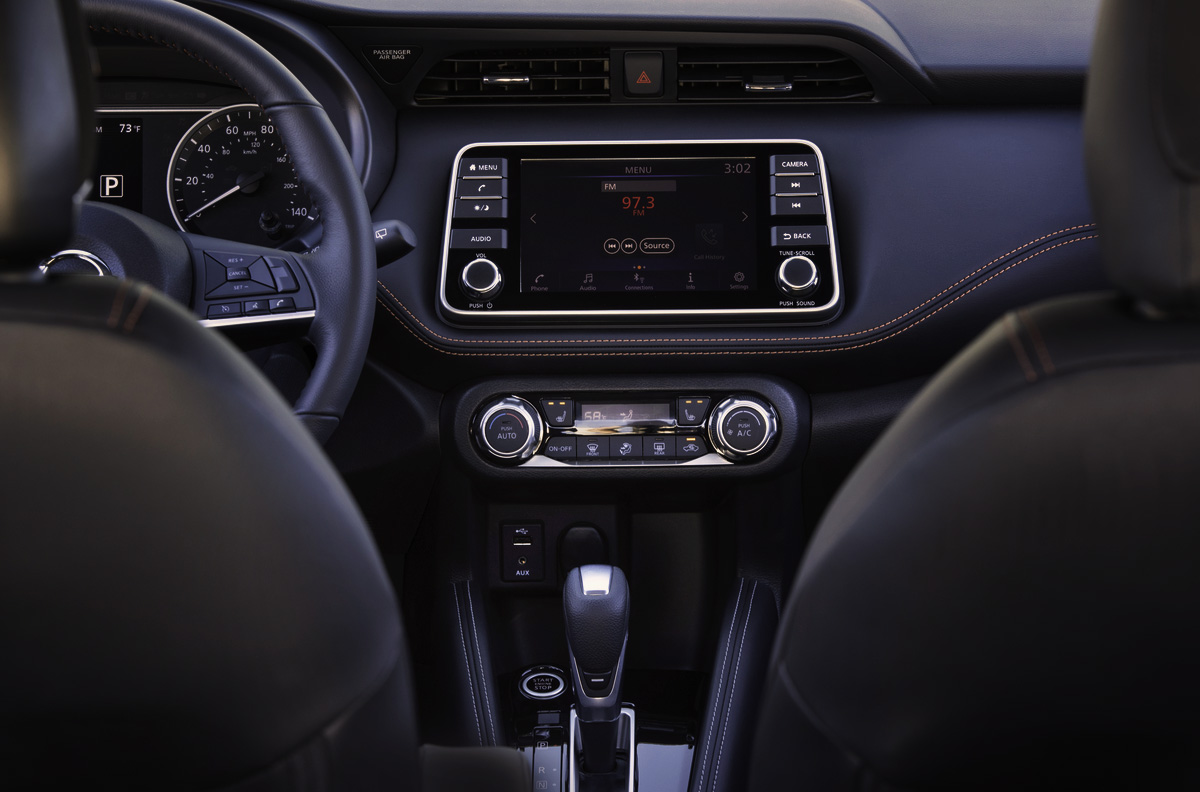 The shift knob looks stylish and premium, and the climate controls are easily accessible and easy to use. That's a plus.
However, my favorite aspects of the car would probably be the 7 inch full color infotainment touch screen display, and the fact that it comes with an integrated USB outlet, aux jack, and cigarette lighter in the under-dash for plenty of charging and connectivity options, but it also comes with two more USB jacks towards the rear of the center console, so that the rear passengers can charge their devices too. Brilliant.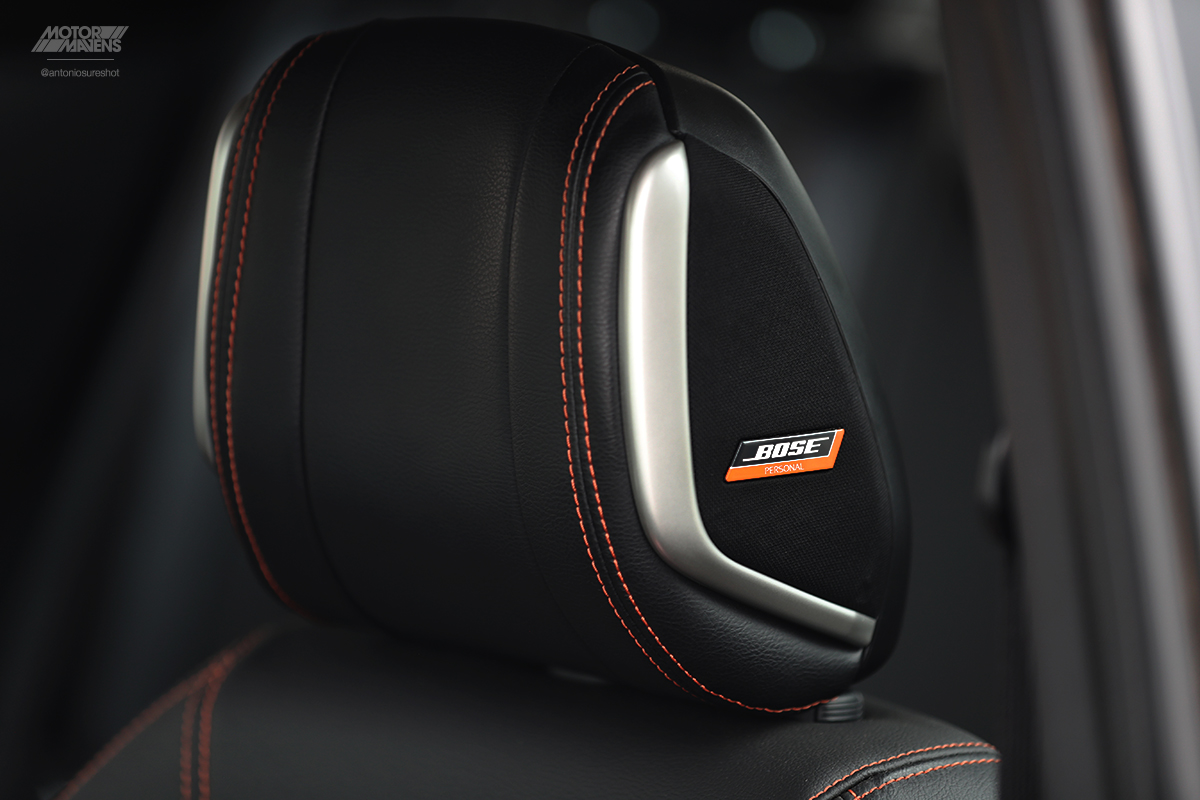 The higher end SR Premium models come with optional Bose Personal Plus audio system, which has nifty integrated speakers in the headrests, but when we drove down the coast blasting music from artists like The Doors and Nas, I remember wishing the Bose system had a subwoofer to deliver more bass. I suppose a small sub can be added later if it's really that important to the buyer of the vehicle.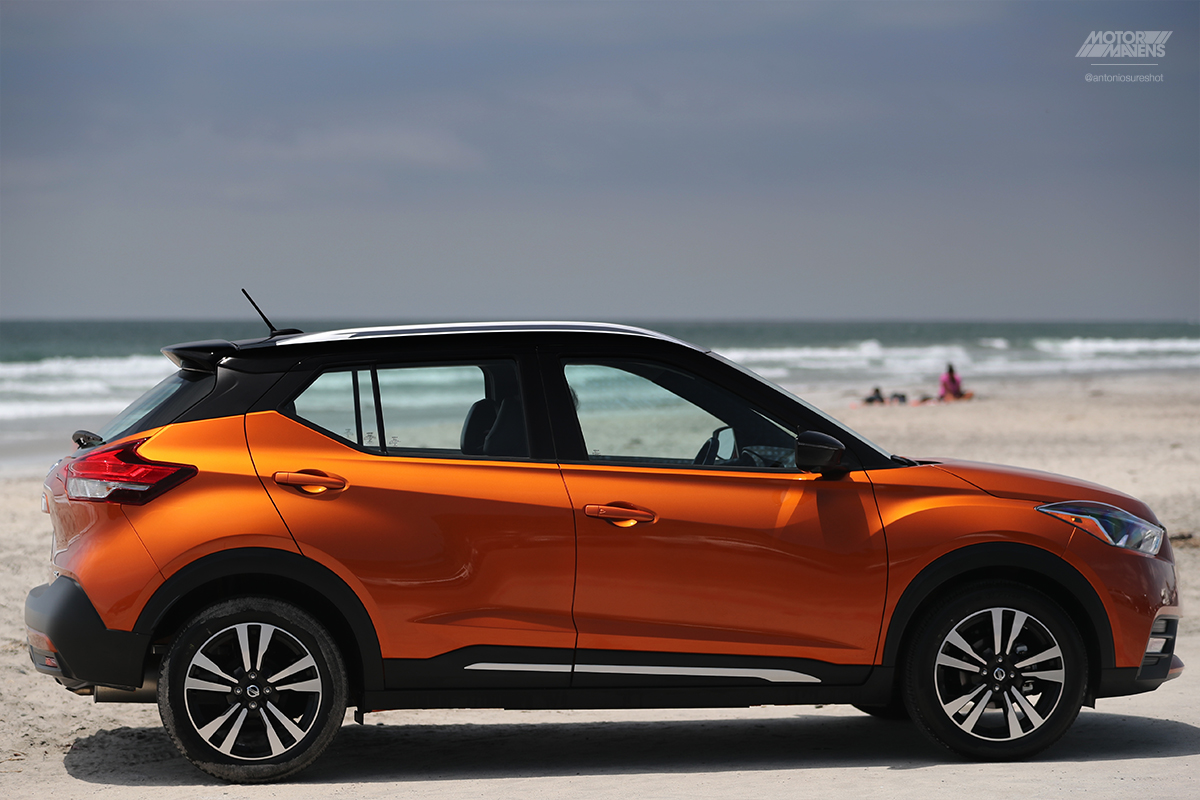 From the side profile of the Kicks, one would think that it's a pretty large vehicle, but that's all just part of the cleverness of Nissan's design. While the Kicks does have a ton of headroom, front legroom, and trunk space, it actually shares the same compact chassis platform as the Nissan Note and Versa.
This is a plus when it comes to driving! The Kicks can maneuver through city streets like nobody's business. The turning radius on the Kicks is really impressive – we tested it out by doing a series of quick, probably-not-so-legal u-turns in some of Downtown San Diego's smaller city streets near the Gaslamp District when we were heading back to the hotel. Don't worry, we didn't hit any pedestrians, parked vehicles or anything like that.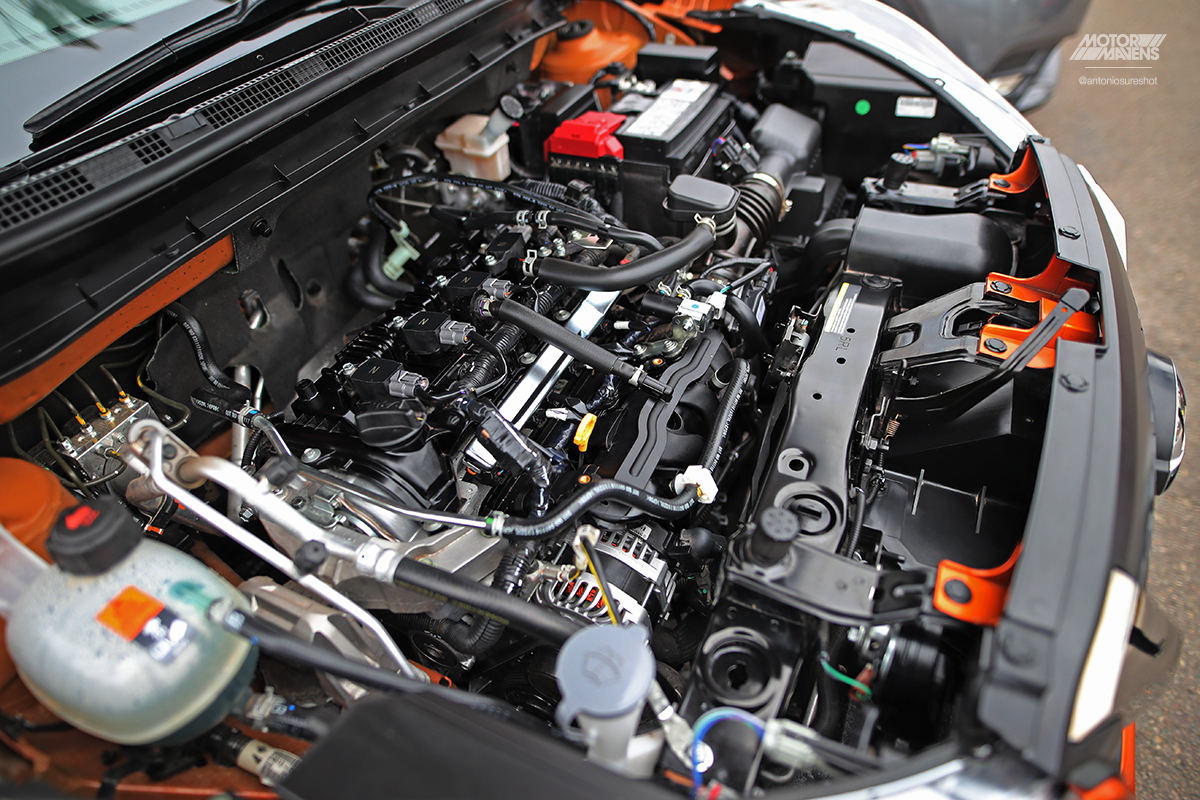 Here's the 4 cylinder 1.6 liter HR16DE fully aluminum engine with 16 valves, 9.8:1 compression, and continuous Variable Valve Timing that powers the Kicks. It produces a whopping 125hp at 5800rpm (it redlines at 6500rpm), and 115 lb-ft of torque at 4000rpm, which is more than enough to give even the fastest Gaslamp District pedicab drivers a run for their money. 😀
All jokes aside, I think that most people in the United States are too caught up in pure horsepower numbers without taking the total package into consideration. The Kicks only weighs 2672 lbs in total, so this vehicle is light weight and takes advantage of the Japanese theory of power-to-weight ratios which made the classic Japanese cars of the 1970s and 1980s so great.
Even though we're talking apples and oranges here, to give you a little bit of insight into another car with similar power to weight ratio… the 1985 AE86 Toyota Corolla GTS weighed roughly 2600 lbs, and only produced 112hp out of its 1.6 liter 4 cylinder, 16 valve engine with 9.4:1 compression. By modern equivalents, a person who only reads car specs online would think that these horsepower numbers are dismal, but the AE86 had a very similar power to weight ratio as the Kicks, and the 86 was actually back then (and still today) considered a nimble, sporty compact car, and has developed a cult following as a result.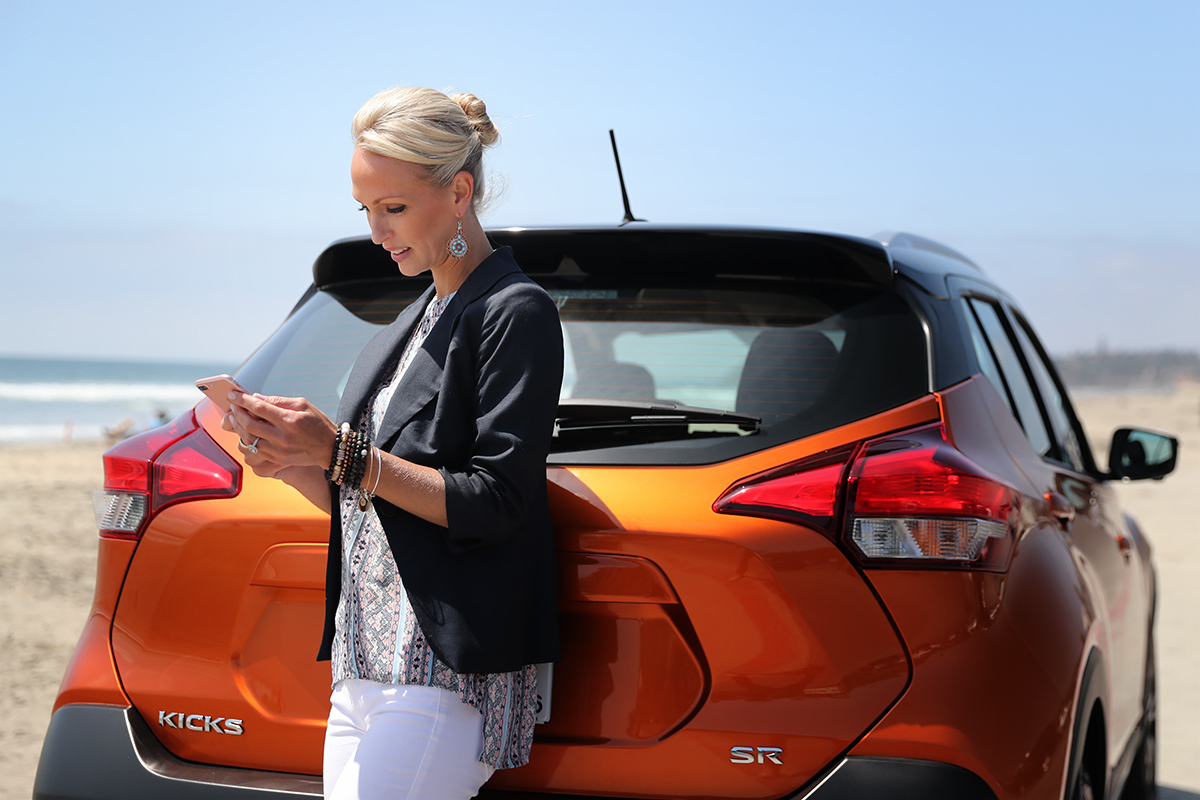 That being said, let's discuss the actual experience of driving the Kicks. In town, it was just fine. It was actually perfect for normal city driving. When accelerating onto the freeway, it didn't give you the breakneck acceleration of a Nissan GTR, but it also wasn't designed to. It was fast enough to maintain a normal pace on the freeway, which is what you would want if you want to maintain good fuel efficiency anyway.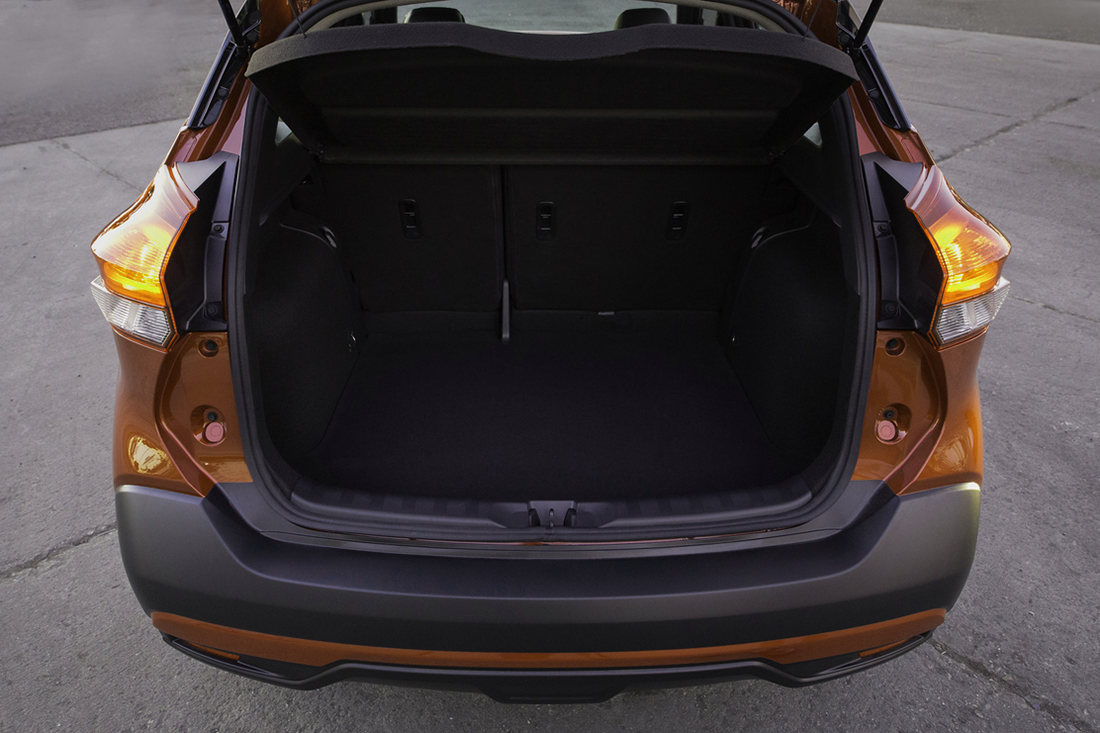 Even though the Kicks was built on a small wheelbase, I was pretty surprised at how much trunk space it offered. The trunk definitely seems spacious enough to hold a couple big pieces of 29 inch roller luggage (the type you'd take on a month-long overseas trip) plus a few other small bags.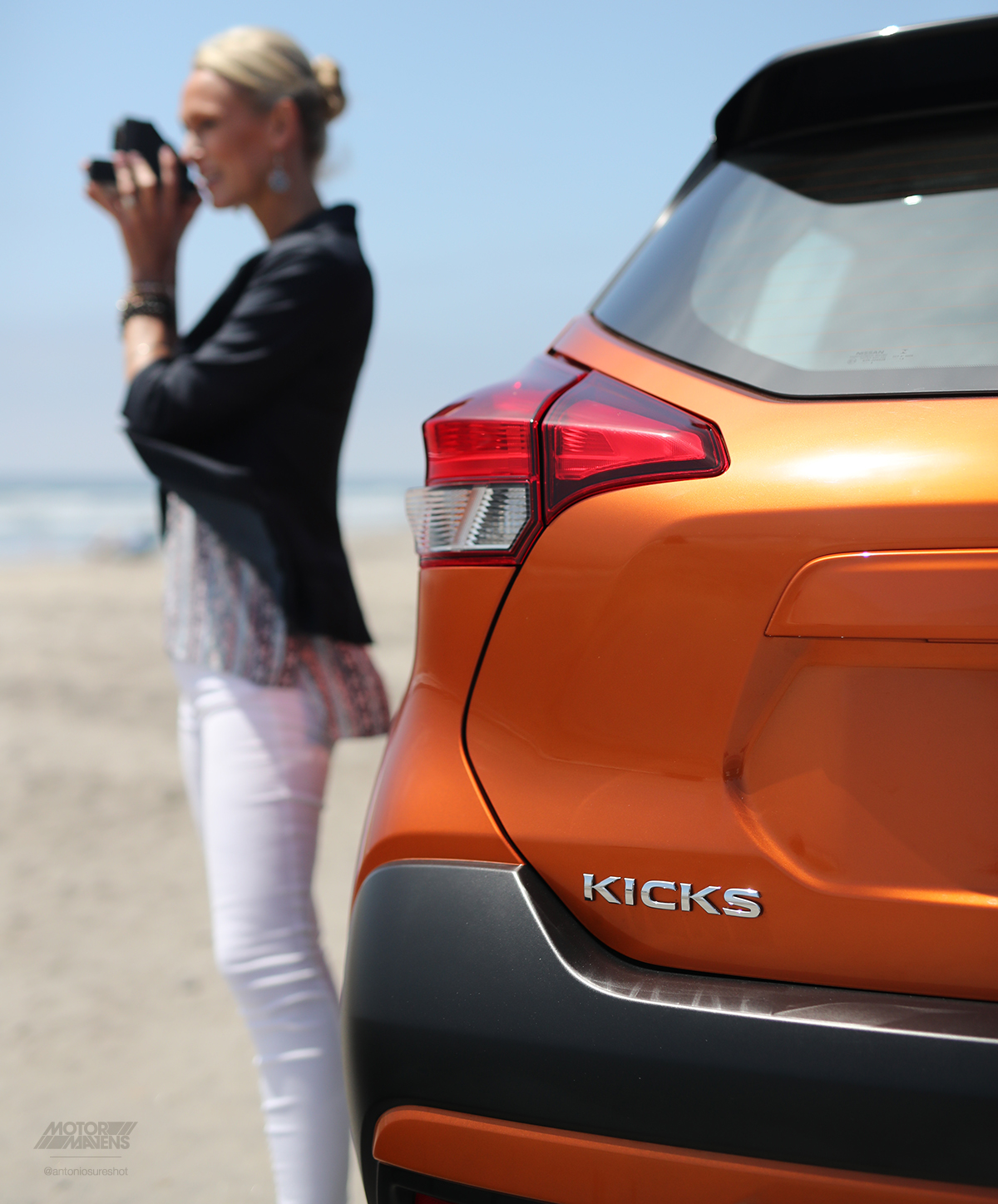 This would make the Kicks a pretty good choice for going on short trips with the family, or driving friends to the airport.
My guess is that it will become a popular vehicle for Uber and Lyft drivers who are looking to transport luggage and passengers in comfort, but still retain impressive fuel economy.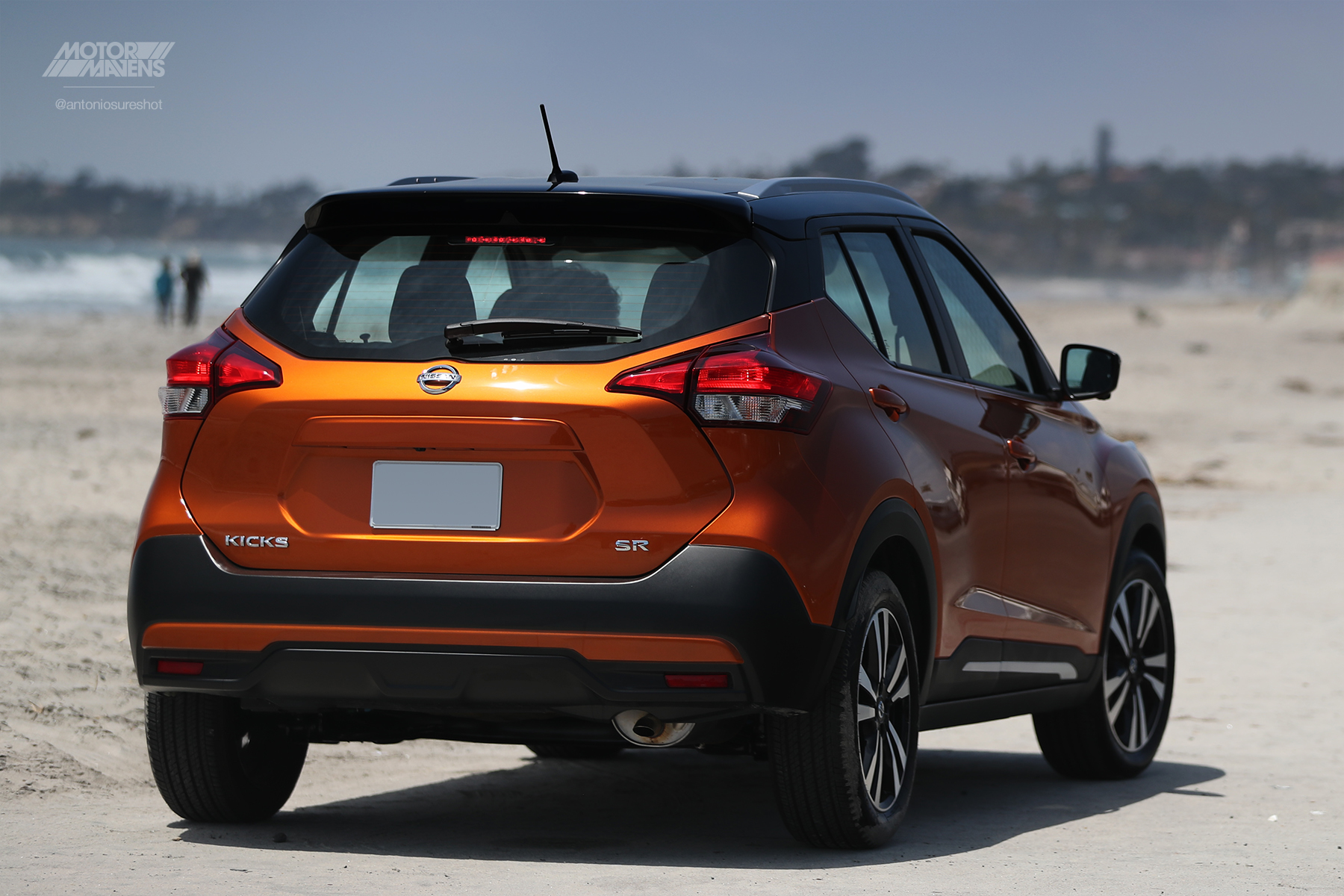 I'm glad that Nissan added the Kicks to its CUV lineup. I think it will become a popular vehicle in major cities across the United States, and it's a smart choice for young minded people looking for an affordable, fuel efficient, practical daily driver with all the modern tech to support the latest in mobile gadgets and apps.
:: Antonio Alvendia
---