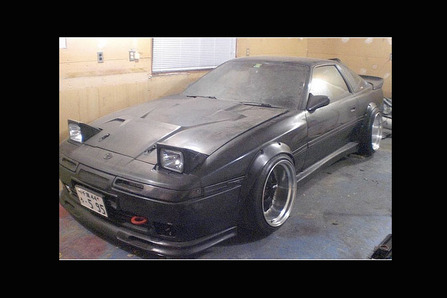 Here's something real quick. I was just browsing through one of my new favorite blogs, Kyusha Kai (in Japanese, it means something like modified old school car), when I came across this supeerrrrrrrrrr super dope Supra. This has GOT to be the best JZA70 Supra I've ever laid eyes on. Ever. EVERRRRRRRR.
Just look at that stance. The wheels. The flares. The front chin spoiler and front bumper. The aftermarket vented pieces that replace the turn signal indicators..??? The crazy looking hood and sideskirts! The wangan wing out back. And does it have a roof wing? Can't tell from here. And it has an old school sha-ken sticker.
If this doesn't inspire you to want a JZA70, I don't know what will. I think if more people made JZA70s look like this, maybe the MA70/JZA70 body style Supras might be as popular as S13s or FCs.
Holy crap. Leigh Roto, Brian Urbano, Jose Valle, and all the other MA70/JZA70 owners I know… this is for you guys. Be inspired!
:: Antonio Alvendia
---