Hey guys, this is Leigh Roto from the Risky Devil street drifting crew in Chicago. I'm the driver of the light blue JZA70 Toyota Supra Turbo that you may have seen in the photos from All Star Bash Weekend.
Not many people know this, but I work at a BMW shop called WSTO.  We bought this BMW 135i back in September 2008 and I LOVE it.  It's not the most extreme build, but for a streetable daily driver it hauls balls and I think it looks dope.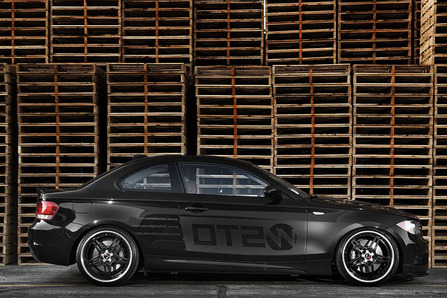 We instantly fell in love with the 135i's gorgeous looks, well designed interior, powerful motor, and more importantly the way it made the driver feel completely in control. We chose Black Sapphire Metallic, as it's a beautiful spin on the standard black. Understated and looks brilliant in the sunlight. The car came with the beautiful Coral Red interior as well. As soon as we got it back to the shop we knew we were in for a really good experience.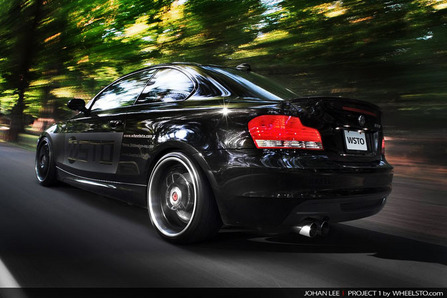 We drove the car stock, and really enjoyed BMW's masterpiece for a moment. Being WSTO and car enthusiasts though, it didn't stay stock for long. Within 1 week we had our Bastuck 2x85mm exhaust system, Bastuck Y-pipe, and Riss Racing downpipe installed on the car. It surprisingly opened up the feeling of the engine, and gave it a great deep powerful sound. Even with a cat-less downpipe, the sound was not "too loud", and it's almost silent inside the cabin while cruising. But push the pedal on the right closer to the floor, and almost as if the engine knows what you want, the turbo's spool and a glorious sound fills your ears. After we were done making our ears happy, we moved onto the visuals.
3D Design makes quality aero products coming straight from Japan. We opted for the front lip spoiler and rear trunk lip. The front lip is understated, and flows very well with the stock body lines. The trunk lip spolier, swoops up finishing the flow of the already rounded trunk lid. The addition of BMW performance shadow line grilles finished off the exterior. Next we needed to work on the stance of the car. Thanks to some H&R sport springs, lowering us 1.8″ up front and 1.2″ out back, it brought us closer to the ground and set there car where it should be from the factory. Two months after we picked up the car it looked and sounded great!
As good as it looked, we of course, were not done. We knew we needed some wheels. Here at WheelSTO, we knew we needed something that would stand out. Our good friends at Klassen Leichtmetallrader had just what we needed. We opted for their 5.1, which offered a classic and sporty design. The 3 piece construction meant that we could pick out the perfect offset, and get the largest lip possible. We went with 19×8.5 +40 in front and 19×9.5 +48 in back. The spokes were finished in their liquid black, and completed with a liquid smoke lip. Wrapped them in some super sticky Toyo Proxes T1R sized, 225/35-19 and 255/30-19. Combined with the nice drop this really set our car apart from the rest. Our wheel fitment isn't as aggressive as what you normally might find on the Risky Devil cars, but pretty aggressive in comparison to what BMW owners in this area are rocking… and to this day we have yet to experience any rubbing.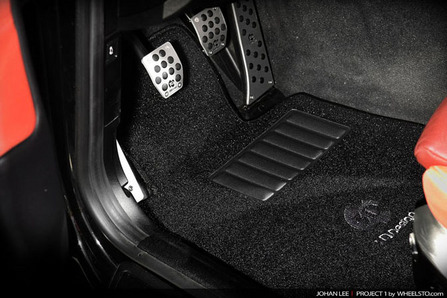 We love the OEM interior but thought it needed some little performance oriented additions. Some simple upgrades from 3D design gave us just what we needed. 3D design pedal covers, as well as their dead pedal cover gave us more grip on the pedals and a sporty look. Sitting next to those we place a set of 3D design floor mats to keep the carpet free from the dust and dirt of daily driving.
We have a lot more photos and info on the car on our website: WSTO
:: Leigh Roto
---