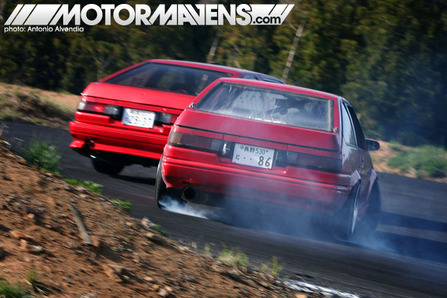 Damn, I love red AE86s. Especially red AE86 Truenos. To further celebrate Hachiroku Day today, I just wanted to point out that this (above) is one of my favorite AE86 photos I've ever taken in my whole life. It's not like it was particularly challenging or technical or anything, but it's just that this photo brings me back to a really great time in my life.
Standing trackside at Ebisu Circuit's South Course (the D1 course) that day, I felt completely happy. I know it may sound pretty weird; this isn't normally the type of thing one writes about on an automotive blog site. Nevertheless, my experiences that day were so incredible… I don't think I'll ever forget the sights and sounds of Ebisu Minami that day… with these two gorgeous red AE86s chasing each other down the track, bumper to bumper… initiating drift close to the intimidating South Course wall, and chasing each other door to door throughout the entire course. It was a hell of a show, but here's the thing. There were no spectators there that day, except for me. It was as if for some reason, two of my favorite cars in the world (and in my favorite color too!) were chasing each other down at my favorite race track in the world, dogfighting just for my own viewing pleasure.
It was amazing to say the least; my words here don't do the experience justice. It was exhilarating and exciting, yet relaxing at the same time. It was as if my whole world was at peace, for just that one moment. I f*cking love red AE86s and I f*cking love Ebisu Circuit!!!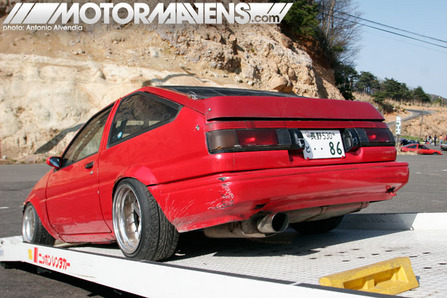 Just look at how LOW this red kouki hachiroku sits as it gets carefully lowered off its loader… I'm not a huge fan of the exhaust, but damn it, that car just looks soooooo good!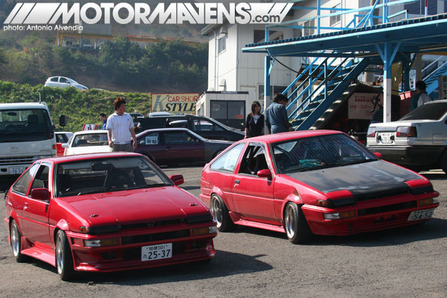 At Ebisu South's pit area, people were bringing their tires to mount and dismount at the Ebisu tire machine in the background… but I just couldn't stop staring at these two AE86s. The other one has a Goodline bumper too! I love it, but the hachiroku on the right definitely has the best stance. Soooooo bad ass!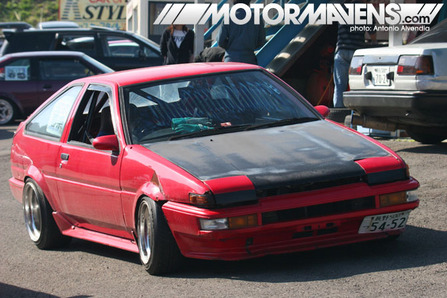 Let's zoom in so we can take a look at it some more. It has a busted up fender, with big rust showing. The vertical stripes on the windshield indicate that the car has zenki glass installed, although I'm not sure if the car is a kouki model with the windshield replaced for zenki glass, or if the car is a zenki, with completely converted rear taillights, front fender lights, eyelids and kouki front bumper. It doesn't matter; I'm already mesmerized by this AE86's aggressively low stance, with ridiculous amounts of negative camber up front.
AE86 kids out there, please take notes. THIS is how an AE86 should look!
:: Antonio Alvendia
---