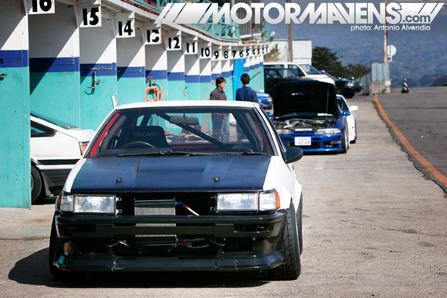 It's about 5:00am and I haven't slept yet. (I'll set this to publish later on during the day though) While the rest of us in the West Coast prepare to make the trek up to Seattle for Formula D, on the other side of the world, another big drifting event is happening…
This weekend, Ebisu Circuit is holding its Summer Drift Festival. In celebration of 8/6 Day, I just thought I'd post up some AE86 photos from my favorite place on Earth… Ebisu Circuit.
Above, we see a cool demon cambered kouki AE86 Levin at Ebisu's East Course. It appears like the car in question used to be red, as it has a red trunk lid and A-pillar. Can anyone spot what kind of tires it's running?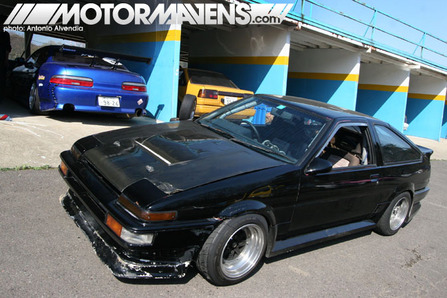 Oooohhh black kouki AE86s are dope as hell. The front bumper and zenki lip on this car have seen better days, but the car still looks awesome! Dig the 14×9 SSR MarkIII wheels. I like the aero mirrors and the zenki glass, rollcage, and old school Recaros as well.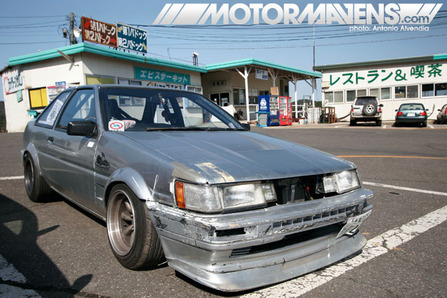 Right in front of Kumakubo's office, I saw this awesome looking battlescarred silver 86 Levin, with 14x9J RS Watanabe Type R wheels. Notice the Goodline hood – those are pretty rare in the USA. Most US AE86s have fake J-blood hoods.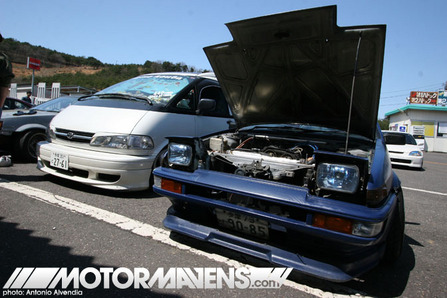 Nice! I love TCR10 Estimas (Previas) and AE86s! Look at the crazy ass camber on this blue 86 though! That's nuts!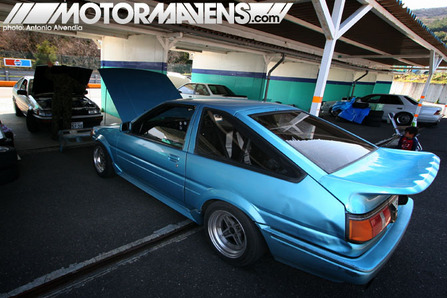 It's no secret that I'm not the hugest fan of teal AE86s, but I just had to take a pic of this one. Look how crazy it looks with that long ass rear wing!
Ahh Ebisu. I can't wait to go back. If you're in Japan right now, you definitely need to drop everything you're doing and get over to Ebisu Circuit in Fukushima prefecture! GOOOOOOOOOOOOO!!!
Happy Hachiroku Day everyone! Live the 86 Life!
:: Antonio Alvendia
---