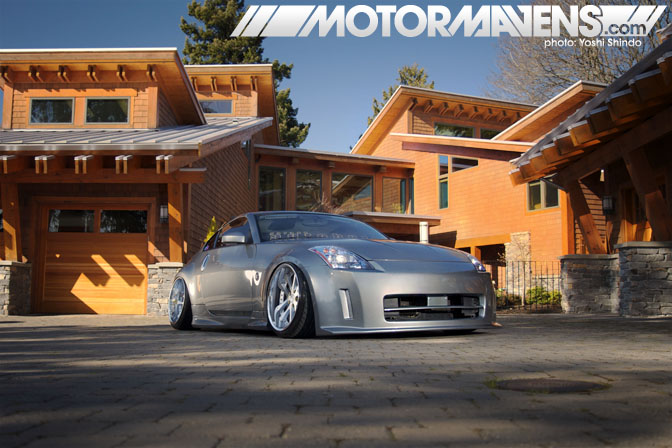 Everyone has their own personal style, preference and idea of what inspires and motivates them. Just as in so many other areas of our lives, these influences and tastes come through in the selection and overall direction of an automobile and its build. The great thing about having an automotive based hobby is that every part, every color and every look has a purpose to the individual builder. You really can say that, just by looking a car, you can tell a lot about the owner. Some like to take themes to extremes and others like to keep it mild. Some are more race oriented for track purposes and others lean more toward street driven enjoyment that allows for a less practical method of tuning. That's where Ryan Lee and his bagged 2003 Nissan 350Z come in.
When Ryan rolls up to places, slammed to the ground, on a bright Pacific Northwest day, people take notice. The sun reflects off the wheel centers catching your eye before your brain even realizes what's going on. In the split second after that moment, you unconsciously decide to either praise or criticize Ryan's ride. Either way – his point is made. His goal has been met and, whether you like it or not, you have already recognized his hard work and personal style.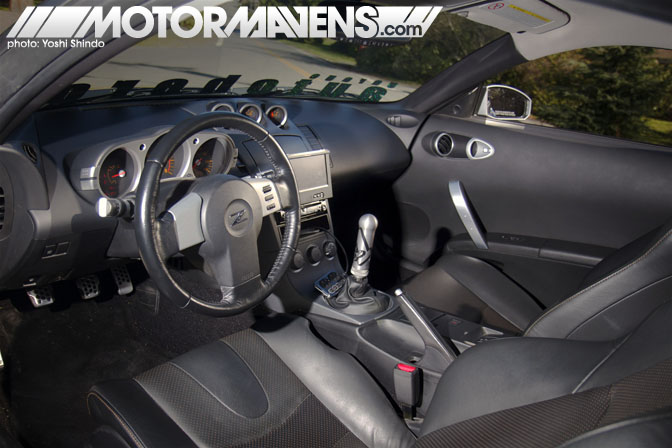 Having been influenced by his father, Ryan was always into cars growing up. In 1976, his father bought a Datsun 260Z and there the family love of cars was born. When the first concepts of the 350Z were released, they would talk about them for hours and keep up to date on the changes and from there the old 'Z car' spark was reignited. So when Ryan was saving up his money for his first car, his dad suggested he wait until the new 350Z was available instead of getting the Honda Civic SI he was initially considering.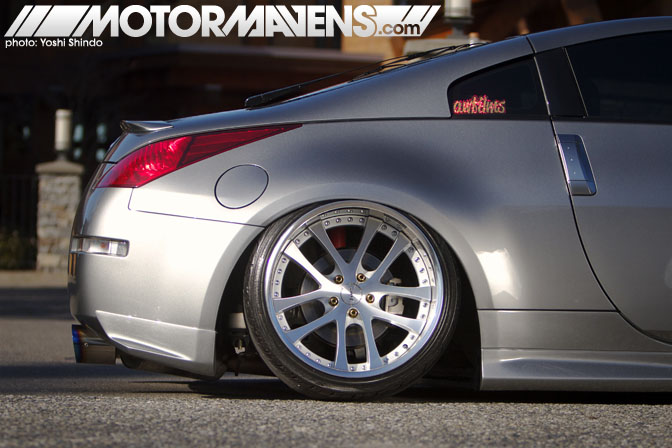 As time passes, so do our tastes in all things. We like different foods, try new things, refine our current passions, and so on. After having a carbon fiber hood and some Axis wheels on his car for a while, a change was needed. After graduating college and co-founding a local and successful clothing company, Cake Face Clothing, Ryan's views and style had evolved. His new tastes led him to pursue a classy, VIP-esque makeover for his car which captured his evolving personality and style.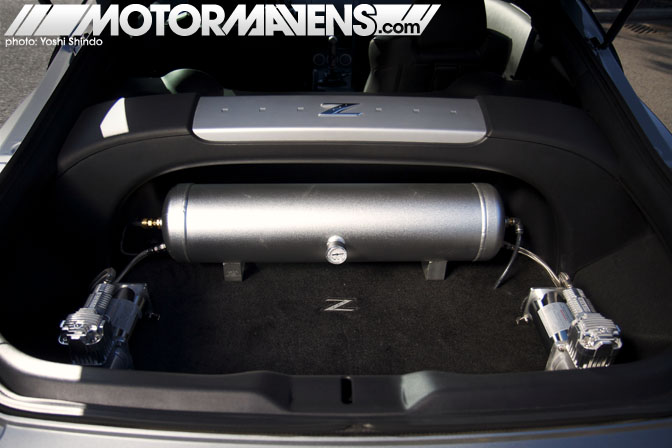 The Accuair E-Level Air Suspension system was chosen to hold the car up high or low as it rolls around on beautiful 19×10 and 19×11.5 Weds Kranze LXZ wheels. These two mods are, of course, the first thing you will notice on the car but the rest are subtle, yet they definitely add to the feel of the vehicle. The exterior is dressed up with an Aerosync front bumper, and Nismo side skirts and rear valences. The drivetrain mods include a Kinetix intake manifold, Nismo cold air intake, and a HKS Hi-power Ti catback exhaust.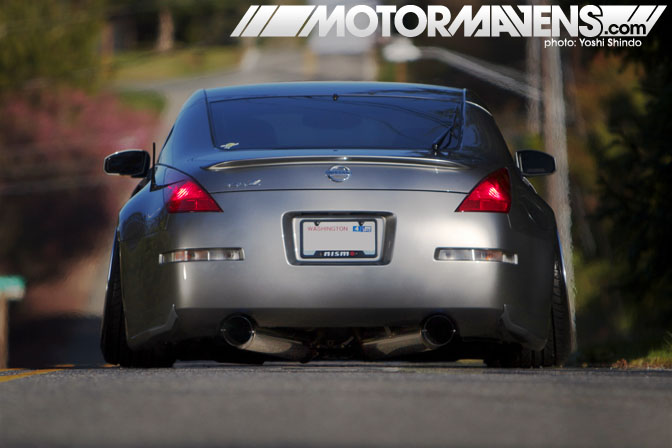 Ryan has beautiful execution of class and style on his Z33. The most noticeable mods set it apart from others while managing to not be gaudy or 'in your face'. And this approach has gained him the attention accompanied by the respect of others in the automotive community. He currently has no plans for the car other than to enjoy it during the upcoming beautiful Seattle summer days.
Ryan would like to thank:
Ray Stonehocker of Garage Autohero for installing the air suspension.
Christian Coujin of Era-1 for sourcing and coming through with the air suspension.
Yoshi Shindo for the amazing pictures.
The Hall family for letting them take pictures in front of their house.
And all the Seattle local car enthusiasts for supporting Cake Face Clothing.
::Lucas Perez
Photos by Yoshi Shindo
---