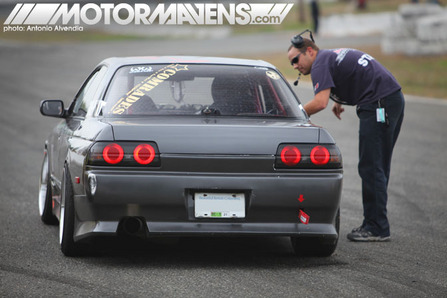 Okay, it's already past 2am now, and I need to get to sleep because we have a long day at the track ahead of us tomorrow! But before I sleep, let me just throw a few quick photos up on the site!
Above, here's a real dope R32 Skyline 4door that came from the Drift Safari crew in British Columbia (that's Canada, to those of us who are ignorant Americans). More photos of this car coming soon!
It's so cool that you can register a car like an R32 Skyline, A31 Cefiro or C33 Laurel and just drive it on the street, legally in Canada. What the hell are we still doing living in Southern Cali, anyway? (Who am I kidding, I love Southern Cali…)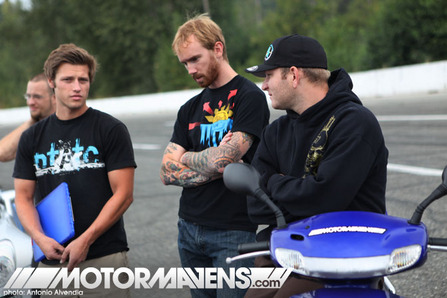 As I walked along the starting grid, I kicked it with some of the Drift Alliance guys when were chillin trackside. They were waiting for Justin Pawlak's RX8 to go through technical inspection. It's cool that JTP has a blue scooter that matches the color of his drift car!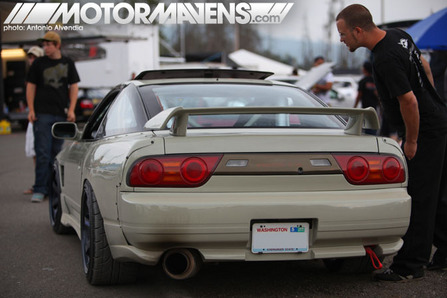 On the other side of the pit area, alot of people were jocking the style and cleanliness of this awesome beige RPS13 with Volk TE37s!!! This thing looks CLEANNNNNN! Love the color!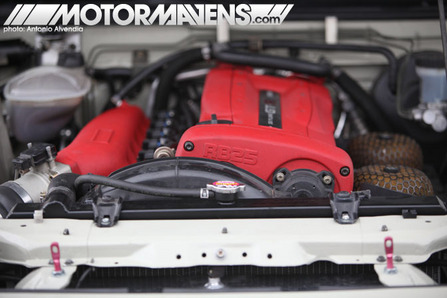 Just when you thought the car was dope enough, the owner, Nikolay Konstantinov, popped the hood. Oh SNAP son! Look at how clean this RB25DETT install is!!! Car magazines out there… Modified? Dsport? Super Street? You better call me immediately. You don't want to sleep on this car!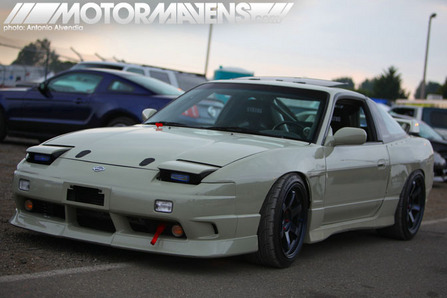 Here's the front view of this RPS13… any TE37 fans out there? I love so many aspects of this car; I think it looks dope as hell. I think it would look even better with different hoodpins (or better yet, none at all), headlights, and a metal towhook. But I'm just nitpicking, and it's not even my car. Props to Nikolay for building such a clean and outstanding looking S13! This car is sick.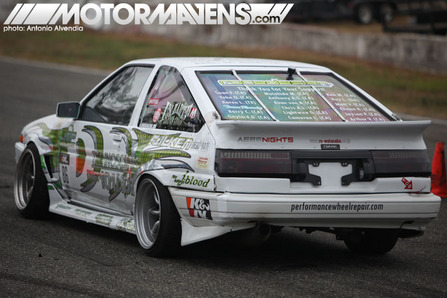 It's still hard for me to get used to seeing Taka Aono's incredible Hasselgren-built 4AG turbo AE86 in its old "Drift Day" privateer livery… I was getting very much used to his signature Falken teal and blue look. See Taka's window? It bears the name of the Club4AG members who donated money to help Taka transport his car from place to place on the Formula D tour. Respect!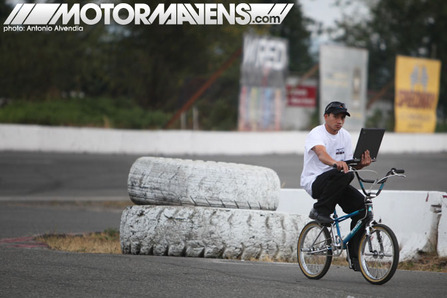 Is this face familiar to you? It should be. It's Ed Bergenholtz, who you definitely must know if you follow drag racing at all. Ed came out to Seattle to support the race team and his older brother Ron, but even at the track, we still couldn't pry him away from his laptop.
We understand your constant need to read the newest stories on the MotorMavens site, Ed… but seriously, don't read our site while you're riding a bike at the same time! It's pretty dangerous!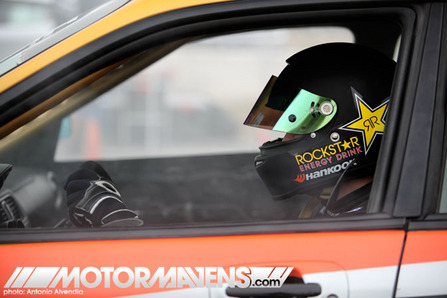 Sitting up at the start line, Eric O'Sullivan mentally prepares himself to run a perfect practice run, as tiresmoke wafts through the air, getting trapped within the interior of his car.
Okay, that's it for me right now! Time for sleep! Check back with us tomorrow for the absolute BEST photos and stories from Formula D Seattle!
:: Antonio Alvendia
---