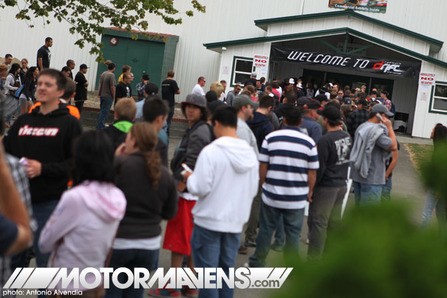 I'm sure many of you have been waiting for my photos and stories from Formula D Seattle, so I apologize to our readers for uploading these kind of late. It's been a pretty hectic weekend. There was plenty of drama at Formula D on Saturday, and I apparently added to it by pissing off the Formula D safety steward while grabbing a quick shot of Dai Yoshihara's smashed Lexus IS350 as it was getting loaded up onto a tow truck and pulled off the track.
It's a long story, but in a nutshell, the Formula D/SCCA guy Randy Hembrey got pissed off at me and pulled my hard card on Saturday (competition day), which allows me to get track access for shooting photos. This was definitely a problem, as I was expected to produce good images that weekend (I was shooting the event for clients, who helped pay my way to get up to Seattle). I had a hell of a time trying to get photos for the rest of the day, especially without access to the hot areas, but I still managed to get some photos somehow.
So here it is… Formula D Seattle through my eyes.
Above is a view of the incredibly long line for tickets and will call, outside the venue. This was one of three lines I saw – it was pretty crazy. There were tons of people waiting, trying to get into the event. I'm not sure exactly how many people showed up to the track on Saturday, but the grandstands sure looked full. It seemed like as if this event had higher attendance than I've seen in previous years, but I don't know the actual numbers.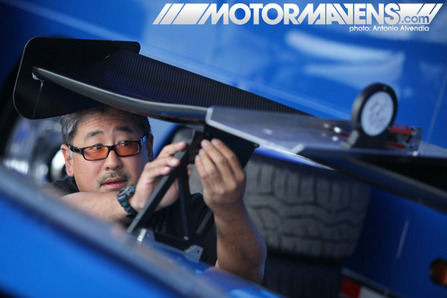 Walking through the pits, I spotted Mike Kojima carefully adjusting and measuring the degree of tilt on the rear wing of Calvin Wan's S15 Silvia. Most people probably don't know Mike's face, but his name is definitely well known.
For those who don't recognize the name, Mike was responsible for authoring all the best technical articles in Sport Compact Car, Turbo Magazine, and Nissan Performance Magazine. He even wrote a technical book about Honda/Acura Engine Performance, but he is probably most well known for his work as an engineer at Nissan/Nismo, and Toyota Racing Development before that. For people who like Nissan Sentras, Mike is the guy responsible for making those FF economy cars perform. However, I first heard of Mike by reading his name numerous times in the old school Toyota Performance Handbook, which has several caption errors (including misspelling Mike's own name) but was one of the first sources of info for newbies modifying Toyotas in the 1990s.
Mike was contracted by Falken Motorsports to set up Daijiro Yoshihara's new V8 Lexus IS350, which was built extremely well, but had severe handling problems until Mike sorted them out by tuning the suspension with Dai at track days. Now that Dai's car is (err…was) handling very well, Mike is starting to help Calvin Wan tune the setup on his S15, which has handling issues from being smashed into the wall so many times by the people who drove it – Nobuteru Taniguchi (remember, it was the former HKS S15 Silvia), Daijiro Yoshihara (it was also formerly the Pacific Rim S15) and Calvin Wan himself.
Anyway, we are pleased to have Mike on board as a contributor to MotorMavens, but please check out his other websites as well: 370Z.com and MotoIQ.com.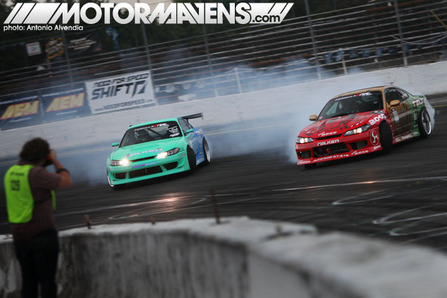 On the Friday practice day before the main event, I got this photo of Calvin and Ross tandeming together. I think both S15s look cool as they drift together; these are definitely the best looking cars under the Falken awning in my opinion. (I bet some people will get pissed that I said that, but whatever… get some better wheels, then let's talk.)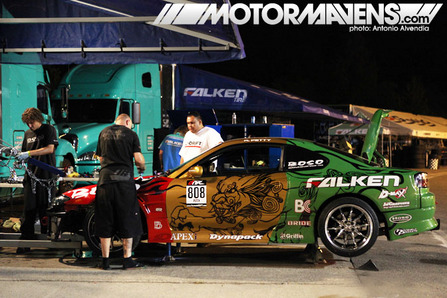 This was the scene late Friday night, when all the drift teams and media outlets were back at their hotels, getting showered up, eating dinner, and having drinks in the lobby of the Comfort Inn in Bothell WA.
Ross Petty and the Garage Boso crew blasted reggae dub music to keep them up all night as they performed surgery, doing a heart transplant on Ross's S15 Silvia at the Falken rig while everyone else slept in the comfort of their hotel rooms. Ross blew his SR motor during practice that day, so Ross's Garage Boso business partner, Frank Siharath had to drive in to Seattle with Jonathon Bradford from Falken to pick up an SR20DET motor that they found through Lawrence at Intec Racing.
Garage Boso is not a big dollar, corporate backed drift team, even though they park underneath the Falken rig and produce professional results. In order to gather enough money to buy the replacement SR engine for Ross's S15, the guys from Falken, ASD, and Garage Boso all pitched in whatever personal money they had on them so Frank and JBrad could buy the engine that night and Ross could run on Saturday.
Frank and JBrad didn't even get back to the track until around 1:00AM, where they found Ross and the rest of the Boso crew waiting, with the blown SR already out. Frank worked on swapping in the cams from the old engine, while the guys worked on bolting the turbo and accessories on the new SR so they could finish the job. Working through the night, they finally got the new engine fired up around 7:00 AM.
Due to time constraints, Ross was only able to do one 4th gear pass during the practice session, with Frank and his laptop sitting shotgun, trying to "ghetto-tune" Ross's Apex'i Power FC computer on the fly before Ross had to line up for tandem competition. Now that's hard work and dedication. Much respect to Ross, Frank, JBrad, and the Garage Boso crew for making it happen. Hopefully they read this.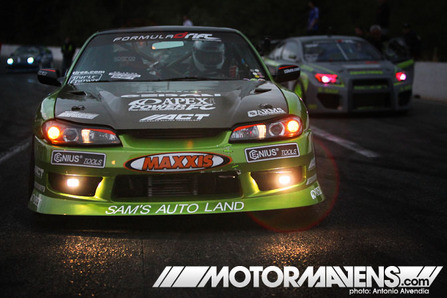 Here's Joon Maeng's car on the pre-grid area, illuminating the ground with its foglights as the sun went down in Monroe WA. Joon is an awesome driver and an awesome person all around, so no wonder he has so many supporters! Oh and make sure you constantly read Joon's blog, we do.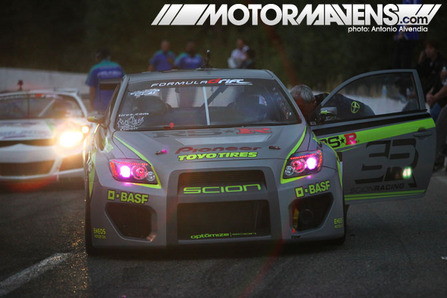 Ken Gushi's Scion TC definitely looked cool in the grid lineup. With the flat gray paint and hi-liter yellow graphics on its widebody aero, it looks pretty damn awesome. Too bad all fixed up Scion TCs don't look as good as this car.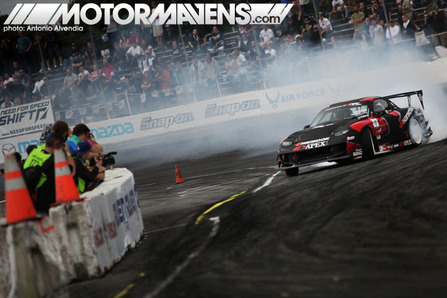 There were lots of photographers lined up against the wall during the event and practice days; I thought it was pretty crazy to see some photo/videographers leaning over the wall at the clipping points, which is pretty dangerous once you realize how close the car gets to that area.
Here, we see the Apex'i FD3S with its new R-Magic aero kit, which makes it look like a mean, futuristic transformer.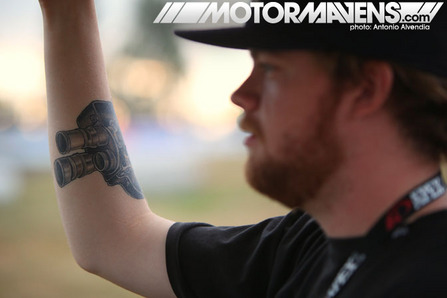 As Vegas-based video shooter Josh Herron hitched a ride with me on my golf cart, everyone made comments on the new tattoo on his arm, which is an old school film video camera that he got inked while the rest of us were shooting the Ziptied/JustDrift All Star Bash.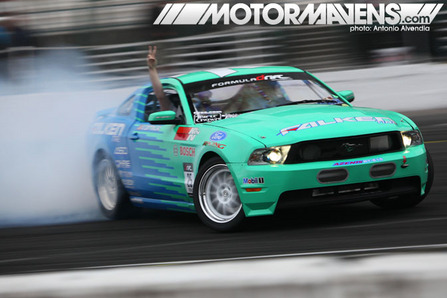 I'm sure that everyone's seen the videos of Vaughn Gittin Jr's exploits in Japan with the 2010 Ford Mustang already. It's probably one of the biggest ad campaigns I've ever seen that involves drifting!
I ran into JR, his gf Abby, and JR's dad at our hotel on Friday morning, and they were cool enough to let me ride to the track with them. In the car, we talked about old times, bringing it back to 2004 when we first met at Road Atlanta, and when I first flew up to visit him in Glen Burnie MD for an all night photo shoot of his S13 Silvia coupe, which was published in Modified Magazine when I was still working for them. JR sure has come a long way since then.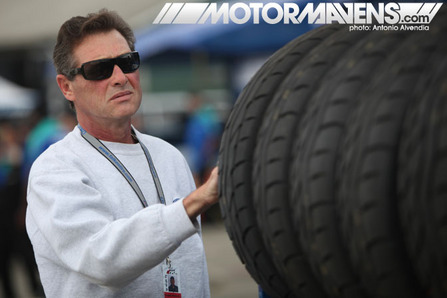 Forget about JR for a minute, let's talk about the OG Vaughn Gittin, since people may not know his face. Vaughn Gittin Sr (since everyone calls his son JR, maybe we should call him "SR"?) is super cool. He tries to make it to as many track events as he can to show his support for his son. Spend 10 seconds talking to him, and you can tell he's a proud father. If you ever see him at the track, you should definitely say hello. Say what's up, shake his hand… hell, give the guy a beer or something! Vaughn is definitely a cool guy.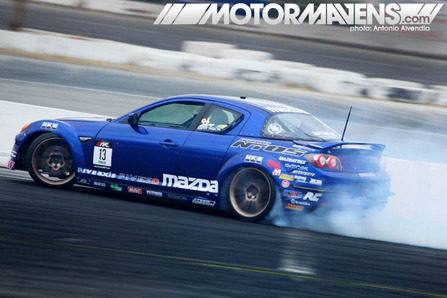 Speaking of cool, you just can't get much more cool than our boy JTP. Justin Pawlak was rippin it in the Bergenholtz Racing Mazda RX8 R3! Even though I'm a big fan of FC3S and FD3S RX7s, Justin makes RX8s looks so right with smoke billowing from the rear tires.
Wonder why there are so many stickers all over the Bergenholtz RX8? Because Ron B and Justin are privateers, and they are down to support those who are down for them. Maximum respect to these guys.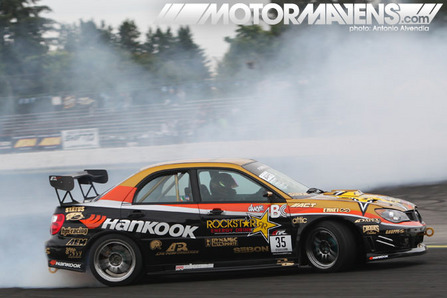 Another guy who is certainly earning his keep and getting respect is Hankook driver Eric O'Sullivan from Ireland. Part of the bad ass Dynamic Autosports team for the 2009 season, Eric won 2nd Place at Formula D Seattle after an exciting, crash packed tandem bout with JR Gittin.
Props to Eric for making the transition from RHD to LHD so quickly (his former car, the Rockstar AE86, was RHD in case you didn't know) and for making it to the podium this round!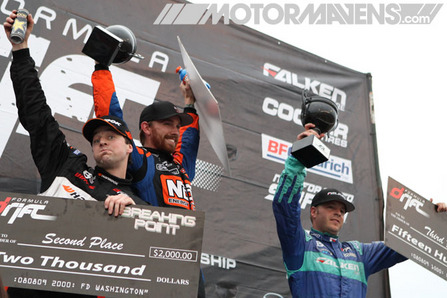 Eric was clowning around on the podium, showing off his Rockstar can and 2nd Place check, as First Place finisher Chris Forsberg and Third Place finisher Tyler McQuarrie pose for the the other cameras.
In case you were wondering, I don't have any spectacular tandem photos of Chris Forsberg, Eric O'Sullivan, or Tyle McQuarrie in the final battles because my hard card was taken away. Super lame.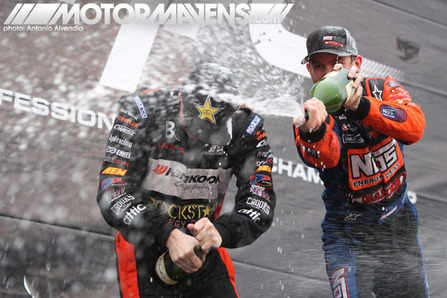 However, Forsberg let everyone know pretty quickly what he thought of Eric waving around a Rockstar can on the podium, blasting the hell out of our Irish friend while he worked on popping his bottle. Haha, sucker!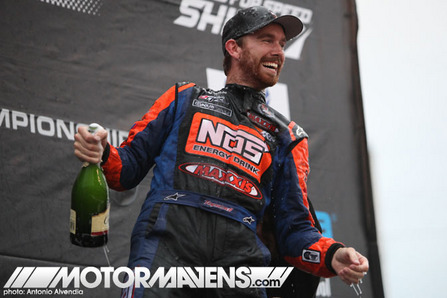 We'll pause this installment of FD coverage with this photo of Chris Forsberg, emerging victorious from the champagne fight and tandem drifting competition with a First Place trophy and a $5000 check.
Big respect to Chris Forsberg! He is living proof that an underdog with motivation and the will to succeed can emerge victorious. Congratulations on the win, Topics II!
:: Antonio Alvendia
Apex'i
,
Bergenholtz Racing
,
Calvin Wan
,
Chris Forsberg
,
Dynamic Autosports
,
Eric O'Sullivan
,
FD3S
,
Ford
,
Formula Drift
,
Formula Drift Seattle
,
Garage Boso
,
Hankook
,
Joon Maeng
,
Josh Herron
,
Justin Pawlak
,
Ken Gushi
,
Mazda
,
Mike Kojima
,
Mustang
,
Ross Petty
,
RX8
,
Ryuji Miki
,
S15
,
Scion
,
TC
,
Tyler McQuarrie
,
Vaughn Gittin
---