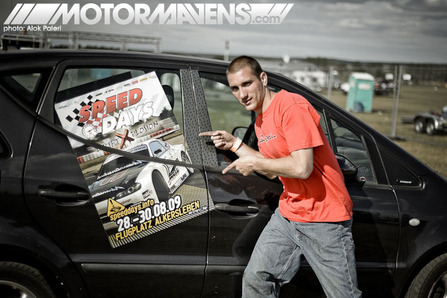 Hello everyone, I'm Faruk. I was raised in Norcal, but in recent years I have been hanging out in Europe, following and working in the drifting scene out here. The Europeans are definitely different from what I'm used to seeing in Cali. The rides, the atmosphere, the attitude,… its all different. They have wicked tracks and amazing drivers.
Over the weekend, I headed to Germany to judge one of International Drift Series events. IDS replaced the former Germany-based drifting series, the International Drift Championship at the beginning of the season. Since then, IDC has since been organizing drifting exhibitions in different parts of Germany.
The greatest thing about German drifting is that most of their events happen at the legendary Nurburgring. Since the Nurburgring is not only one track, but a complex consisting of several tracks, it gives drivers the variety they need in a series. Although there are many events in the schedule held at the Nurburgring complex, there are also other classic racetrack venues on the calendar such as Oschersleben and Lausitz. The 29th and 30th of August brought the fifth round of the International Drift Series to yet another venue – Alkersleben, Germany.
I am currently based in Poland, and as I was making my way there, I realized I had left my passport in Warsaw. When our truck and trailer was routinely stopped coming into Germany, I had to use the four words of German I know, a credit card and some business cards to prove who I was! After sailing through the Polizeikontrolle, we made our way to the remote airstrip which was hosting the event.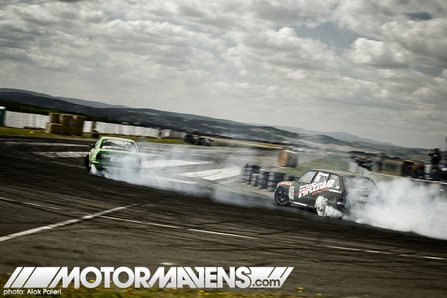 Saturday brought practice, qualifying, and some drift taxi rides to the airfield. It proved a difficult enough course to showcase the skills these Euro drivers love to fight with.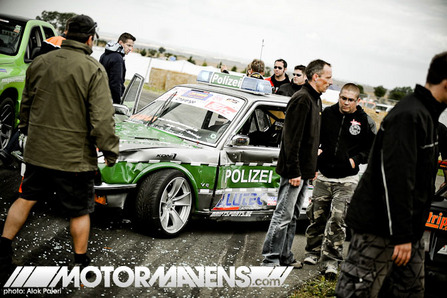 This event at Alkersleben was quite an eventful one. Alexander Gräff had come to the event to not only compete, but also to try to publicly break the unofficial Worlds Longest Drift Record (in the dry, with one set of tires) set by Vaughn Gittin Jr. Unfortunately an accident, with his wife (yes, his wife is also a pro drifter!), ended his hopes of doing it in his own "Polizei" BMW 528i drift car.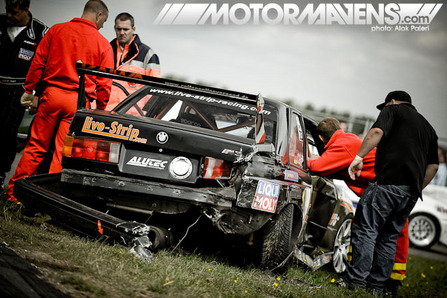 Corinna Gräff's E30 M3 was also completely totaled, and unfortunately she was hurt in the accident, but nothing the medics couldn't handle. Luckily everything was okay, and Alex had the motivation to continue to attempt the record in a LPG C6 Z06 Corvette provided to him by GreenAutoGas. Recording over 2,500 meters, he broke the record.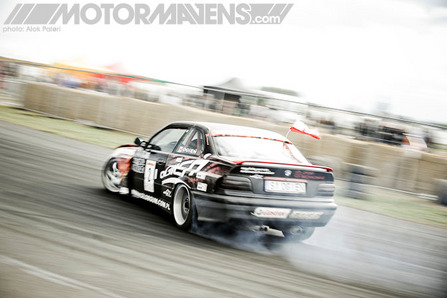 While Alex's was the most official attempt of the weekend, Wojciech Lubkowski managed some unbelievably blistering distances on one set of tires. All the attempts must be sent to the proper authorities to be legitimized, but regardless, the concentration in these endurance drifts was definitely impressive. I would definitely fall asleep if you asked me to do some large donuts for over 10 minutes.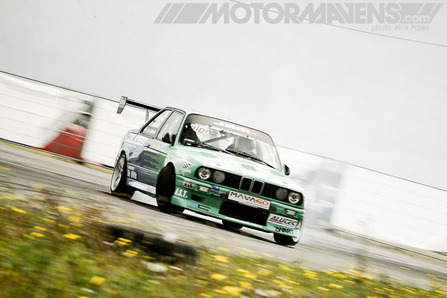 All this endurance drifting was taking place during practice and qualification, which was bringing out some crazy entries by Lars Verbraeken in his Falken V8 E30 M3.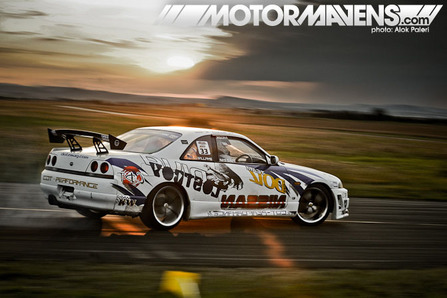 The only American running in the IDS pro series at the moment is Jazz Williams in his R33 Skyline.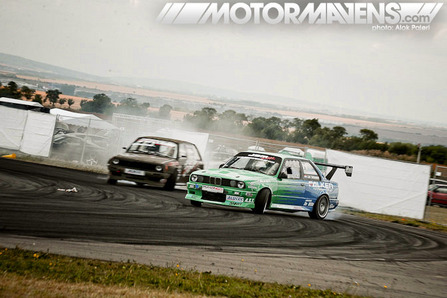 On Sunday, an extremely close points race brought out some tight tandem battles. For the third time this year, Michael Sahli was able to beat out Lars Verbraeken, putting both in a dead tie for lead in points.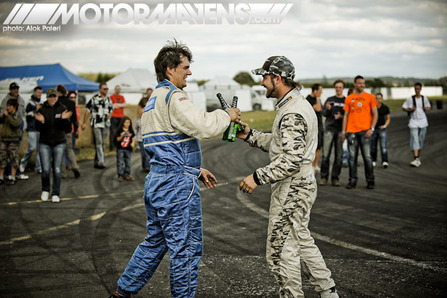 Here's Lars (left) and Michael (right) congratulating each other with a couple beers AFTER a well fought battle. Don't drink and drive, kids!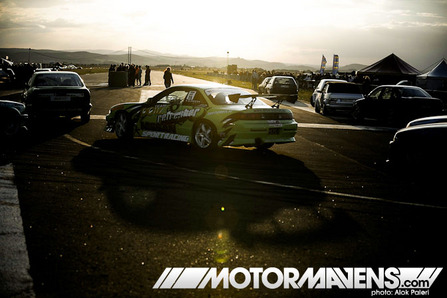 The styles of the different drivers from different countries truly showed how diverse drifting in Europe really is. IDS is definitely an arena for up and comers to dance with the big dogs. I can't wait for Round 6 at the Eurospeedway in Lausitz, followed by a Final/European Championship round on the Nürburgring F1 track.
Results
1st place: Michael Sahli (Switzerland)
2nd place: Lars Verbraeken (Netherlands)
3rd place: Wojciech Lubkowski (Poland)
::Faruk M Kugay
---