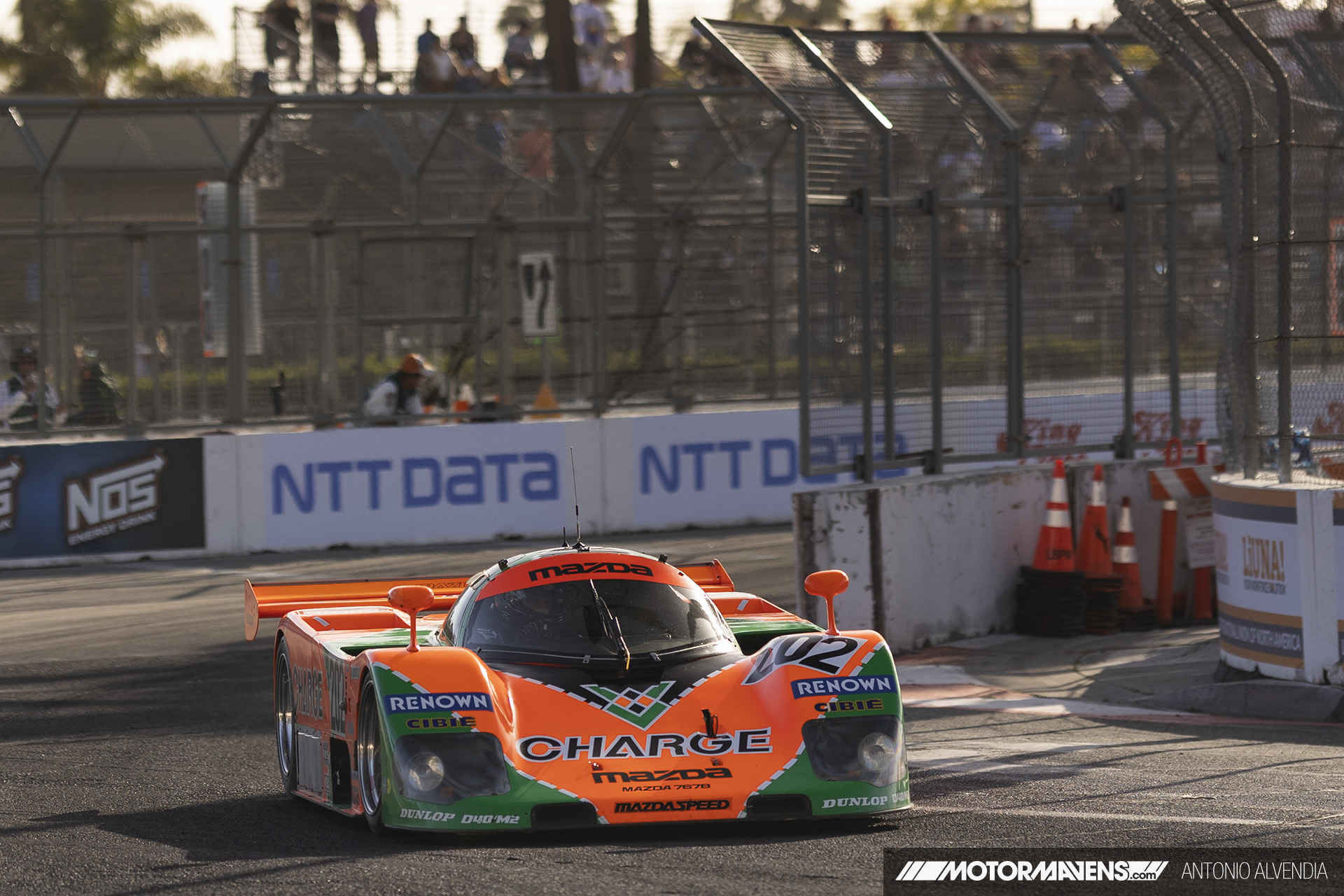 The sound of a rotary engine at high rpm is just glorious. This year, attendees to the Acura Grand Prix of Long Beach were treated to a high pitched rotary symphony, as Mazda's historic 787, 767, and RX-792P charged down the LBGP's Shoreline straight as part of the IMSA GTP and FIA Group C race, organized by HMSA.
Perhaps the saddest part of this story is the fact that I was so inundated with work that I didn't apply for trackside media credentials on time. I tried calling the media office to see if they could help me in any way, but the response was, "We're sorry. We know you've shot here before, and we definitely consider you to be legitimate media, so you could have gotten a trackside pass without problem… but it's just too late for us to accommodate you this year. We're out of media vests."
Ugh… I'm such an idiot. I wasn't going to have trackside access, and it was totally my fault. As a result, I didn't lug out my 400mm bazooka to shoot the race, and we're left without much in terms of on-track images. This is something I totally regret. Ugh. Whatever, I needed to see these cars run. My friend Steven and I went onto the LBGP website and purchased expensive last minute General Admission tickets for the race.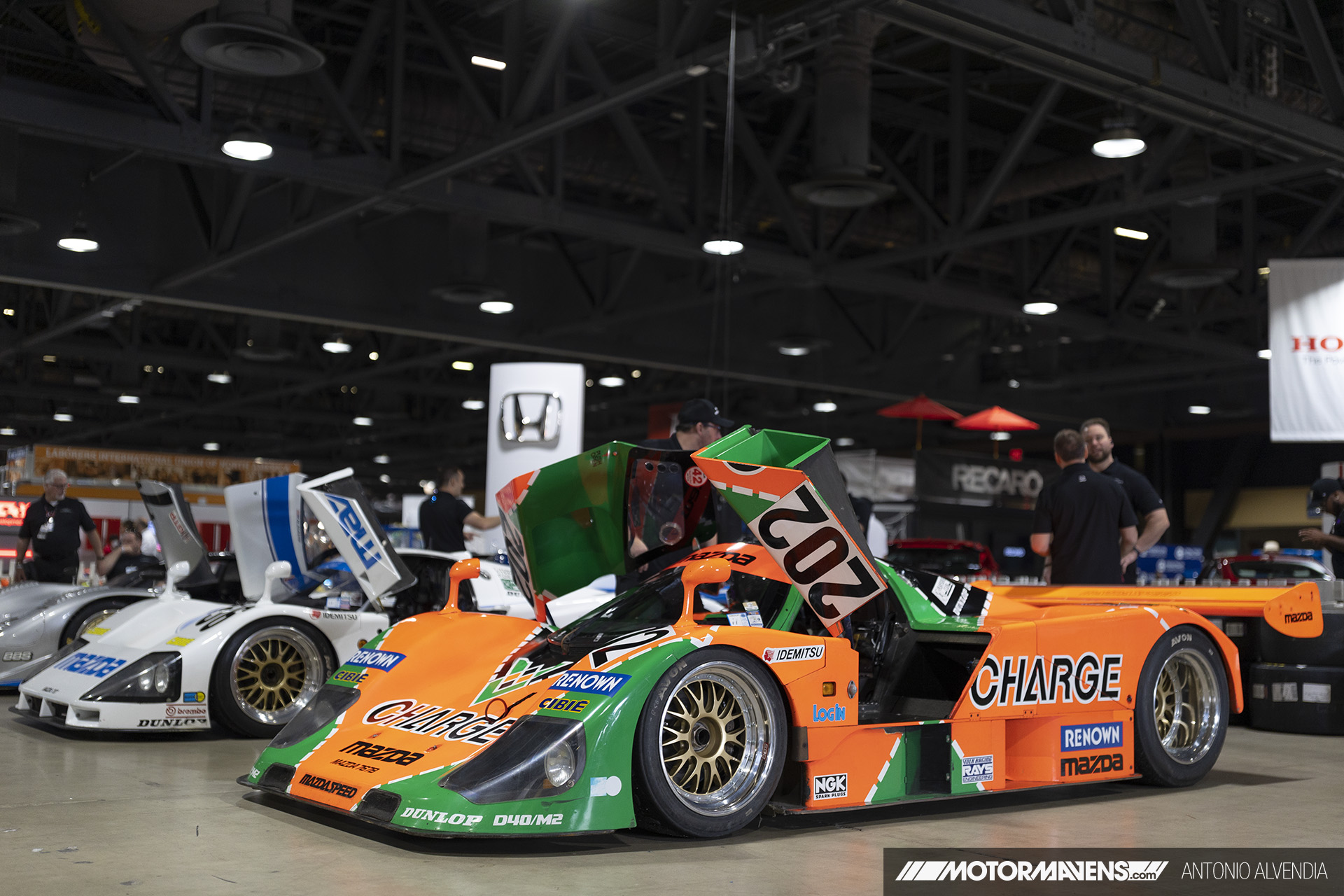 We made it a point to leave for Long Beach early, so that we could get into the HMSA paddock area at the LB Convention Center before the cars ran. Once inside, I had to put on blinders so I could charge straight for the HMSA paddock area. (Normally, I'd find myself distracted by the tradeshow models offering free t-shirts and such.) I had to see these cars before they exited the building!
Upon arrival at the paddock, I was awestruck. In close to 20 years of shooting motorsports professionally, I've never encountered an orange-and-green Renown/Charge liveried Mazda prototype before. Obviously, the 787B that became famous at Le Mans is in the Mazda museum in Japan, but even seeing this 767B sister car was a sight to behold. Damn, this legendary livery looks amazing.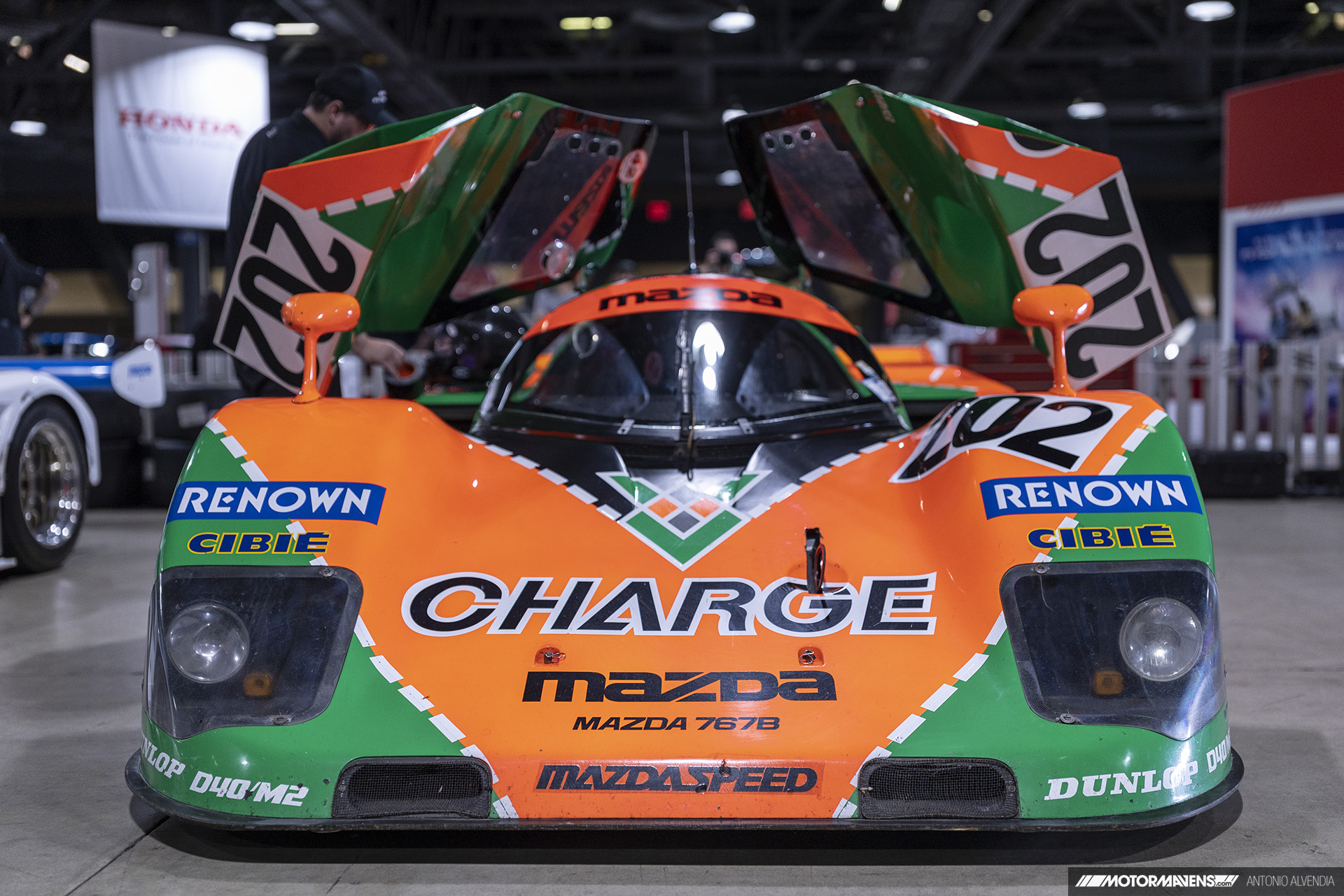 From the front view, you can just imagine how much downforce this car generates. It's so low to the ground, it must act like a vacuum at speed! The small vents above the air dam presumably route cool air to the brake ducts, and the upswept doors just look incredible!
According to one of the gentlemen I spoke to in attendance from Mazda (Brad Audet), Mazda gave the opportunity to pilot this 767B to a driver named Rob Warkocki, a longtime amateur Mazda GT racer that they had a relationship with. How amazing is that?! It's really cool to see that Mazda values the relationships it has with people who support their brand. Not all car manufacturers act that way.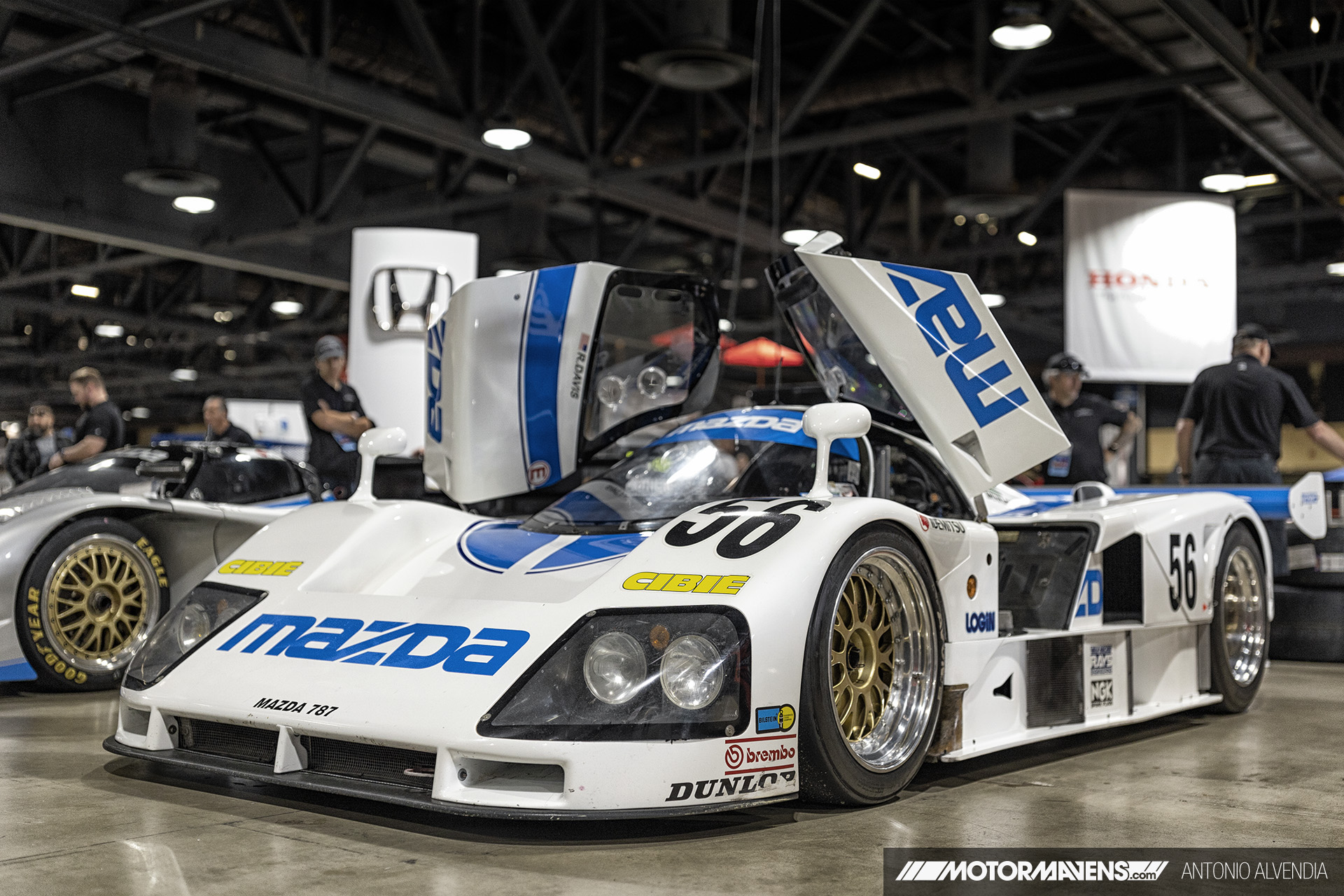 Parked right next to the orange-and-green 767B was the blue-and-white Mazda 787. It was great to see this car again! I had the chance to photograph it previously at a Mazda Motorsports luncheon hosted about a decade ago by Mazda's former Motorsports PR Manager, Dean Case, and John Doonan, who is now head of IMSA. Here's a link to my old photoset on MotorMavens, entitled Lunch with a Mazda 787 LeMans Racer. If I remember correctly, these photos might have been from 2011 or 2012.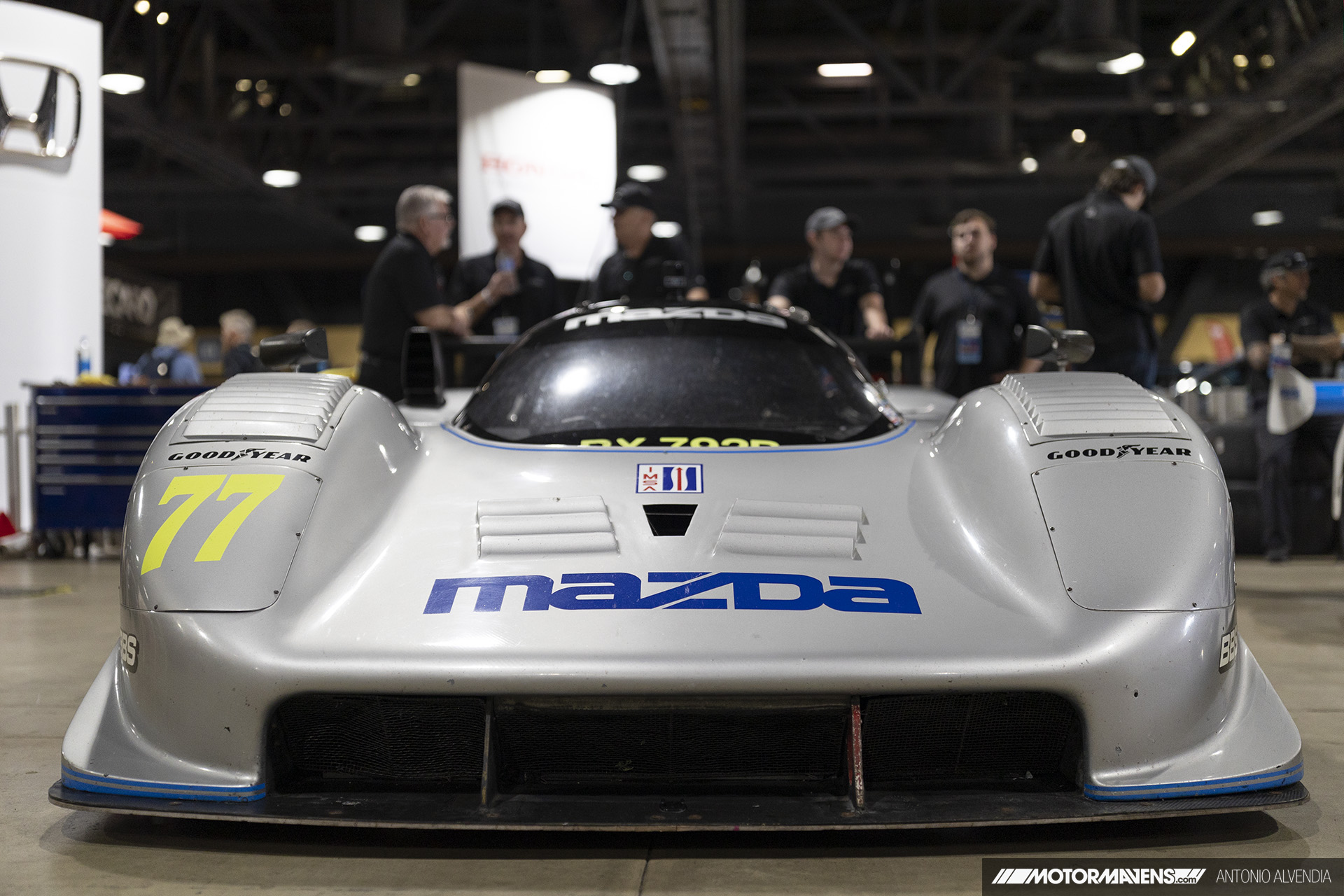 Also in the paddock was the incredible Mazda RX-792P. The first time I laid eyes on this beast, I was inside the dungeon below the Mazda R&D Facility in Irvine, shooting John Morton's IMSA SA22C RX7 for Speedhunters back in 2009. The RX-792P isn't as famous as the 767 or 787, but it looks and sounds amazing – like a 4-rotor spaceship!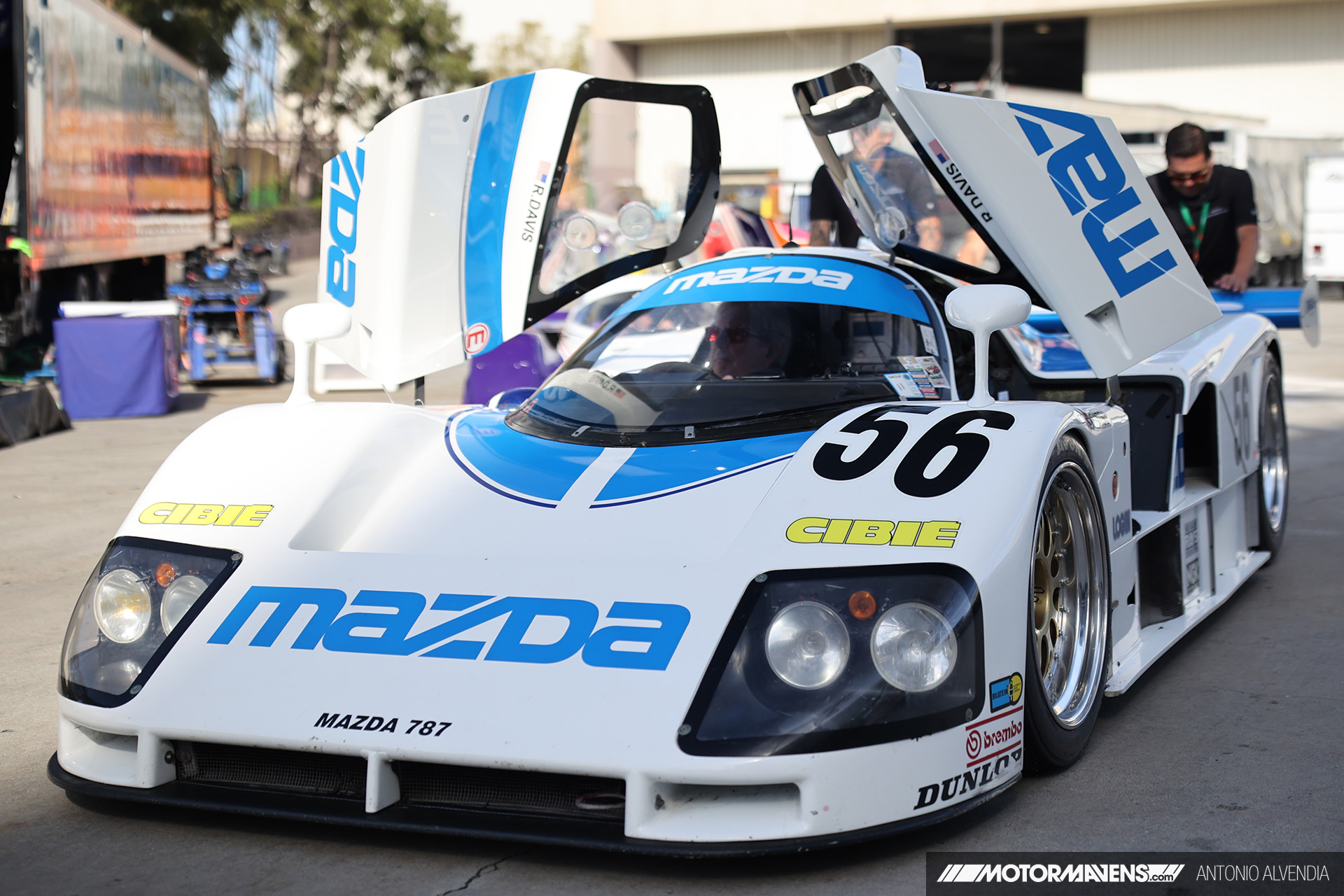 When the Mazda crew started pushing their historic Group C 787 outside, naturally I followed. It was so damn cool to see this thing in action at the Long Beach Grand Prix this year, being driven by Taz Harvey. Thank you, Mazda!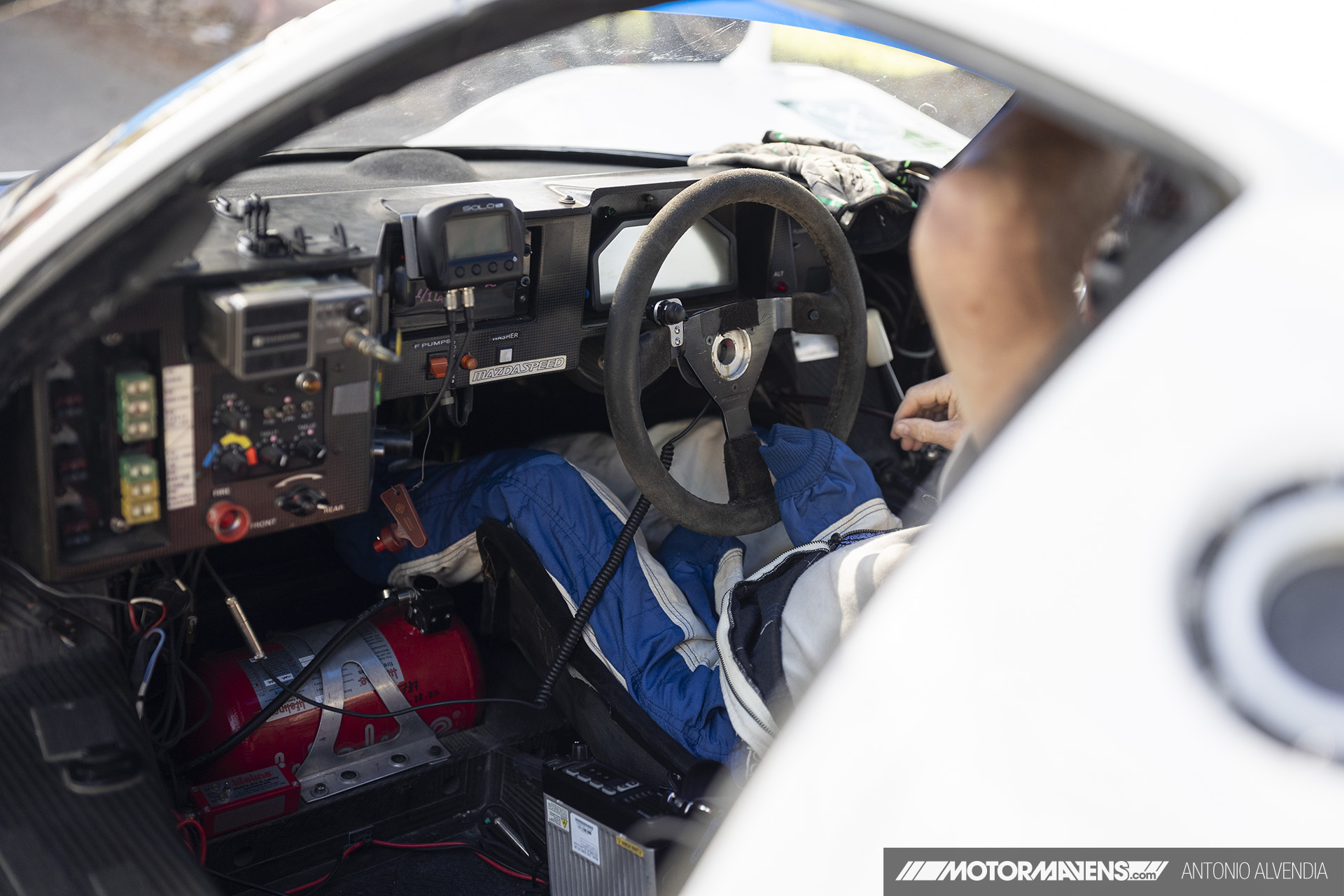 Here's a super quick peek into the cockpit of the Mazda 787 – it's all business.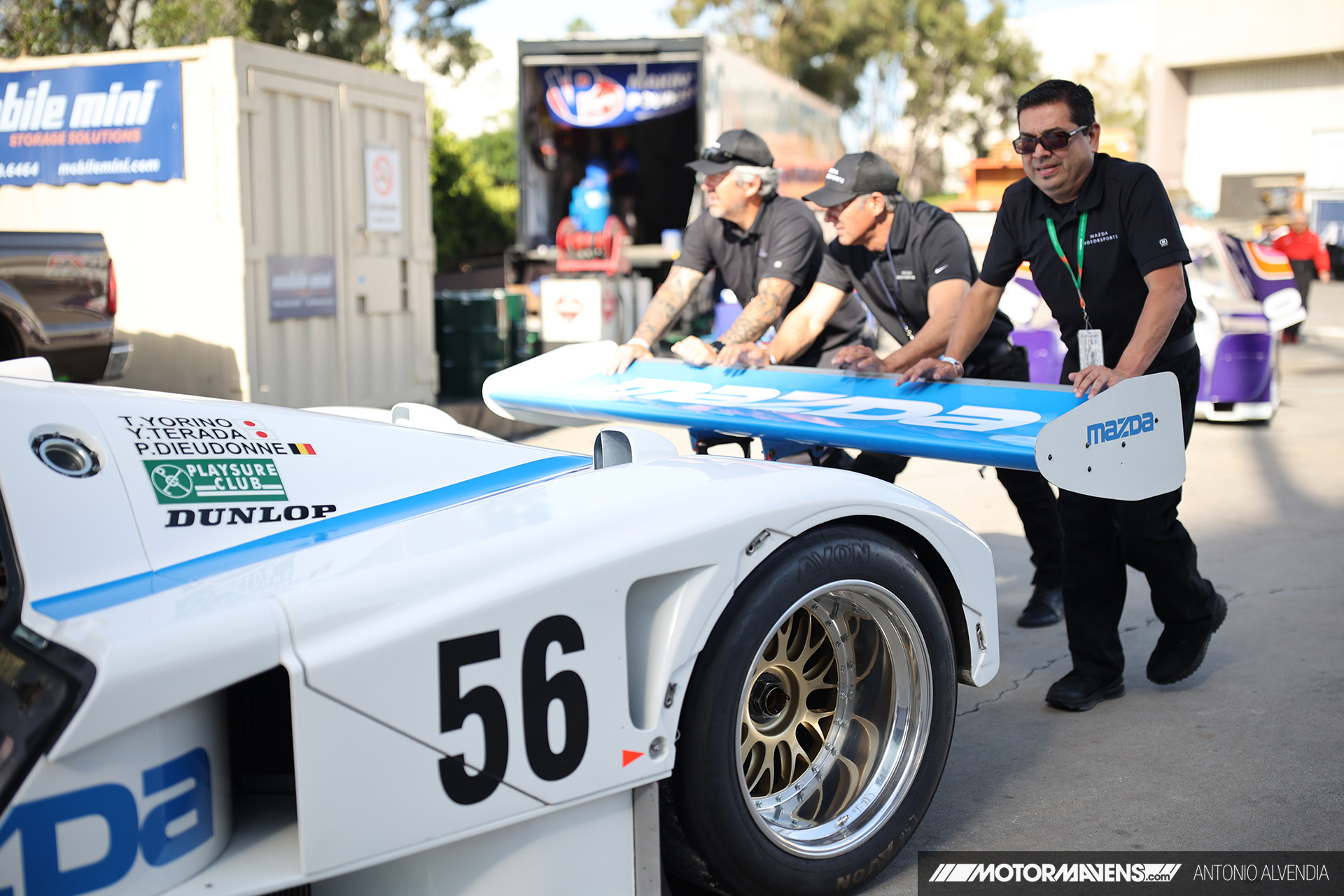 It's no surprise that I bumped into my friend Berny Herrera (pictured on the right) from Mazda Motorsports at the event! He is a Mazda die-hard, and one of the minds behind Sevenstock events.
I just love looking at all the aerodynamic bodywork and functional vents on these cars. The super fat lipped BBS centerlock wheels look menacing too!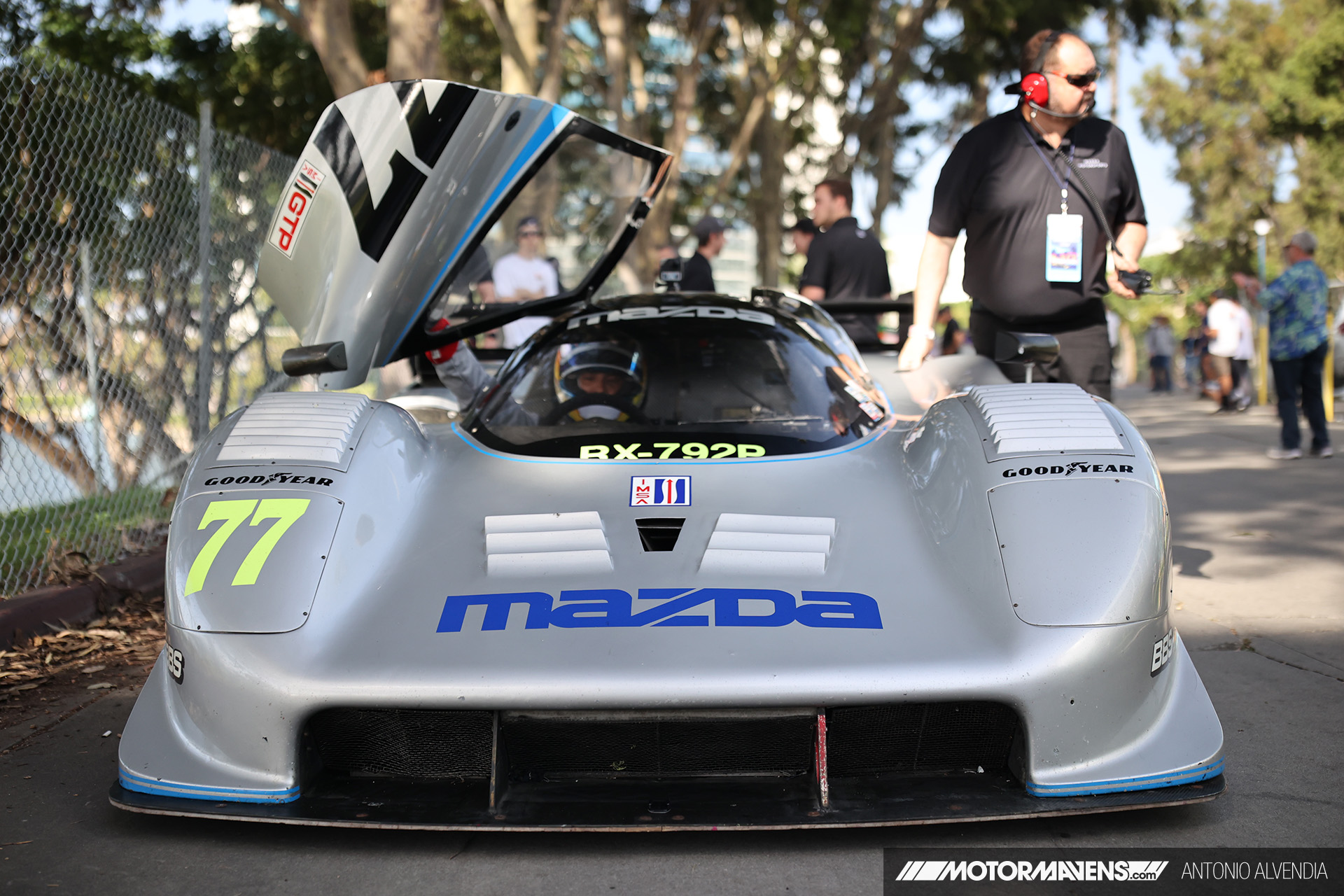 The RX-792P looks so damn cool and menacing. The first RX-792P was completed shortly before the 1992 season began, and made its debut at the Grand Prix of Miami. However, in Miami and at the next race at Road Atlanta, the Mazda team faced issues with the car catching fire due to the hot exhaust touching the bodywork. Once the changes were made, the RX-792P ran a full season in 1993 until IMSA changed the rules and decided to abandon the GTP category of cars after 1993 in order to move to open-cockpit prototypes.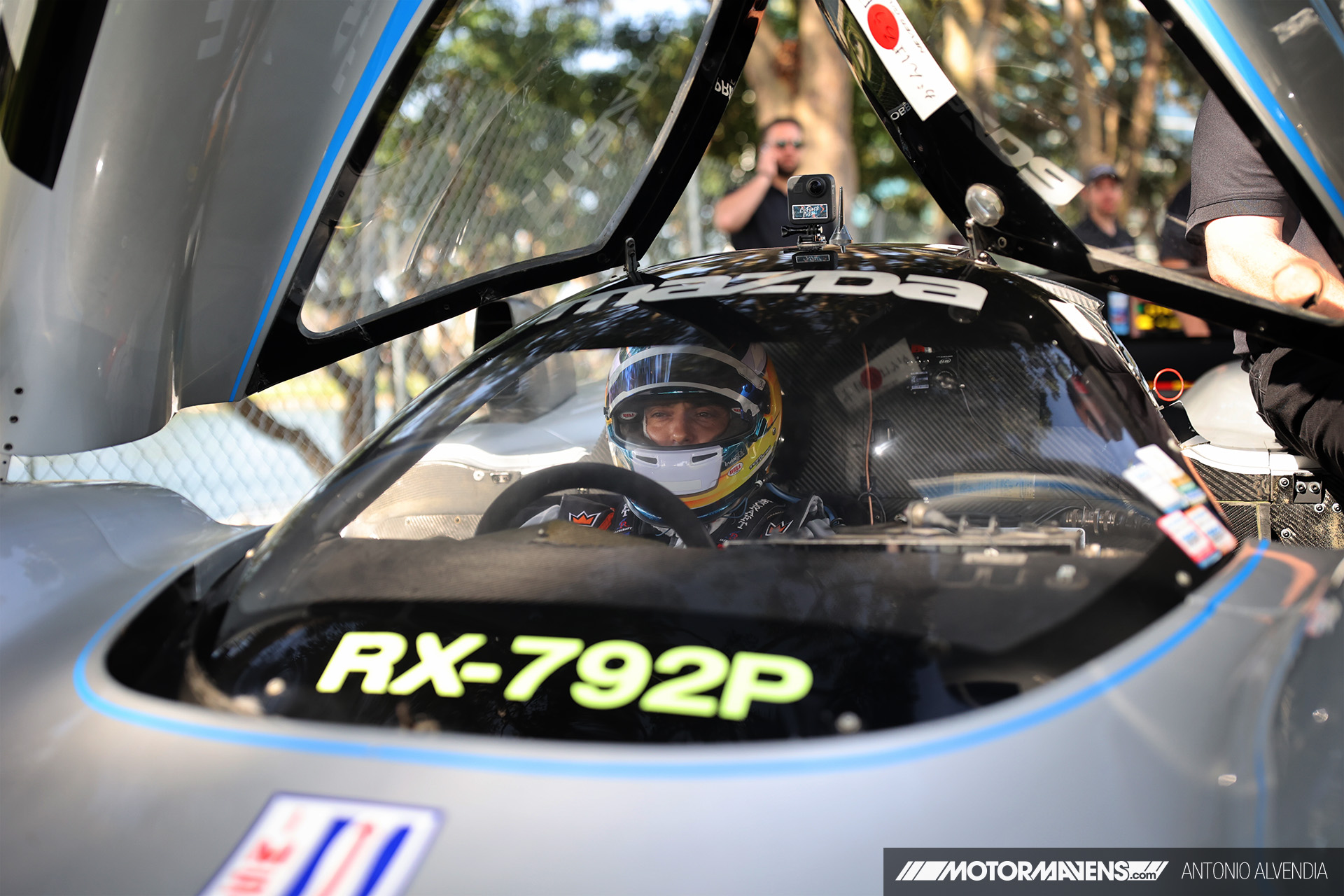 In the cockpit of the 792P spaceship is pro driver Tom Long. You can see that the driver doesn't have a ton of space inside the car, but apparently you don't need a ton of room to get the job done.
Here's a video so you can hear the cars in action. Just in case this embedded video doesn't work on your phone or browser, here's the direct link to the video on the MotorMavens YouTube channel.
Thanks for checking out my photos and experiences around the Mazda camp from the Long Beach Grand Prix this year. Stay tuned for more!
:: Antonio Alvendia
Instagram: @AntonioSureshot • @MOTORMAVENS
www.antoniosureshot.com
MotorMavens on Facebook
MotorMavens on YouTube
---