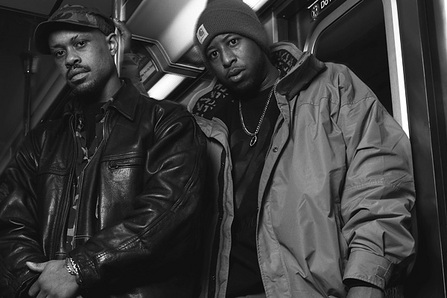 If you don't live in the Batcave or two miles under the surface of the Earth, then you are already aware that GURU of Gangstarr (Keith Elam) succumbed to his year long battle with cancer on April 19th. This post is not about the details of his life – it is more about the impact of his life. We realize that Motor Mavens is primarily an automotive site but we just couldn't ignore the passing of a pioneer in an artform that has become such an integral part of American history – especially since we have so many Mavens on staff who appreciate true Hip Hop.
The first time I heard Guru was in 1989. I was a teenager and my cousin and I had formed a rap group in hopes of becoming respected MCs. I was picking him up to go record a song on the album we were working on and I was late so I was rushing to get him and then get to the studio on time. All of the rushing stopped when I got to his house.
My cousin had this nasty, complex track playing that I thought he'd put together until someone started rhyming over it. The MC's voice was different from any other MC I had ever heard. Remember, this is back in 1989 when you had a very wide variety of different sounding MCs with completely different styles all co-existing in the world of Hip Hop; Rakim, KRS ONE, LL Cool J, Kool Moe Dee, Ice T, MC Shan, JUST-ICE, Fresh Prince, NWA – gangsta, party, conscious, lyrical, even silly – it was all there and all respected for the skills more than the sales. So, in a huge group of distinctive voices, this MC's voice was completely different – plus the dude had mad lyrical skills. That MC, of course, was Guru and the song I heard that day, as an introduction to one of the truly pioneering Hip Hop artists, was Manifest. Needless to say, we were a little late to the studio that day.
The first thing Guru brought to Hip Hop was Jazz. It seems like a given now, but then you were more likely to hear Funkadelic or Soul fusions in Hip Hop. Jazz was a much more complex musical language – more cerebral. It would take Guru and Premier to incorporate it so seamlessly and take it mainstream Hip Hop.
But far more than just Jazz, Guru brought a certain musical fearlessness and freedom to Hip Hop. The first time I ever heard anyone rhyme in another language (successfully) was MC Solaar on Le Bien Le Mal – Guru gave us all the opportunity to experience that. I don't think any other MC could have pulled off the things that Guru did while completely managing to avoid commercialism and corniness.
For me, Guru was a pioneer. He opened my eyes to Jazz in a new way which allowed me to truly appreciate my Pop's old Miles Davis and John Coltrane albums. I think that Guru did something for the music of Hip Hop that many of the lyricists (including himself) had already done lyrically – he allowed us all to dig a little deeper. And that's Universal. Peace god.
:: Avon Bellamy
---