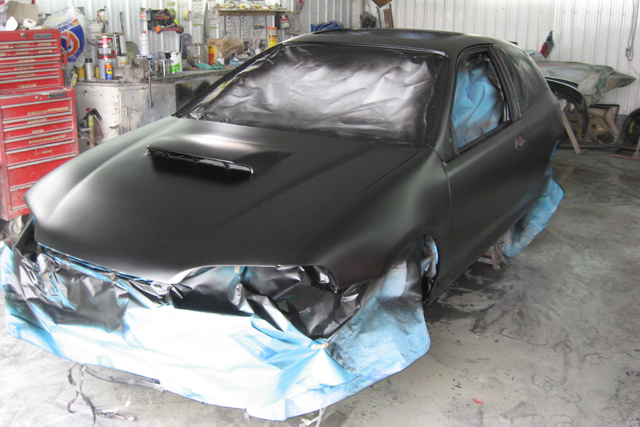 You might be thinking, "what are you talking about?" After all, we don't normally post up photos of incomplete cars that are getting painted on our website. This particular snapshot comes from a post on the Honda Tech forum that my friend Terry Pham linked me to.
You might be thinking… wait, is that a GDB Subaru Impreza WRX STi hood scoop bondoed to an EG6 Honda Civic hood? If that's what you guessed, then you would be correct. However, before you go and pass judgment on whether you think it's cool or not, let me give you some insight into the story.
This EG6 Civic hybrid is the first of its kind, that's for sure. It features not only an engine swap, but an entire FRAME and running gear swap from a GDB Subaru Impreza WRX STi! So YES, you would be correct if you guessed this was an AWD Honda Civic EG6… and if you ever heard it driving down the street, you should know that its engine is not blown; in fact, that's the sound that a 4 cylinder Subaru boxer motor is supposed to make… even though it's not supposed to make that sound from underneath the hood of a Honda Civic!
While we don't normally feature these types of cars on our site, I thought I should post it up, because the fabrication work behind this build-up is pretty damn fascinating! The original Subaru body panels were cut off from the Impreza's frame to make this work, and the owner of this car cut up the body of a perfectly good EG6 Civic hatchback, and pretty much welded it onto the Subaru frame! Whether you like the look aesthetically or not, you just GOTTA give the builder of this car props for his originality and workmanship – c'mon!
I'm wondering what our readers think about this car. First, read the build-up thread (with more photos) on Honda Tech, then come back to MotorMavens to voice your opinion on this!
Would YOU like to have this as a weekend/fun car? Or no…?
:: Antonio Alvendia
---