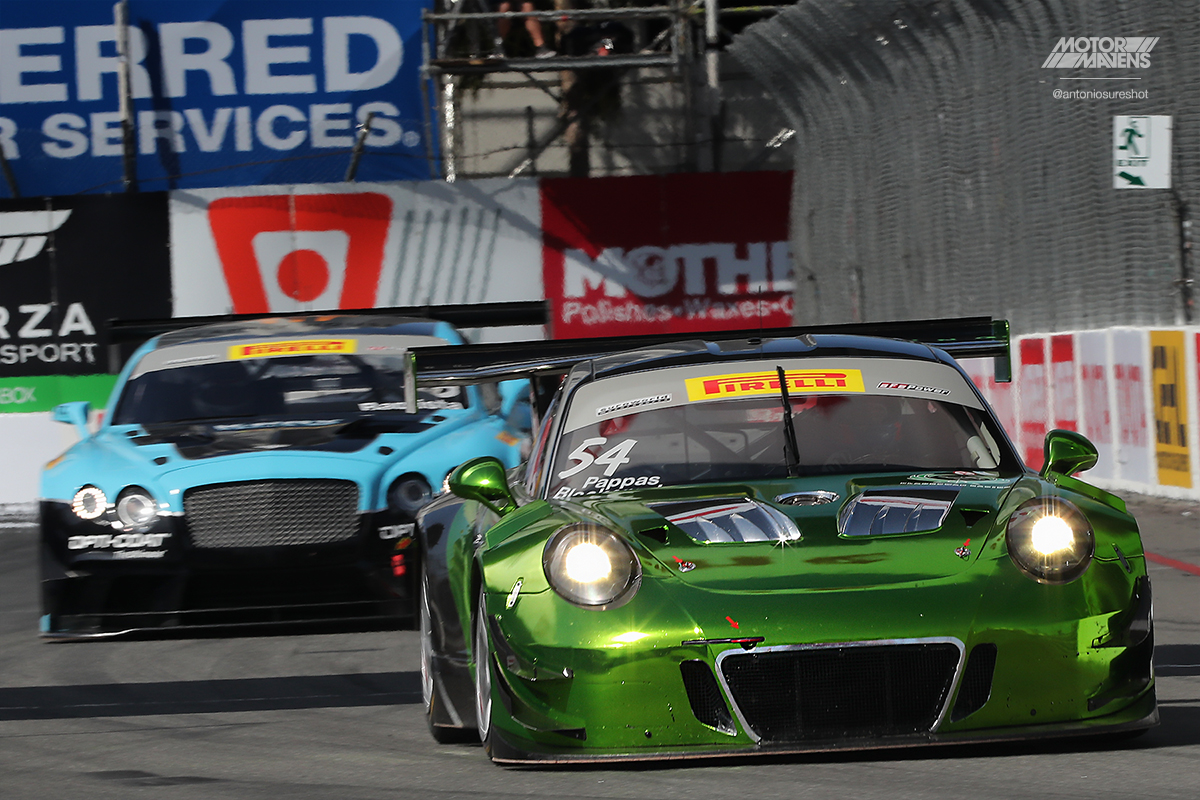 I originally posted this story on the 44th Annual running of the Toyota Grand Prix of Long Beach just after the race, but since then it has been picked up and reposted by the Pirelli World Challenge website because they loved the stories and photos! Cool!
The Long Beach Grand Prix is an event that I've loved attending ever since I first moved to Southern California over 15 years ago. Just before the event, I called up my friend Robbie Montinola, an accomplished racer and driving coach who now works for the Pirelli World Challenge series, to see if we could catch up while he was in Long Beach, and he invited me to attend the event as a guest of the series. I obviously jumped at the opportunity!
Although I've attended the Grand Prix for years as a spectator on the 1.968-mile, 11-turn temporary street circuit, I had never previously seen the inner workings of the Pirelli World Challenge series, so I knew I was in for a really cool experience.
I've always known that the cars of the Pirelli World Challenge were super high end, exotic sports cars, but what I didn't realize from an outsider's point of view was the fact that the series has so much international involvement! In fact, the top eight race finishers in last Sunday's Pirelli World Challenge GT Sprint event were from eight different countries – Italy, Finland, Portugal, Canada, Japan, Mexico, United States and Australia.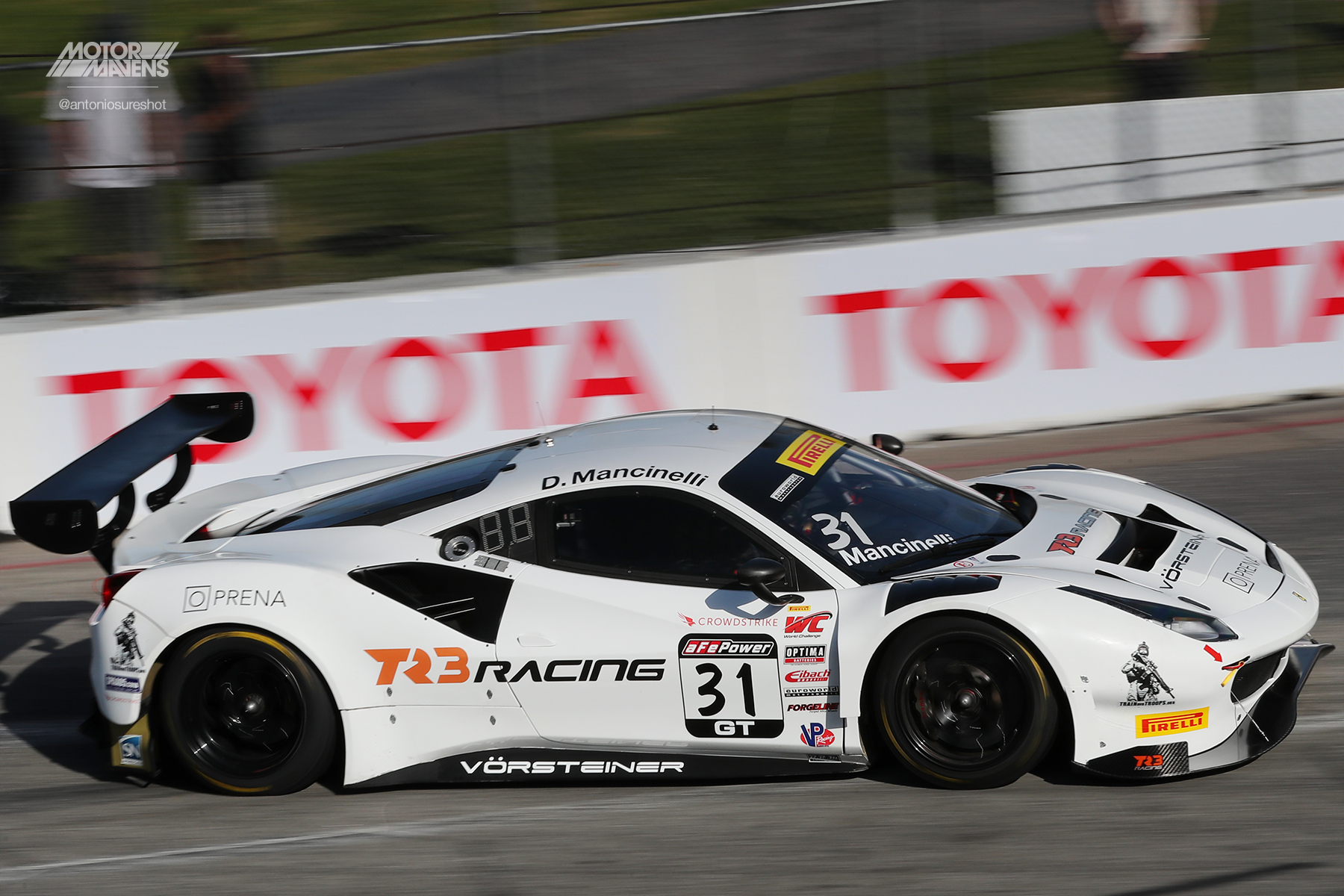 This white No. 31 Ferrari 488 GT3 from TR3 Racing was driven by Daniel Mancinelli from Italy, who fought a tough battle with other GT3 sports car drivers to score his first win at a Pirelli World Challenge GT Sprint.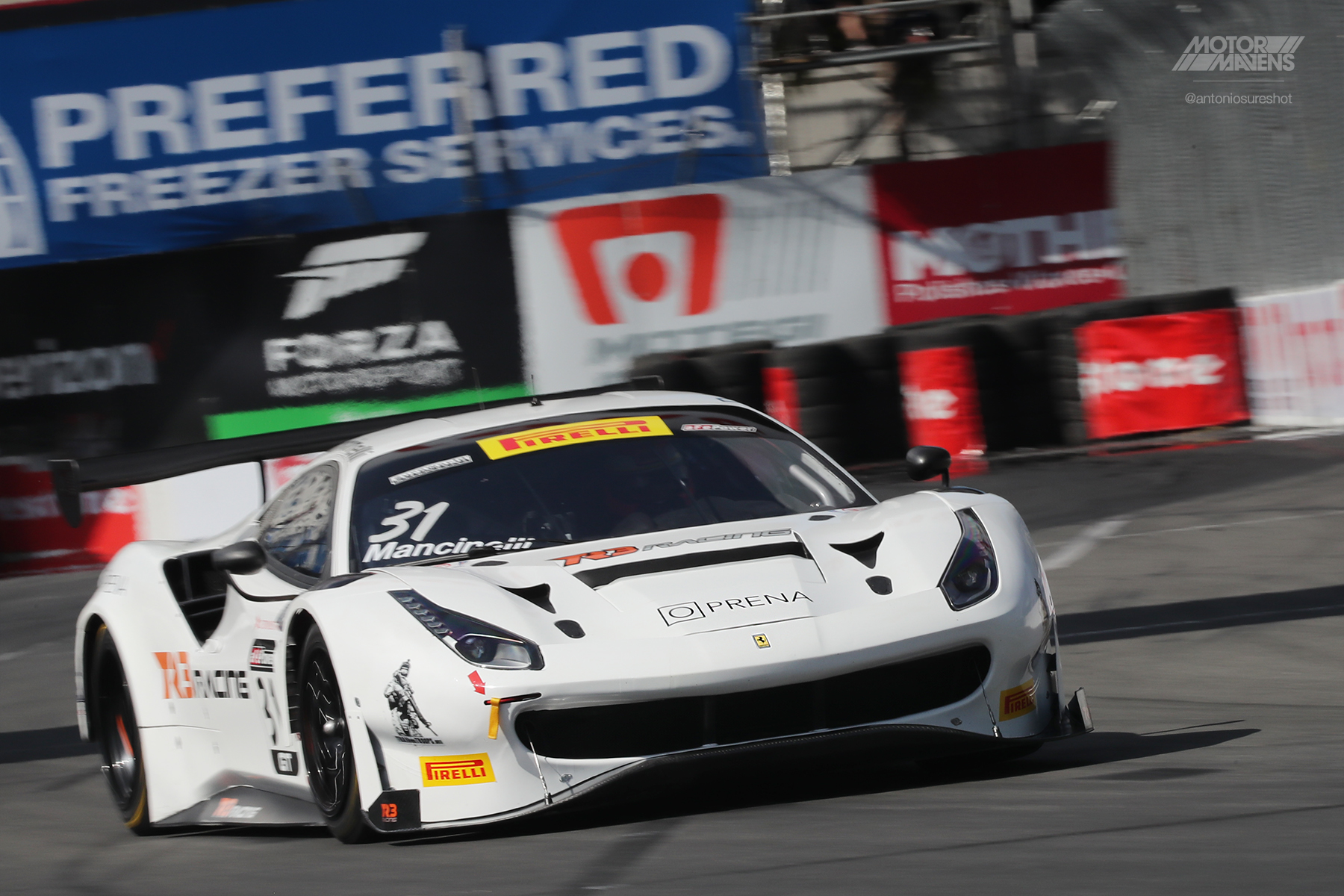 Mancinelli won three World Challenge GT SprintX races last year – a format that's similar to the typical 60 minute GT races that the World Challenge conducts, but the main difference is that SprintX races feature mandatory driver and tire changes.
With only six minutes left in the 50-minute GT Sprint, Mancinelli found a way to pass fellow Ferrari driver Toni Vilander's red Ferrari 488 GT3 on his 27th lap, which put him in position to clench his very first PWC GT Sprint race win!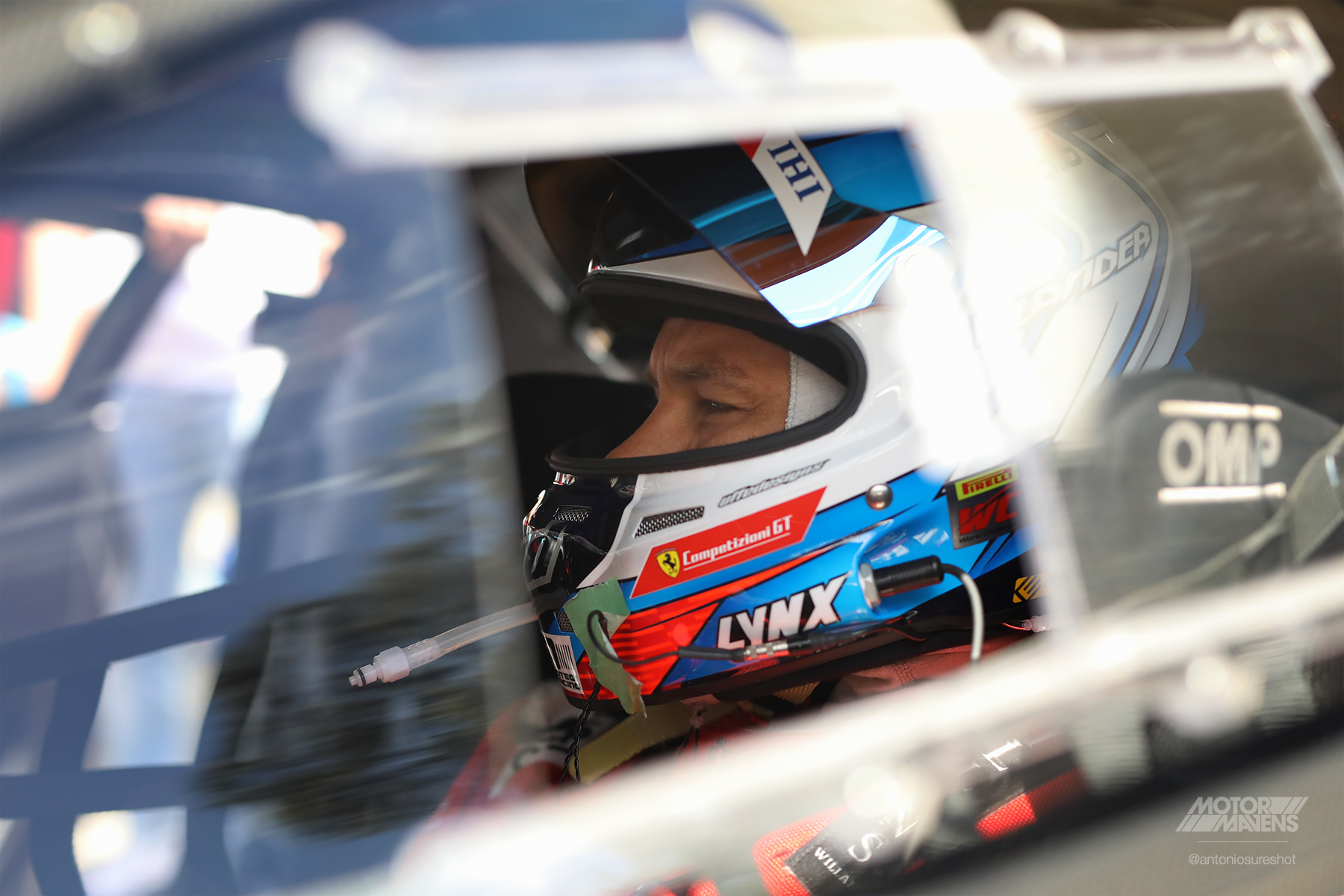 Toni Vilander from Finland had pole position, and was the race leader early in the race. (Call me immature, but I use the full term "pole position" because I still chuckle to myself every time race announcers say a particular driver is "sitting on the pole." Sorry, can't help it. 😀 )
I learned that Vilander, the driver of the No. 61 R. Ferri Motorsports Ferrari 488 GT3, has quite the racing background!
Apparently, he is a factory Ferrari driver who has competed in the American Le Mans series with the Risi Competizione Ferrari team. He also drove in the legendary Le Mans 24 Hours race several times, winning the 2012 and 2014 24 Hours of Le Mans LMGTE-PRO class races with former grand prix drivers Giancarlo Fisichella and Gianmaria Bruni, and also the GT2 class championship within the FIA GT Championship in 2007 and 2008.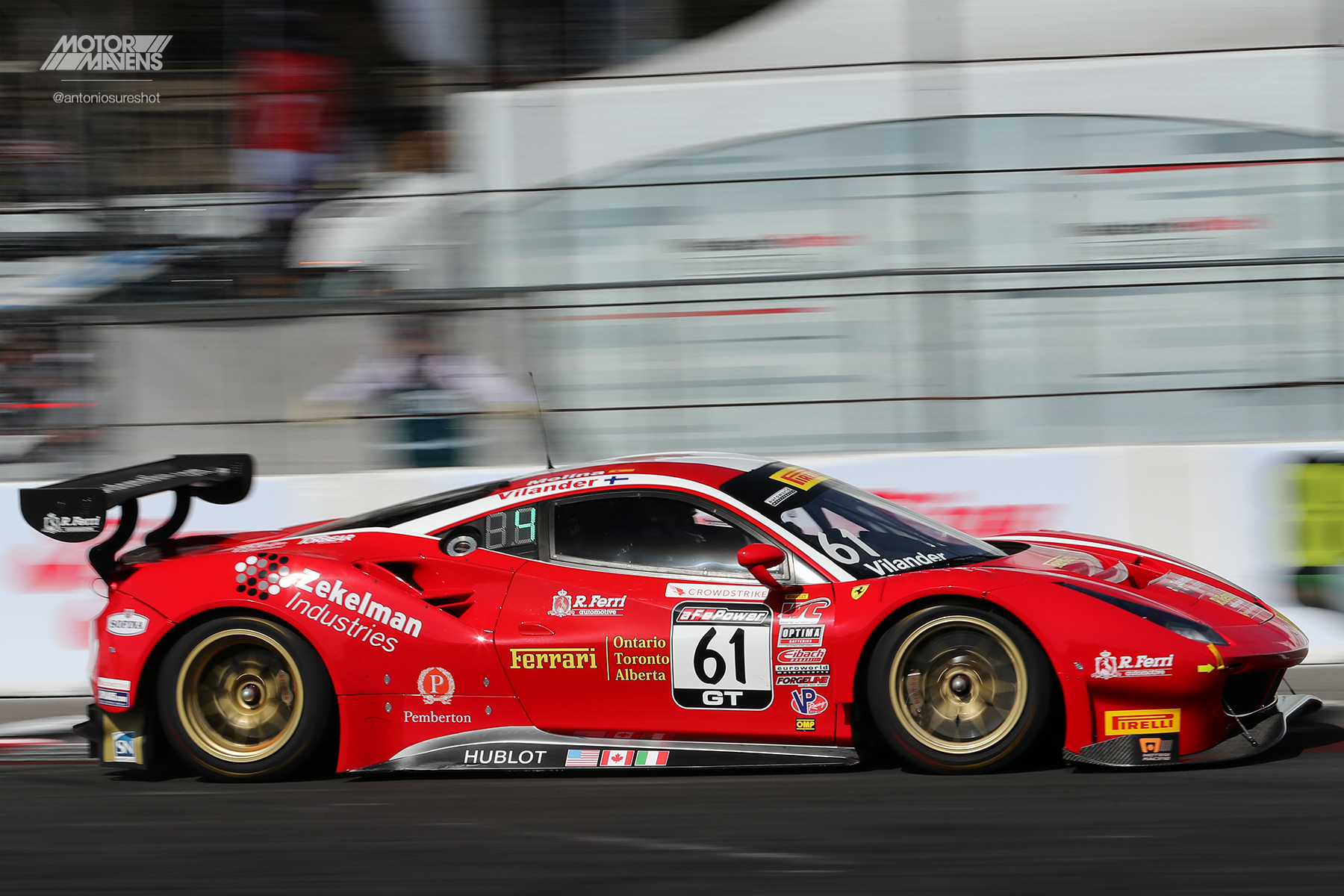 Toni Vilander's race machine is maintained by a team based in Canada, and is dressed in classic Ferrari red with gold wheels – absolutely beautiful. Vilander drove flawlessly and looked like he was going to win the event at first, but on Lap 6, there was a full course caution because of a crash, and Mancinelli was able to use that to his advantage – closing in so he would be ready to pounce on Vilander's position when the caution was lifted and the race restarted.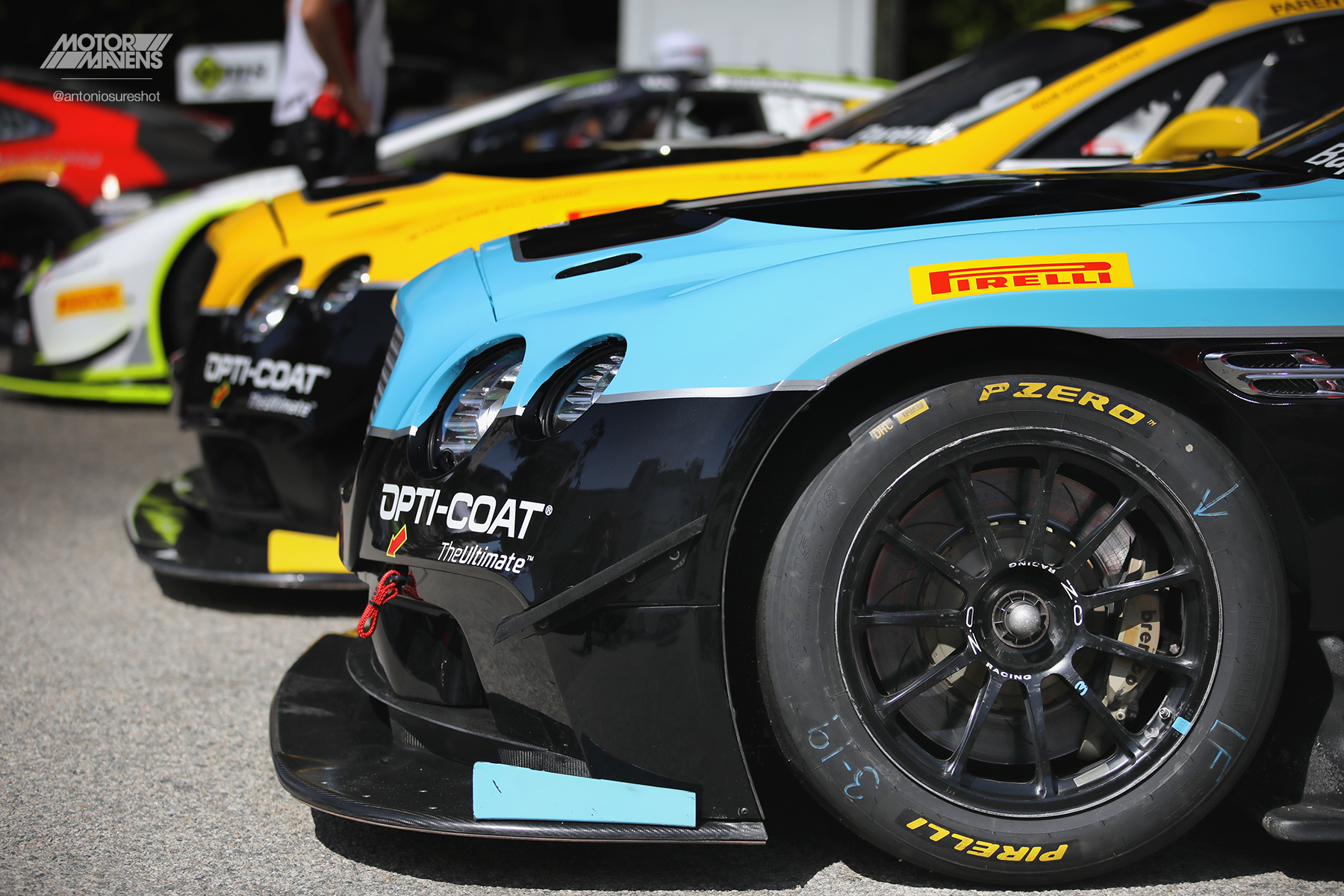 It was cool to see these Bentley Continental GT3 racers in action, run by K-Pax Racing based in Sonoma California. Check out those massive Brembo brakes filling up the center lock OZ Racing wheels, wrapped in Pirelli PZero race tires.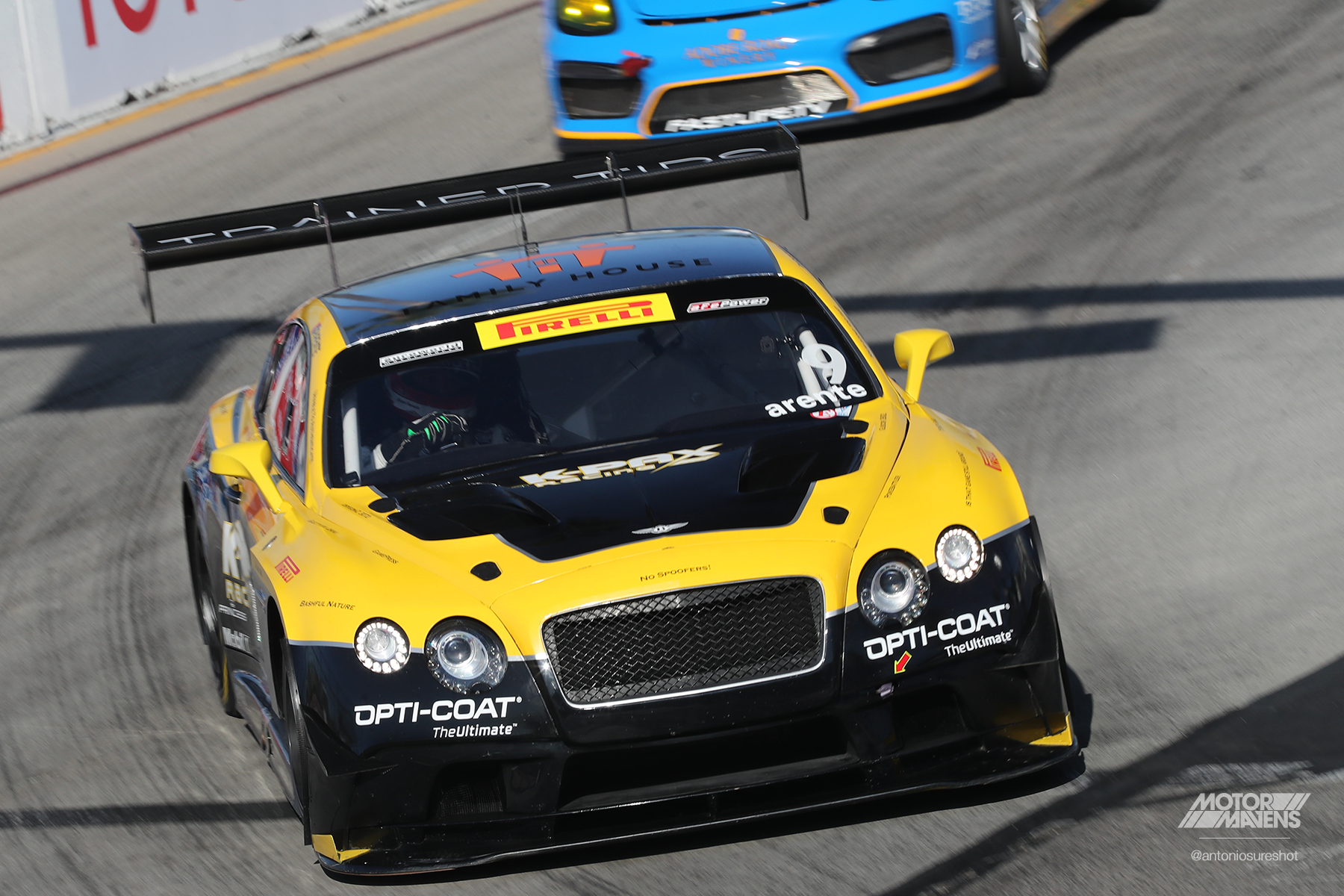 At the end of the 32 lap GT Sprint, two-time Long Beach race winner Alvaro Parente from Portugal placed third in the right hand drive No. 9 K-PAX Racing Bentley Continental GT3. He was driving so fast that the die-cut P sticker on his windshield flew off, which is why his name is misspelled on his car.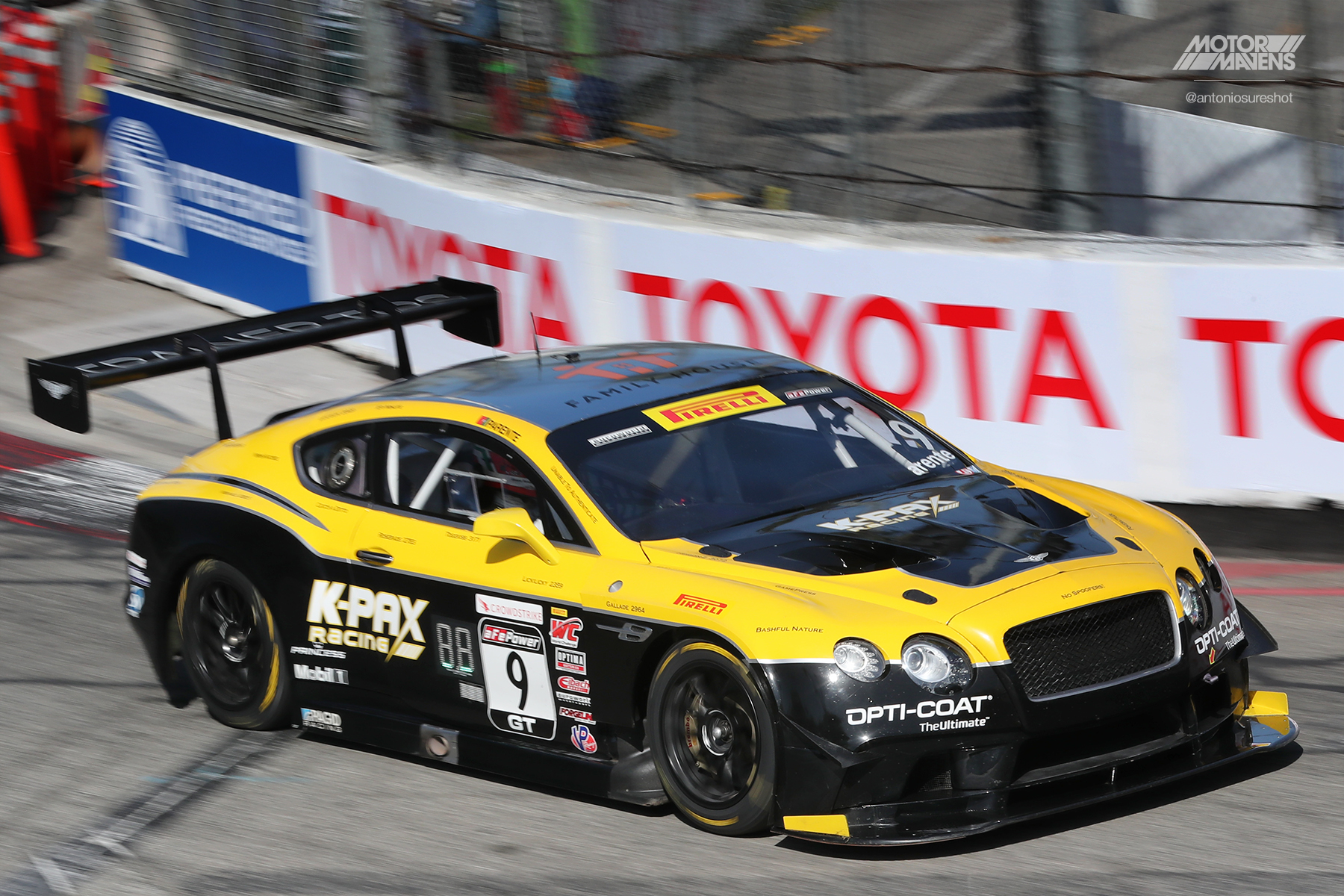 Compared to the more streamlined sports cars in the GT class, this widebody Continental GT3 might look humongous (I certainly thought so), but according to race announcer Jeff Lepper, it was actually the second lightest car in the group of cars racing at this weekend's PWC GT Sprint! Impressive.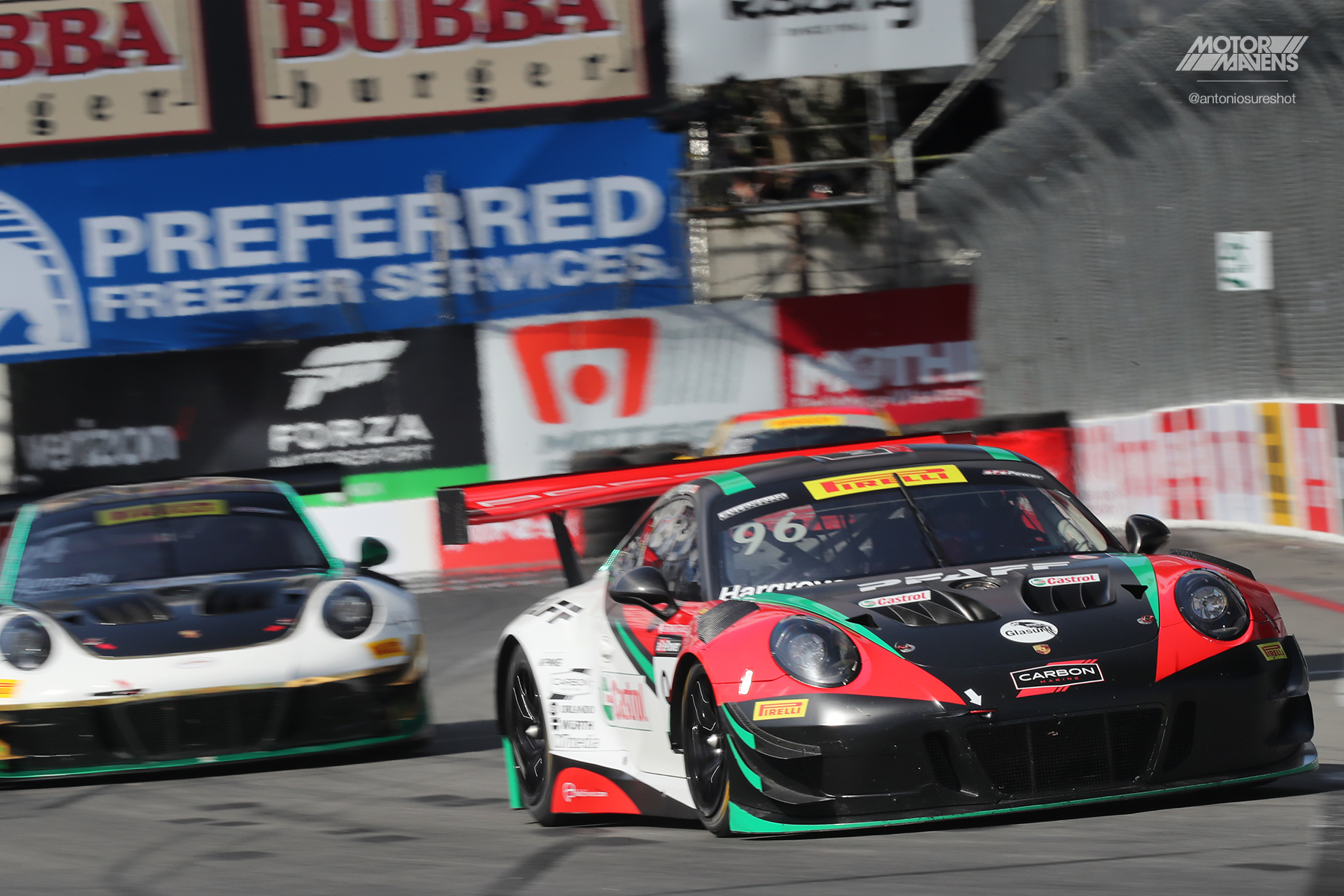 Also running the Long Beach Grand Prix for the very first time was British Columbian Scott Hargrove, who led the GT series in overall points during the race. Scott drives this bad ass 991 chassis Porsche 911 GT3R for Pfaff Motorsports in the PWC GT Championship.
A seasoned race driver with lots of experience in a Porsche 911, Scott has captured more than 30 victories, including the 2014 & 2017 Porsche GT3 Cup Championships. He also has an extensive open wheel racing background, having competed in every level of the Mazda Road to Indy, including numerous Pro Mazda victories and winning the 2013 USF2000 Championship.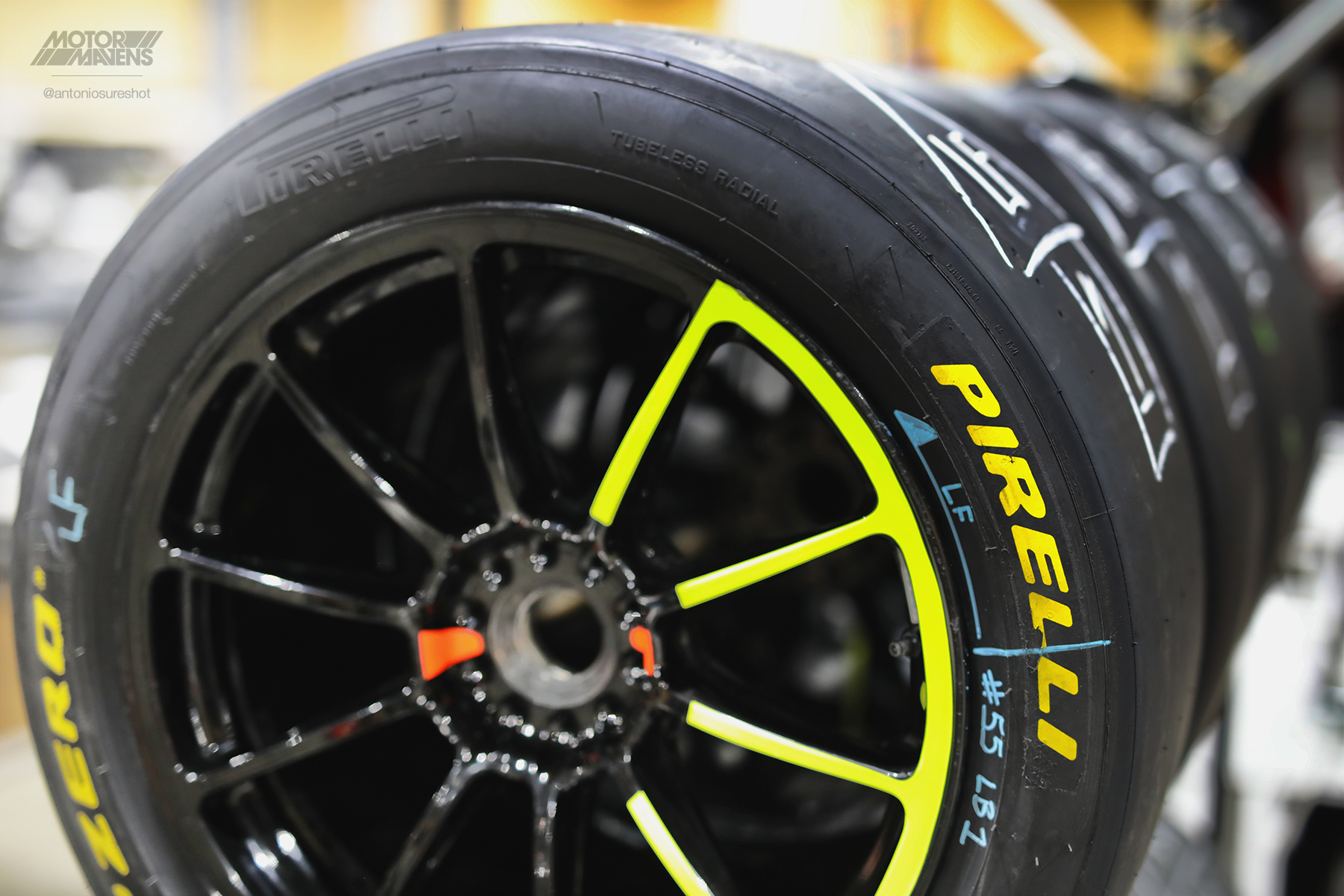 As I walked through the Pirelli World Challenge paddock area inside the Long Beach Convention Center, I spotted these Pirelli PZero race tires mounted on black race wheels with four spokes coated in neon hi-liter yellow.
They looked interesting – I noticed that recently drivers in the Formula Drift series began putting painting some spokes on their wheels a different color so that judges could visibly track the wheel speed from the front to rear. This is something that Japanese drifters were doing in the late 1990s, using reflective tape on their wheel lips, but it finally just caught on here in the US drifting community.
I'm not sure what purpose these neon yellow spokes serve on Yuki Harata's Lamborghini Huracan Super Trofeo GT3, but they certainly make the car stand out and look cool when on the track.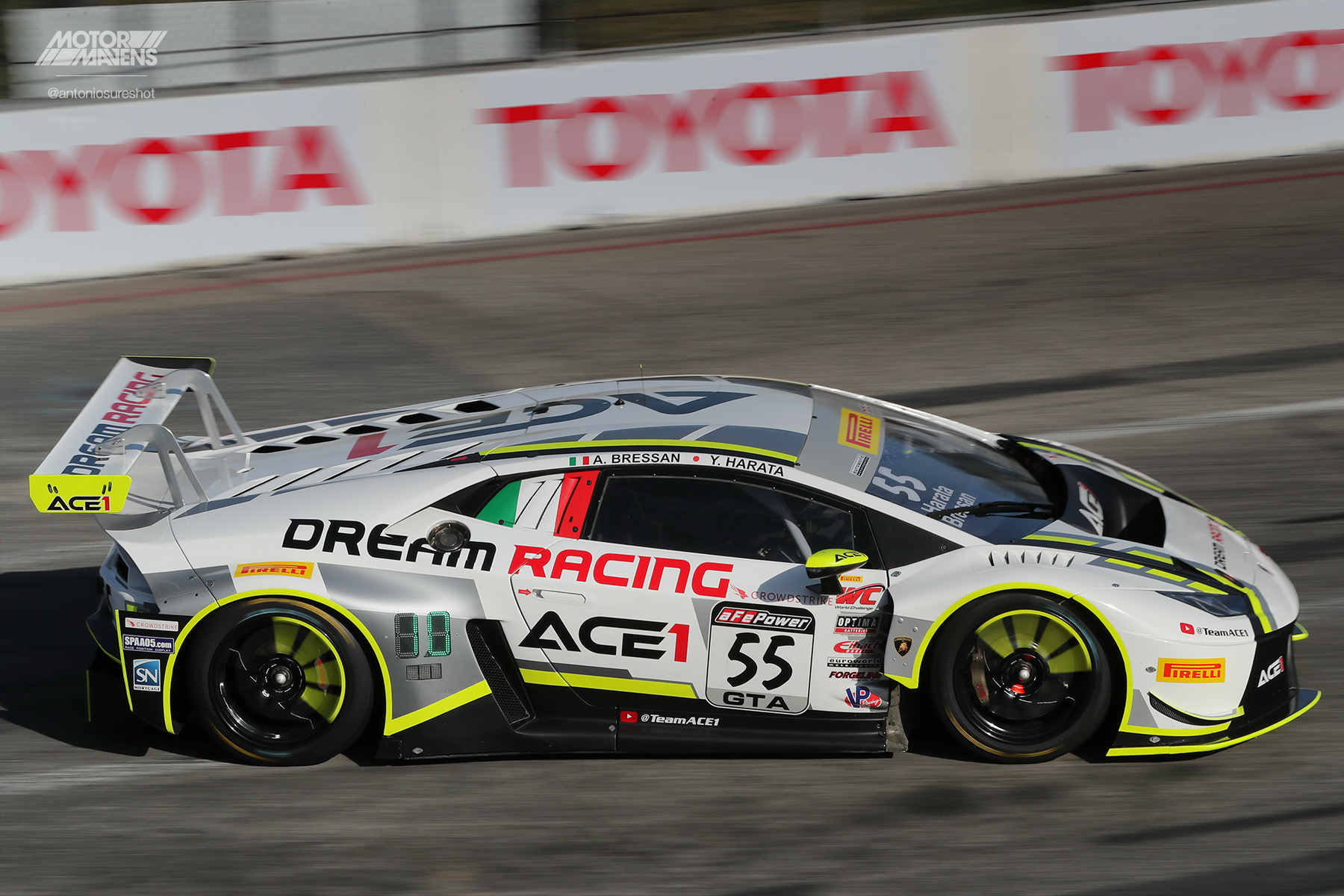 Japanese driver Yuki Harata in the No. 55 Dream Racing Motorsport Lamborghini Huracan GT3 actually lists both Monaco and Las Vegas as his places of residence. Before he got into racing, he was a pro downhill skier with the number 1 ranking in Asia for five years.
Yuki had an exciting battle with the Ferrari driven by Martin Fuentes, and took top GTA honors in his very first Long Beach race.
Even though Yuki spun right before the end of the race, he was able to recover AND CATCH UP in the super exciting last lap. Even though the rear end of his Huracan GT3 spun into the tire barrier, Yuki got right back in the race, put his foot to the floor and literally sprinted to the checkered flag. At the very last second, he was actually able to beat Fuentes to the finish line by just 0.163 seconds!
That was one hell of a photo finish!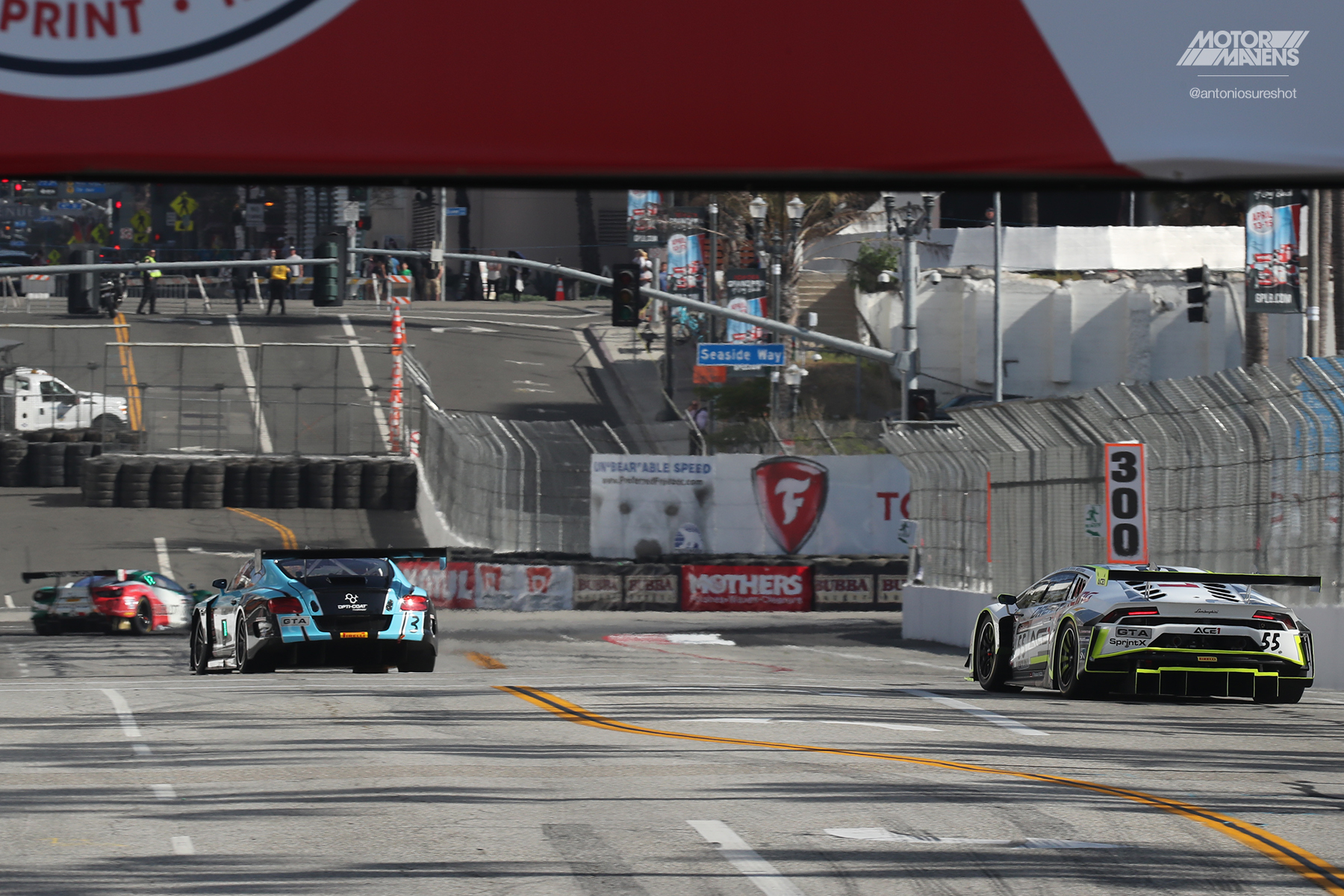 Yuki explained after the race, "I lost both mirrors and I had no information. I didn't know where I was. The team kept telling me to go because I had a good pace. My last race was kind of a mess, so I'm happy for this one. I finished off my tires and I was all over the place. This is my first GTA win, and my first race in Long Beach. The weekend was incredible for me and the team."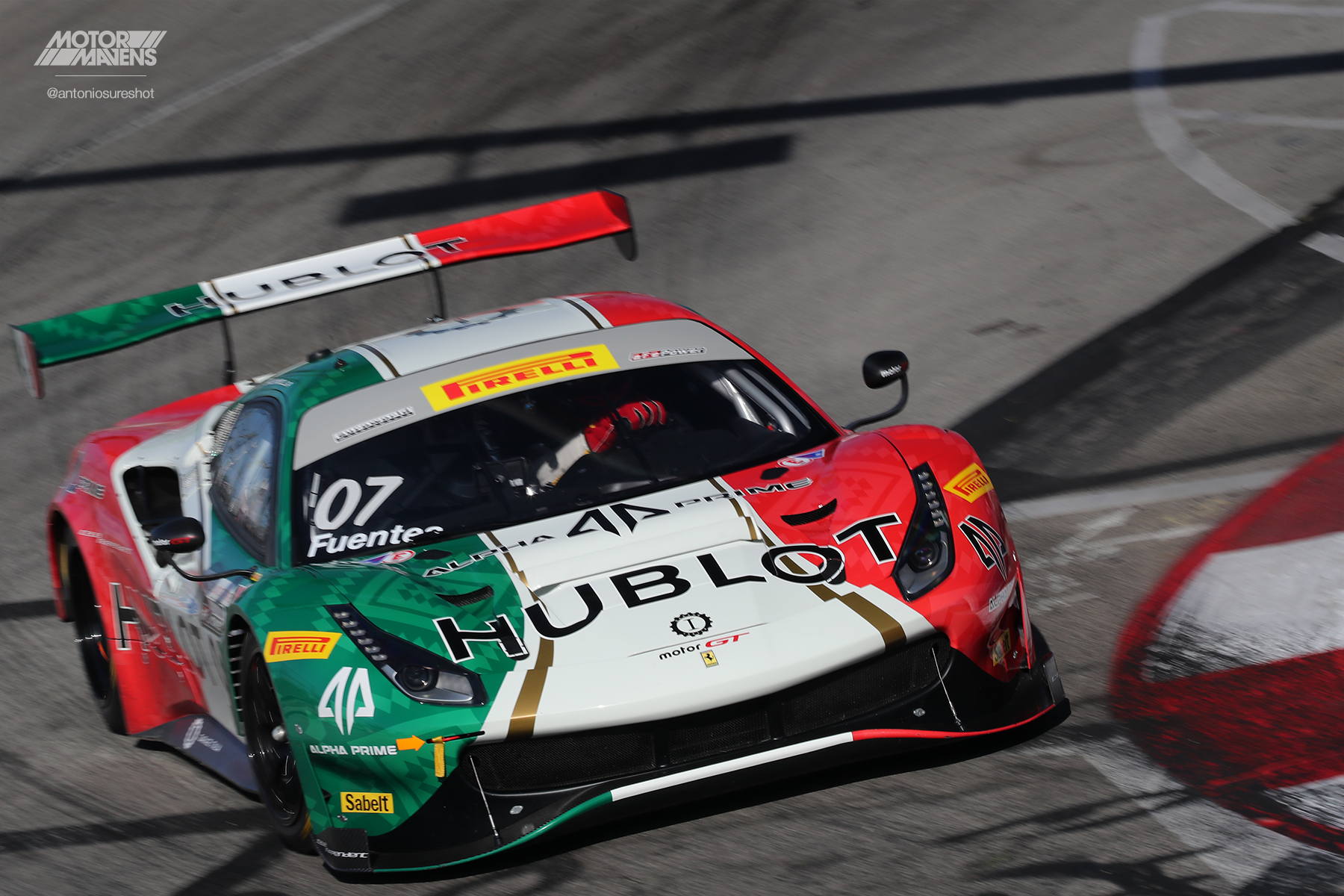 The No. 07 Hublot Ferrari 488 GT3 driven by Martin Fuentes from Mexico has got to be one of the most visually striking cars in the entire Pirelli World Challenge series. I'm not quite sure if the red, white, and green on the car represents Mexico or Italy, but this livery is one of my personal favorites! Upon further examination, I think it represents Mexico because of the black and gold accents and the Aztec-looking tribal patterns within the green and red areas of the car… but I'll have to ask next time I'm at a PWC race.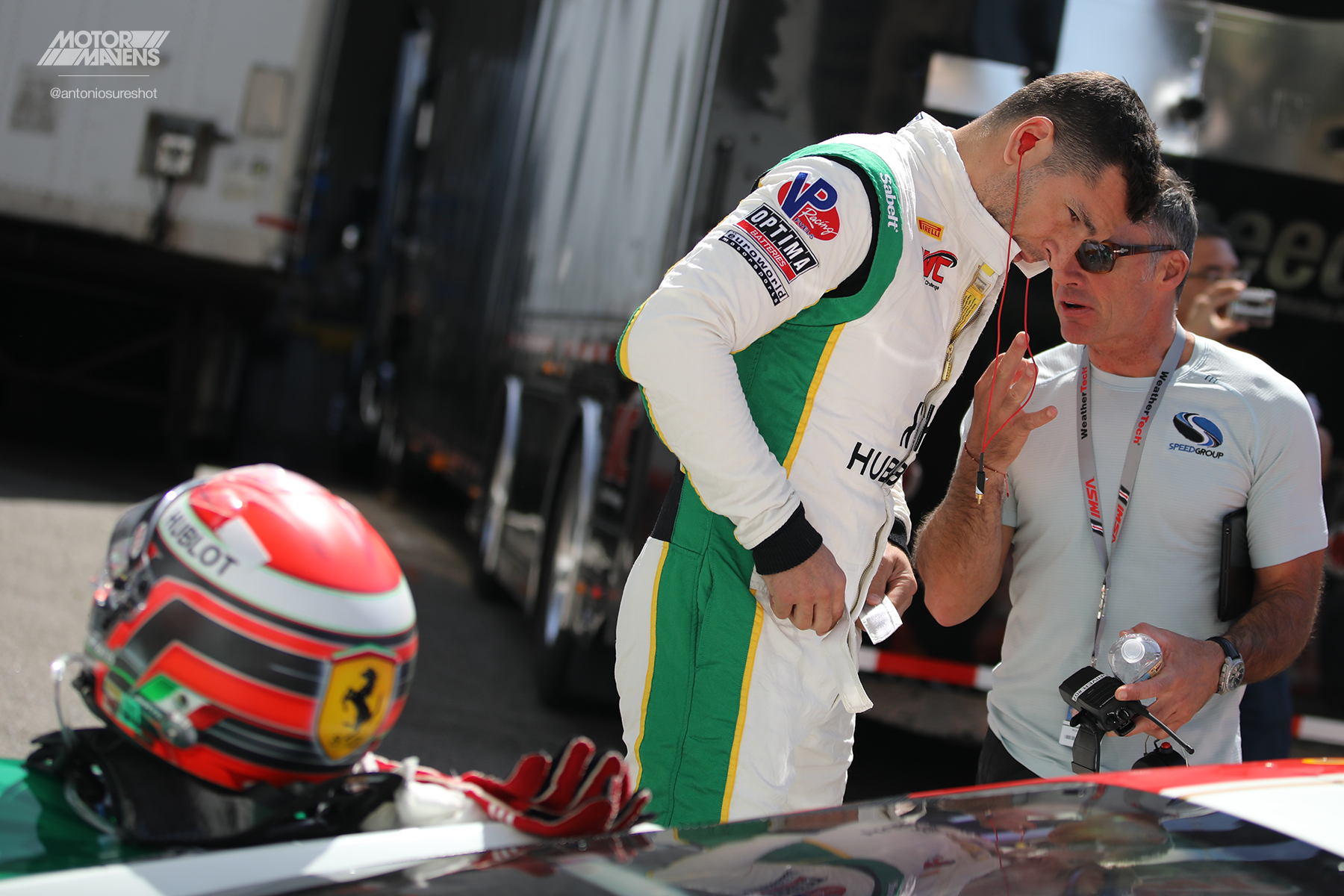 When I listened to the race commentary by Jeff Lepper, I learned that Martin had a really crazy schedule on this particular race weekend!
He drove practice and qualifying on Friday and Saturday, then flew to Mexico City right after qualifying just to attend the baptism of his good friend's child on Saturday night, then flew back just in time to arrive in Long Beach at 5:30am on race day!
Now THAT is some intense dedication to a friend, and shows what he values. Much respect.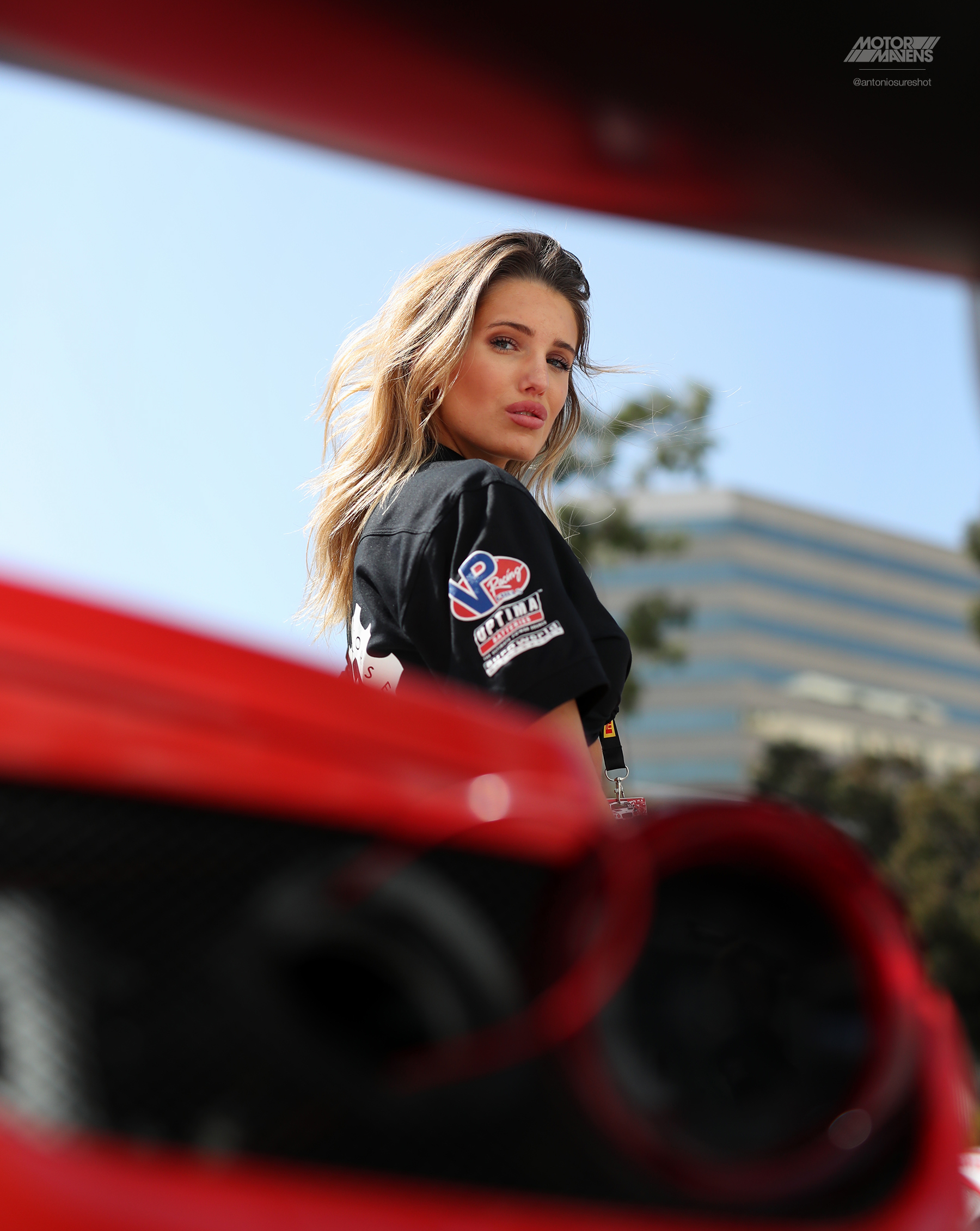 Just before the cars rolled out onto the Streets of Long Beach course, I met the Ferrari grid girls too. This is Marta from Spain.
I must admit, this Spanish beauty was a bit surprised when she saw my lens peeking out of the bushes behind the 488 GT3, but I reassured her, "relax, girl…RELAX! I'm just creating an artistic composition!" Hahaha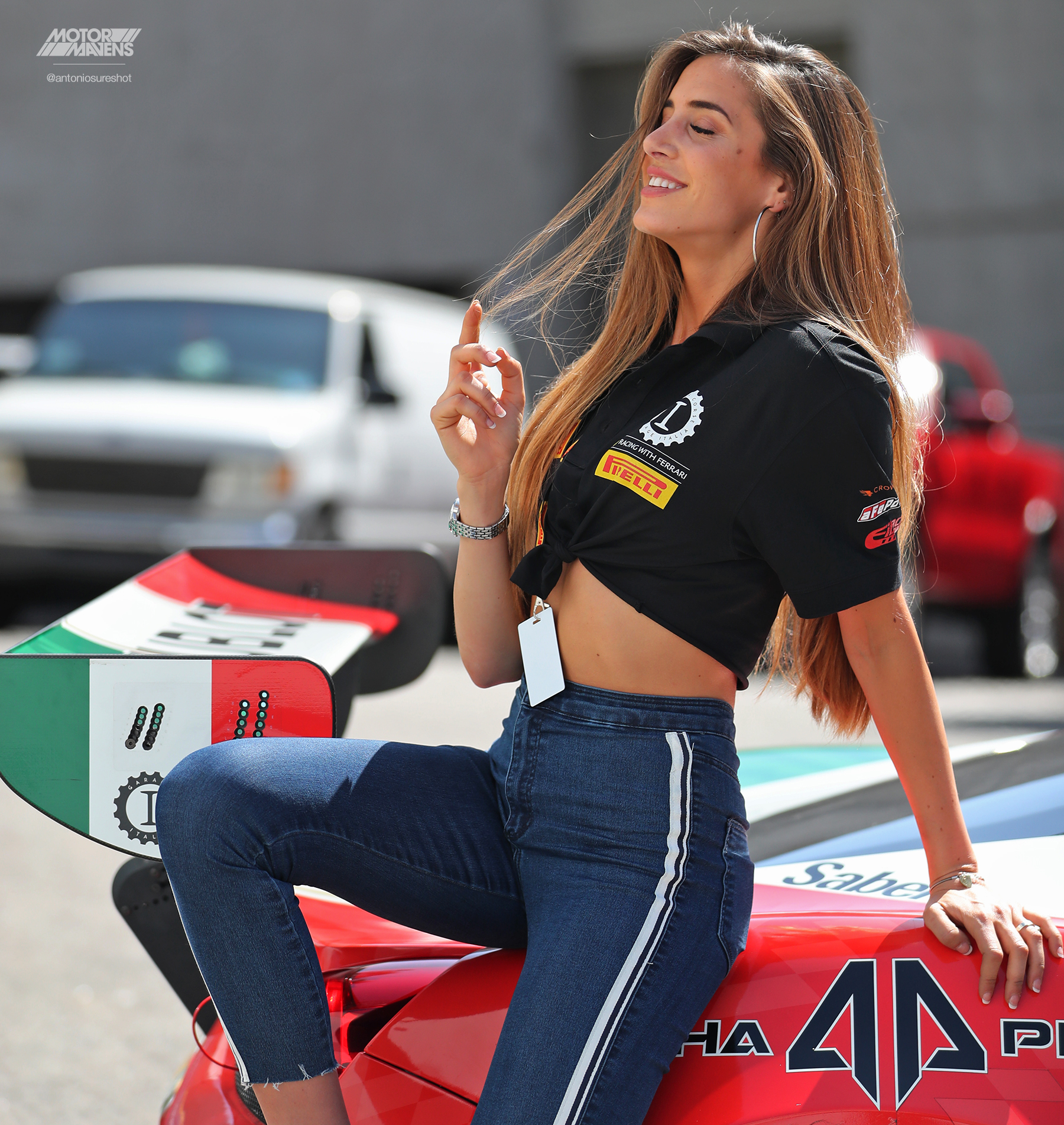 The other Ferrari grid girl's name is Nieves, and she clearly thought our interaction was funny.

Doesn't she look like the type of girl that should be hired to do a nationwide shampoo commercial or something? I know, I know. My thoughts are super random.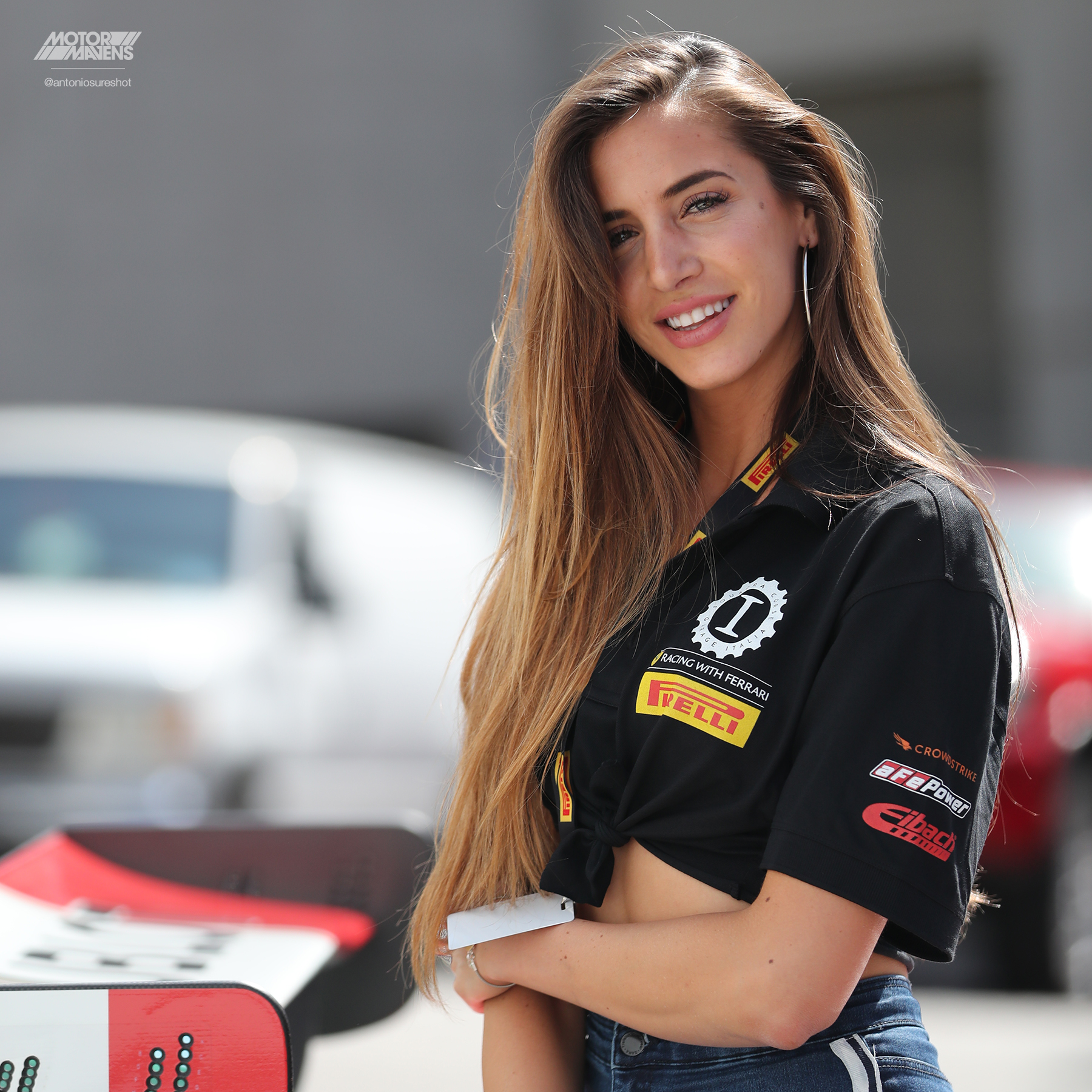 Both Marta and Nieves are from completely different areas of Spain (Madrid and Barcelona), but they flew in all the way to Los Angeles just for the race. I'll publish more photos of them (and more photos from the event) in an upcoming website post – and on Instagram of course.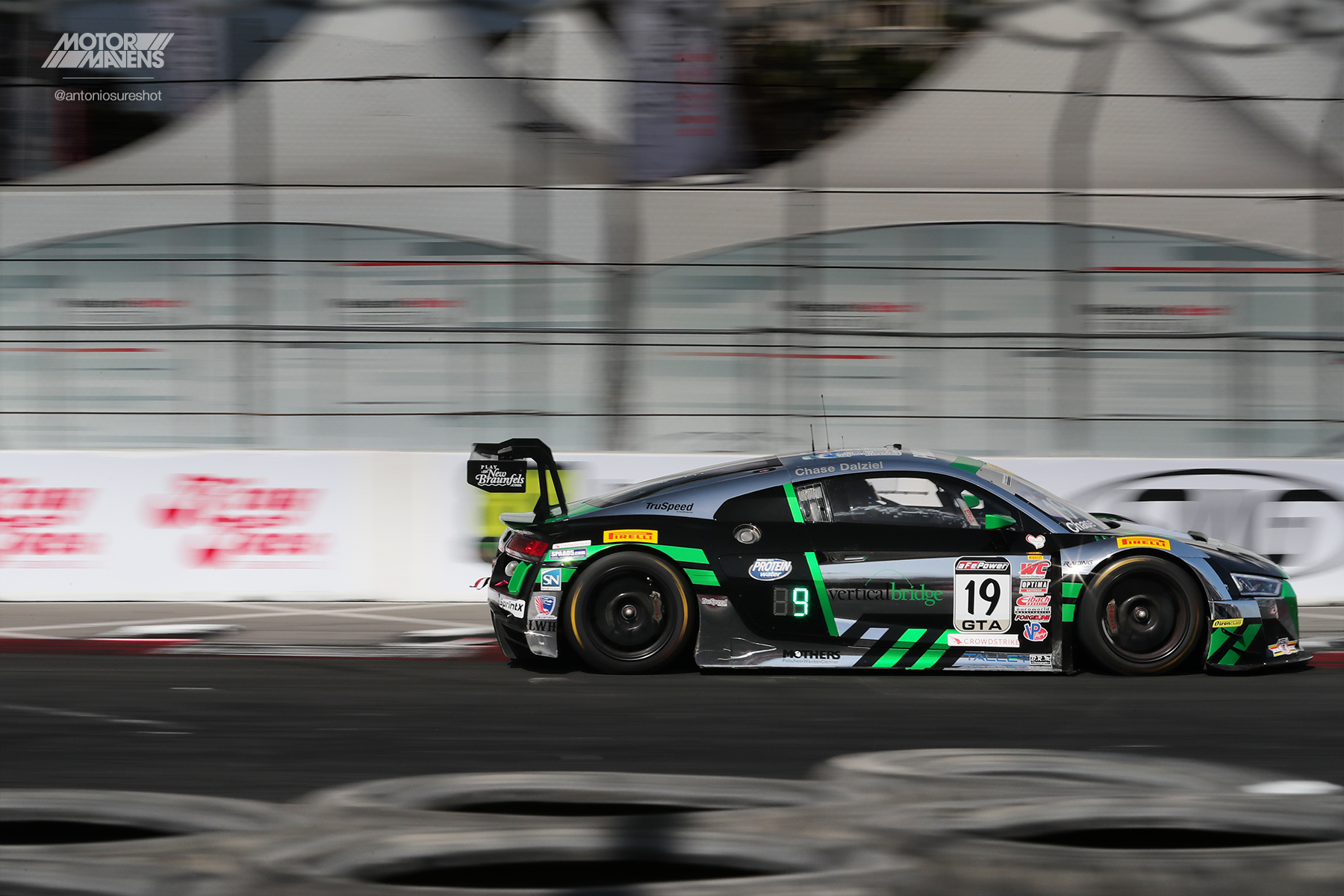 Hailing from Texas, Parker Chase just turned 17 two months ago, but did quite well in piloting the No. 19 TruSpeed Autosport Audi R8 LMS. Prior to joining TruSpeed Autosport, Parker drove in the PWC GTS class as a factory Ginetta Driver, where he won Rookie of the Year! He is definitely a driver to keep an eye on, and the R8 LMS just looks bad ass.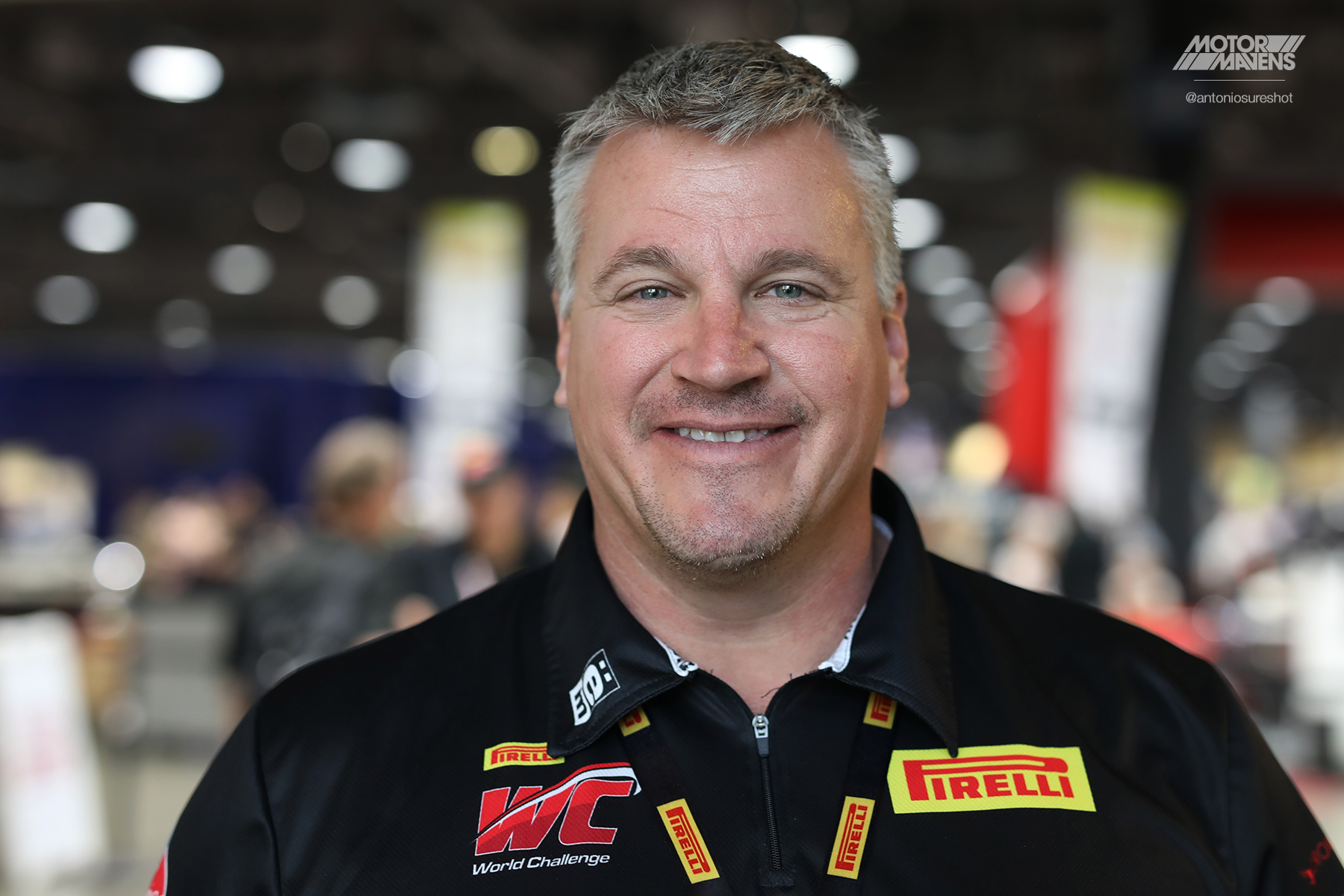 Speaking of Texas, while eating lunch inside the PWC compound, I was introduced to a good natured Texan named Frank Lee, who owns a company called Euroworld Motorsports.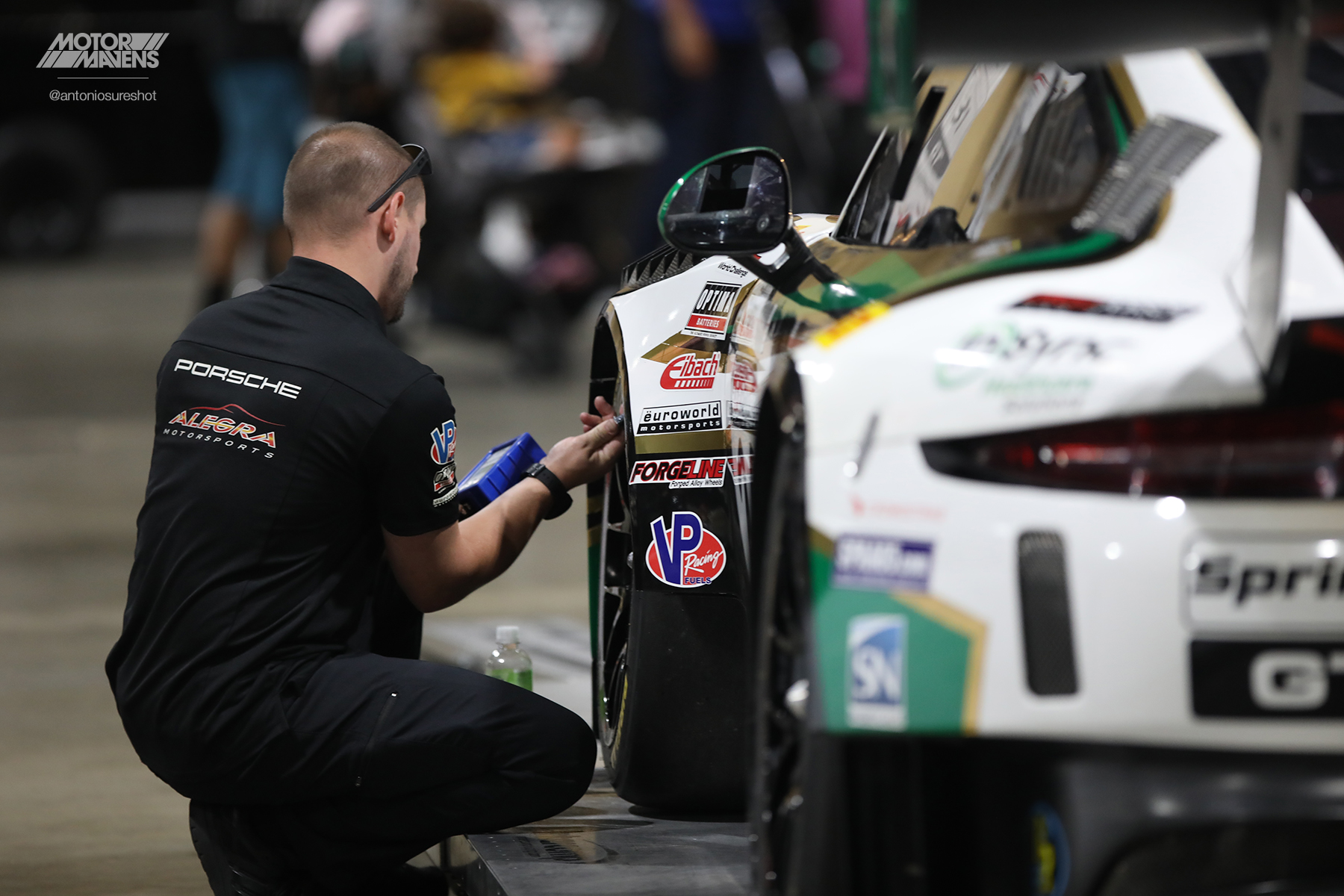 I noticed that all the cars running in PWC have the Euroworld Motorsports logo on the fender. Apparently Frank's company does high end carbon fiber molding and repair. He says he can fabricate or repair anything made from carbon fiber – your high end Stilo helmet, your carbon fiber Sparco racing bucket seats, the fenders of your Singer Vehicle Design Porsche 911… things like that.
He said he started the company because he thought that the pricing on carbon fiber racing aero parts from Porsche was ridiculous, so he bought the tooling and decided to just make them on his own! :O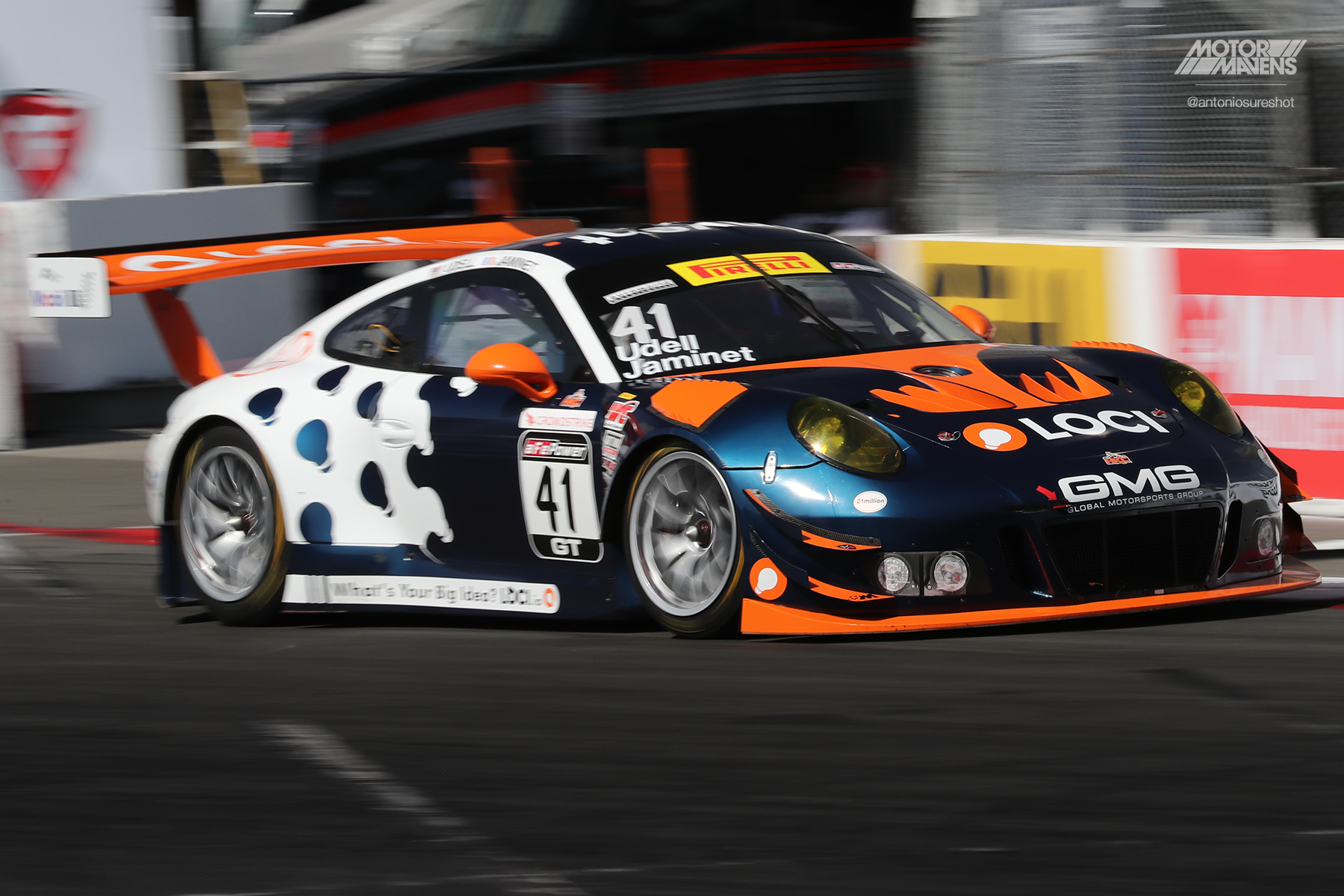 While we were talking over lunch, Frank couldn't stop talking about how talented he thought Porsche 911 GT3R driver Alec Udell was. According to Frank, Alec approached him asking for some sponsorship help so he could buy an extra set of tires for an event. In exchange for Frank's help, he'd place the Euroworld Motorsports logo prominently on his car. Frank agreed, and Alec won the very next race – the first race with Euroworld Motorsports as a sponsor. Frank continued to say that according to Alec, the extra set of tires made all the difference for him in the race.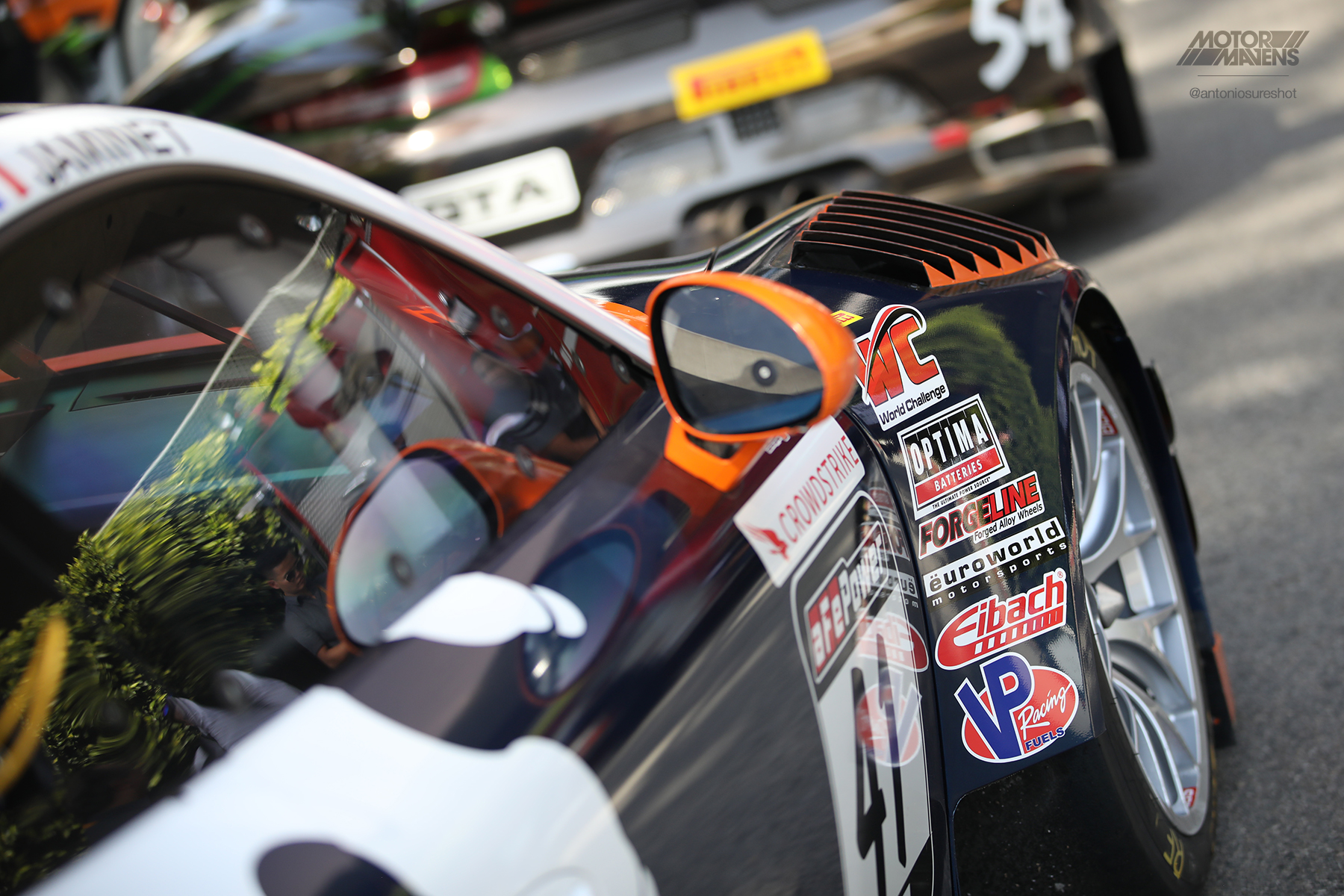 Since then, Alec has moved onward with other sponsors taking up the lion's share of the logo space on his car, but so did Frank. Euroworld Motorsports became a series sponsor, with logos on every single one of the PWC cars.
Unfortunately, on Lap 6 of the race, Alec's 911 GT3R made contact with the Porsche Cayman GTS driven by Mike Sullivan, putting Mike's Cayman hard into the wall, sustaining big damage to the body and suspension on the right side of the car.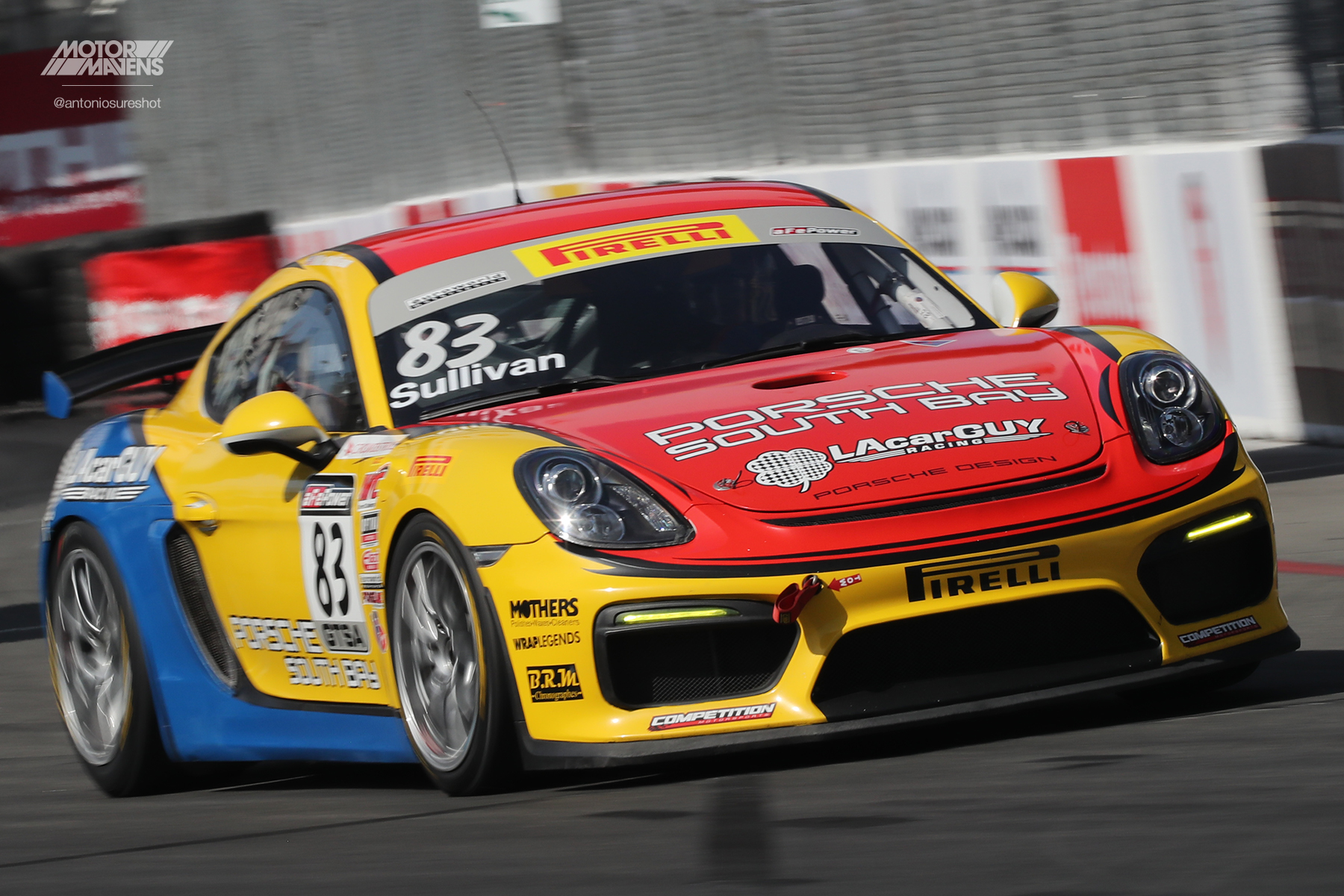 This is what Mike's Porsche South Bay/LA Car Guy Cayman GTS looked like before the collision. Accidents are horrible, but they're a part of racing. Thank God the accident wasn't too serious – the Cayman GTS sustained a lot of damage, but thankfully Mike was able to emerge from the vehicle on his own two feet.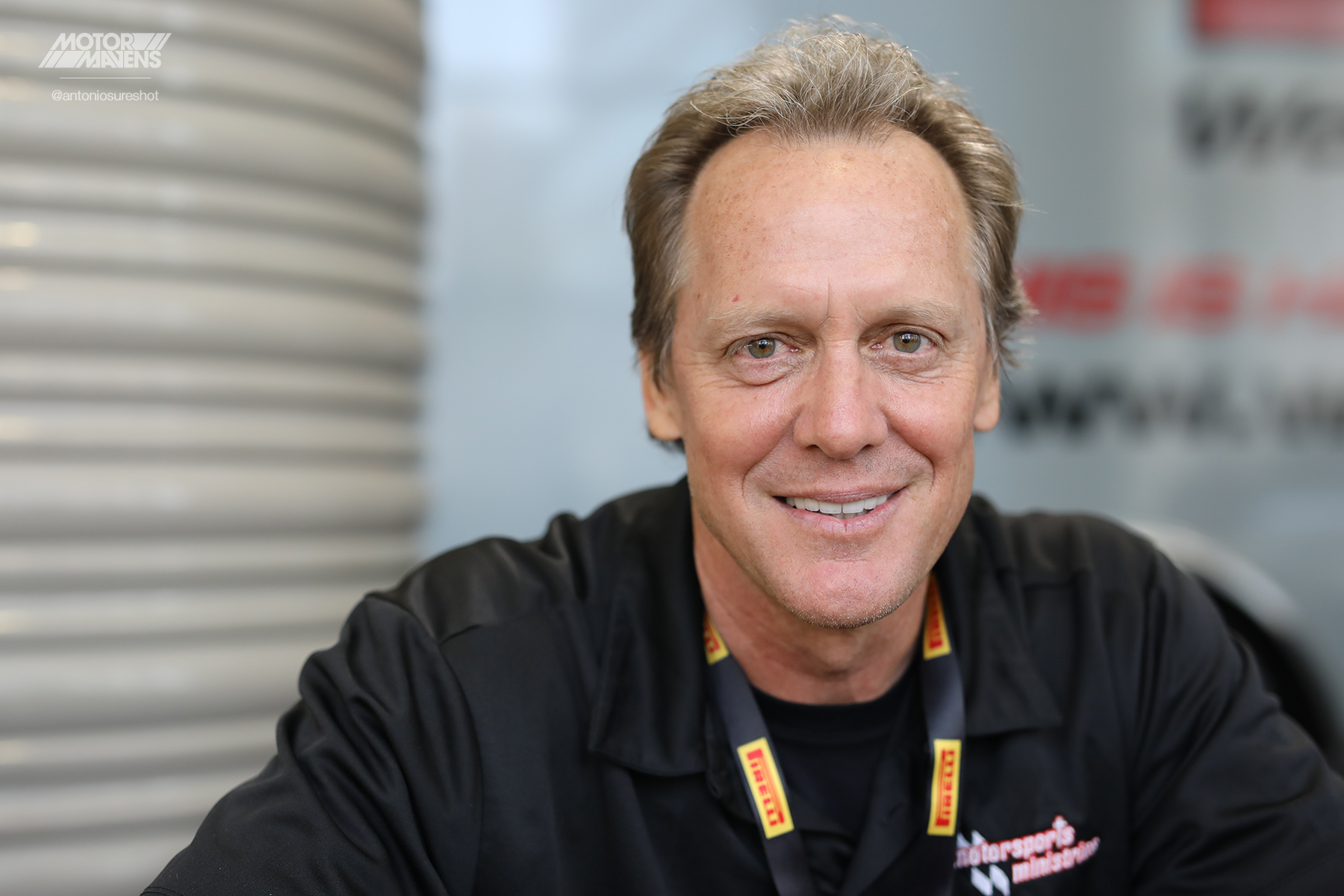 Speaking of God, I met another interesting person while I was hanging out with Frank Lee during one of the IMSA practice sessions. This gentleman walked up to us and asked us if we were here for the service. In my head, I was thinking, "what service? I'm a photographer, so I'm clearly not with one of the teams waiting for race car services."
He smiled and sat down with us, introducing himself as Terry Borcheller from Motorsports Ministries. Ohhhhh, THAT type of service. Frank and I looked at each other, and both confessed that we weren't even aware of any religious services or anything like that at the racetrack. (The honest answer is, we were actually just hanging out there because that area had a good view of the race cars, and PWC had some good cookies on the table.)
Anyway, PWC's race announcer Jeff Lepper sat down with us, and we all began talking. Apparently, before he joined the ministry to spread the word of God, Terry was an extremely accomplished driver! (To all those who have been following sports car racing for years, please forgive my ignorance here.) Apparently, Terry was formerly a full-time racing driver who raced what in my opinion, is one of THE BEST LOOKING SPORTS CARS OF ALL TIME – the Aston Martin DBR9 at the 24 HOURS OF LE MANS. Whaaaaaaaaaaat???!
By the way, Terry didn't tell me this stuff – I only found out because I Googled his name after we parted ways. Apparently, Terry raced at Le Mans five times, with a podium finish in 2001 with the Saleen S7R. In fact, just some of his racing accomplishments include racing in the ALMS series in the Bell Motorsports GT1 Aston Martin DBR9 and the 24 Hours of Daytona for the legendary Brumos Porsche. He also won the IMSA Speedvision cup and Speed World Challenge driving a Saleen Mustang.
That's crazy! Yet, he just walked up to us with a big smile on his face, humble and friendly as can be. He admits that he still obviously loves racing and still coaches drivers, but he is even more driven (no pun intended… well, okay.. sort of) to pursue the ministry as his higher purpose. Respect.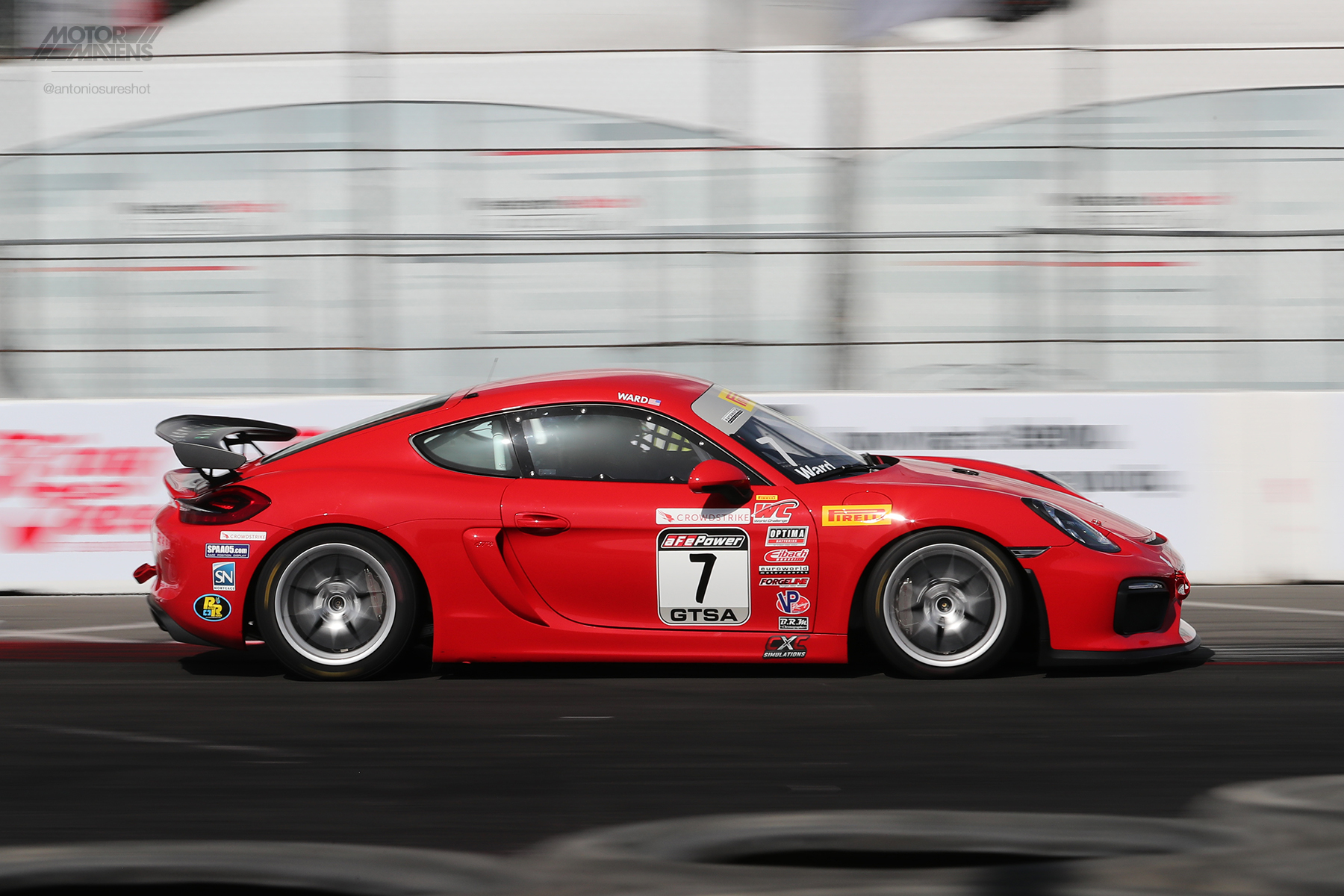 This red Porsche Cayman GT4 was looked relatively plain compared to all the other cars with race liveries. That's not a bad thing though – just imagine seeing this GT4 on the street, in red with those wheels, front lip spoiler and rear wing, as it cruises the highway in a low and mean stance!
Anyway, this No. 7 Black Swan Racing Porsche Cayman GT4 Clubsport MR in the GTS Amateur class was being driven by former AMA motocross champion Jeff Ward of Newport Beach CA, which goes to show that PWC draws all sorts of talent and drivers of many different backgrounds!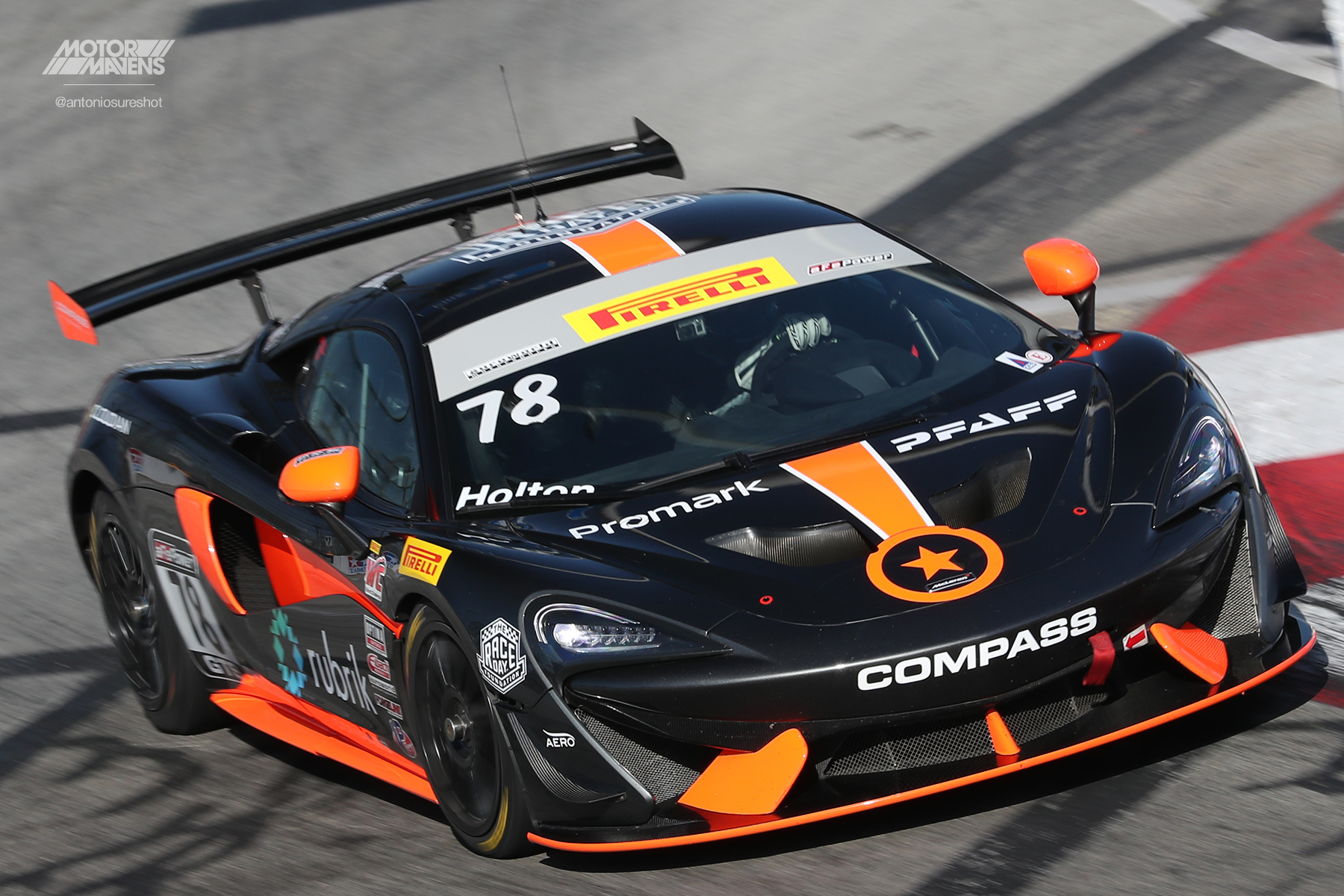 The No. 78 Compass Racing McLaren 570S was being driven by Paul Holton from Florida in a battle with 18-year-old Harry Gottsacker from Texas in the No. 69 Racers Edge Motorsports Sin R1 GT4. Prior to driving in PWC, Harry drove in the Red Bull Global Rallycross series and a kart series.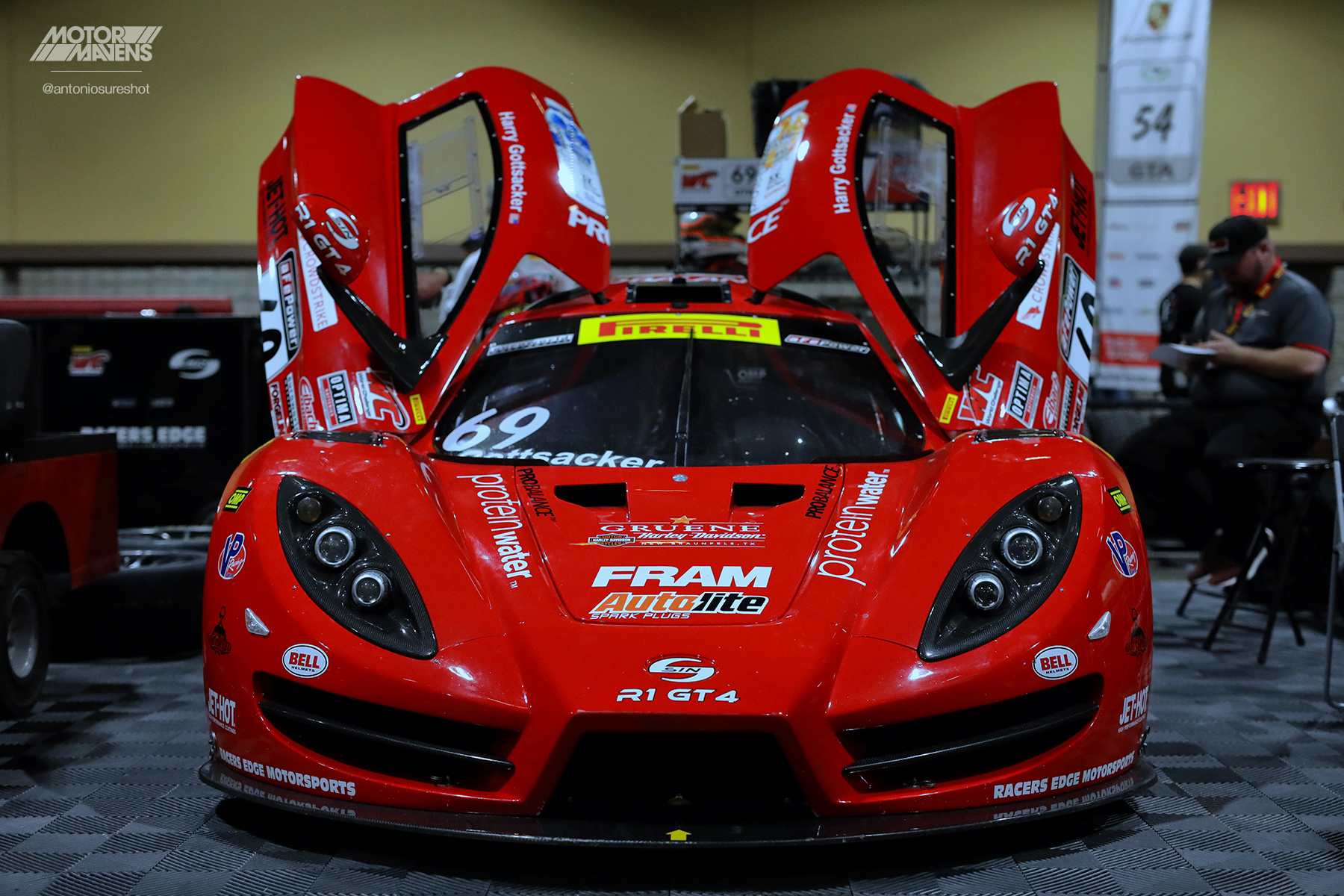 Admittedly, I didn't know too much about Sin Cars or their Sin R1 before this past weekend. In fact, I had to search Google to learn about the car.
Distributed by Racers Edge Motorsports in San Francisco, the SIN R1 GT4 is a full carbon fiber bodied, tube frame chassis with a mid-engine mounted 6.2L Chevrolet LS3 V8 engine, a sequential 6-speed racing transmission.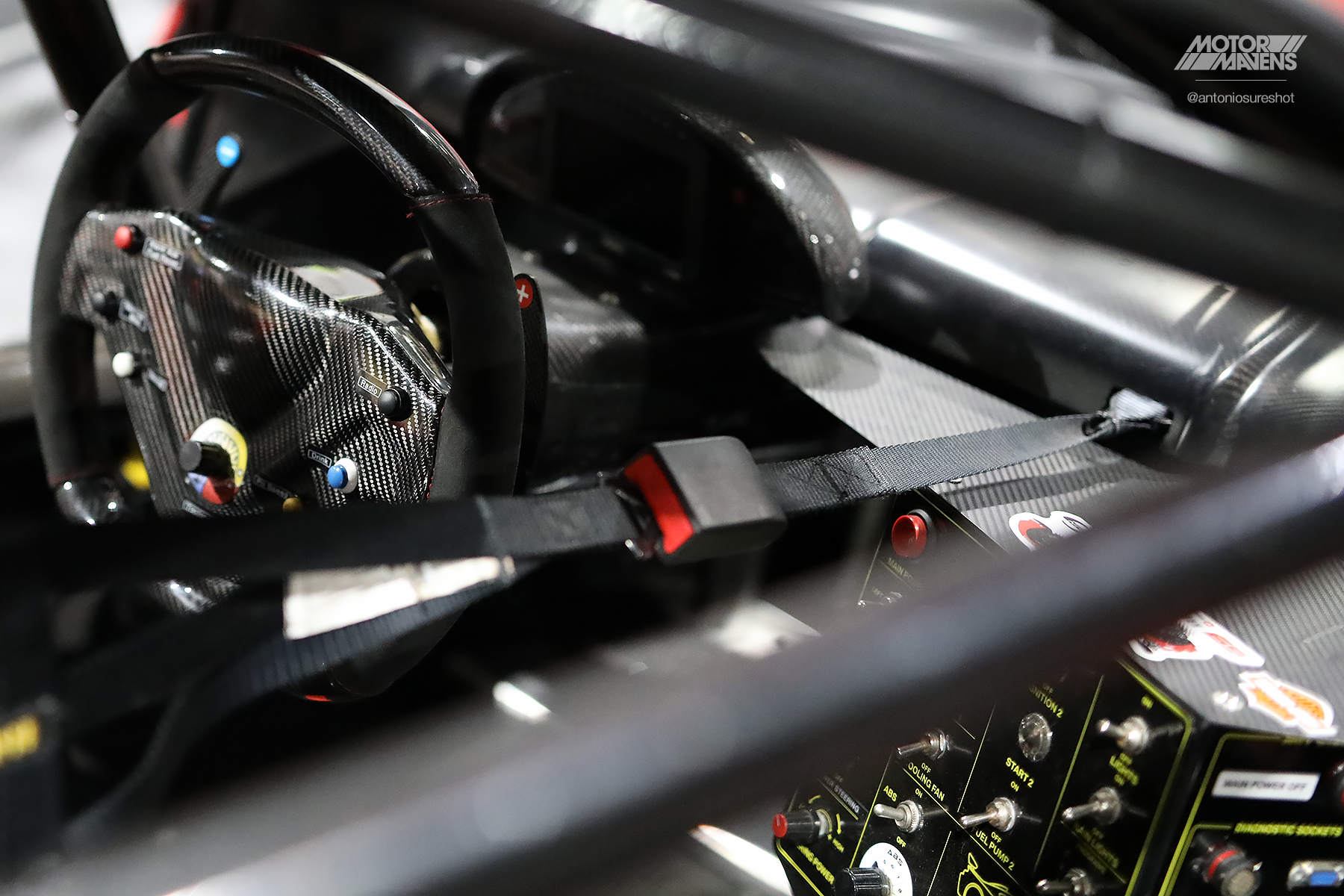 The interior is all carbon fiber, and it has paddle shifters too.
This is Robbie, Greg, and Staci – just part of the team that runs the Pirelli World Challenge series. Seeing the level of the cars and the competition itself, I definitely have a huge respect for everything this team does to put on this series! Big thanks to the Pirelli World Challenge team for being great hosts and inviting me to the event.
Now that I've gotten a close look at the cars and the opportunity to meet some of the people from the series, I can't wait to return to another Pirelli World Challenge event in the future!
For those who have been to different stops on the tour, which track is your favorite or the most picturesque for photography?
The next PWC event takes place in just TWO WEEKS (April 27-29) at Virginia International Raceway! Here's a link to the series website for more info: Pirelli World Challenge Schedule
:: Antonio Alvendia
6.2L Chevrolet LS3
,
911 GT3
,
911 GT3R
,
991
,
Alec Udell
,
Alvaro Parente
,
Antonio Alvendia
,
Audi R8
,
Audi R8 LMS
,
Bentley Continental
,
Bentley Continental GT3
,
Brembo
,
Cayman GT4
,
Compass Racing
,
Continental GT3
,
Daniel Mancinelli
,
Dream Racing
,
Euroworld Motorsports
,
Ferrari
,
Ferrari 488
,
Ferrari 488 GT3
,
Garage Italia
,
GT4
,
Harry Gottsacker
,
homepage
,
Huracan
,
Huracan GT3
,
Jeff Lepper
,
Jeff Ward
,
K-PAX
,
KPAX
,
lamborghini
,
Lamborghini Huracan GT3
,
Le Mans
,
Long Beach Grand Prix
,
LS3
,
Martin Fuentes
,
Mazda Road to Indy
,
McLaren
,
McLaren 570S
,
Mike Sullivan
,
Opticoat
,
OZ Racing
,
Parker Chase
,
Paul Holton
,
Pfaff Motorsports
,
Pirelli
,
Pirelli PZero
,
Pirelli World Challenge
,
Pirelli World Challenge GT Sprint
,
Porsche
,
Porsche 911
,
Porsche Cayman
,
Porsche Cayman GT4 Clubsport MR
,
R. Ferri Motorsport
,
R. Ferri Motorsports
,
Racers Edge Motorsports
,
Remo Ferri
,
Robbie Montinola
,
Scott Hargrove
,
Sin R1
,
Sin R1 GT4
,
Squadra Corse
,
Super Trofeo
,
TGPLB
,
Toni Vilander
,
Toyota Grand Prix of Long Beach
,
TR3 Racing
,
TruSpeed Autosport
,
World Challenge
,
Yuki Harata
---