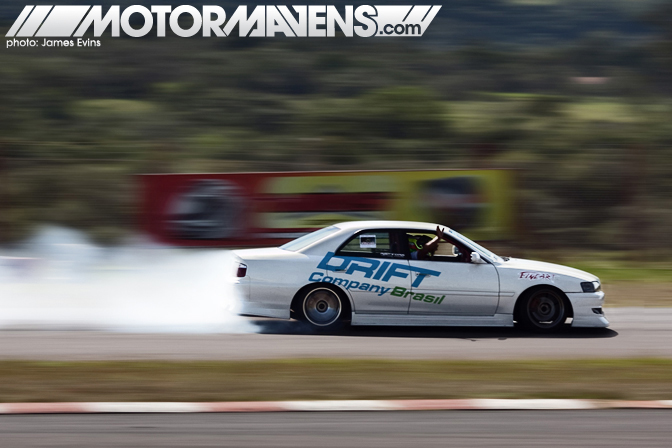 A few months ago, my good friends Ameen and Amir Rizvi, owners of 786 Motoring, a drift and performance shop in Houston, told me that a big opportunity had come up and they wanted a photographer to come along.  I said, "Sure, no problem!"
Then they said we'd be going to Brazil.  Wait, BRAZIL!?
They explained that Leo Malfatti, owner of TTR Tuning, wanted to hold a drift event in Brazil in collaboration with Drift Company Brasil, the country's leading drift crew. Leo felt that 786 Motoring had the reputation and experience to assist and contribute. Leo had approached many shops, but Amir and Ameen were the only ones that had taken him seriously. I wasn't surprised that 786 Motoring was the shop he connected with — they're a great bunch of guys with an extreme dedication to the sport.
After considerable planning and collaborating, things started to take shape and the trip was scheduled. Our plan was to meet and hang out with Drift Company, document our trip, discuss cars and setups, and talk about the overall logistics of drifting in Brazil. Unfortunately, Ameen had an issue securing his passport at the last minute. However, if everything worked out as planned, we also knew we'd probably have the chance to return to Brasil.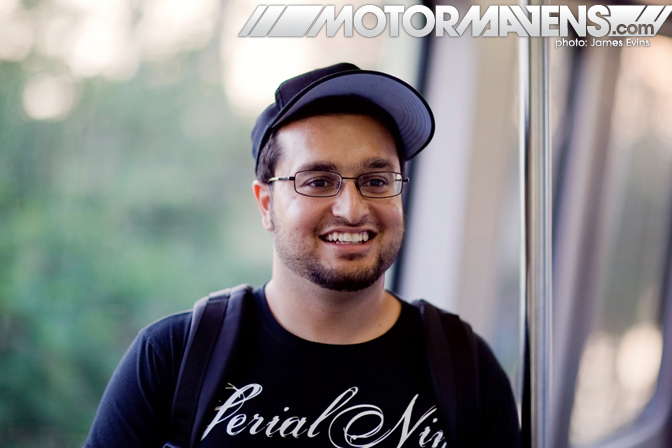 The day finally came to leave for Brasil and Amir and I met at the airport!  I can't tell you how excited I was! Amir was pumped as well! This photo was taken on the Houston Bush Intercontinental Airport's train as we headed out to our terminal. Amir is rocking a Serial Nine shirt, a company that specializes primarily in parts for the Toyota Cressida.  Ameen Rizvi's car has nearly every Serial Nine piece made and these guys are always showing their support.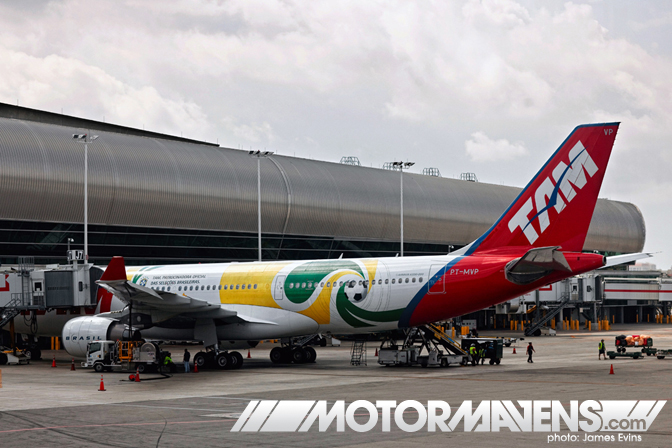 We finally caught a glimpse of our plane – TAM Brazilian Airlines!  I had never flown TAM before, but the color scheme was pretty awesome.  I also noticed that seats on TAM were an inch or more wider than any previous domestic flight I had flown.  Maybe, this extra width was due to the legendary Brazilian asses I kept hearing about?   Either way, only time would tell, and it made for a much more comfortable trip.  They also had a great entertainment system in the airplane and I was able to pass the time on the 10-hour flight by watching "Avatar" over and over.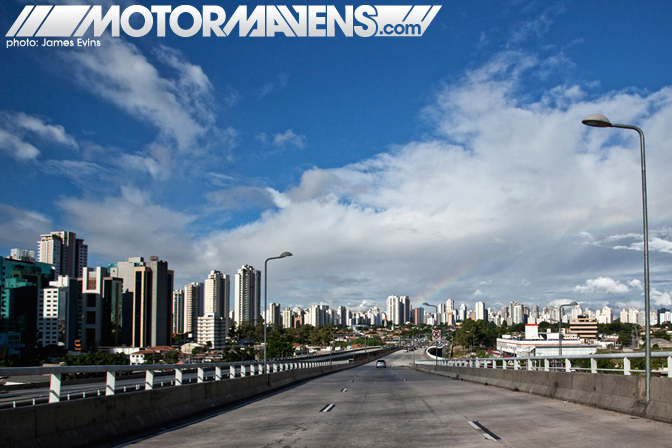 Our flight touched down in São Paulo, Brazil where we waited briefly for our friend Leo from TTR Tuning.  I instantly felt the culture shock creeping in as soon as I exited the airport.  Everything was so different!  All the cars were extremely small compared to what you'd see in America.  Most were hatchback vehicles with very small motors.  There were many common brands there that weren't entirely familiar to me – Alfa Romeo, Fiat, Lancia.  There were makes and models of cars I'd never seen as well – small Chevy and Hyundai trucks, plenty of unfamiliar hatchbacks, and even their cargo vans were much different looking!  Also, the foliage surround the airport looked very foreign to me as well – very tropical!  The place even smelled different, in a way I can't explain.  I was soaking it all in!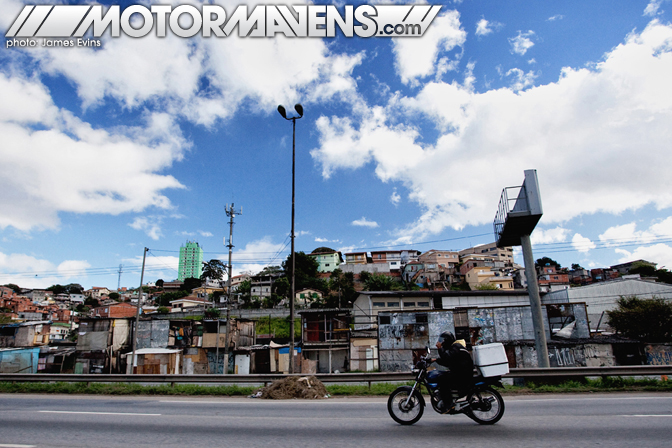 São Paulo is a city of beautiful, rolling hills.  As we made our way through the city we noticed the hills were covered with tightly packed housing as far as the eye can see.  Some of the areas were very beautiful, with homes painted in a vast array of bright pastels.  Unfortunately, some of the areas were very poor.  I know many of you have seen poverty in the United States, but not many of them could rival the ghettos of São Paulo.  It's unbelievable to see miles and miles of homes built entirely out of sheet metal and plywood.  Some of them looked more like shacks than living areas, and it really struck a chord with me.  I wish I had photos of the more run-down areas, but in the photo above you can see a little bit of what I'm referring to.
You can also see a "Motoboy" here, which is the name given to the union (actually, it's more like a gang) of bikers that run around the city.  They usually are on 250cc or smaller bikes, and they courier documents and food across the city.  They ignore road signs and weave in and out of traffic, stressing out drivers.  If you hit or obstruct a motoboy, they are likely to destroy your car . . . you mess with one, they swarm like a pack of killer bees.  If the police attempt to stop them, they protest downtown and block traffic, and their numbers are so large the police reportedly give in to the demands of the Motoboys.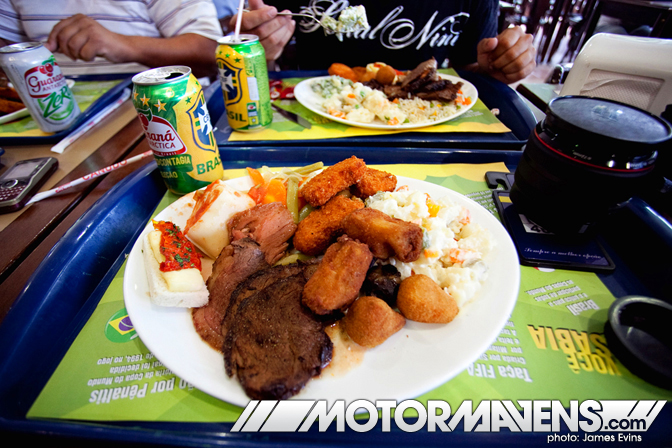 The first thing we did in Brazil was find some lunch!  After fourteen hours of eating only what the airline offered, I was very much looking forward to trying out Brazilian food!  In the photo above, you can see my plate loaded with rump roast — it was excellent!  I love the way Brazilian meat is cooked, it's very good and very tender!  I hear the secret is that they use papaya juice as a meat tenderizer, which allows them to cook much tougher cuts of meat and get excellent results!  I also had a variety of side dishes, most notable of them being the fried bananas.  You can also see our drinks — Guarana Antarctica, an amazing soda with a berry taste.  Its flavor comes from the Guarana berry, a fruit grown in the Amazon.  You can also see my Canon 85L in the photo, my signature lens!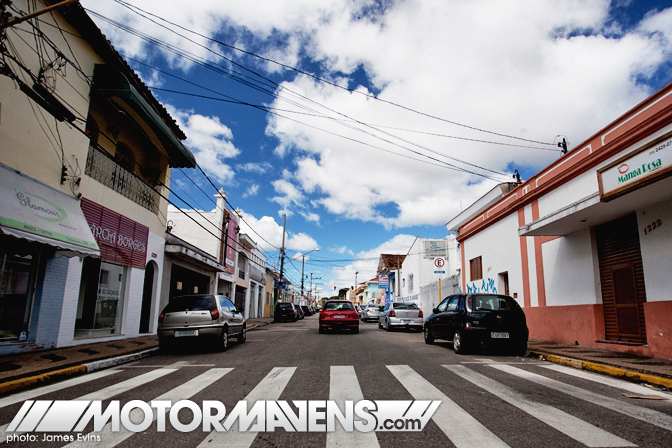 After lunch, we made our way to the small town of Itu where Drift Company Brasil is located.  Itu was a very country town in comparison to São Paulo!  The streets were very, very small and lined with small, colorful buildings.  We had a chance to walk around quite a bit and interact with the locals.  Most the people we came across were students at the small college located in town.  I can't stress enough how friendly everyone was towards us!  At night, we'd walk down to the square.  There was a small street barbecue vendor named Eduardo who would offer us sticks of meat for 2 Reals (about $1.00 USD).  We'd sit down and eat and enjoy the atmosphere, usually staying for an hour or two.  People would constantly walk up and introduce themselves and sit with us, telling stories and drinking with us.  In Brazil, the people do not hesitate to share.  Anytime my cup would go empty, someone would offer to fill it with whatever beer or liquor they were drinking at the time.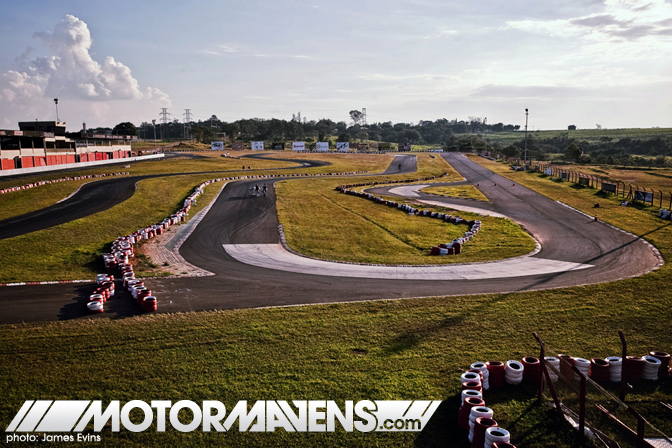 I was very anxious to meet with Drift Company Brasil.  I knew all about them, but up until I arrived at their facility I had never actually talked with them due to the language barrier.  I had seen a few photos and video of their cars in action, but I had no idea what to expect when I arrived.  Come to find out, their shop was located at Kartódromo Arena Schincariol, a very popular go-kart track.  The facility is much larger than it looks, and it needs to be — the drifting, as well as the karts, draw very large crowds of spectators on weekends.  I was really impressed with this location!  To have your shop literally in the backyard of a track is a huge advantage!  Its good to be able to get seat time on an actual track as opposed to the streets where many American drivers get their start.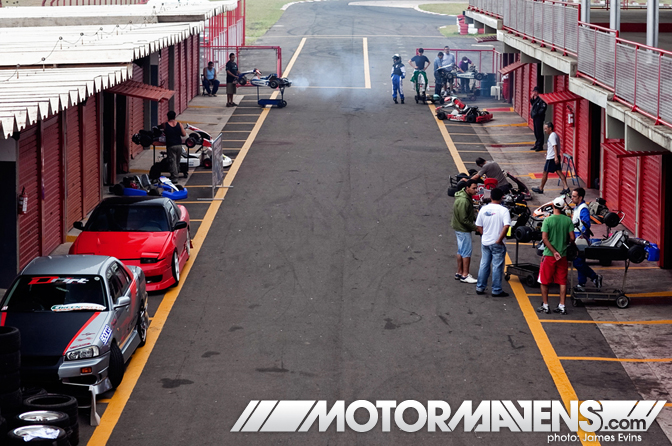 Right behind the stands lies a large pit area with garages on each side.  Drift Company owns nearly half of the garages here, using them for storage for parts, cars and tires.  Just behind the facility is a much larger shop, where most of their maintenance is done.  Here, you can also see many of the karts being prepped for an event as well.  Its never a dull moment, considering you'll always hear the sounds of either drift car or kart engines piercing the air!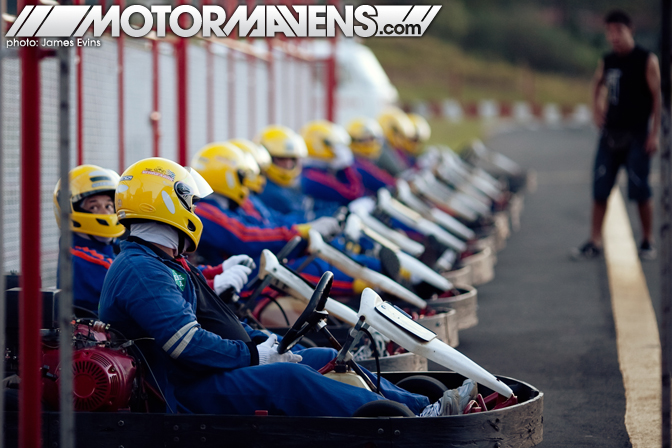 As mentioned previously, Kartódromo Arena Schincariol is a go-kart track.  There are competitions and races on a regular basis, with point standings just like a professional race series.  They definitely take it very seriously!  I happened to catch a group of go-kart drivers about to head out on to the track.  Can you believe that many drivers, like Felipe Massa of Formula One fame had their start at events just like this?  Massa is from São Paulo, but it never crossed my mind to ask if he had ever driven on this track, but it's very likely!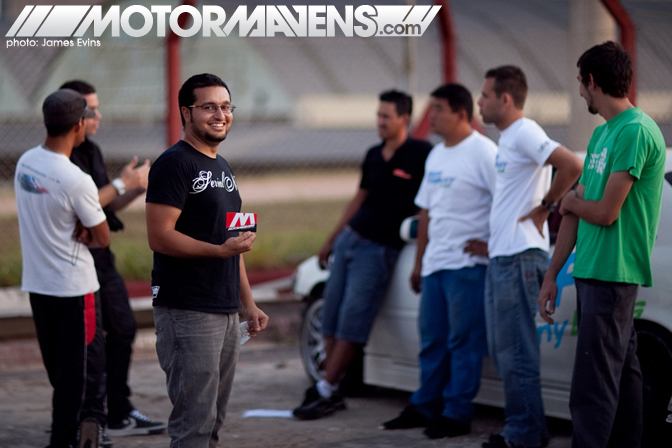 It was great to finally meet Drift Company Brasil!  Within minutes of meeting them we felt as though we were among good friends.  It was great to actually speak with them in person!  I was very interested to get to know them and understand what motivated their passion for drifting!  Gerson Mekaru (owner of Drift Company) had learned of drifting while living in Japan.  He had actually had the opportunity to witness drifting in the mountains years and years ago.  He later returned to Brazil, but never lost his love of drifting.  He formed Drift Company Brasil shortly after as a shop and team, often doing demos and track days to try and stir interest in the sport.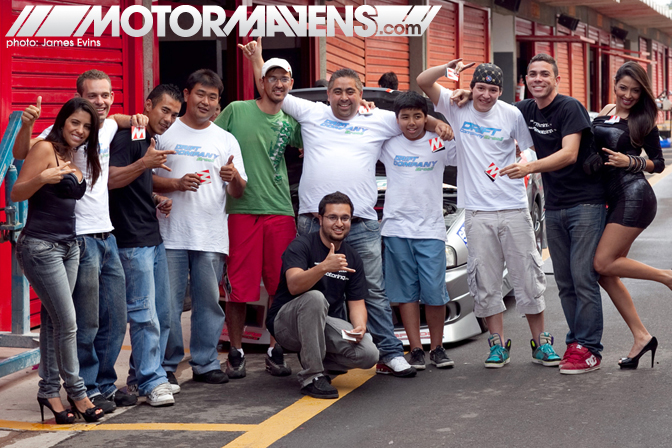 Drift Company Brasil was definitely down to rep MotorMavens.com!  This photo brings back so many memories.  We had so much fun with these guys!  The fact that Americans had come all the way meant so much to them.  It meant a lot to us, too.  Drifting in Brazil is new, its fresh, it hasn't had a chance to really develop.  It was an amazing opportunity to be involved and witness what they were doing.  They're really paving the way for the sport in Brazil, and it isn't easy.  The initial costs of drifting is significant no matter where you go, but in Brazil the costs are staggering to say the least!  I'll go into more detail on my next post, but I just wanted to stress that the challenges these guys face is tremendous.  This didn't happen overnight, these guys have worked for years to make this happen.  Its absolute dedication.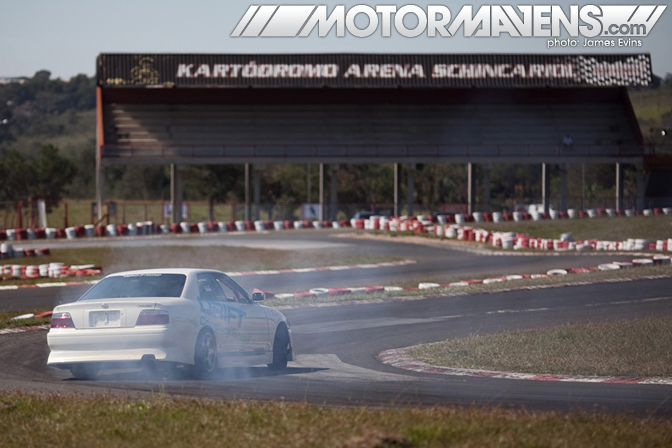 Drifting.  It's what we came for; it's what brought us to Brazil.  When the engines finally came alive on track, the tires started screaming, and the smoke filled the air, a strange feeling came over me.  Although I was thousands of miles away in another country, immersed in an unfamiliar culture, in a place where nobody even spoke our language… I honestly started to feel at home.  I had done this so many times before, standing in the center of a track with my camera, taking photos as the cars attacked the apex in front of me at increasingly aggressive angles run after run.  No matter what separates us, no matter how many miles, how different our cultures are, or what languages we speak… we all were there on that track for the same reason.  We love drifting. Its a common bond that brought us all together.  The realization was overwhelming. While I was out on the track with my camera, Amir was behind the wheel of a JZX100 Toyota Chaser!  Drift Company Brasil insisted that he drive with them.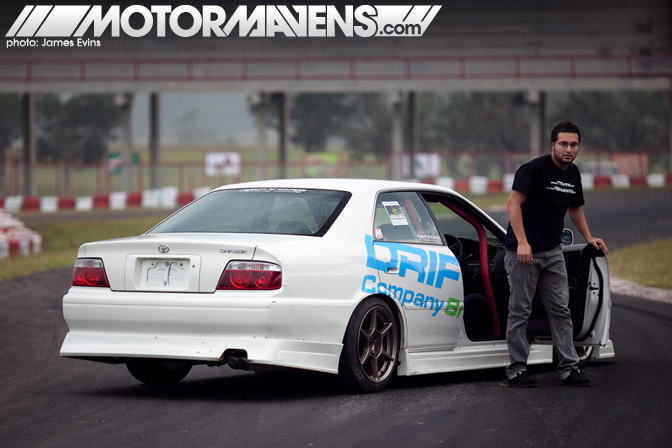 Here's Amir getting out of the JZX100, like a boss! I'm not a driver, I'm only a photographer, but I can imagine that it meant a lot to him.  He had mentioned it plenty of times on the trip down.  I'm really glad he had the opportunity, and I think Drift Company Brasil had a great time watching and driving with him!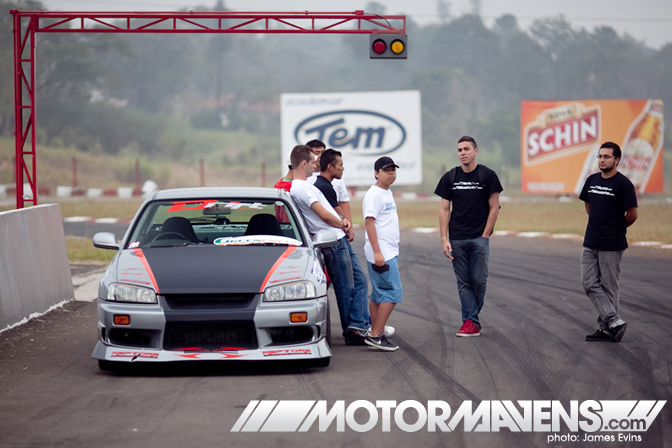 In between drifting we'd all take time to chat and let the cars cool down.  These are fond memories for me.  It felt like a grassroots event back home, we'd all stand around and joke and cut up, and after each run Amir would offer assistance and suggestions to the drivers.  They welcomed his advice and were very appreciate, and it paid off.  We saw a tremendous amount of improvement in their driving during the short time we were there.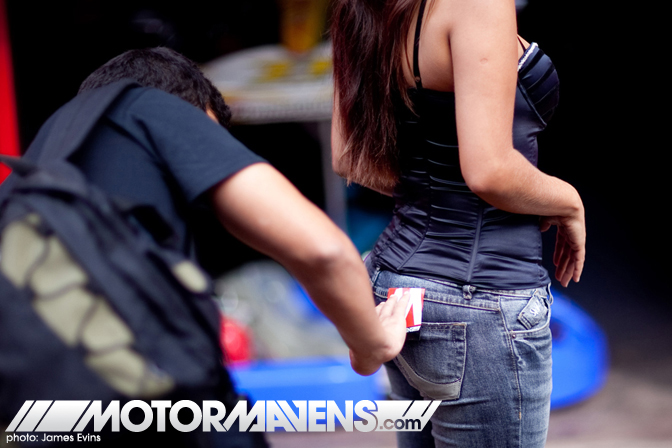 I know you guys have been wondering all along… did I get a chance to cover the girls?  You've all heard about Brazilian girls, they have quite a reputation.  This photo should answer your question!  I knew that I couldn't come back without sharing stories and photos of the Brazilian women.  While I was in Brazil I'd check my Facebook from time to time.  Each time, I'd see a new update from Antonio.  "Hey man, I hope you're having a good time!  And don't forget… the Brazilian girls!"  … he would say it jokingly, but I knew he and everyone else were expecting it.  

 I totally understand why, the girls in Brazil are amazing in both physical attributes and attitude!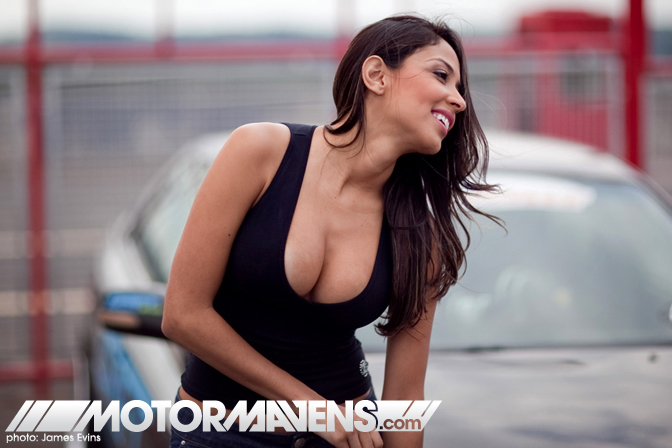 I don't really even need to caption this… LOL!  In the next post I will introduce you to Ana Rosa and Fabricia, the girls in the two photos above.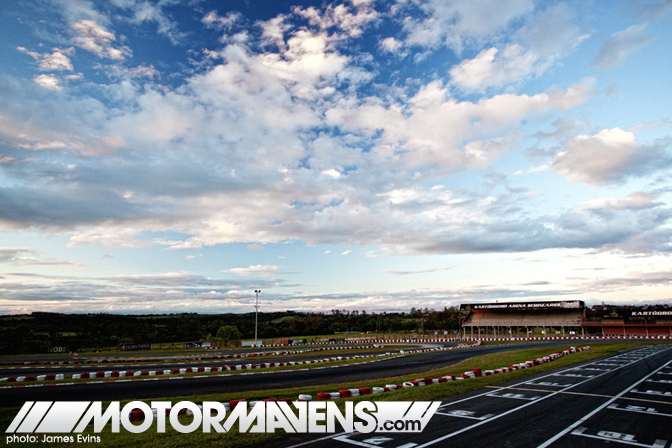 Brazil is such a beautiful country, and the track is no exception.  On our last day there, after the cars had been put away and the track had went quiet, I had a chance to walk around and reflect on my trip.  Its amazing to me that something as simple as a hobby can bring people together.  We can connect with other enthusiasts from thousands and thousands of miles away all because of a shared passion and love for drifting.  The more I thought about it, the more it struck me… it isn't the cars that matter.  We could've had the same passion for any number of things, any number of hobbies.  It is the people that matter, the people that make the sport what it is. It's people like Drift Company Brazil.  At the end of the day, what I remember most won't be the specifics of the cars, how much angle they got on the track, or how much smoke they made… I'll remember the friendships we developed and the fun we had together.
I can't tell you enough how thankful I was to meet these guys, and I'll thoroughly enjoy the next post as I give you a closer look at Drift Company Brazil!
:: James Evins
---