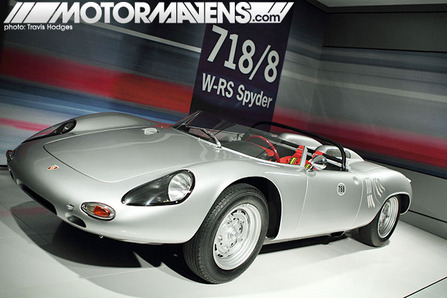 In my previous post about Porsche's new Boxster Spyder you may have noticed that this was the car that greeted me as I entered the hallway of the Porsche gallery. I didn't include it as a part of the other story because I was so enamored with this beautiful machine, I wanted to allow it a brief moment in the spotlight – alone.
In the early 60′s, rules governing sports cars were modified and automakers had to follow suit. Of course if you ask me, I don't need rules to make me modify a car! Haha. The frame of the earlier 718 RKS was widened, the wheelbase lengthened and the rear swing axle suspension was replaced with the more modern wishbone. In doing this Porsche created the RS 60 and 61. The beauty above is the open air version of the 718 RS 60, 61. The 718 W-RS.
One of my favorite things about this particular car is that in 1963, Edgar Barth won the European Hill climb with the W-RS. Not only is this car outstandingly sick looking, it has a serious race winning history as well. Today, Barth's 240bhp modified 718 W-RS wouldn't beat anyone racing up Pikes Peak , but DAMN you'd look good going up, down and around it. I'm thinking more like a road trip to Vegas. Maybe with the weather like it is right now, I should be driving down the New Zealand coast where it's summer. Mmmmm warm weather…..
Where would you like to be driving right now? Let me know.
:: Travis Hodges
---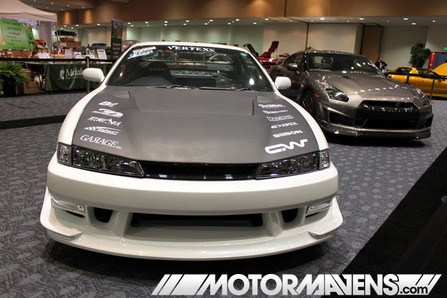 I got a call from the Extreme Autofest folks asking me if I want to show one of my cars again at the annual
San Francisco International Auto Show
at the
Moscone Center
this year. The only problem was that my
FD3S RX7
was still unavailable because we were still working on getting it back from the
Brahma Light Drift Track Opening
in the
Dominican Republic
.
Since the FD wasn't back in San Francisco yet, I figured it would be a good chance to debut my
RHD S14
and display it at this week-long show so I could show some love to my sponsors.
Read more...
---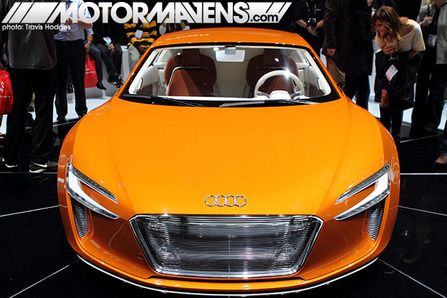 At this year's LA Auto Show it seemed the topic du jour was green car technologies. However, when you think of an eco-friendly or zero emissions vehicle, I'm sure the last thing you see in your mind's eye is the
Audi e-Tron
(pictured above). It's hard to believe this sick "super-car" contains a purely electric drive system. The e-Tron has four engines (yes, four) that produce
313hp
(230kw) and
3,319.03 lb-ft
(4,500 Nm) of Torque. WTF! It can accelerate from 0 to 62 mph (0 - 100 km) in 4.8 seconds. Now that's what I'm talking about! The e-Tron's lithium-ion battery is a beast as well. Its range according to Audi is about 154 miles (248km). Funny thing is, according to Top Gear, Audi's R8 was the most fuel efficient super-car. I'm thinking Audi is about to outdo itself in this area. Nice...
Read more...
---