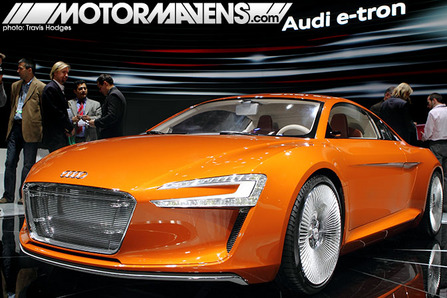 At this year's LA Auto Show it seemed the topic du jour was green car technologies. However, when you think of an eco-friendly or zero emissions vehicle, I'm sure the last thing you see in your mind's eye is the Audi e-Tron (pictured above). It's hard to believe this sick "super-car" contains a purely electric drive system.
The e-Tron has four engines (yes, four) that produce 313hp (230kw) and 3,319.03 lb-ft (4,500 Nm) of Torque. WTF! It can accelerate from 0 to 62 mph (0 – 100 km) in 4.8 seconds. Now that's what I'm talking about! The e-Tron's lithium-ion battery is a beast as well. Its range according to Audi is about 154 miles (248km). Funny thing is, according to Top Gear, Audi's R8 was the most fuel efficient super-car. I'm thinking Audi is about to outdo itself in this area. Nice…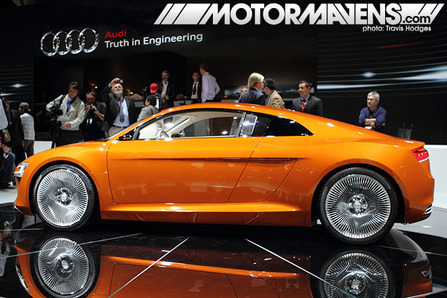 One thing that Audi stresses about the e-Tron is that they have taken a "holistic" approach to the development of this vehicle. The Audi engineers decided to design everything from aerodynamics to suspension with the specific requirements unique to an electric vehicle rather than just replacing an internal combustion engine with an electric drive system.
One of the main issues the engineers had to address when designing a car with four electric motors was weight – especially factoring in the effects of weight on the range of an electric car. Enter Audi Space Frame (ASF) technology. ASF combines aluminum and carbon fiber-reinforced composite materials to couple major rigidity with low weight. The doors, covers, sidewalls and roof are actually made of fiber-reinforced plastic – which is proof that fiber really can help you lose weight and look great. Despite the four engines, the car's total weight is only around 3,500 lbs. To put that into perspective, Audi's supercar (the incredible R8) tips the scale over 100 lbs heavier at 3,605 lbs.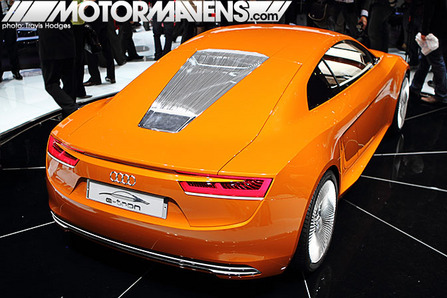 Because highly tuned weight distribution is key for any high performance car, Audi engineers placed the batteries in front of the rear axle to optimize the axle load distribution without swelling the compact dimensions of the car or going into the interior space. The front electric motors are mounted on the front axle with the cooling systems situated in front of them. This arrangement allowed them to finagle a 42:58 weight distribution. Not bad.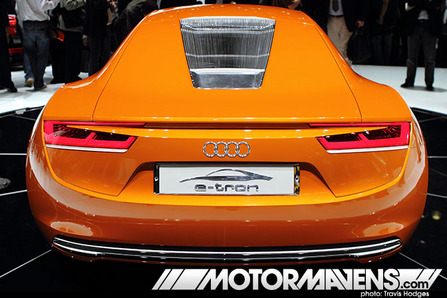 Even with all of this cutting edge technology and engineering, I've got to say I looooove the way it looks. The rear lights are sexy – and so are the architectural lines of the car which seem to flow like liquid from front to rear…Excuse me while I wipe the drool from my keyboard.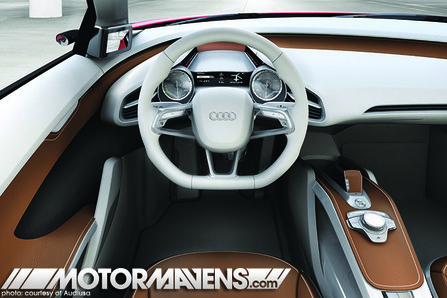 As you look closer, you'll see the dashboard is not run-of-the-mill either. Audi showcases a fold out central display with integrated multi media interface, flanked by two analog gauges. The left tells the driver how much power is being drawn and the right is the speedometer. Check it. If you haven't already noticed the rear view mirror is a camera with the monitor just inside. How sick is that?!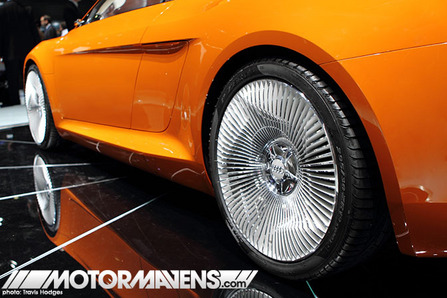 Audi decided to go with a set of 19″ wheels (235/35 up front and 295/30 in the rear) to handle all that beastly torque being laid down by those electric motors.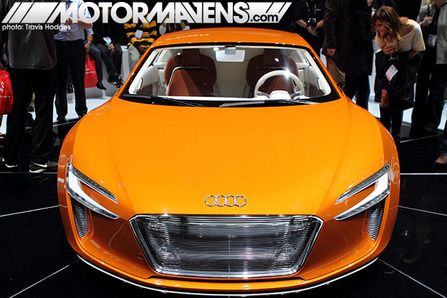 One of the coolest things for me are those Audi LED headlamps. What makes them so sick, you ask? Well. These headlamps have a fully automatic light assistance system – basically a headlamp adjustment system that's smarter than most drivers. It adapts to weather, traffic, speed and ambient light – even does mood lighting. I kid. But, here's an example of what I mean. Imagine you're driving along a winding, dark road and suddenly you see an oncoming driver. Because you're not an idiot, you turn off your high beams to avoid blinding the guy. But, where you're not an idiot, this guy is clearly cut from different cloth. If the guy in the oncoming car were driving an e-Tron, the car would automatically turn off the high beams in the corresponding section of the illumination field – that's the section of the illumination field shining directly into your eyes. The guy's an idiot- but the car is pure genius.
And that's just one item on a very long list that the brains at Audi came up with to introduce in this car. The only thing I can think of that's not so cool is that the top speed is limited to 124 mph – but you get there reaaall quick.
All in all I really think this is a sexy, sexy car – eco-friendly or not. With any luck it will go from concept to production and manage to retain 75% of the looks and know-how of this cutting-edge machine. I know I'm looking forward to seeing the final result.
::: Travis Hodges
---