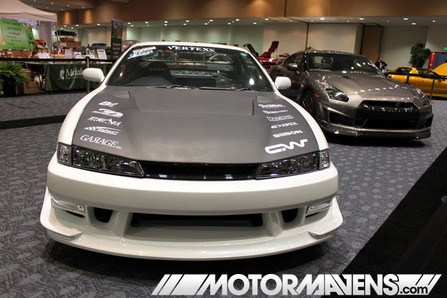 I got a call from the Extreme Autofest folks asking me if I want to show one of my cars again at the annual San Francisco International Auto Show at the Moscone Center this year. The only problem was that my FD3S RX7 was still unavailable because we were still working on getting it back from the Brahma Light Drift Track Opening in the Dominican Republic.
Since the FD wasn't back in San Francisco yet, I figured it would be a good chance to debut my RHD S14 and display it at this week-long show so I could show some love to my sponsors.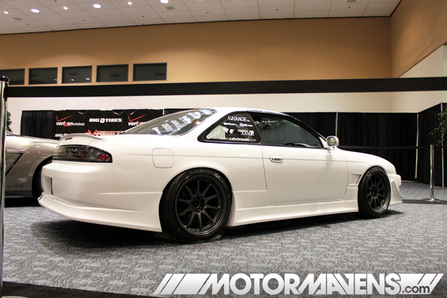 I wanted my S14 to retain the streetcar style that I like so much, so I kept it simple with the graphics on the car. My S14 features a full, authentic Vertex Lang aero kit with canards, Vertex Lang 12mm Front Aero Fenders and custom Garage Inc flared rear fenders. It's rockin' some OEM JDM window visors and custom colored 18×9.5J front and 18×10.5J rear Volk Racing CE28Ns. All vinyl graphics were from Graphtech Signworks in Daly City, CA.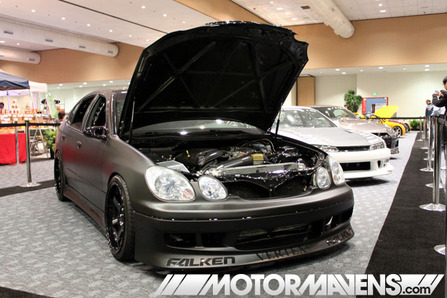 This year's SF Auto show was a bit smaller than in the past, but there were still quite a few decent cars at the show. Jay Pizarro's LS1 V8 Lexus JZS161 GS was on display next to my S14; Jay's GS was also rocking Vertex Aero. Maybe we should refer to his car as the "LSS161" because it doesn't have a JZ motor in it.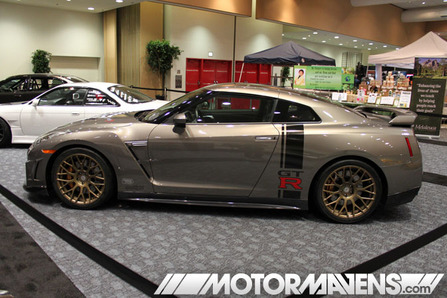 This R35 GT-R was back with new added mods from last year's show.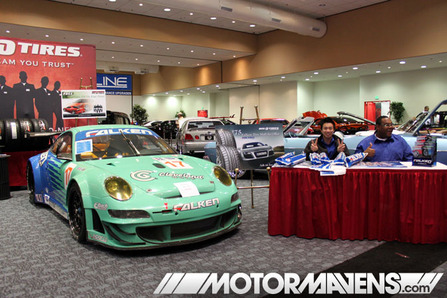 The Falken Tire Porsche 911 RSR was still looking good after it's inaugural season in ALMS. Falken even brought out Felix Tang and Bakari Howard to keep a watchful eye on it during the entire show. Good to see that they were still pretty cheerful while hanging out at the booth all week long during the Thanksgiving holiday.
The J's Racing S2000 was there at the show. I have seen this car all over the place. I am wondering if they still run this car at time attack comps.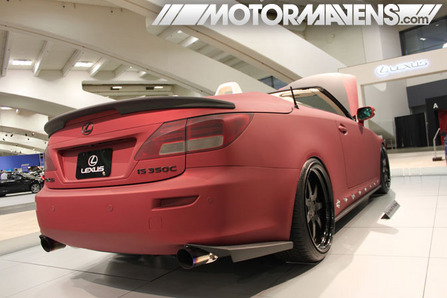 Lexus had a modified IS350C on display with a pretty crazy looking flat paint job. I was happy to see that it had some good fitment wheels on there. What do you guys think about this flat red paint though?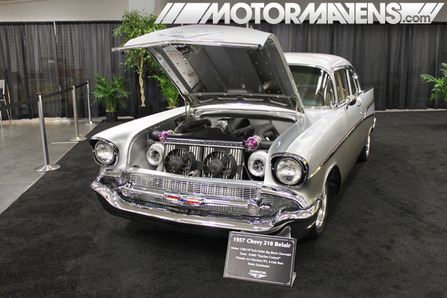 There were some hot rods and classic cars on display at this year's show too. This 1957 Chevy Bel Air stood out to me, because it had a mean twin turbo v8 setup lurking under the hood. The sign said the motor produces 1580 horsepower. Crazy!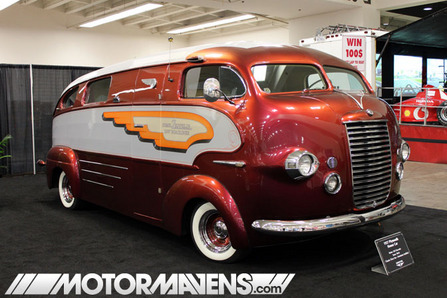 This funky 1937 Plymouth House Car really caught my attention. It had this dramatic tear drop shape to the body that made it look really cool. Check out how the front right corner surrounding the headlight and where the front passenger side door should be is all in one piece. There was some pretty crazy metal work going on back in the day.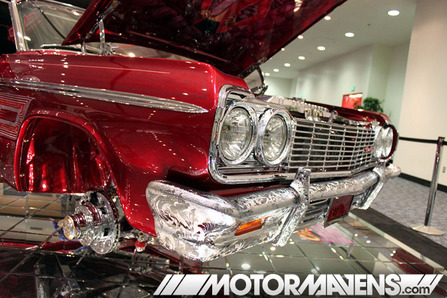 This 1964 Chevrolet Impala was by far the most intensely modded car at the show. It had a huge mirrored display showing off all the crazy amount of work done to the undercarriage. A lot of the chromed parts on the car including the bumpers and brakes had this super detailed etched engraving designs on it. It's pretty cool seeing all these different car culture styles being displayed at one show. I can't wait to see how next year's show is gonna be!
:: Calvin Wan
www.calvinwan.com
Vertex-USA.com
Garage Inc
Fatlace.com
iPhilms.net
GTstickers.com
Impact-Engineering.com
SeibonCarbon.com
GriffinRad.com
Apexi-USA.com
MachIII.net
Peak-Performance.net
BrianCrower.com
911
,
Auto Show
,
Bel Air
,
Brahma Light
,
Calvin Wan
,
CE28N
,
Chevy
,
Dominican Republic
,
Falken
,
Falken Tire
,
Graphtech
,
GS300
,
GS400
,
GTR
,
Honda
,
Impala
,
IS350
,
IS350C
,
J's Racing
,
Jay Pizarro
,
Lexus
,
LS1
,
Nissan
,
Plymouth
,
Porsche
,
R35
,
RSR
,
S14
,
S2000
,
San Francisco
,
Silvia
,
V8
,
Vertex
,
Volk Racing
---