---
---
Even though we don't cover motorcycles too often on the Motor Mavens site, sometimes we come across bikes that are just so cool looking, we gotta put em on the site! We were walking around at the 2009 Mooneyes Christmas Party at Irwindale Speedway, drenched in rain when we spotted this particular Triumph motorcycle getting rained on.
All our DSLRs were covered up and protected, but luckily we had a Canon S90 on hand, which is definitely one of the top two Canon pocket cameras (the S90 and the G11 are the best in our opinions) out right now. The S90 was able to shoot a quick video in the rain, just so we could show the details of the bike before trying to shelter our camera gear underneath a tent.
This Triumph makes us want to build a bike… so cool.
:: Travis Hodges
---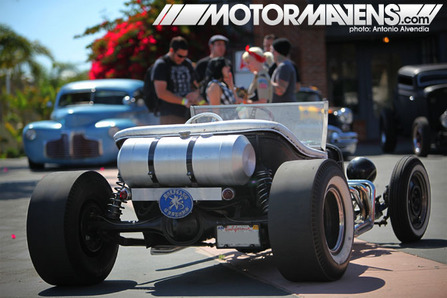 If you've been paying attention to what I've been writing on Motor Mavens and other automotive websites at all, you may have noticed that I've recently become a fan of hot rods and kustoms. While I'm certainly no expert when it comes to these cars, there definitely are particular aspects about this whole car culture that I personally identify with and have fallen in love with.
Travis Hodges and I recently paid a visit to the
Ink n Iron Festival
at the
Queen Mary
in Long Beach, CA. While the show was certainly expensive at $40 each for 'media passes' and $15 each for parking (at that point, we realized we haven't paid to get in to any car related event in YEARS), it's okay because the event had tons of cool looking cars and other elements of hot rod culture that made for some interesting photos.
Read more...
---