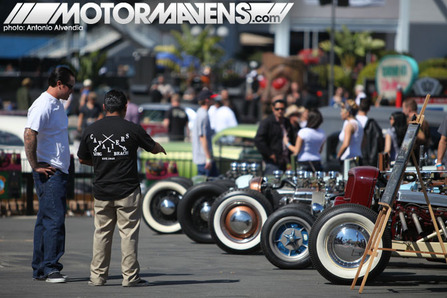 If you've been paying attention to what I've been writing on Motor Mavens and other automotive websites at all, you may have noticed that I've recently become a fan of hot rods and kustoms. While I'm certainly no expert when it comes to these cars, there definitely are particular aspects about this whole car culture that I personally identify with and have fallen in love with.
Travis Hodges and I recently paid a visit to the Ink n Iron Festival at the Queen Mary in Long Beach, CA. While the show was certainly expensive at $40 each for 'media passes' and $15 each for parking (at that point, we realized we haven't paid to get in to any car related event in YEARS), it's okay because the event had tons of cool looking cars and other elements of hot rod culture that made for some interesting photos.
Above, Tony from Long Beach's OG Cavaliers car crew takes time to talk to an onlooker, explaining his crew's history and the theory behind the cars in the club. Their crew is one of my favorites I've seen thus far… I'll explain why later.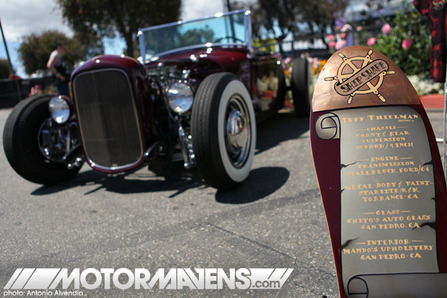 Immediately upon entering the show, Travis and I met a guy named Jeff Thielman, who owned a super clean burgundy hot rod, which was parked right in front of his "Ship Shape" booth, where he had scantily clad girls helping him sell hot rod and tattoo inspired apparel. See? I told you this type of stuff is right up my alley! haha
And take a look at the awesome custom painted and lettered skate deck he used for his roll call! Super dope.
(I would gladly provide a weblink to their online store, but I can't seem to find the flyer I was given, and if I google it, it comes up with a different clothing company. Gotta utilize SEO guys!)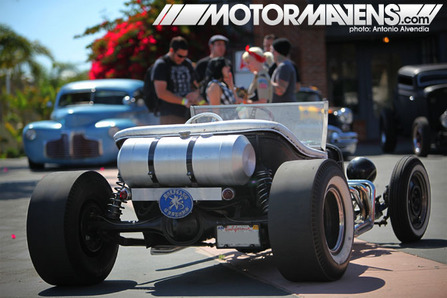 Come on! What's not to like here? Sick hot rod on traditional old school tires (check out those sidewalls!), with an aluminum fuel tank and a plaque to rep the name of the car crew? Awesome! And check the scene in the background… if that ain't scene and lifestyle, I dunno what is.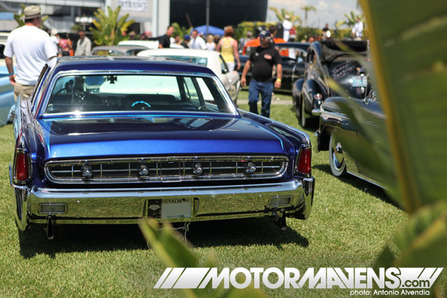 Nice! In the grass area in front of the main stage, my eyes were immediately drawn to this kustomized Lincoln Continental. This car is a departure from what I normally look for in a clean old Lincoln. I normally prefer super low, clean OEM examples of Continentals, but I think this kustom version looks awesome.
Anyone who knows me personally will tell you that I'm not normally a fan of blue metallic cars, but the color just seems to work in this case. The attention to detail in the rear fascia and the blocked off/pinstriped light blue paint looks very cool, in my opinion. I dig it. If I owned an awesome suicide-door (1963? 1964? 1965?) Continental like this, I don't think I'd use those types of exhaust tips, but they seem to fit this car, as they're fitting for the scene it's in. Oh and they look symmetrical with the rear bumper and taillights. That tall chrome bumper looks dope!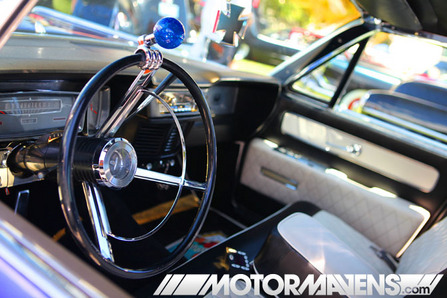 I thought it was funny to see one of those "trucker-style" knobs on the steering wheel, which helps the driver rotate the wheel faster. I wonder if anyone has tried that on a drifting car yet. haha… but seriously, look at those BAD ASS black and cream diamond stitch doorpanels! So dope!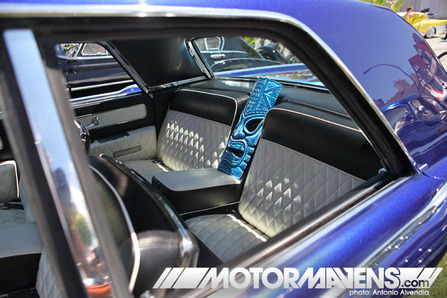 Okay. I don't really understand why old kustom car guys are so damn fascinated with tikis… so I don't think I'd rock a tiki with this car, if it were mine, but who cares?! What the hell do I know, anyway… the bottom line is, this black-and-cream diamond stitched interior looks absolutely amazing, and I would just love to have a hot chick in the back seat of MY Lincoln Continental for a photo shoot! hehe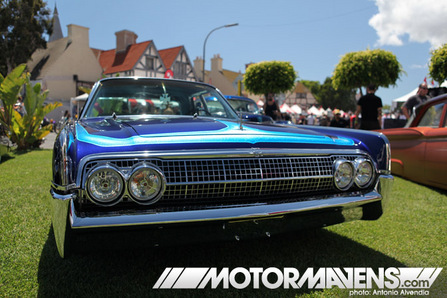 Here's a front shot of the same Continental. I think the custom blue/silver flake in the blocked off sections with pinstriped outline looks really cool on this particular car. It would be awesome to cruise this car along Pacific Coast Highway as the sun goes down…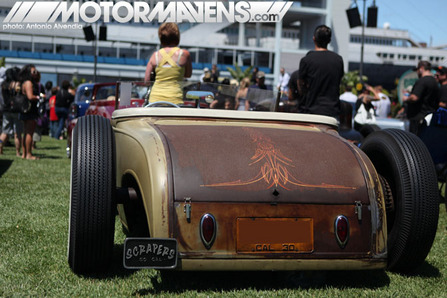 Oh hell yeah! The Scrapers have such a cool name placard and this car is just so damn low, I'm in love with it! The rawness and patina, combined with the sick pinstripe on the rusty trunk lid… and if you look closely, you'll notice the completely straight-cut front windows… this lowboy is super dope.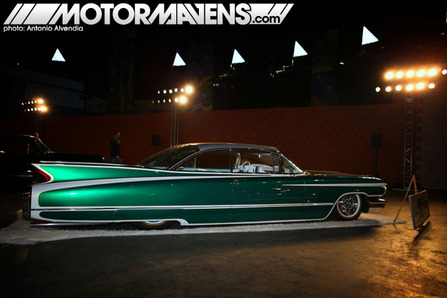 Right next to the Queen Mary ocean liner is a big domed amphitheater that once was the home of Howard Hughes' famous Spruce Goose, the world's largest airplane made entirely of wood, which took five years to build, and only flew once, in 1947.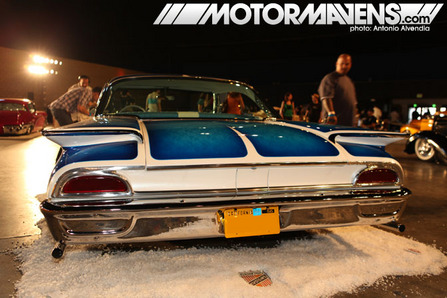 After taking this photo, I ended up having a quick conversation with the guys who painted this 1960 Ford Galaxie. They were super cool, and described how difficult and expensive this paint job was. And hopefully one day, when I actually find their business cards in my big box of 322345135151233412341234 business cards that I receive at events I go to, I'll post up their contact info. But for now, I'll just call them the real cool guys who have mad skills at painting. The detail in the paint on this car is insane!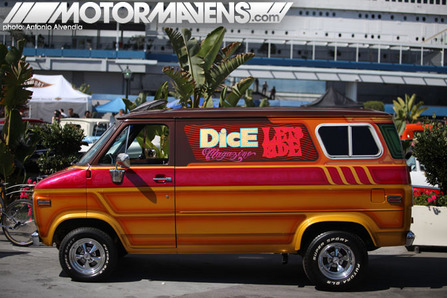 This Dice Magazine custom van with super intricately painted panels is soooooo incredibly fresh. With the American Racing Torque Thrust-styled wheels and raised white letters on the sidewalls of the… 'Futura' tires LOL… this thing is dope. Look at the detail on the panel behind the Dice Magazine logo, and the lace detail on the pink section, and the detailed color blocked panels with inner outlines that fade?!? Come on! Whoever painted this van is sick as hell.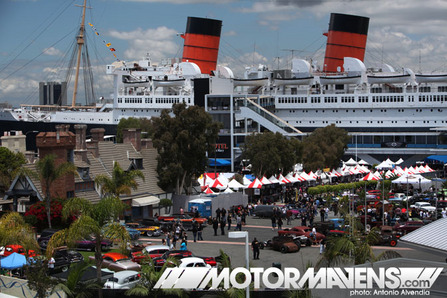 Here's a bird's eye view of the show, from far away… if you guys are open to seeing this type of content, I'll post some more photos from the show, because I definitely have more photos to share!
:: Antonio Alvendia
---