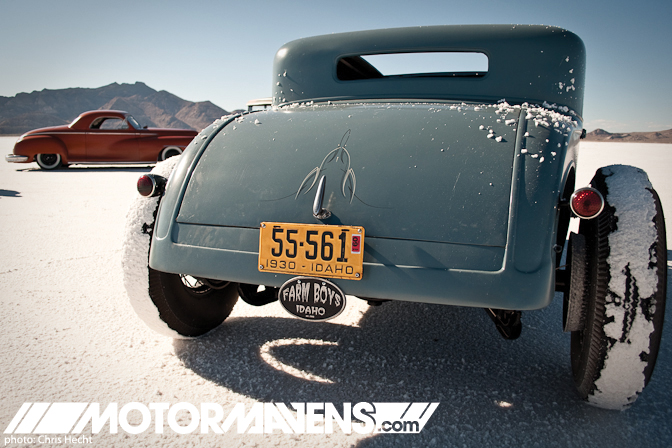 I arrived at the Bonneville Salt Flats around noon on Friday, August 13th (huh, Friday the 13th – my lucky day).  Friday is considered a Tech Inspection day where teams arrive early to get their cars inspected by the SCTA Officials before racing begins on Saturday.  I picked up my Media Pass from JoAnne at the SCTA trailer (one of them anyway – there's like four).  Even though there was no racing going on, there was plenty to see, so I immediately headed over to the pit area on my 1959 J.C. Higgins beach cruiser pit bike to have a look around.  To look legit out on the salt, you've gotta bring a beach cruiser.  LOL!
As the day was coming to an end and I was ready to head over to the Nugget Casino Cruise-In, I spotted a group of hot rods parked outside the pit area.  It was the Farm Boys Car Club from Boise, Idaho having an impromptu photo shoot of their own.  I put the pedal to the metal on my Higgins bike and hustled on over to get some shots.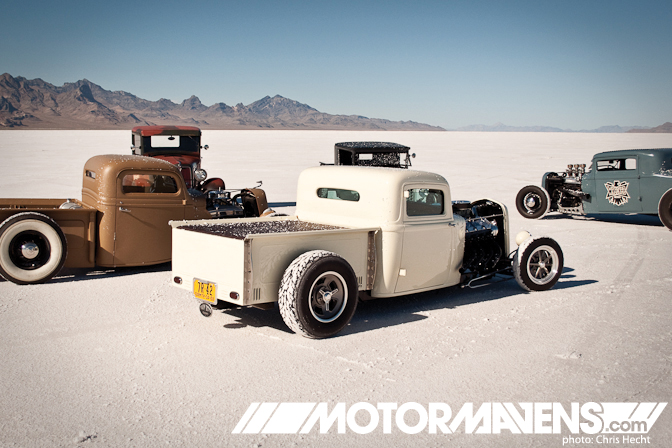 The Farm Boys Car Club was established in 2005 and has nine members and 20 cars. That does not include their projects. Ha Ha! I love it – sounds like a cool group of car guys already. Most of the members were long-time friends before the Club was officially organized. Above, you see the cream colored 1936 Dodge Truck, running a B-I-G Cadillac V8 owned by Club member KC.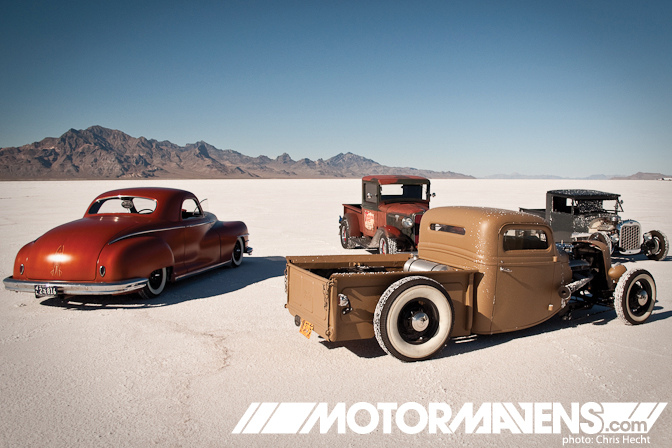 I contacted Matt Whitlock, the ring leader of the Farm Boys and owner of Wrecked Metals after Speed Week was over to get more info about his shop and the club.  Matt said, "The first trip to Bonneville as a Club was 2005. We are just guys who love cars. We are not into image. We don't care if you are a banker or a punk rocker, young or old, just as long as you are not a hippy!!!" Haha!
Wrecked Metals is a Traditional Hot Rod, Custom, and Chopper Shop located in Boise, Idaho which specializes in high quality metal fabrication. Matt told me, "As far as metal fab, I do everything -chassis building, chop tops, louvers, English Wheel, Dimple dies, etc. I also do mechanics – brakes, wiring, and final assembly. The only things I farm out are paint and body. It has been a full-time job for five years now. I don't have any employees but I could not run it without my friends in the Farm Boys CC. They help me out a lot."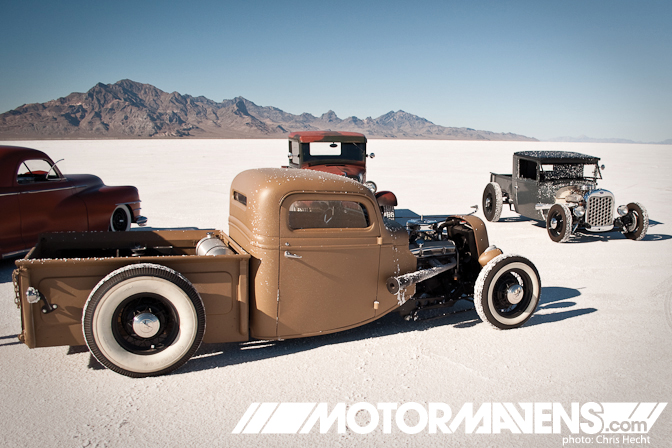 I'm diggin' Club member Rocky's light brown 1936 Ford Truck with the chopped top and wire wheels wrapped in wide white walls. Do you see where the top of the tire meets the truck bed? Power is the tried and true Small Block Chevy V8.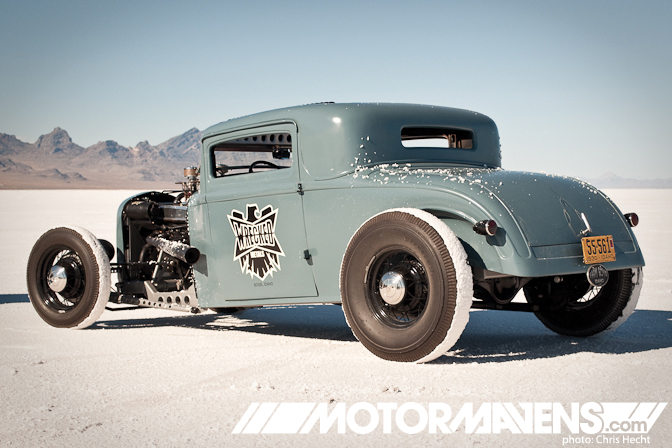 The pride of Wrecked Metals is Matt's personal hot rod, a 1930 Chrysler Royal 77 three-window Coupe running a Buick 401 cubic inch Nailhead engine. The Nailhead is easily spotted by its vertical valve covers. The Buick uses three Holly 94 carbs. The top is chopped four inches. The chassis is all-custom, built by Matt himself. The car was dragged out of a field. It had 50+ bullet holes in it. Matt notes that, "It was probably too far gone for most people but I thought it had a unique look to it."
When the photo shoot broke up, it was time to go check out the Nugget Casino parking lot cruise-in – a Speed Week tradition. Of course, it gave me a chance to give the Farm Boys' hot rods a more in-depth look.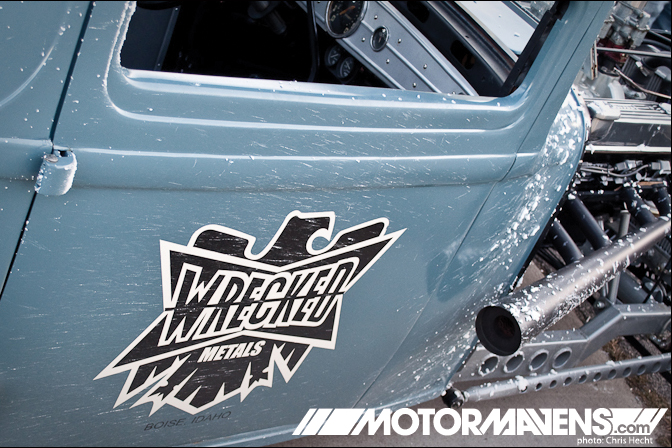 I was curious about the design of the shop logo and name. Matt wanted a name that would stand out and that people would remember. The logo is a combination of Tecate beer and Champion spark plugs. It's a bold logo that you can easily recognize. Beer and spark plugs! LOL! You gotta give it up for the creativity.
Notice the way the salt has been sprayed and spit out by the front tires. I'm telling you, the salt gets everywhere. You get so hooked by it. They're not joking about this Salt Fever stuff, it infects you and you can't get enough.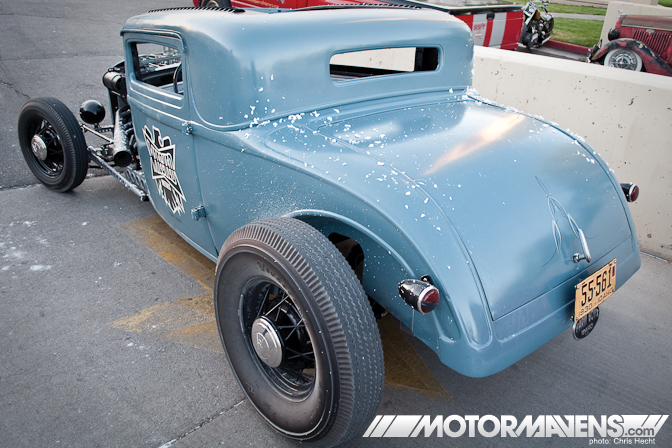 The first thing you notice, if you're a Salt Flats newcomer, is the way the salt kicks up onto the open wheeled hot rods. Now that I've been to Bonneville a few times, this is one of the things I love the most. It's the literal joining of nature and machine. There is nothing like the Bonneville Salt Flats for a car guy.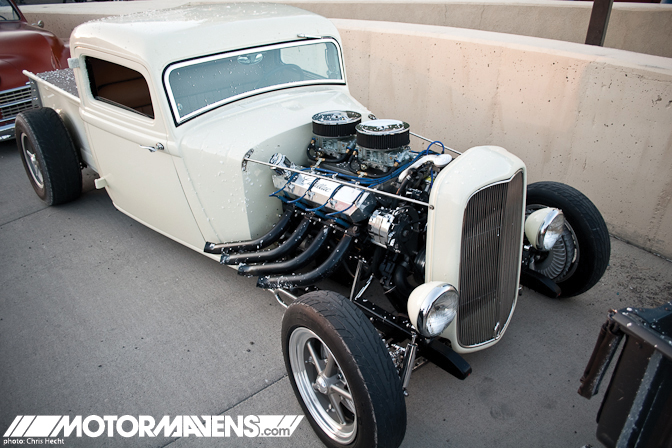 Let's get back to KC's 1936 Dodge chop top. This is another way to think of All Motor. Look at that engine – it's huge! The sheer umph provided by the Big Block Caddy engine makes this hot rod a little hairy to drive, I'm sure. All the better I say! This car has some Drag Race/Street Rod flavor mixed in with the wheel/tire choice and chrome accessories as well.  The stance is right on – nice and low.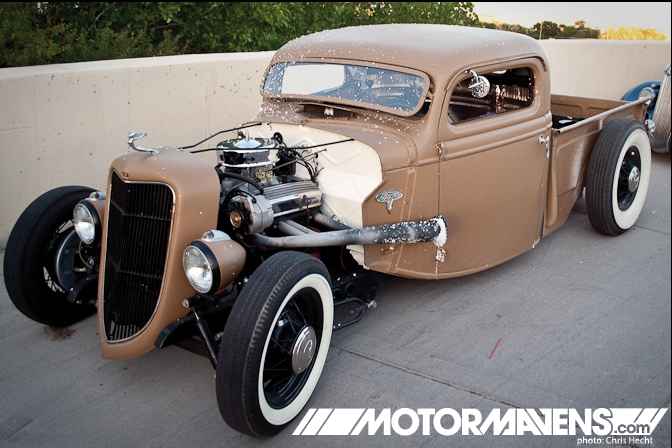 Man, I dig Rocky's '36 Ford. It's got the perfect look. I personally like the minimal use of chrome. Instead, you see black-painted suspension pieces, frame, grille and wire wheels.  Look at the way the salt has attached itself to the hot open header. That's RAD! The creamy white firewall sets off the engine bay perfectly, too.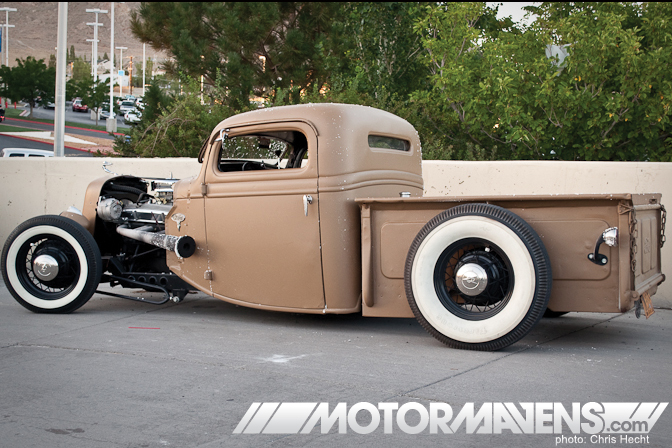 I told you I can't get enough of Rocky's '36 Ford! Here's another shot. The flip-out windshield, high mounted side mirrors, and low ride height, are perfect touches that make for a stand out hot rod.  This is how it's done folks.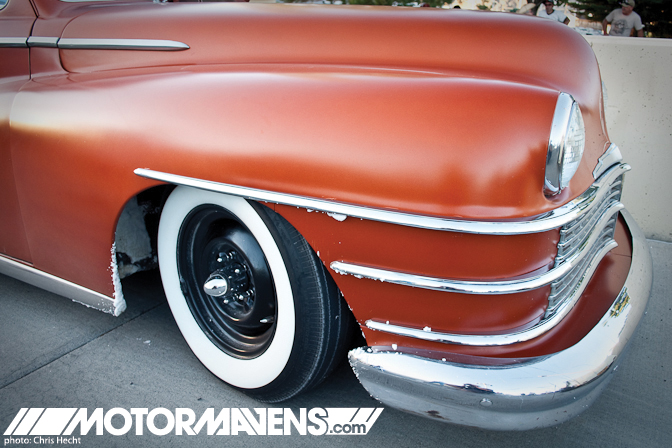 The Farm Boys are not only about 30s open-wheeled hot rods, they also dig their full-fendered sleds too.  This is Phil's 1946 Chrysler.  Typically Fords, Mercs and Chevys are the usual suspects in the Customs and Lead Sled arenas, so seeing a properly built Chrysler is a welcomed sight.  The satin burnt orange color against the black steelies and wide whites is a classy look.  These vintage designs  are works of art.  Just look at the full fenders and use of chrome accents.
Thank you Matt Whitlock at Wrecked Metals and the rest of the Farm Boys Car Club for driving your cars all the way out from Boise to attend Speed Week.  It's simply an inspiration to see people this passionate about their rides.  These guys are all perfect examples of authentic Motor Mavens.
Check out the Wrecked Metals website and Farm Boys/Wrecked Metals Blog to see what projects they're working on.  Also, I got word that Josh Clason has made the trip out to Boise to film a video documentary of the Farm Boys CC!  Stay tuned!
::Chris Hecht
1930 Chrysler Royal 77
,
1936 Dodge
,
1936 Ford
,
1946 Chrysler
,
1959 J.C. Higgins
,
3 Window Coupe
,
Big Block Cadillac
,
Boise
,
Bonneville Salt Flats
,
Buick Nailhead
,
chopper
,
Chrysler Royal Coupe
,
Customs
,
Farm Boys C.C.
,
Holly 94 carbs
,
homepage
,
hot rod
,
Idaho
,
Josh Clason
,
KC
,
lead sled
,
Matt Whitlock
,
Nugget Casino Cruise In
,
Rat Rod
,
roadster
,
SCTA
,
Small Block Chevy V8
,
Speed Week
,
Speed Week 2010
,
Traditional Hot Rod
,
Wrecked Metals
---