---
---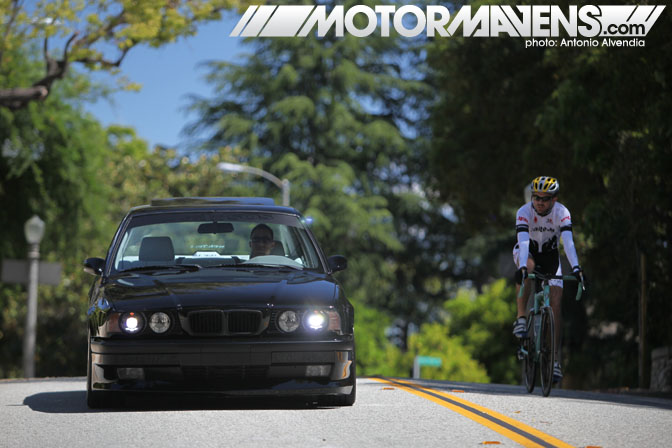 For some people, a car may be just a way to get from one place to the next. However, for guys like
Adam Luong
, it's all about how you look on the way. If you were driving around town in this
1995 E34 5 Series
, you can understand how a guy could feel that way.
It's a rarity to see a 16 year old car in as pristine condition as this. Since my encounters with most 5 series bimmers leave much to be desired, it's always a pleasure to discover one that has been
built right
- call it a pleasant surprise. This specimen is so clean that, to the untrained eye, it appears almost to have just rolled off the Bavarian assembly line yesterday.
You may recall that, back in the 1990s, the BMW 5 Series was the top mid-sized sedan in its class - a class with very little competition. It was a must have for dads all across suburbia. Well, little has changed since then except that the 5 series has grown up to become a more elegant machine jam packed with enough gizmos and gadgetry to make a technologically inclined person go into mental overload. I could go on and 0n about my take on how the technological interface in modern BMWs dilutes the driving experience, that's not what we're here for. Today, it's all about Adam Luong and his little piece of 5 Series heaven.
It was actually Antonio who first spotted this fine specimen at the
Wek'fest in San Francisco
. When he saw it again at the
Bimmerfest in Pasadena
, he told me about it and caught my full attention when he said that it was the cleanest E34 he'd ever seen. With a guy like Antonio saying that, I just had to see for myself. When I saw the car in person, I just had to agree.
Read more...
---
---
---
---