When I first heard that JDM Allstars was coming to Donington Park for Round 2 of the championship, I was a little confused as to where the event would be held. Would it be on the actual race circuit? Since it's currently under reconstruction, any idea of that went out the window. Would it be on the large plot of land off to the side of the track known as the "Launch Pad"? Well, since two other drift series have used that area in the past, it didn't seem to fit JDM's approach which usually involves coming up with fresh and exciting course designs.
I later heard that the plan was to hold it on something called the Donington Alpine Circuit. I had no clue what that was until I came along to the shoot of the promotional video a few weeks back. Then it all became clear. On the outskirts of the main track and the Launch Pad is a fast, wide, almost mountain road-like track that the JDM Crew decided to use. It's made up of four corners and a steep uphill straight where the cars seemingly come out of nowhere and fly over the top. There's a right transition into the second turn, aiming for a clipping point close to the deadly armco, then a transition left into the third turn where you plant the throttle and bring the rear of the car to the armco on the straight, leading to another transition right into the final hairpin turn.
Fast corners, armco barriers on all sides and beautiful scenery all around. This was looking to be one of the most unique and exciting drift events in the JDM Allstars calendar.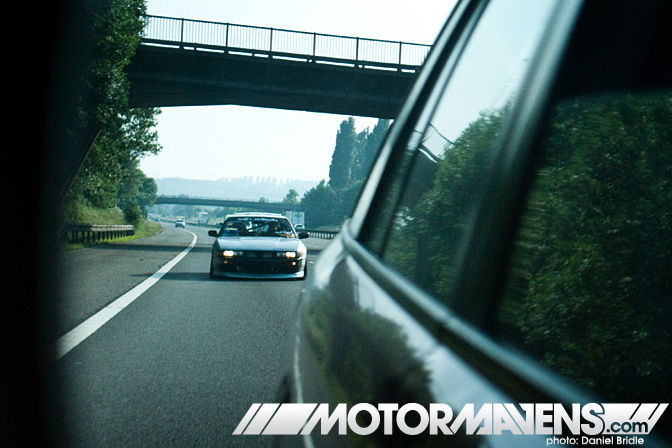 So, bright and early on Saturday morning, photographer/BMW drifter Graham "Bolf" Beatty and I hit the road and started on our long journey to Donington in his super comfy E34 540i Touring. Along the way, we also came across Mark Norfolk in the super low Southern Style Sil80! He was heading up to Donington to attend the practice day (which was being held on the Launch Pad I mentioned earlier) so he followed us up.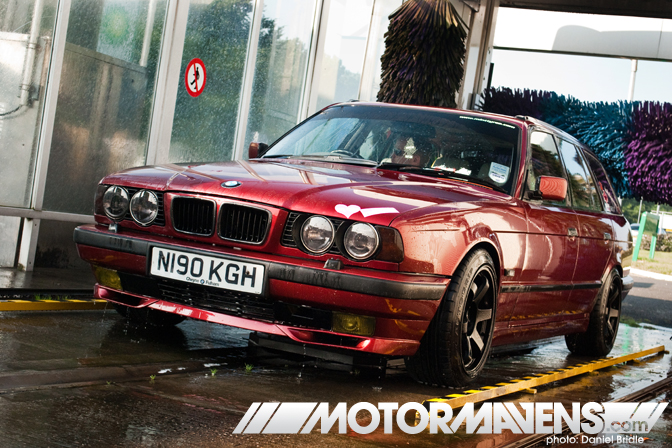 Since Bolf was organising the Driftworks Clubstand (and parking his BMW on it), he decided it could do with a wash since it was caked in dirt. It also meant I could finally get a decent picture of it. This is such a great and multi-talented car. It's capable of carrying a ton of equipment and going on long road trips in comfort. But it feels just as capable being thrown around a track sideways and, thanks to the intoxicating sound of its 4.0 litre V8, you find yourself sideways an awful lot.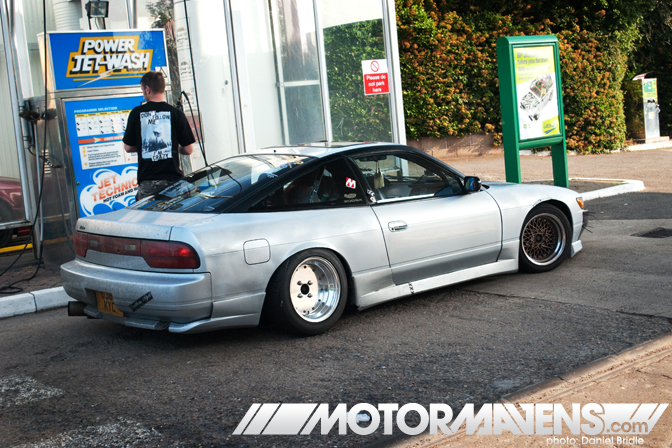 Mark decided to give the Sil80 a wash as well. I'm pretty sure this moment that I've captured with my camera is a world first for this car?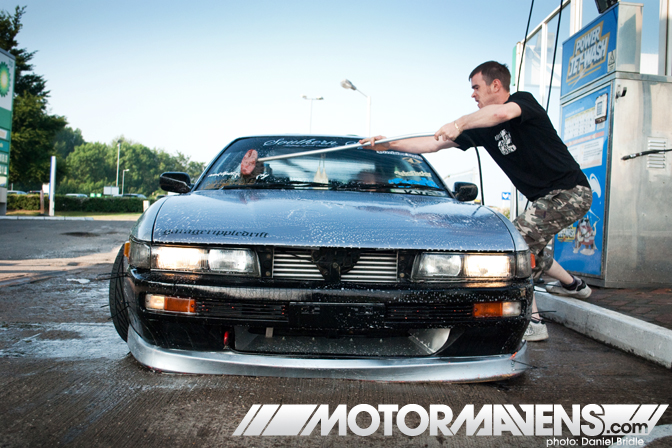 I couldn't help but laugh at this photo. I think it's the combination of the crazy lip bending ride height and Mark's heroic window washing pose. I'm not entirely sure why he washed the car as even when it's clean it looks battered and dirty. Somewhat like polishing a turd. Albeit a very, very, very cool one.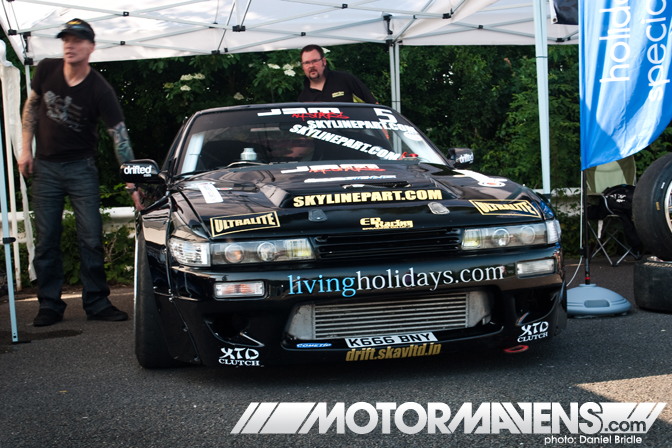 So, we finally arrived and, after sorting out my camera gear, videographer Josh Allen and I headed around the paddock to chat with some of the drivers and check out what was going on. The paddocks had this really laid back feeling to them – almost like a grassroots drift day. Drivers were just chilling out with their cars and friends – making tweaks here and there or fitting stickers.
Anthony Scott's Skyline Part/Rocket Bunny Sil80 was looking fresh as ever and during practice Scotty was driving more aggressively than I've seen him drive before! Somehow I missed it, but Scotty came in too hot into one of the turns and tagged the wall resulting in a nasty impact with the rear of the car. Thankfully, he wasn't hurt.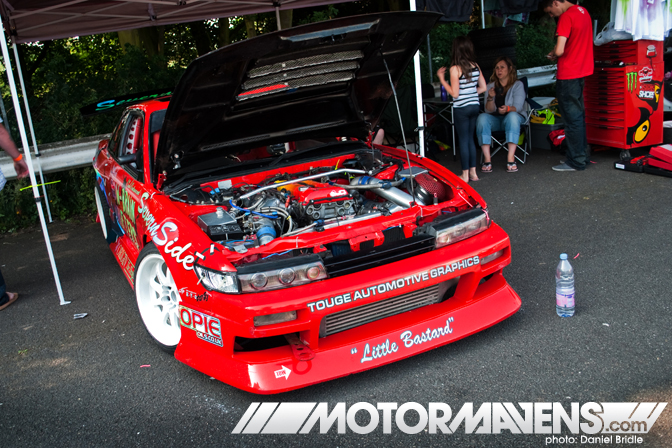 The Severnside Imports PS13 was looking much better with its new Australian themed livery. The driver of the car, Luke Fink, even managed to get the guys at Severnside to lower the car. A very welcome touch, because with a kit as large and blocky as the Origin Aggressive one, it really needs to be slammed to look good.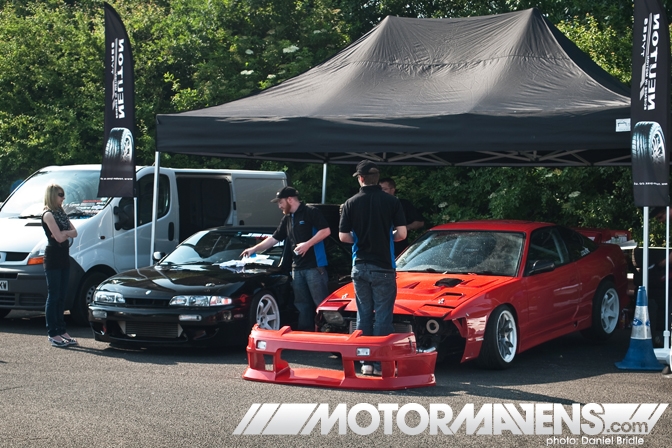 On the other side of paddock was the newly formed Neuton Tires Drift Team – made up of Mitto Steele, Jon Calvert, Ian Phillips and Martin Ffrench. Unfortunately the Irish pro Ffrenchy couldn't attend but hopefully we'll see him out on the track soon.
Now, what makes this competition team a little different from others is that they aren't out to win, gain points, or podium places. They're just out there to drive like madmen – to push each other and the scene to go faster and do crazier entries. They just want to have fun drifting with friends on awesome tracks! I completely see where they're coming from with their goals and I'm super stoked to see how they progress over the next three rounds of JDM Allstars.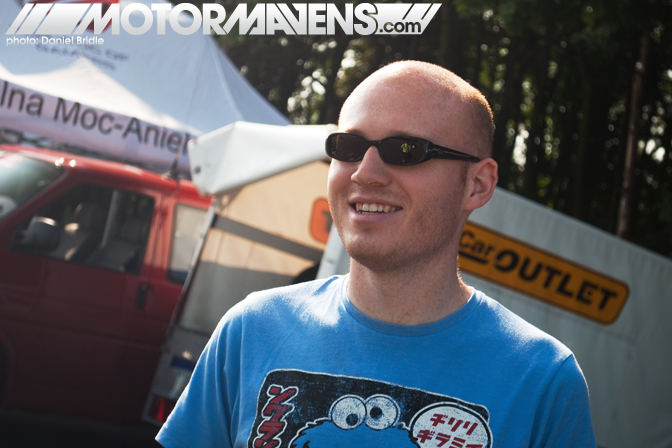 Josh and I snuck up on Driftworks driver Bon Bon who I think was fabricating a gasket for his R32 Skyline? Bon seems to have had a lot of technical glitches with the car this season (such as his diff exploding into flames on the way to BDC Round 3) but things seemed to be  running okay this time around which meant Bon had a smile on his face!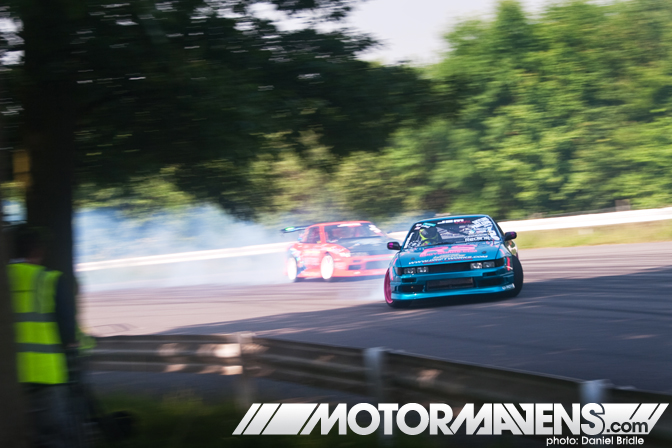 With Donington being such a big place and practice just about to start, I couldn't hang around the paddock for long. So I trekked across the flatland which makes up the paddock and climbed into the "forest" that surrounds the track. It wasn't long before Dan Chapman and Luke Fink flew past in almost different directions. With the width of road, it meant drivers took a while to find they're preferred line around the course, so it made for some "interesting" driving in the early stages.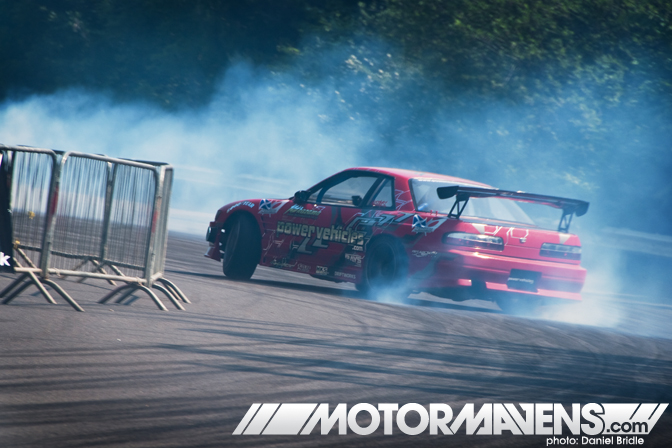 It was a weird feeling standing amongst the foliage shooting drift cars on something that looks more like a touge in Japan than it does a race track in the East Midlands of England. The fact that it was more like a street really added to the atmosphere of the event – I haven't felt a real buzz of excitement from just taking a photo in a long time.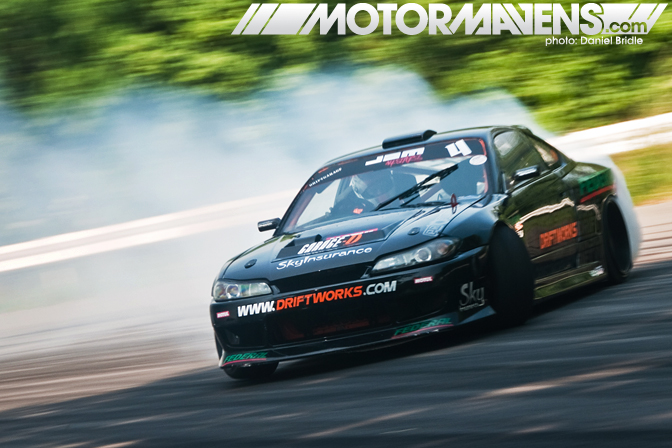 One of the best drivers I saw during practice was Phil Morrison. He was looking ON POINT out there in the Driftworks S15! Really pushing the car hard, maybe a little too hard, as on one of his runs he smacked the front bumper off the clipping point on the first corner, straightened up and nearly headed for the armco!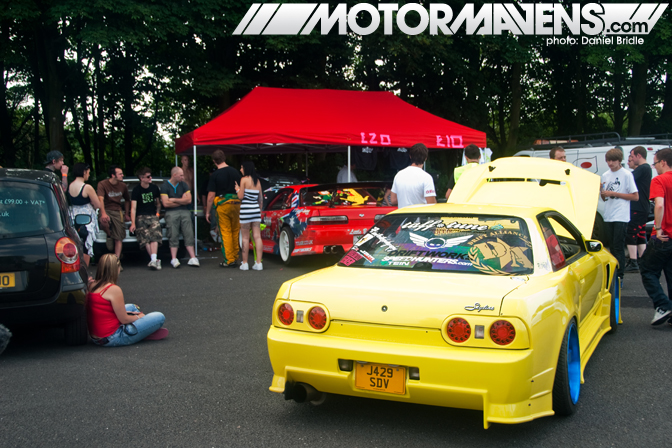 Practice finished up sooner than I was expecting, so I headed back to the paddock to grab some drinks  and see how everyone's cars were holding up. I didn't see it happen, but during practice the front end of Luke Fink's PS13 had a little incident. Coming up the hill, he transitioned into the first corner and grazed the foam blocks that lined the corner, which spun him around and caused him to hit the tyre wall head on.
Bryn Alban, owner of the yellow Bee-R R324 Skyline above, kindly lent his intercooler to help keep Fink in the event!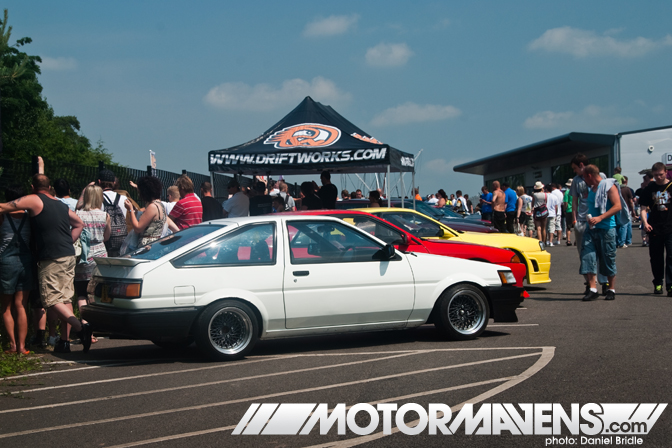 Away from the paddocks was the Driftworks Clubstand -which was made up of all kinds of drift cars, all built on budgets ranging from cheap to pretty expensive. I thought it was pretty cool having a clubstand like this though, as it showed people new to drifting that you don't need some crazy ass pro car to get into drifting. And, since some of the cars on the stand were also drifting in the practice day, it meant people could see them in action as well.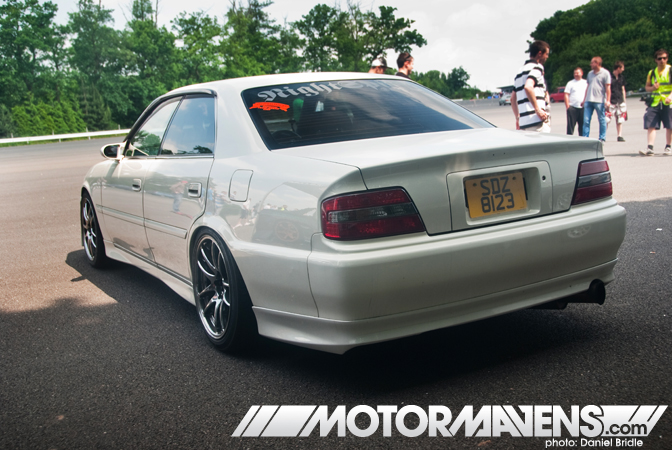 Parked up next to the Driftworks paddock was Kenny Lam's seriously clean JZX100 Toyota Chaser. Kenny has been in the drift scene over here since way back and has been friends with all the guys that made up Team NightSpirit and now Driftworks back in the early 2000s! Kenny has always owned seriously dope looking Toyotas – from an awesome Levin to a bunch of JZXs. I'm not sure if he remembers, but the first drift car I ever had a passenger ride in was his old automatic JZX90!
Anyway, enough reminiscing – it was time to head back on the track and check out the qualifying!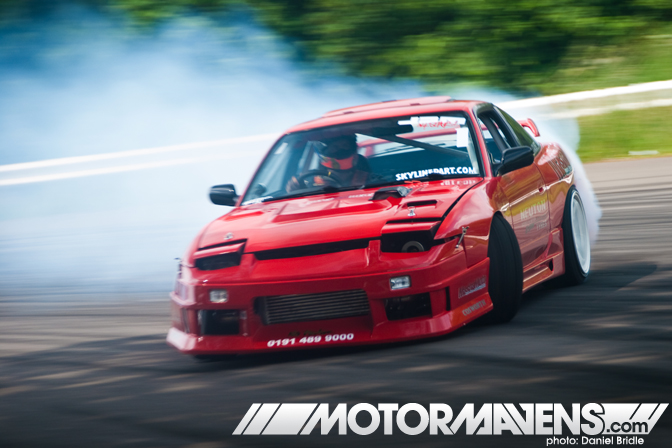 Straight from the off, Jon Calvert lived up to the hype of the Neuton Tire Team's wild driving styles. He seemed right at home in his freshly built 180sx as he threw it around the course with super aggression and snappy transitions! I had a feeling he'd go a long way…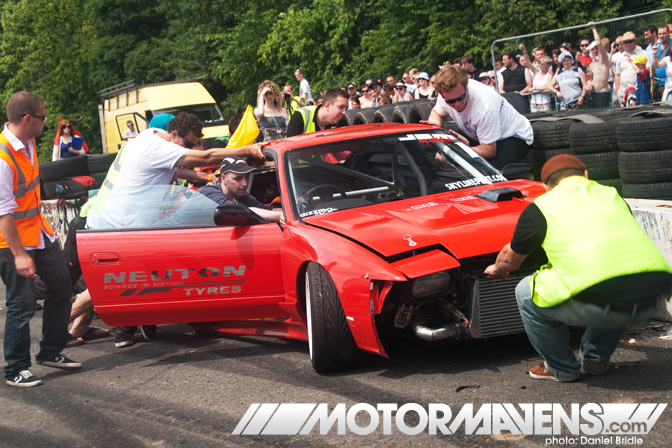 That was until on one of his qualifying runs he went into the hairpin so fast that the car just carried on sideways – slamming side on into the concrete. The car's chassis was literally bent inward but, fortunately, Calvert wasn't too badly hurt. It's a testament to what a good cage can do in protecting the driver. It's just such a shame as the car had only just been finished.
Massive respect  to him for going all out though. The man is brave – that's for sure.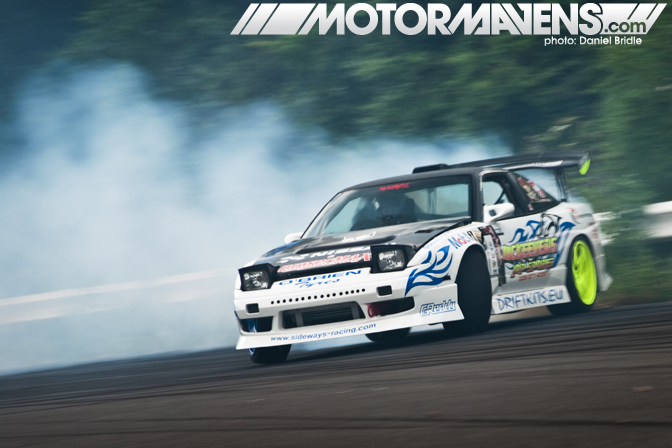 After tidying up the remains of Calvert's car, qualifying got under way once again.
Freshly rebuilt after a bad crash over in Ireland, Duane Mckeever's 720BHP RB26 powered 180SX was looking in much better shape. Duane was also driving seriously well. I still can't believe this kid is 14 years old! 14 YEARS OLD!? If I was given 720BHP to play with at the age of 14, my mind would have exploded.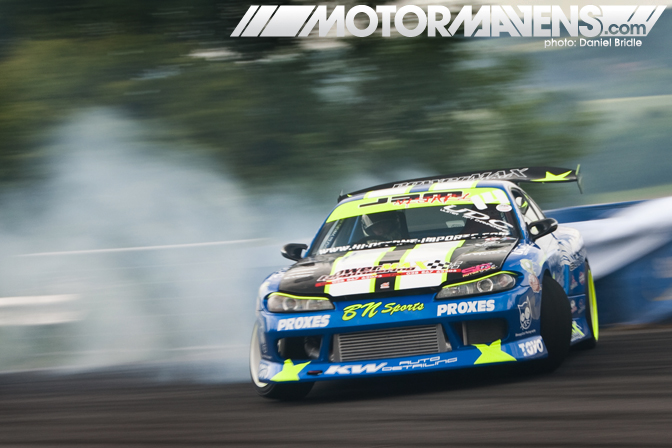 Louder than ever was Alan McCord in the monstrous Hi-Octane Imports V8 S15. Alan really stood out to me this weekend – it seems like the car and his driving style suited this circuit a lot more than Manchester.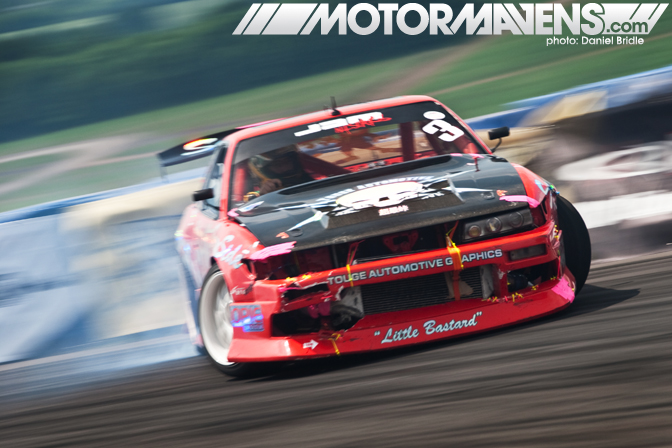 With the PS13 looking a little more "ghetto" than earlier in the day, and with Bryn's intercooler held in place with god knows what, Luke Fink soldiered on to qualify 2nd place. It's hard to imagine this guy not qualifying in the top spots but where his true talent lies is in battle. I really hope we see some UK guys that can get as close to other peoples' doors as Fink can – soon.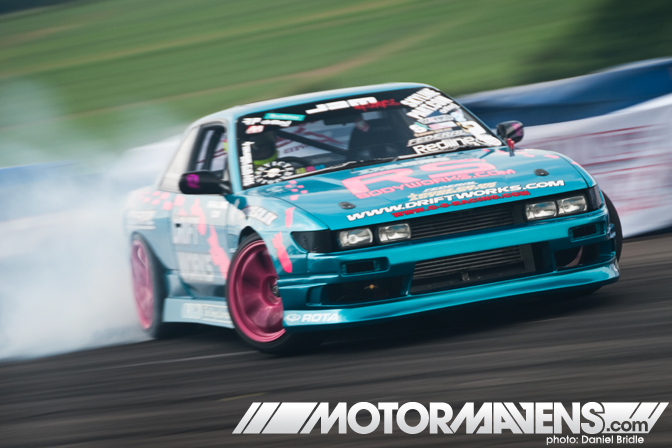 Dan Chapman was at the top of his game this weekend in the Driftworks PS13 Silvia. Consistent always seems to be a boring word to describe someone, but Dan is consistent for sure. Consistently AWESOME.
I was also really digging the new Origin Stream bumpers fitted to the car. It's really great to see genuine body kit manufacturers like Origin Lab stepping in and sponsoring drivers over here in the UK now!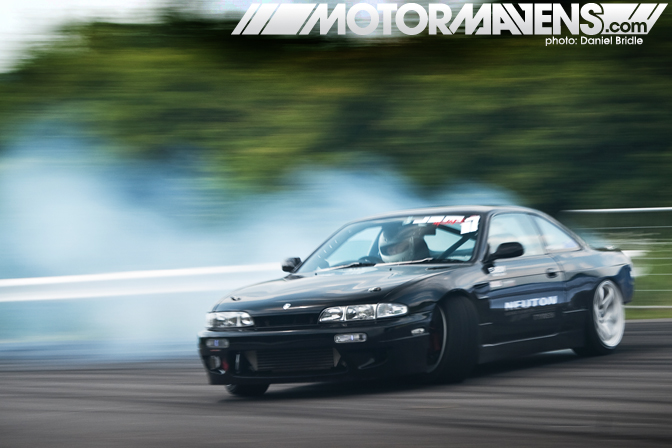 When Mitto said he was planning on doing some retarded stuff with his team, he wasn't lying. He seems dead set on a never ending quest to go lower, faster and more backwards every time he sets foot in his Neuton Tires Zenki S14.
After spending a year out in Japan, he came back to the UK with a clear view of the standard of driving they have over there – so now he wants to try and push himself and the others around him to get the UK up to similar standards one day. Only time will tell if it works out, but I'm more than happy to keep watching him try new stuff in the S14 as it's damn good fun!
Definitely expect to see a feature on this car in the near future once it's finally finished.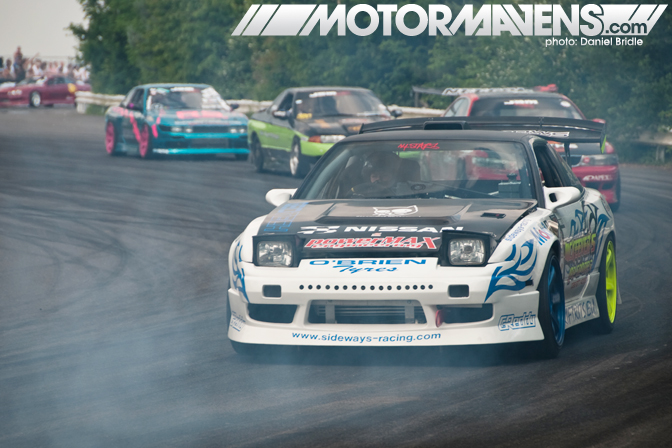 With qualifying over, we had a brief moment to catch our breath – then it was time for the Top 16!
The Top 16 had some interesting match-ups to say the least. Mostly,with lower powered grassroots cars being run against much more extreme builds. Here are a few of my favourite battles…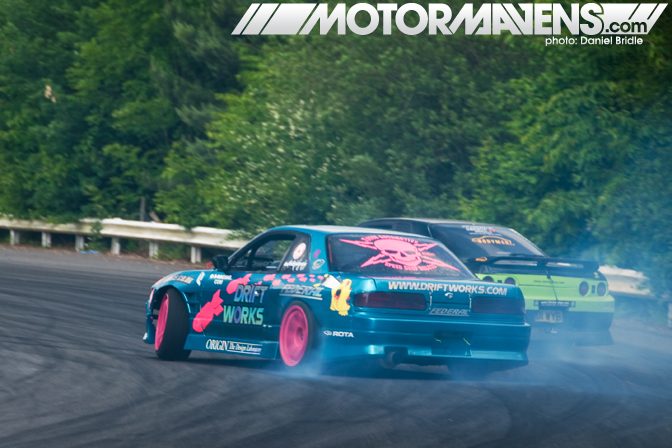 Dan Chapman faced off against George Tilling in the Mint Tyres R32 Skyline. The differences between the two cars and drivers is pretty extreme and George did a great job of piloting the R32 through the course with not much over 250BHP. But, sadly, it wasn't enough to keep up or pull away from Dan and his super fast driving style.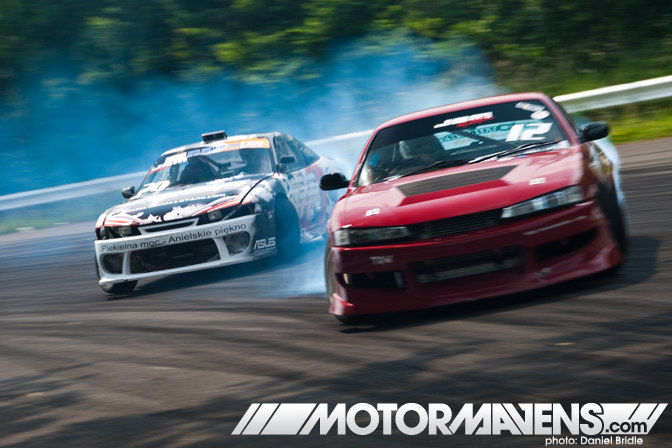 For their first time out at a JDM Allstars event, the Polish drivers seriously impressed everyone! Pawel Trela, in the unusual looking ASUS sponsored, S14A front-ended S13, went up against Portuguese driver Bruno Esperanca in the Team Twisted S14A. Bruno did his best to put up a fight, but during his lead run, he couldn't get away from Pawel who had a faster line and more angle – giving him the win.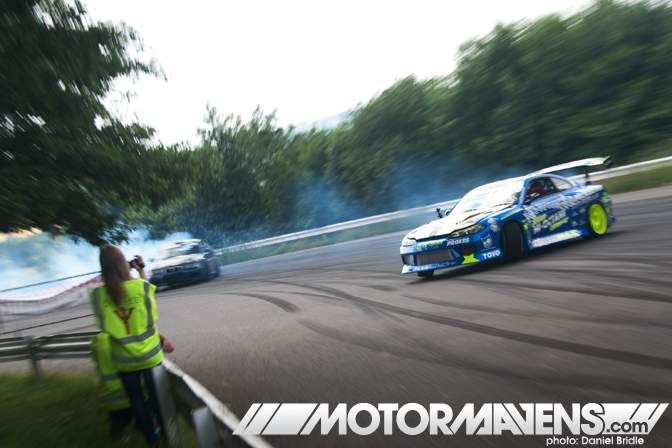 When two hugely powerful, very loud and quite large drift cars come steaming toward you, with Alan McCord's S15 spinning and heading your way and then Steve Will's M3 Turbo spinning close behind, it's a bit of a butt clenching moment!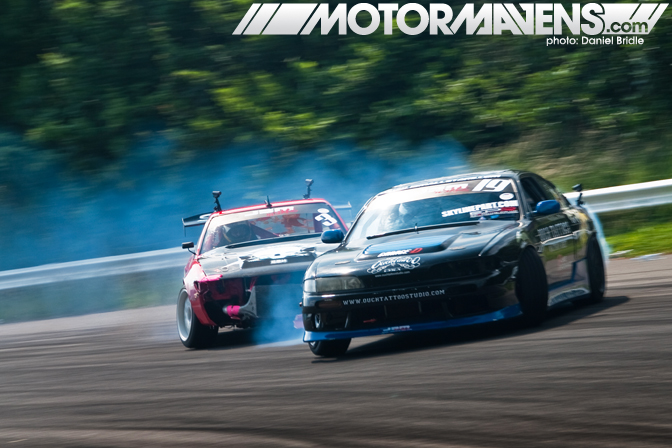 One of my favourite battles was between Luke Fink and Brad McQueen. This was possibly the most intense battle of the day! Both drivers went at it full on. Brad gave it everything he had with just 250BHP in his Ouch Tattoo Studio S14 and put up a fierce fight against the Australian champion. I'm not sure if Fink realised how underpowered Brad's car was compared to his and, during one run, it looked like he was pretty much pushing Brad along the track!
Fink managed to take the win in the end but, with the PS13 rapidly looking more and more like it had spent the past weekend being smacked off walls at Ebisu like a missile car, I wondered if it had any serious damage and whether it would be able to hold out for the rest of the event.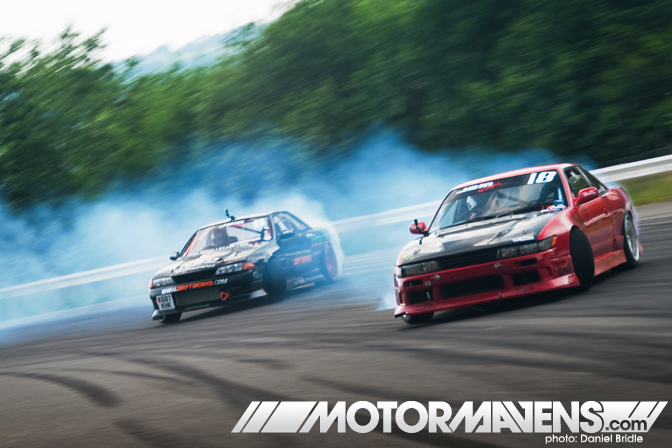 In the final battle of the Top 16 we saw Bon Bon go up against Vincent Noott in a symphony of 1JZ powered noise. It was a close battle but Bon Bon pipped Vincent with just that extra bit of aggression.
Bon Bon's driving always manages to make me laugh somehow. I think it's just down to how aggressive he drives all the time. It's almost as if he's yelling behind that crash helmet as he throws the Skyline at the corner before stomping on the accelerator and leaving you choking on cloud of Federal tyre smoke… or bits of broken differential. Either way, Bon Bon makes for a hugely entertaining driver.
Even though he lost, it's been great following Vincent's driving over the past year. He steps his game up at every competition and the improvement has been easily noticeable. I'm looking forward to how far he progresses by the end of the season.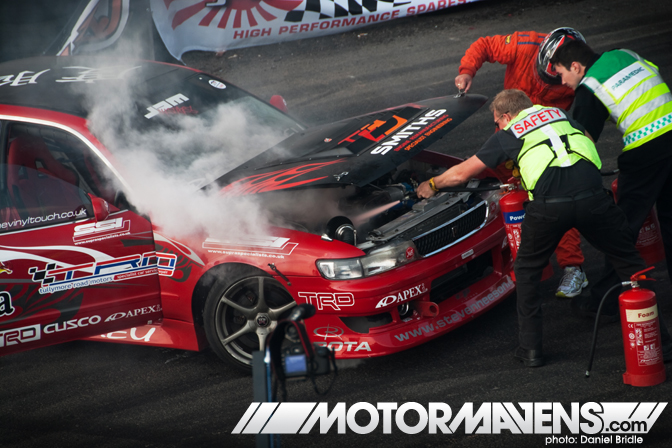 In the first Great 8 battle against second Polish driver, Maciej Bochenek, something inside the engine bay of Robin Neeson's Toyota Chaser caught on fire! Robin pulled to a stop as flames started licking out of the hood vents. Fire and safety crews set about dealing with the fire and sadly that was the end of Robin's day – giving Bochenek the win.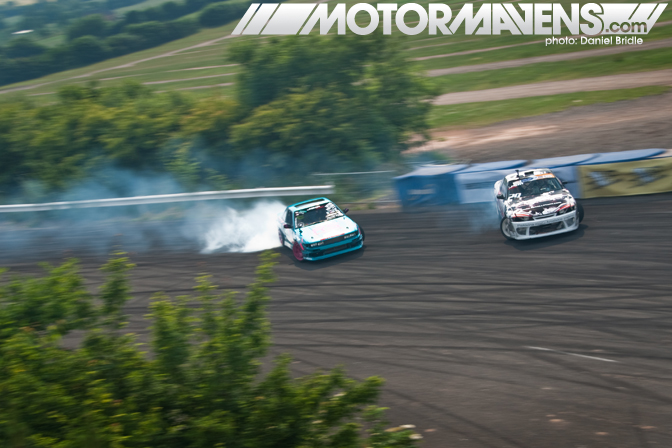 I got a chance to climb onboard the cherrypicker that JDM had hired out, and damn, what a view! From so high up you could see most of Donington Park and it provided an awesome view of the tight battle that was playing out down on the track between Pawel Trela and Dan Chapman.
Dan took the win eventually, as did Luke Fink in his battle against Bon Bon, and Phil Morrison managed to defeat Steve Wills after he spun out on the second run of their battle. Which meant the Final Four was decided.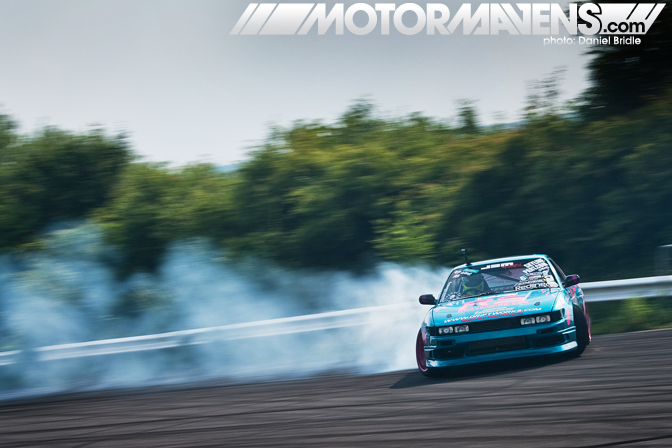 I'm not quite sure what happened here, but Dan seemed to pull a huge gap on Bochenek into the final hairpin. My only guess would be Bochenek spun out further up the course on his second run, giving a 10-0 advantage to Dan and putting him through to the final.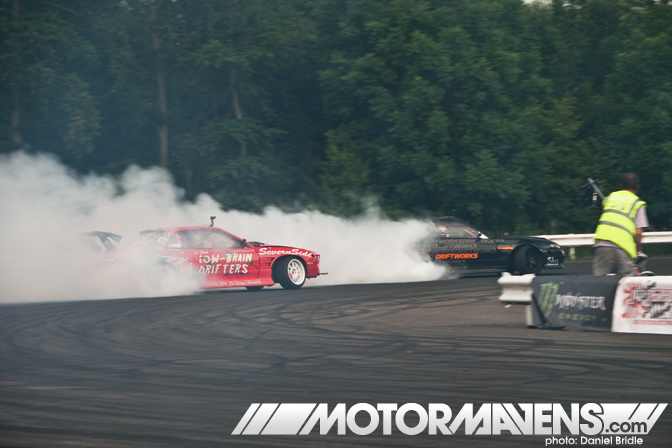 Next up was Luke Fink vs Phil Morrison. In a flurry of smoke both drivers pushed it to the max. You could see by the determination in Fink's driving that he had his heart set on winning. The battle was too close call, so it went to a one more time. During the entry into one of the corners a bolt came loose on Fink's handbrake and the entire lever snapped off in his hand! This caused a slight mistake and gave Phil the advantage that put him through to the final.
So, just before the final, it was time to get the battle for 3rd under way. Bochenek tried his best in the R33 Skyline, and even though it was close, an angry Fink had him covered on both runs, taking the 3rd spot.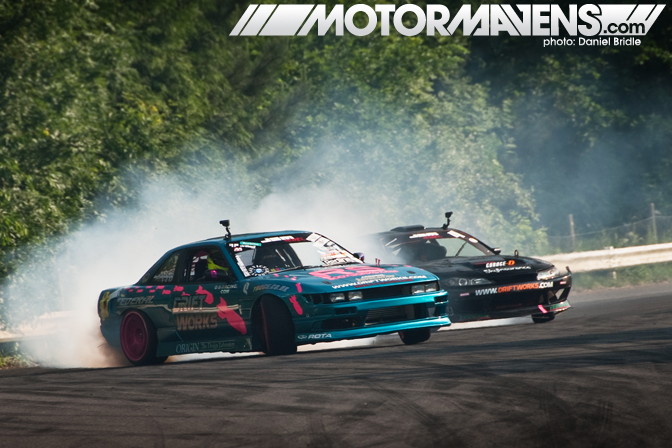 So this left us with an all Team Driftworks final. This was easily one of the fastest paced battles of the day. With the raw power of Phil's 666BHP S15 and Dan's speed-based racing style, it was a breathtaking show of high speed drifting from start to finish.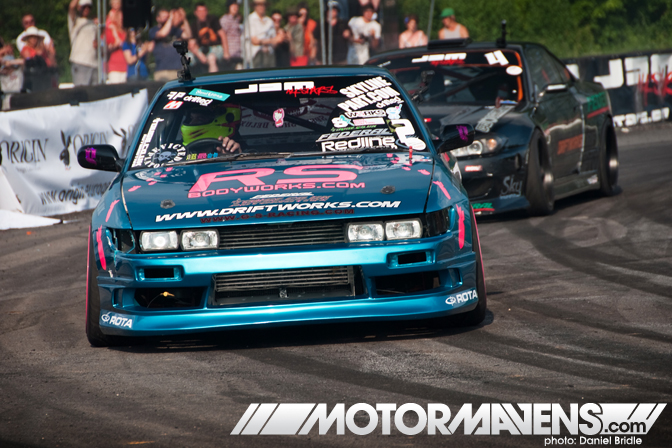 I honestly couldn't tell who won. I don't think a lot of people could frankly – it was that close between the two. But the judges kept their decision quiet until everyone headed over to the closing ceremony…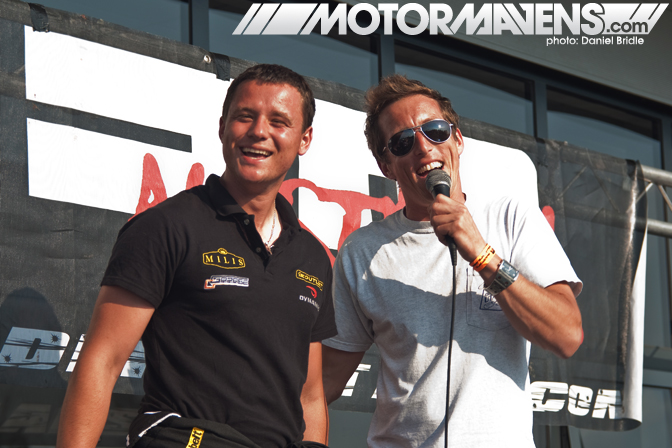 JDM Allstars commentator Bryn Musselwhite was on the stage to congratulate the drivers and ask them a few questions about their day. When speaking to 4th place driver Maciej Bochenek it took Bryn a minute to twig that Maciej only speaks Polish and couldn't understand a word he was saying haha! But it was clear to see that despite language barriers, Maciej was happy with his result and we look forward to seeing him and Pawel Trela drive again at the next round!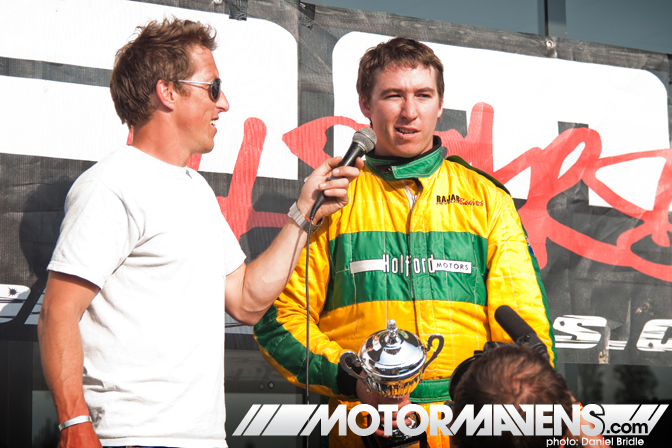 Luke Fink appeared to be almost a little disappointed with 3rd but props to the guy for giving it his all – even with things breaking!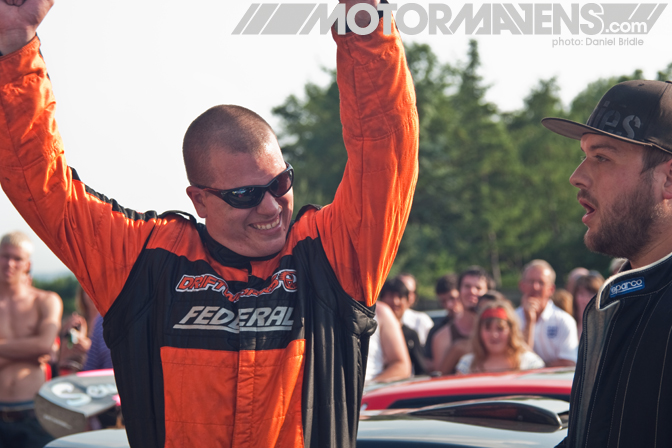 Then came the announcement everyone was waiting to hear… Phil Morrison came 2nd! The shock on Dan Chapman's face was priceless as he genuinely thought he lost the battle to Phil.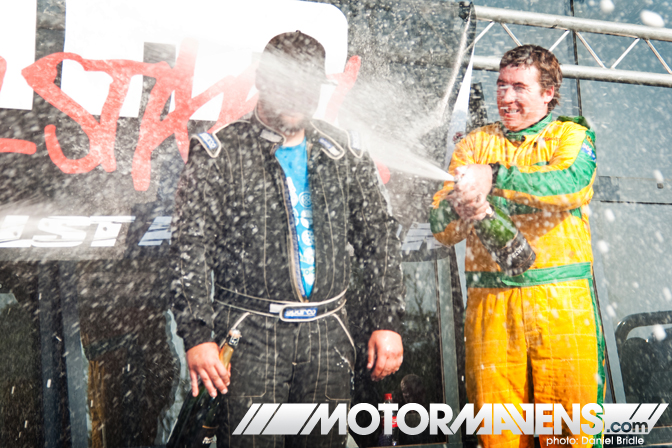 Up on the stage Luke didn't give Dan a second before spraying him in the face with champagne…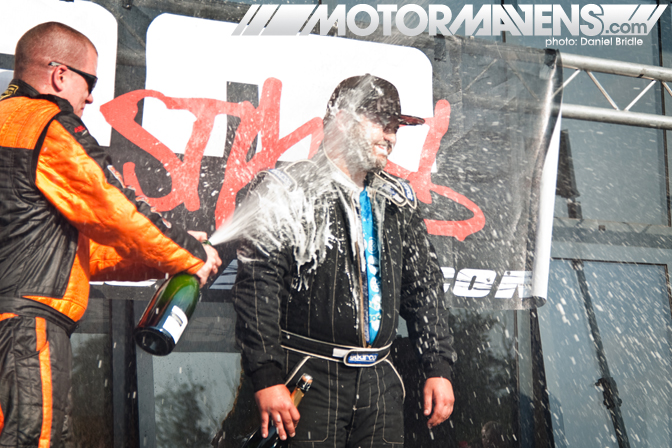 Nor did his teammate Phil! It's all love at the end of the day!
I'd just like to give a massive congratulations to Dan Chapman for putting on a spectacular display of driving skill and for a thoroughly deserved win. Also congrats to all the drivers and the JDM Crew for organising and running such a fantastic event. Each JDM Allstars round I've been to has been better than the last. So, I cannot wait for Round 3, which is going to be all the way up north in Newcastle – outside the Nissan factory! In just 3 days!
So what better way to head home after a long and action packed day of drifting and car culture than in Ben Morrissey's AE86 Levin! Thanks for the lift home dude – and thanks to Bolf for the lift up there. If it weren't for the friends I've made in the drift scene, I wouldn't be able to make it to these events to bring you the latest from UK drifting. So thanks to everyone for their help and kindness!
::Daniel Bridle
P.S. I received an e-mail from Mitto yesterday with this photo attached…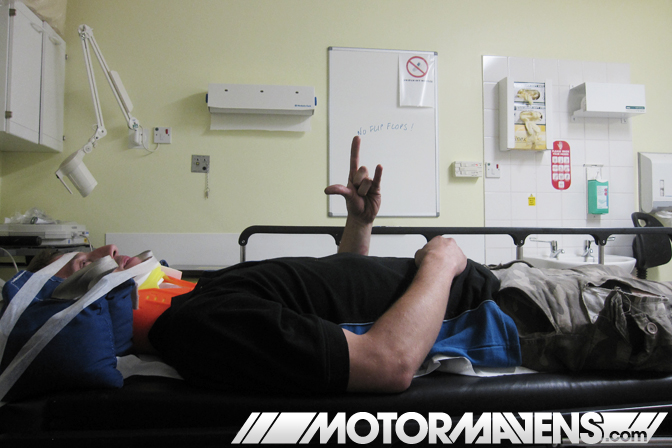 "Yo bridle diddle. Calvert got strapped up like this for 7 hours after JDM. His head fell off, but it's ok, they put it back on so he can drive next week at Newcastle. NO FLIPFLOPS!"
Drifters eh? Bunch of lunatics!
180SX
,
1JZ
,
200SX
,
2JZ
,
540i
,
6666
,
AE86
,
Alam McCord
,
Alpine Circuit
,
Anthony Scott
,
Asus
,
Avon Bellamy
,
Bee-R
,
Ben Morrissey
,
BMW
,
Bon Bon
,
Brad McQueen
,
Bruno Esperanca
,
Bryn Alban
,
Bryn Musselwhite
,
Chaser
,
Corolla
,
Dan Chapman
,
Daniel Bridle
,
Donington Park
,
Drift Donington
,
Driftworks
,
Duane Mckeever
,
E34
,
Evicted Wear
,
Federal Tire
,
George Tilling
,
Graham Beatty
,
HI-Octane Imports
,
Ian Phillips
,
JDM Allstars
,
Jon Calvert
,
JZX100
,
JZX90
,
Kazama Auto
,
Kenny Lam
,
Kouki
,
Levin
,
LOW-BRAIN Drifters
,
LS3
,
Luke Fink
,
Maciej Bochenek
,
Mark Norfolk
,
Martin Ffrench
,
Matthew Steele
,
Mint Tyres
,
Mitto
,
Monster Energy Drink
,
Neuton Tires
,
Nissan
,
Origin Aggressive
,
Origin Lab
,
Origin Stream
,
Ouch Tattoo Studio
,
Pawel Trela
,
Phil Morrison
,
poland
,
Powervehicles
,
R32
,
R324
,
R33
,
RB26
,
Robin Neeson
,
Rocket Bunny
,
S13.4
,
S14
,
s14a
,
S15
,
Severnside Imports
,
Sil80
,
Silvia
,
Skyline
,
Skylinepart
,
Southern Style
,
SR20DET
,
Steve Wills
,
SuperMade
,
Team Twisted
,
touge
,
Touge Automotive
,
Touring
,
Toyota
,
Tra-Kyoto
,
UK
,
V8
,
Vincent Noott
,
Zenki
---