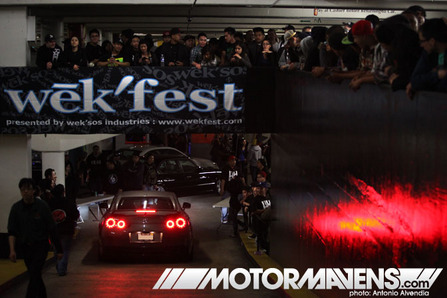 For the second installment of the MotorMavens coverage from my trip to the San Francisco Bay Area last weekend, we'll take a look inside the Wekfest itself. For those who really couldn't wait, I'm sure you could have just Googled "Wekfest" and found a bunch of Flickr pages and other galleries with random photos from inside the show.
However, our story is going to be a bit different, because I'm not planning to post up photos of every single car (250+ for sure) at the show. Instead, I'm only going to focus on the cars that caught my eye; the cars that either had the best style, or cars that had something different going for them, which piqued my interest. After all, I've been lucky enough to have attended a LOT of car shows and a LOT of racing events all over the world. This being said, seeing the same old thing over and over can get kind of dreary at times; not to worry though – the cars at the Wekfest definitely had flavor.
The dimly lit parking structure in Japantown San Francisco that served as the venue for the event might not have had the best looking "background" or ambiance for photography, but it was filled with some of the West Coast's best looking cars, so we'll just let those shine through…
Up above, the entrance to the underground parking structure was packed with cars and spectators… I was surprised that the City of San Francisco allowed that many people in a place that had so few exits! Nevertheless, the show had a good vibe to it… at times, it kind of reminded me of what it felt like to be in the parking structure scenes when I was on set shooting NBC Universal's Fast & Furious 3 Tokyo Drift movie… if only you replaced the Japanese (and Japanese-looking Chinese, let's be honest here) cast members with a bunch of young Filipinos, Chinese, and Vietnamese car owners. LOL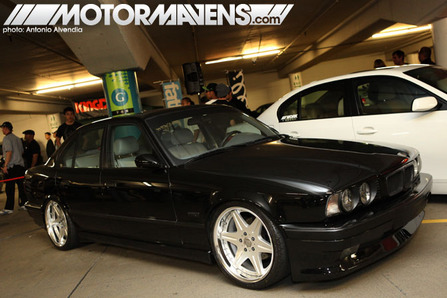 One of the first cars that had me jockin was this super ridiculously clean E34 BMW 5 series. Why am I jocking an older 5 series you may ask? Let me explain. I've always been a fan of the E34 body style BMW M5 and 525i. However, before we even talk about modifications and whatnot, let me remind you that this is an older car! Cars this old usually have f*cked up dirty leather seats that are all cracked up; the wood on the interior is usually all cracked; the doorpanels are usually stained and ripped up; and the dashboard is usually cracked. The body panels are usually dented and oxidized, and the black OEM rubber moldings are usually faded gray…
Now take a look at this shining black E34, with an AC Schnitzer aero kit. It doesn't look ANYTHING like that. This thing looks mint like it was preserved from the early 1990s. The paint is gorgeous, and the body is dent-free. The interior is super clean, and the owner told me that it was ORIGINAL and untouched. Whaaaat?! Yes, original. He said he didn't replace inside the car; the original leather is still good. He pointed out some interior pieces that need to be replaced, but that's just minor details… this car is GORGEOUS.
Not to mention the WHEELS! Super baller status… E39 owners should be envious, because this E34 is coming correct as a mofo.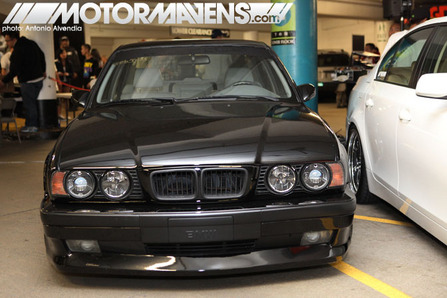 Again, retardedly clean interior and paint… and an aggressive front chin spoiler with foglights, sitting right below the brand new crystal clear projector beam headlights and super clear high beams in the center. Those lower foglights are very helpful in the Bay Area, reminding me of my grandfather's warnings (in a Filipino accent)… "Be carepul when you go to San Prancisco. There is a lot of fogs in that city." Anyways, nice 5 series.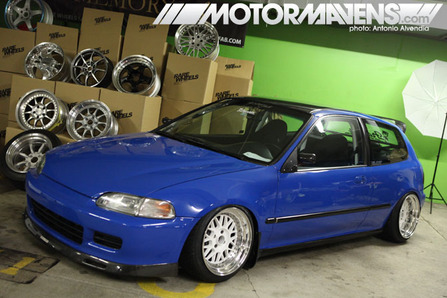 This NOS blue EG6 Civic was super clean, with aggressive fitting wheels, next to this Rare Wheels display. I'll admit, back in the mid-1990s, I used to hate on all FF cars… but I'm a big fan of EG6 hatchbacks. They look dope as hell. I especially like the Si version from 1993. This particular blue Civic just reminds me again of how fresh an EG6 can be if done up right. So dope. Look at that rear fitment! Hell, look at the fitment all the way around – sick.
Speaking of fitment and EG6s, I thought I'd shine a little light on the most famous EG6 Civic hatchback with aggressive offset… proclaimed by Honda Tuning Magazine as "The Offset King" himself, Arnel from the Phaze2 Crew. Man, it was super cool seeing so many Southern Cali cars drive up to Northern California for a show! Usually the LA guys are super lazy and they don't want to travel! It's always the Northern Cali guys that have to come down to LA for the shows… but big respect to the Southern Californians who brought their cars out! You guys are hardcore! This is what unifying the West Coast scene is all about!
This famous EG6 always looks good… but this time, it was sporting a newly repainted engine bay. Yup, they took everything out AGAIN and repainted it AGAIN. This time, fully red to match the exterior. Damn, these Southern Cali Honda guys remove their engines and paint their cars so often, it's like changing clothes or getting a haircut to them. I wish I was ballin like that. I have some AE86s that need some paint!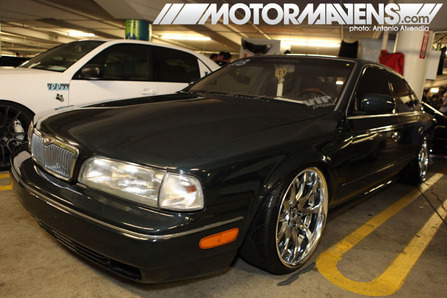 Q-Power you say? Well, when we talk about Q-Power, we're usually talking about "Kyu-Power," or kyusha kai cars (modified old cars) in Japan. However, in this case, this Infiniti Q45 looks pretty damn powerful, with those muscular wheels fitting righteously in the fenderwells, with the polished outer lips sticking out ever so slightly. Perfect. Props on an outstanding car, Ronald.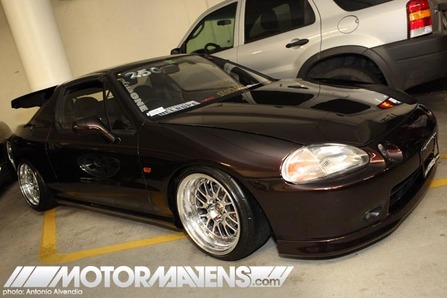 Okay… here's a surprise. I don't even know when I last saw a Del Sol that I liked…  The Honda Del Sol was supposed to be the successor of the CRX, but most of the time, people refer to Del Sols are girlfriend cars, just like they do with Miatas. Well, this particular Del Sol doesn't look anything like a girlfriend car to me. Sitting super low, with outstanding stanced wheels and tire stetch… this Del Sol looks dope as hell! Big respect to the owner of this car for taking a less obvious choice of Honda and making it fresh as hell. Plus One for sure. I think this car came from Stockton CA? That's awesome (and inspiring) to see sick cars like this one come out of the woodwork. I love the paint color too! Hella fresh… is that brown metallic from an Element?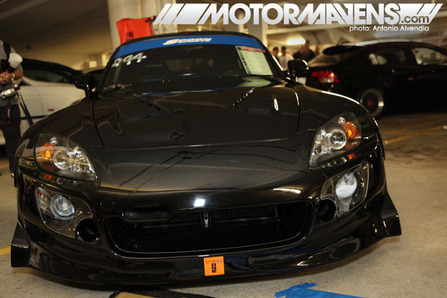 This particular Spoon Sports/Type One equipped Honda S2000 didn't exactly have outstanding stance to it, but I was jocking the front end and the foglights… and the cleanliness of the paint. I love S2000s, such a pleasure to drive. And this one is a pleasure to look at. So dope. If you owned this car, what type of wheels would you want to put on it?
I'm thinking Top Secret Gold colored Volk Racing GTF wheels… how about you? Would you keep it real and continue the Spoon theme, or go with something completely different?
Speaking of dope Hondas from Central Cali, I briefly walked past the owner of this DC Integra to give him props on his car. The engine bay was IMMACULATE, and the Championship White and gold theme looked perfect on this car. Look at those super wide Mugen M7s… it looks like an AE86 wheel, with a lip that deep! Outstanding.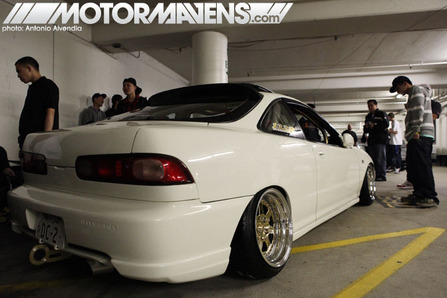 Let's take a look at the stance from the back… Oh my God. I'm jocking those rear wheels. Fresh as hell. And 5×114.3! Sick.
I've been meaning to shoot photos of this particular Scion xB for a long, long time. Can you say YEARS? This car belongs to a bB Squad leader named Kenny… he bought these lead sled wheels for his car a few years ago (Mayday John P says they came from a car in Houston, but I'm not sure of the origin…) and started showing up to meets in Southern California. Unfortunately, even though Kenny lived near me at the time, I never got a chance to shoot this car because I was busy traveling and building up and promoting another car website… and then he moved to Las Vegas, making it even more difficult to shoot the damn car. Then, I run into it here in San Francisco, but Kenny wasn't near it… LOL. One day, we'll cross paths again… haha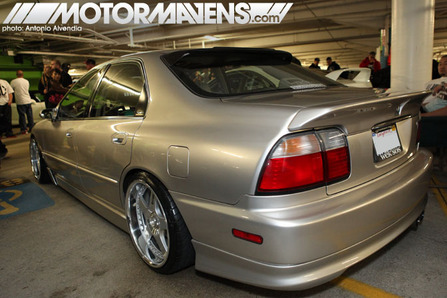 Okay. I'm not really an Accord fan, I'll be honest. (I do like Accord wagons though.) However, Accord sedans are normally appliance cars that you see driving around everywhere, in every city in the USA. I'm sure you can't drive in any suburban city in the USA without seeing at least 5-10 of these Accords every day.
However, the owner of this Accord kept his car pretty fresh and pretty clean, which is why I'm showing the pics here on this site. I'm pretty sure this is the first time an Accord sedan ever appeared on MotorMavens… This car looks good, with a tasteful aero kit (no Black Widow kits here, lol), super clean paint, taillights, and and subtle touches like the roof wing and trunk wing. Pretty damn nice, man.
Okay, okay… and YES, the first thing I noticed was in fact the wide fitting wheels, I won't lie.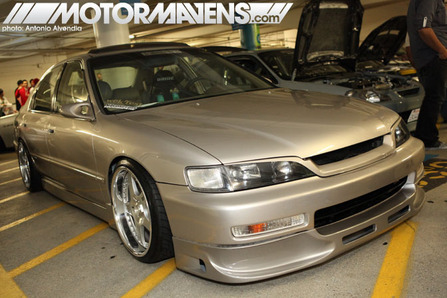 I haven't seen these Racing Harts in a long while. People used to use these wheels on every kind of car imaginable. I even used to see some people put 17inch Racing Harts like this on old school Datsuns and Toyotas (gasp!). These Hart C5s look pretty damn good on this Accord though… especially since the wheel and tire sizing is super legit.
I'm not really sure what kind of crazy front lip is on the Accord. I think if the front bumper had a cleaner, more simple front lip and grill, this entire car would be off the chain.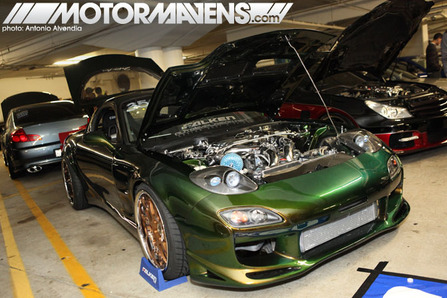 This FD3S RX7 has a pretty crazy House of Kolor paint job. I know it's a high end paint job, and maybe it's because I'm just getting old or something, but I still prefer normal paint jobs that look close to OEM. However, you NEED to see the detail in this FD, from the wheels to the engine, to everything.
This FD is owned by an old school friend of mine named Kai Tsukiyama, who also owns an S14 240SX that had the very first SR20DET swap done by the famous Susumu Koyama of JUN Auto Mechanic in the USA. Koyama san's work is impeccable, which is making me wonder… WHY THE HELL don't you finish your S14 already Kai??? Come on yo! Let's do this!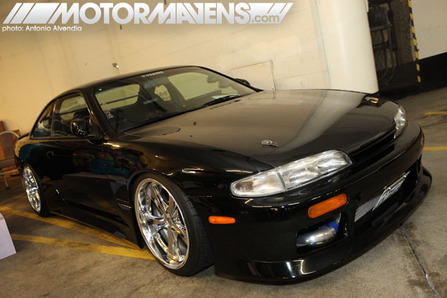 Speaking of S14s, I was really impressed by this super clean black zenki S14 that was tucked away, deep in one corner of the show. I would have liked to have taken more photos of it, but there were all these 14 year old future import model chicks lined up unenthusiastically at a table, texting on their phones or updating their status or tweeting "FML we're way the hell in the back" or something like that… and I didn't really want them in the photo. So this one photo will have to do! Sorry!
The last car I'll show in this update is another S14. This is my boy Calvin Wan's S14 Silvia. This car is right hand drive, imported from Japan, and repainted super cleanly with white pearl paint.
The entire aero kit is authentic Vertex, and when I was carrying the front bumper from his garage to the back of his Armada, I asked Calvin how much real Vertex front bumpers normally cost. He said, "something like $750." Holy crap, that's a lot of money… that's probably why only the pickiest "keepin it real" people are shelling out that kind of money for authentic aero. I definitely support using authentic parts and authentic aero on your car (IF you are picky, and if you love your car a lot, and you only want the best for it), but for people who go out drifting every weekend, smashing up bumpers and whatnot, I can understand why people will want to buy the knockoff kits, which usually cost only like $799 for the entire aero kit.
The wheels on Calvin's car are the same ones he used in Formula D competition on his Infiniti G35; he bought the wheels cheap from Falken after they retired the car, so he powdercoated them dark gray and mounted them up to his S14.
On the hood is the advertisement for the Drift Sumi-e game for the iPhone, which is available NOW on the iPhone App Store! Go get it!
:: Antonio Alvendia
---