For those who haven't been to
Texas Motor Speedway
in the Dallas/Fort Worth area, the complex is HUGE. It may seem like a cliche that "everything is bigger in Texas," but this is a case where that saying is actually true! I experienced the Texas Motor Speedway complex first hand recently when I attended the inaugural event of the nationwide
Traffik Tour
series, which is a car show series that has partnered up with the Indy Racing League (IRL).
For the first Traffik event, the entire car show was organized right by the main entrance of Texas Motor Speedway's main track entrance, so the 80,000 recorded event attendees for the IRL event and the special "Ultimate Drifting" Formula Drift competition event (not for series points) had an opportunity to check out all the cars in the Traffik show, as they melted underneath the sun's 100 degree heat.
Read more...
---
Earlier this month, NonStopTuning and Fabricated Motorsports hosted the first round of our local Formula D Pro-Am series, complete with cash payout and points. It's been a good minute since I've posted a video on MotorMavens, but like many of you, I have been all too busy these past few months. However, if I told you I haven't made anything since then, I would be lying.
Allow me to cut straight to the point. I'll be the first to tell you I really dislike AE86s (*gasp* Antonio), however my good friend Robert Lee for some reason or another still drives one without it completely falling apart. He doesn't just drive it though… he drifts the piss out of it… just like a real man should. And that's exactly what he did at the Houston Pro Am at Gulf Greyhound Park.
Robert easily had one of the lowest powered cars (if not THE lowest powered car) out on the grid. On a good day, Rob's purple thunder lays down an INSANE 113whp. However this past Sunday, he managed to take home a much deserved win, beating everybody, including Chelsea DeNofa (last year's XDC champ in case you forgot) – check the vid and to see how he did it. (more…)
---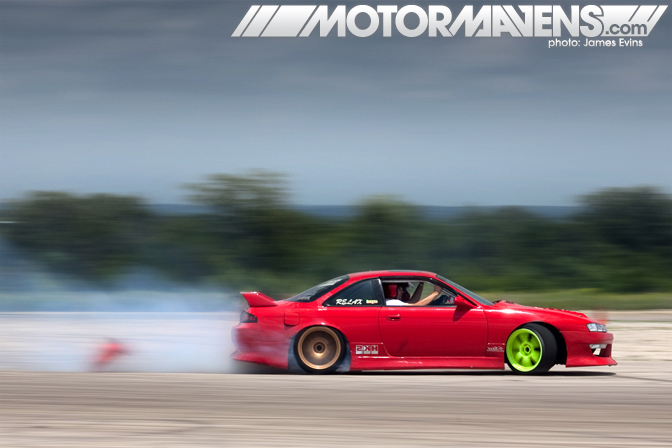 You've probably heard the saying, "Everything is Bigger in Texas." Well, it definitely holds a bit of truth when you're talking about the grassroots drifting scene in Texas. There are a tremendous amount of talented drivers, some amazingly well built cars, and plenty of events year round.
The downside to such an active scene is that every driver doesn't go to every event. Many of the best Texas drivers are now competing nationally, so schedule conflicts and the financial burden that comes with competition keep them from attending as often. You may go to an event and experience a less than stellar turnout and end up missing all of your favorite drivers. Luckily,
Aaron Losey
of
Fabricated Motorsports
has found a solution - once a year, a huge event is thrown in Mineral Wells, TX. This is the event that tops every other event of the year...
Lone Star Bash!
Everybody goes to Lone Star Bash!
I decided I'd go ahead and catch a ride with my friends at
786 Motoring
since they'd be trailering
Ameen Rizvi
's
2JZGTE powered Toyota Cressida
(
previously featured on MotorMavens
) up to Mineral Wells for the event. You can't beat a road trip! Sometimes, you have nearly as much fun on the road as you do at the events, especially when you're in a truck packed with six or seven friends. There is definitely never a dull moment with these guys!
Read more...
---