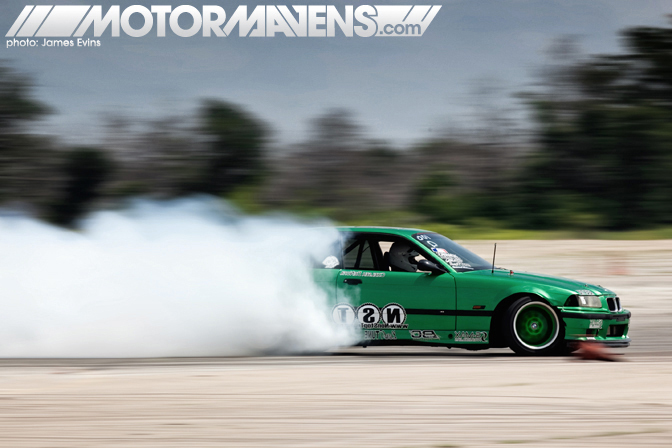 You've probably heard the saying, "Everything is Bigger in Texas."  Well, it definitely holds a bit of truth when you're talking about the grassroots drifting scene in Texas.  There are a tremendous amount of talented drivers, some amazingly well built cars, and plenty of events year round.
The downside to such an active scene is that every driver doesn't go to every event.  Many of the best Texas drivers are now competing nationally, so schedule conflicts and the financial burden that comes with competition keep them from attending as often.  You may go to an event and experience a less than stellar turnout and end up missing all of your favorite drivers.  Luckily, Aaron Losey of Fabricated Motorsports has found a solution – once a year, a huge event is thrown in Mineral Wells, TX.  This is the event that tops every other event of the year… Lone Star Bash! Everybody goes to Lone Star Bash!
I decided I'd go ahead and catch a ride with my friends at 786 Motoring since they'd be trailering Ameen Rizvi's 2JZGTE powered Toyota Cressida (previously featured on MotorMavens) up to Mineral Wells for the event.  You can't beat a road trip!  Sometimes, you have nearly as much fun on the road as you do at the events, especially when you're in a truck packed with six or seven friends.  There is definitely never a dull moment with these guys!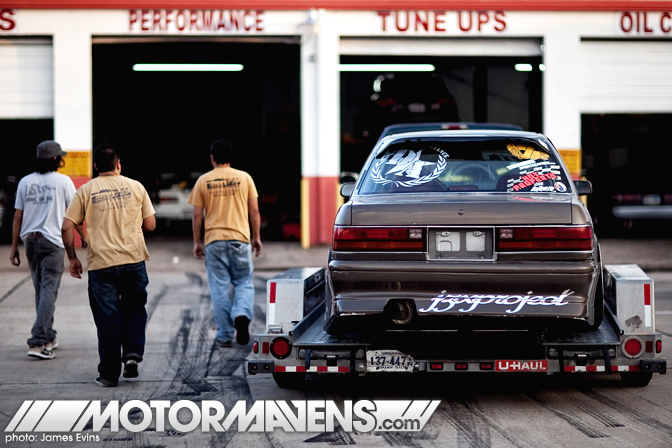 I met up with Ameen and Amir Rizvi at 786 Motoring.  The shop is located on the West side of Houston, Texas.  These guys have been around for years, and were one of the first shops in Houston that specialized in drift cars.  We all pitched in to help load the car and pack the truck.  It really helps when you've got a few people around to lend a hand.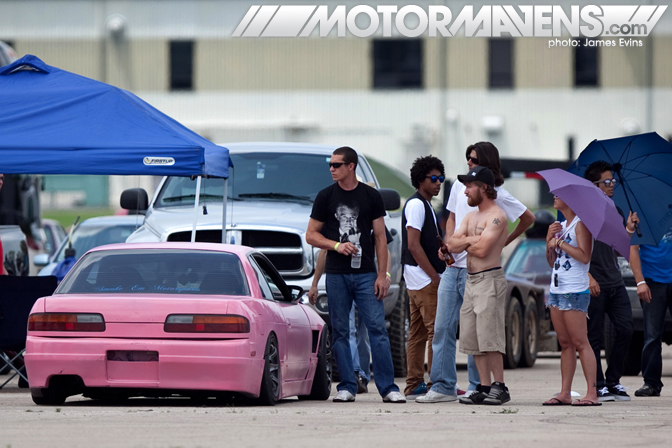 As we rolled into the event, the first thing we noticed was the size of the crowd that had already formed. It's great to see so many spectators at events – it reminds you of how much support the grassroots scene has in Texas.
The heat was pretty intense, and shirts started coming off early in the day. Some people were bright enough to bring out umbrellas to block the sun as they walked around the event.  I wish I had my own umbrella girl!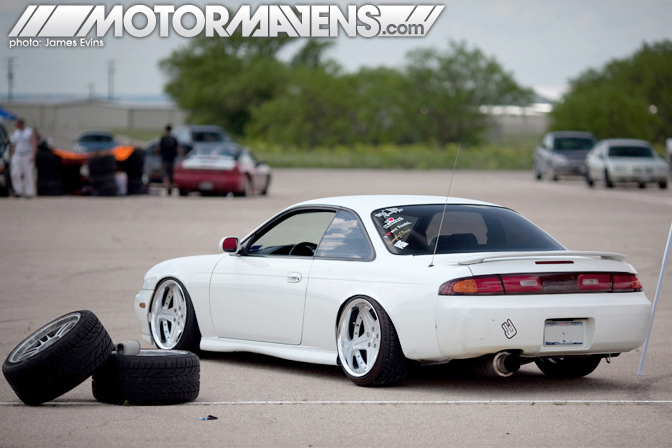 Lone Star Bash feels like more than just a drift event considering the spectator area looks like a car show. This 240SX was rocking a set of perfectly fitted Work Euroline SLs.  I'd love to do a more in-depth feature of it down the road.  Beautiful!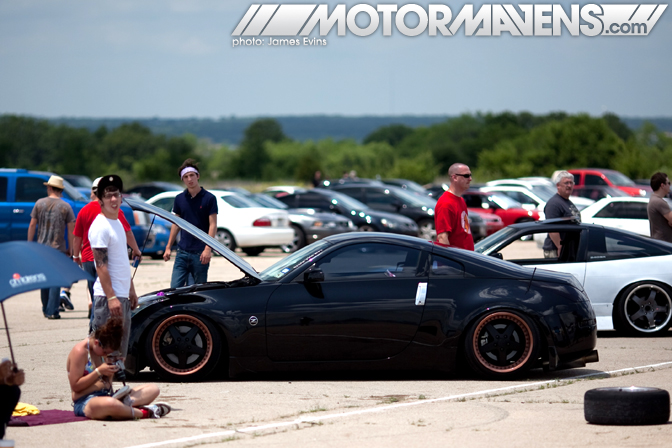 Another impressive car, this 350Z belongs to my good friend Eric from San Antonio.  I love those custom painted Work Equips.  This car isn't just a looker – it's also boosted!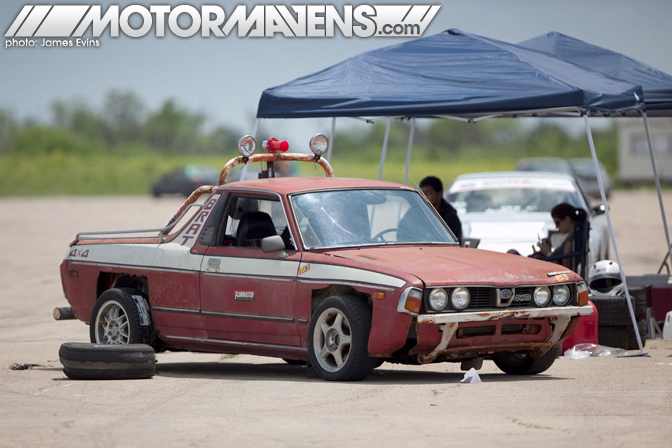 One of my favorites – a Subaru Brat!  Believe it or not, it also drifts – quite well, I might add.  It's powered by a Mazda 13B and has various RX7 suspension parts welded in.  I couldn't tell you all the details, but I can tell you it has less than $500 in it!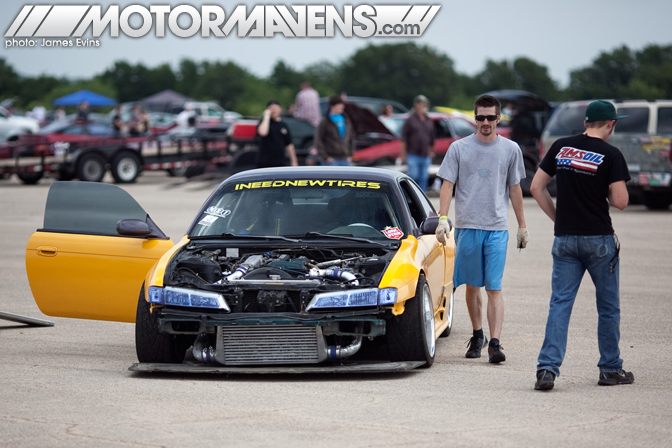 Fielding Shredder (in the blue shorts) can be seen here preparing his S14 for a long day of drifting!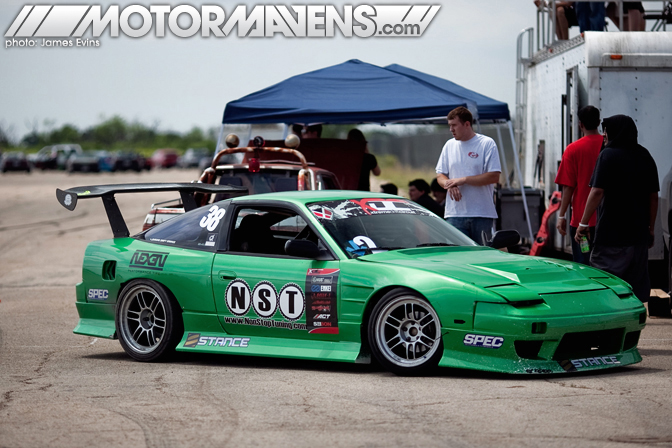 This LS1 powered S13 belongs to Aaron Losey of Fabricated Motorsports.  It sits waiting patiently to be driven. I'm surprised that Aaron even has time to drive considering he spends so much time organizing and running the event. He also spends quite a bit of time assisting newer drivers where assistance is needed.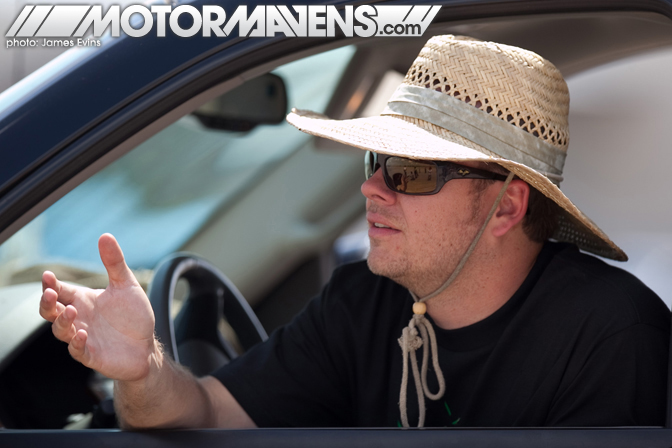 Here is a candid capture of Aaron. When you throw an event called Lone Star Bash, it's pretty much a requirement that you have a cowboy hat.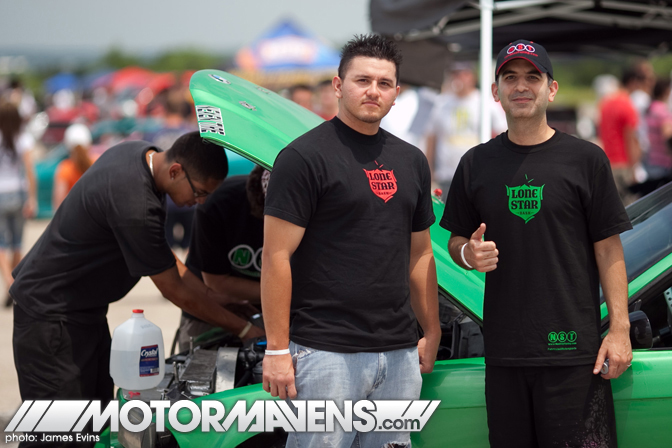 The Lone Star Bash shirts are always a big hit. On the left, you'll see the 2009 shirt in red print.  Mike, owner of NonStopTuning, is on the right wearing the 2010 Lone Star Bash shirt.  Speaking of NonStopTuning, I have never been to a grassroots drift event in Texas that these guys didn't attend. Not only that, but you can find Mike on the road throughout the year with the NST sponsored drivers from Texas as they attend the XDC competitions. It's great to see a company dedicated to supporting our local scene.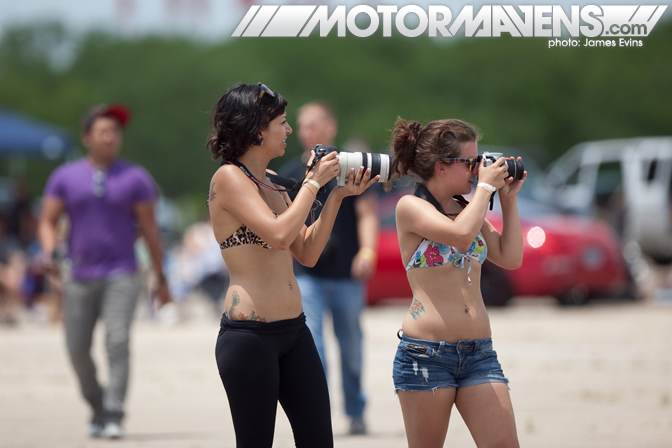 I had some competition in the media department!  I had to step my game up – I can't let these girls show me up!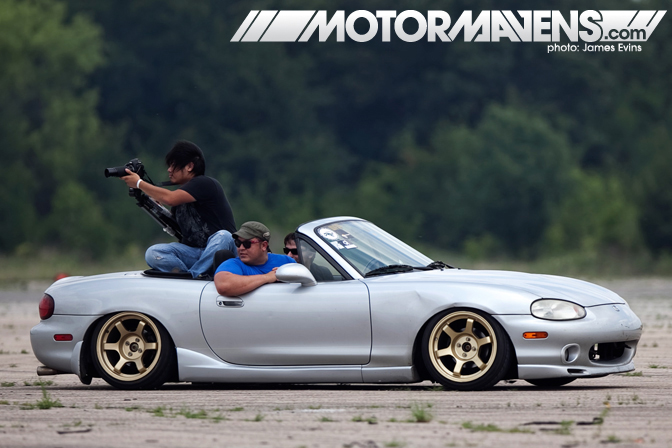 Speaking of media, Tyler Russel volunteered to carry around photographers and videographers all day in his slammed Miata. He'd pace the drift cars from a distance, making for interesting car to car photos and video.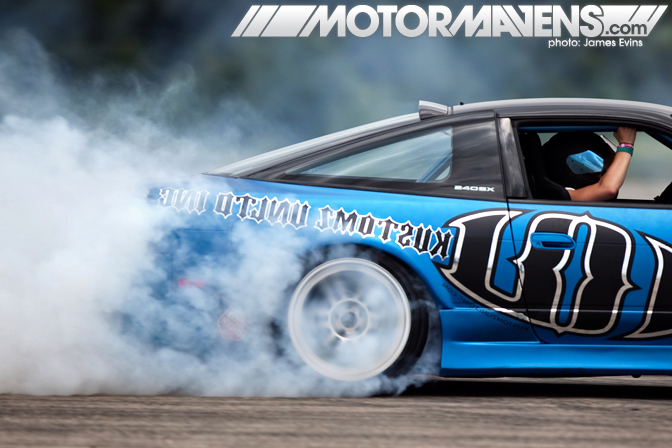 There was no lack of smoke and as the day went on the track got hazier and hazier!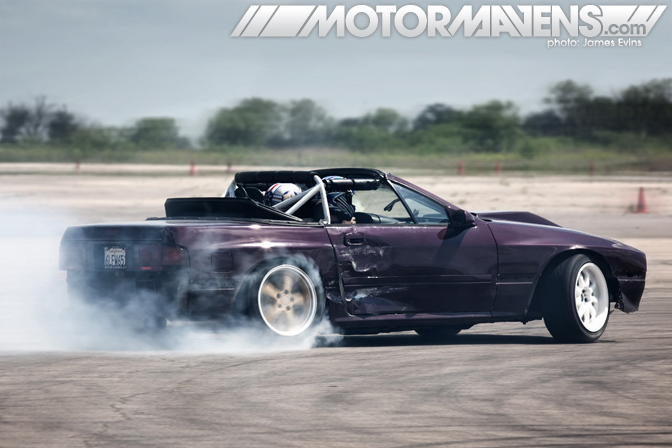 Believe it or not, this convertible FC was powered by a 302 cubic inch Ford motor.  This car also came all the way from California to drift with us!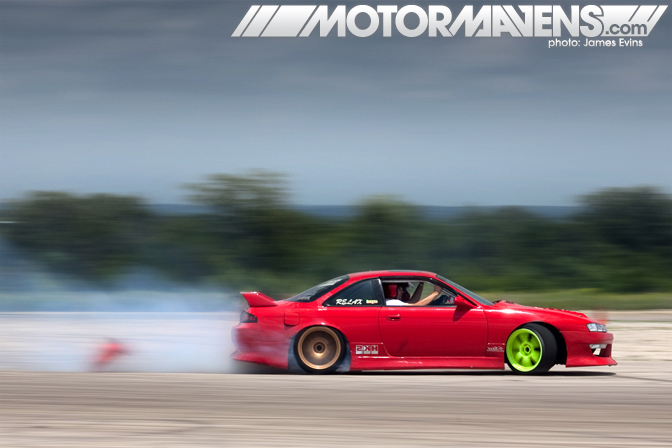 This car belongs to Justin Rogers and is easily one of the best looking 240s I've seen drifting!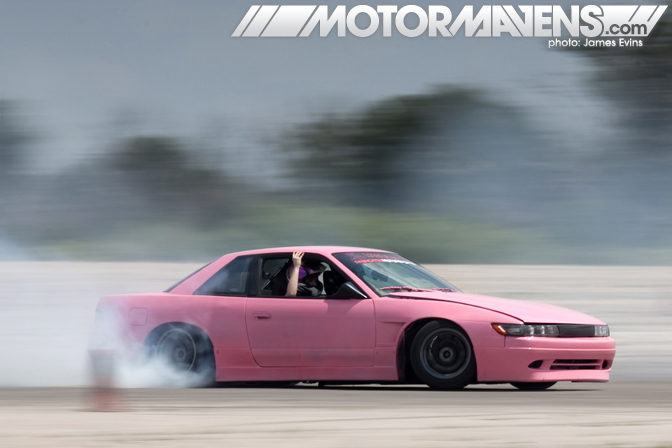 Although I'm usually not a fan of pink, this car definitely stood out to me!  I like seeing slammed cars on track!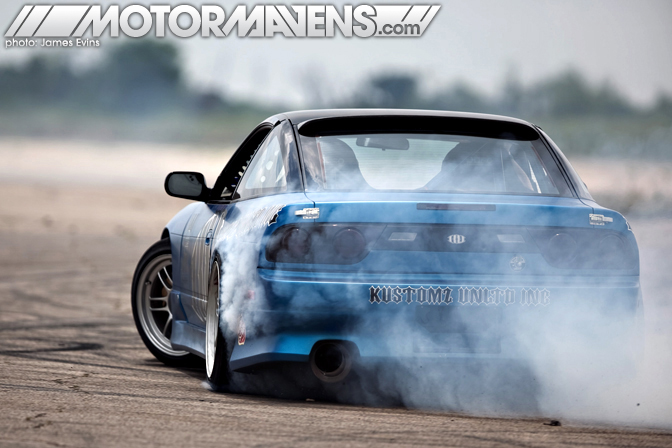 Quickly becoming one of my favorite cars to watch at events, this LS2 powered 240SX is tearing up the asphalt yet again – laying down serious smoke!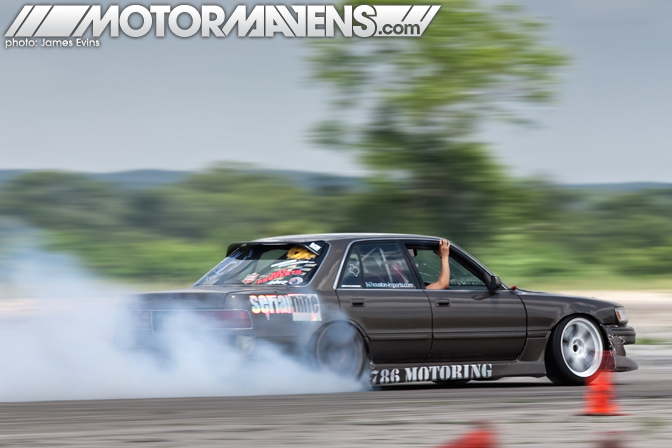 Ameen Rizvi getting down to business!  Ameen usually shows up most often at Houston events, so it was good to see him out at Mineral Wells!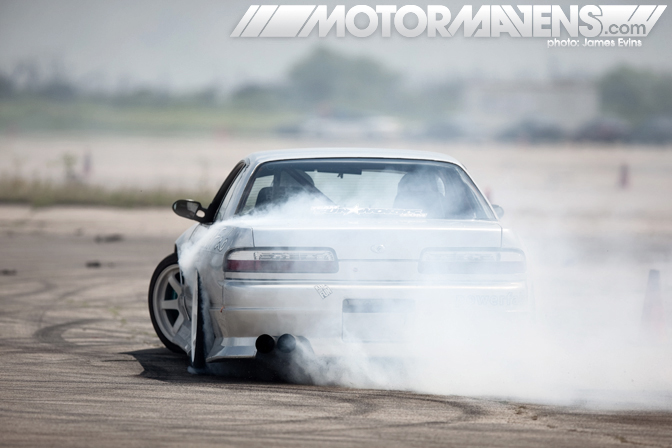 Stew Leask gets some sideways action in his LS1 240SX.  You'll see more of this car in the future. It has a very impressive build and, even more importantly, a very impressive driver.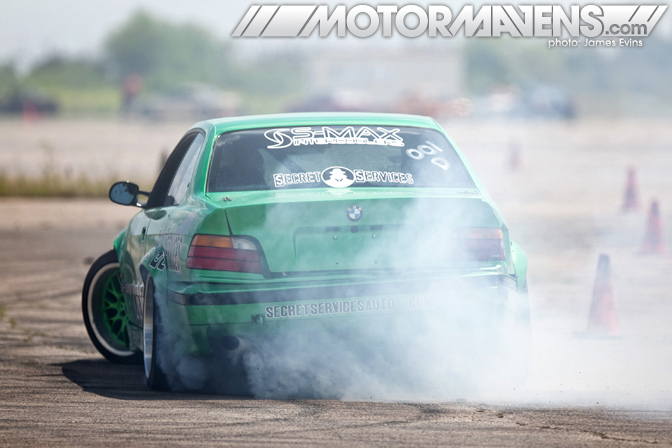 This NST sponsored M3 is driven by Chelsea Denofa.  For some reason, I hardly ever get many great photos of this car. It isn't intentional, its one of my favorite cars on the track!  It looks like Chelsea has recently taken a hit in the rear, but kept on going.  You'll see this car at most XDC events this year!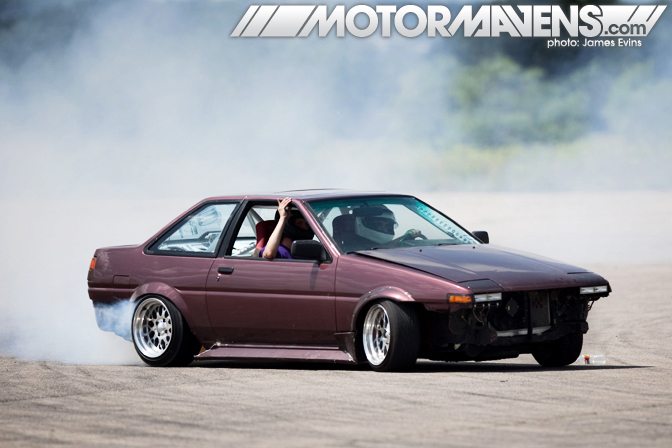 This Corolla belongs to Brad Burdette and is powered by a Toyota 1UZ-FE V8!  Definitely an interesting swap. The car is also fitting a set of Boyd Coddington wheels! Major bling!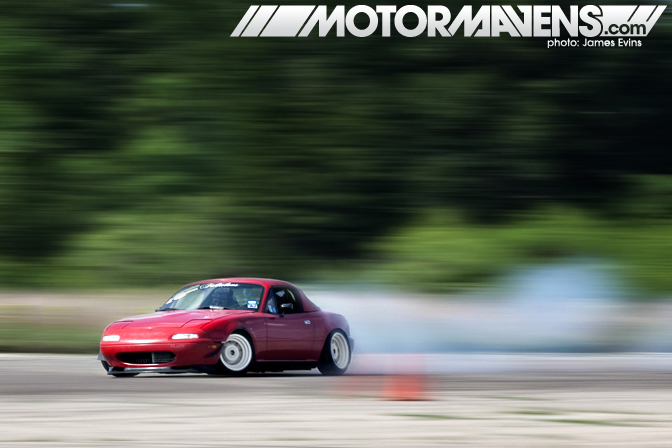 Tyler wasn't the only slammed Miata on the track! This guy was looking good! Nice stance, too!
Russel Walker – Texas Drifter. I couldn't make this stuff up if I tried! This guy always puts on a show!  He is very, very talented, and he'll be debuting an all new Subaru STI for Formula D in 2010.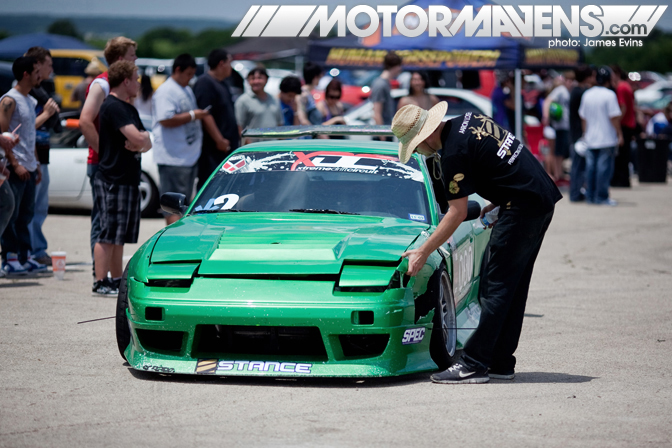 Unfortunately, Aaron Losey had a collision with another driver this year. Here he is checking out the damage. Luckily, Aaron had a great attitude about it – when you come out and run tandem you have to expect that eventually you'll have an incident like this.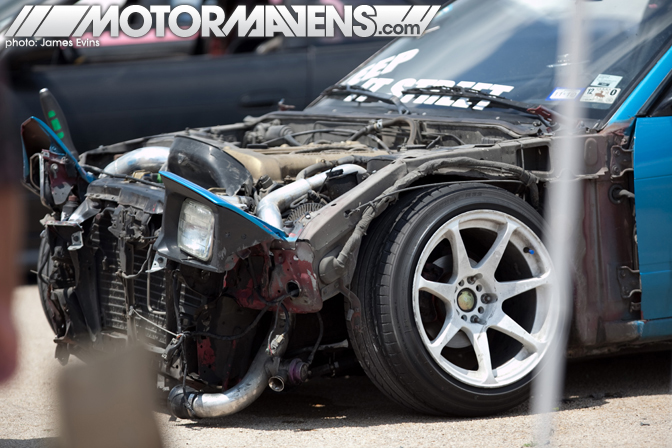 The other vehicle involved in the crash appeared to take a little more damage.  It's unfortunate as I was told his car had just been painted.
By the end of the day, the Texas sun had taken its toll.  Many of us were already sporting farmer's tans!  I had an amazing time, saw plenty of familiar faces, and met plenty more new ones.  I'm glad I had a chance to share with you guys a little bit of what makes the Texas grassroots drifting scene so incredible!
::  James Evins
---