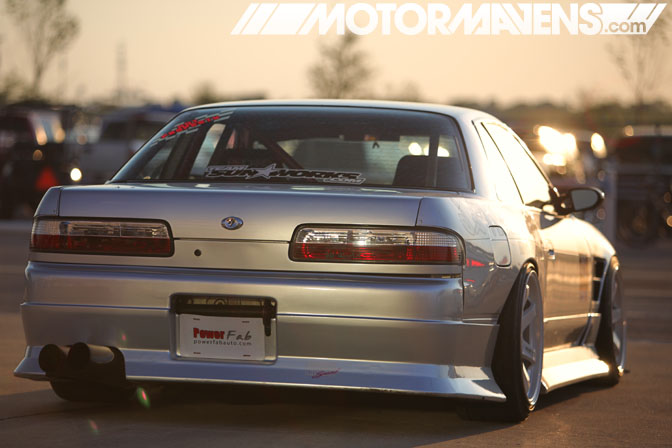 For those who haven't been to Texas Motor Speedway in the Dallas/Fort Worth area, the complex is HUGE. It may seem like a cliche that "everything is bigger in Texas," but this is a case where that saying is actually true! I experienced the Texas Motor Speedway complex first hand recently when I attended the inaugural event of the nationwide Traffik Tour series, which is a car show series that has partnered up with the Indy Racing League (IRL).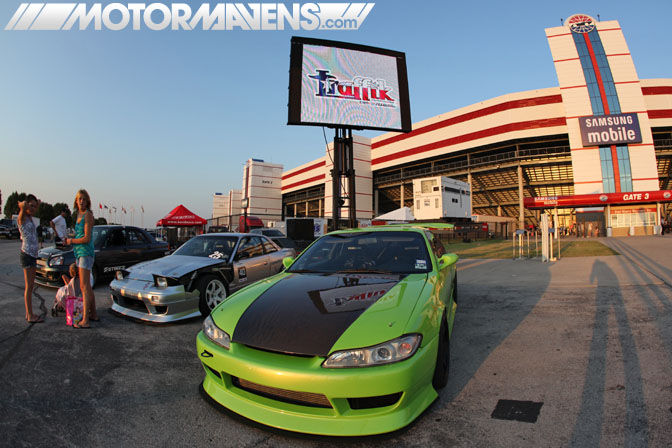 For the first Traffik event, the entire car show was organized right by the main entrance of Texas Motor Speedway's main track entrance, so the 80,000 recorded event attendees for the IRL event and the special "Ultimate Drifting" Formula Drift competition event (not for series points) had an opportunity to check out all the cars in the Traffik show, as they melted underneath the sun's 100 degree heat.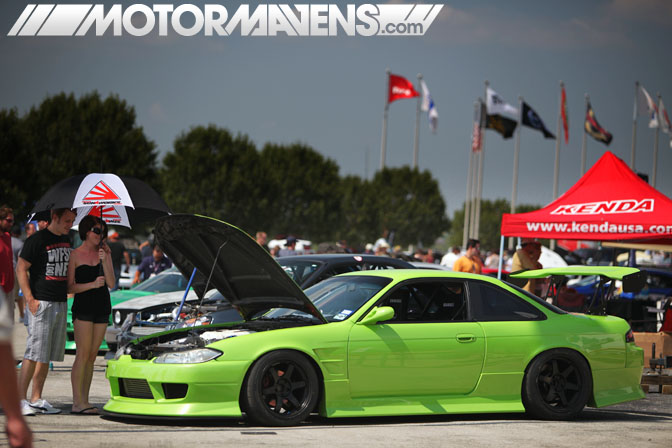 Parked front and center, this lime green Strawberry-faced S14 attracted a lot of eyeballs from onlookers… possibly because the paint was almost as bright as the sun itself. Oh, did I mention that it was hot as hell at the show?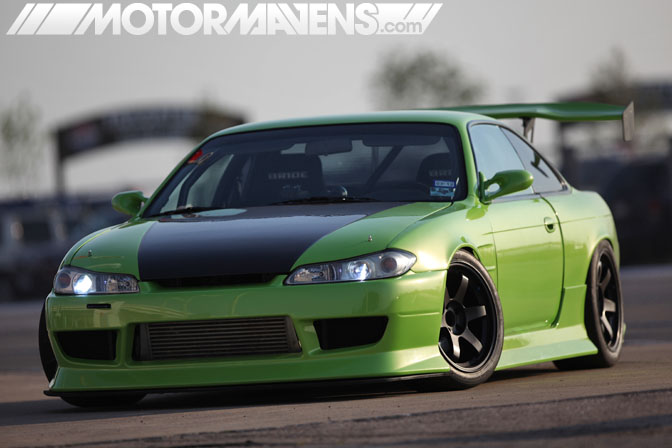 Here's a close up photo of the S15-faced S14. I hear this car was previously owned by local drifter Stewart Leask, who often drives his silver S13 Onevia in the local Fabricated Motorsports drift events and events in the XDC series.
The car's aero and paint both look SUPER clean for a vehicle that actually gets used as a drift car. I bet it would look even better with white wheels and single tone red paint… but that's just my opinion.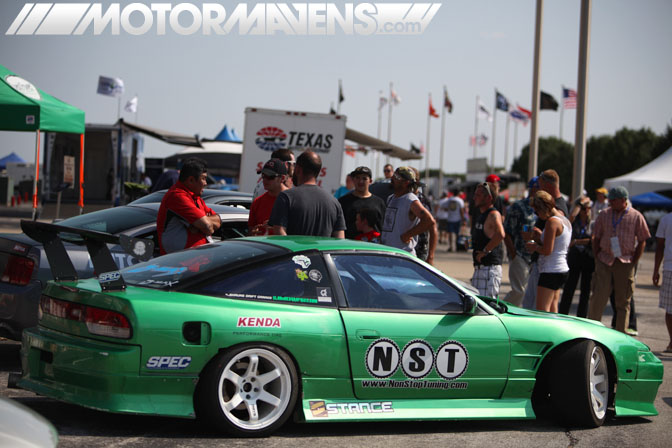 Speaking of Fabricated Motorsports, Dallas-based drift event organizer Aaron Losey was out at Traffik promoting his very popular local area drift events with his NST-sponsored RPS13 240SX, which he drives in XDC competition events nationwide.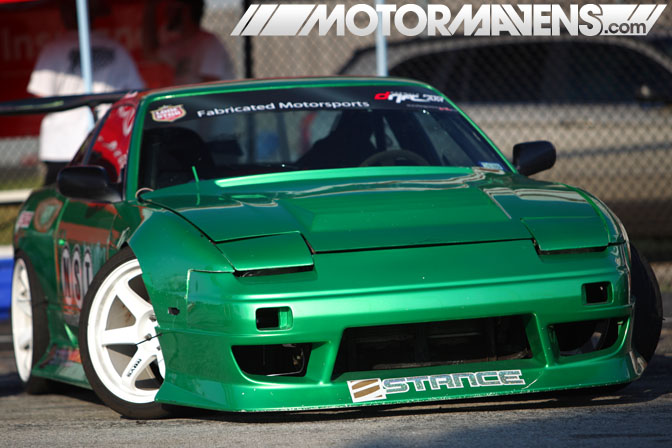 Aaron's RPS13 looks so incredibly mean from the front – it's most likely due to the fact that his car is super low and aggressive. I think the green paint and white TE37 wheels just set it off perfectly.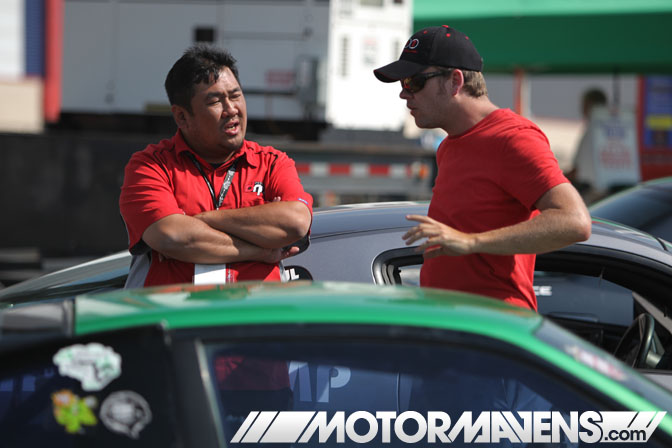 Andy Luk from the Formula Drift stopped by the event to say hello to Aaron and some of the other Dallas/Fort Wort-based drifters. I'm not sure why, but when I see Andy is talking to drifters, it always looks as if the drivers are in trouble or something. Haha!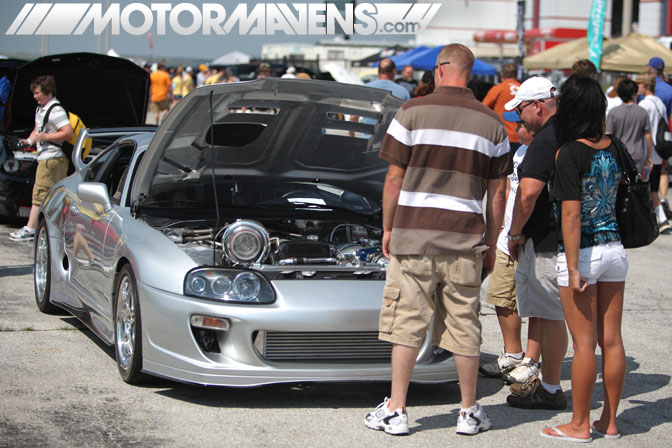 JZA80 (Mark 4) Toyota Supra Turbos are extremely popular in Texas. It's probably because Texas has so many wide open roads where people can smash the throttle pedal down to the floor! This silver JZA80 was parked near the front, and attracted tons of attention with its humongous turbo in the engine bay! That thing looked monstrous, like it might suck small birds into the compressor wheel!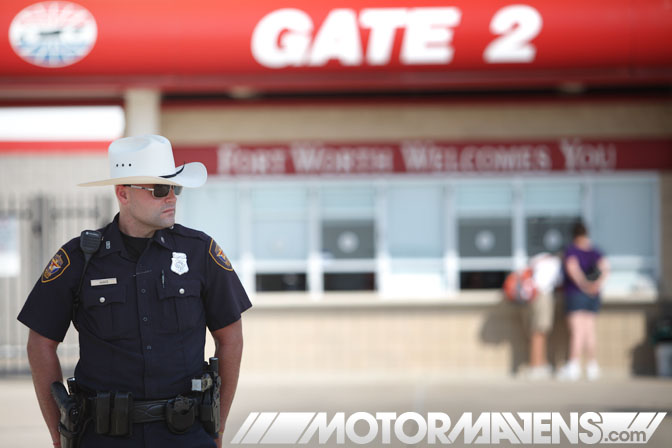 Near the front of the event, there were several policemen (and women) greeting spectators near the "Fort Worth Welcomes You" sign at the front gates. See how warm and welcoming the Dallas cops are?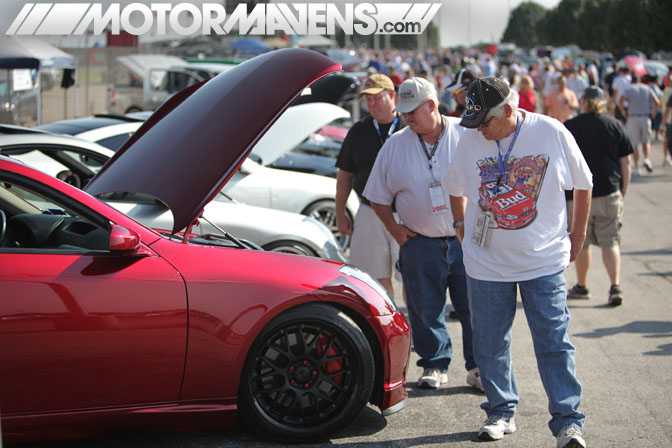 Heading in to the Indy event, racing fans of all ages and demographic groups walked through the cars of the Traffik show. These guys don't necessarily look like they would be the type of car enthusiast that might be interested in modified Infiniti G35s, but they actually spent a lot of time looking at all the details of ALL the G35s in the show – and there were lots of them!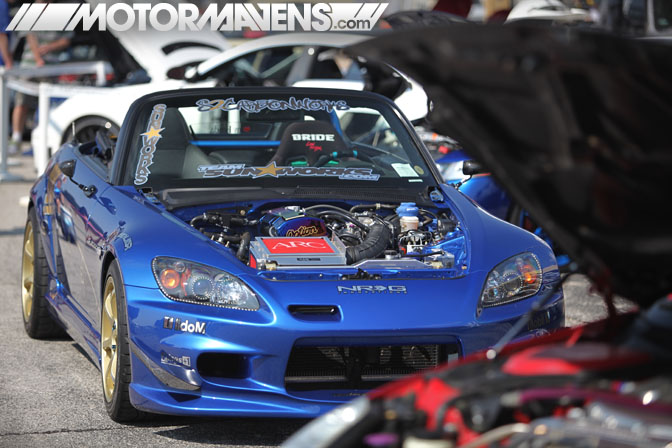 This blue Honda S2000 from the Sunworks crew had a lot of the standard popular Japanese aftermarket goods, like an awesome looking ARC airbox in the engine bay, a Bride Low Max seat, Takata harnesses, and an Ings+1 aero kit. It certainly stood out from the other cars in the show, and I think it would look even better if it was lower with wider wheels. I bet this car is super fun to drive. If it were my car, I think I'd add a blue anodized Works Bell quick release hub to the interior too. High end steering wheel hubs are really great additions to cars with other high end components.
Sometimes, you don't need a million aftermarket accessories to make a car look good. Such is the case with this red Z33 Nissan 350Z. It is simple – nice drop, nice wheels, and aero mirrors matched up to the OEM bumpers. I tend to prefer simple and clean cars such as this one. I can imagine it looking even more clean and aggressive with the addition of a front chin spoiler. Loved this car.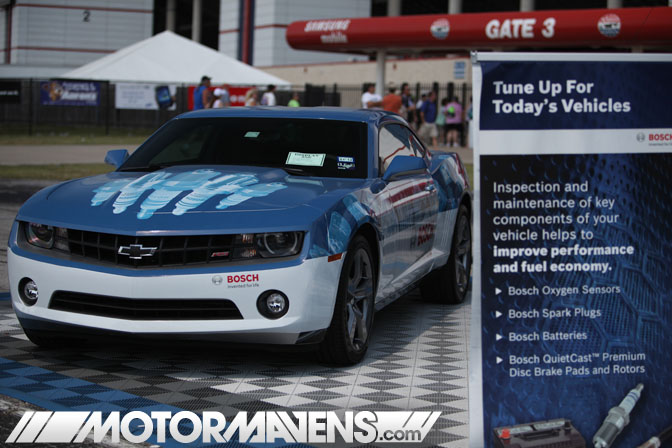 There were quite a few vendor vehicles on display at Traffik as well. I normally don't like two tone paint and printed graphics on cars, but the Bosch marketing team did a pretty good job on this Camaro in my opinion! Of course it would look cool if it were lower, but I think Bosch's whole point is to promote the usage of their spark plugs O2 sensors and such on the whole range of cars… from stock to modified, and I think that's exactly what this car accomplished.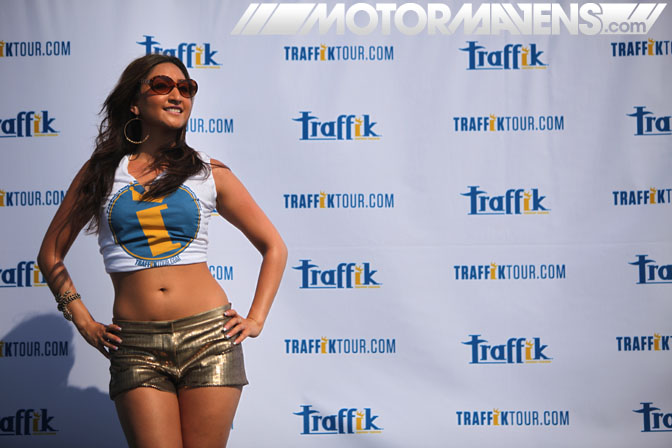 The Traffik Tour also had quite a bit of local talent in attendance. I saw some local DFW area girls on the main stage…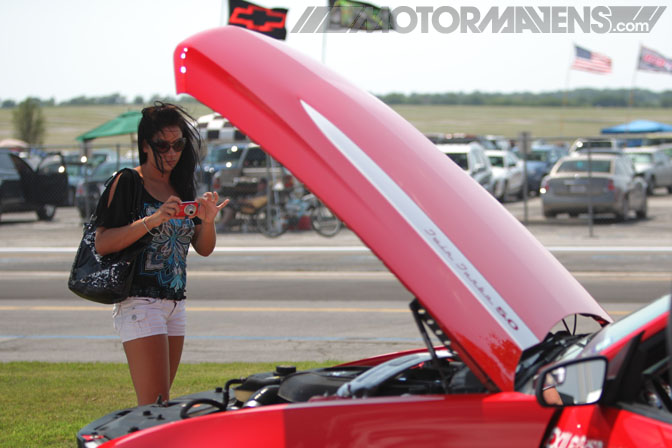 However, some of the girls were just mixed into the crowd as spectators, taking photos and cruising around the show.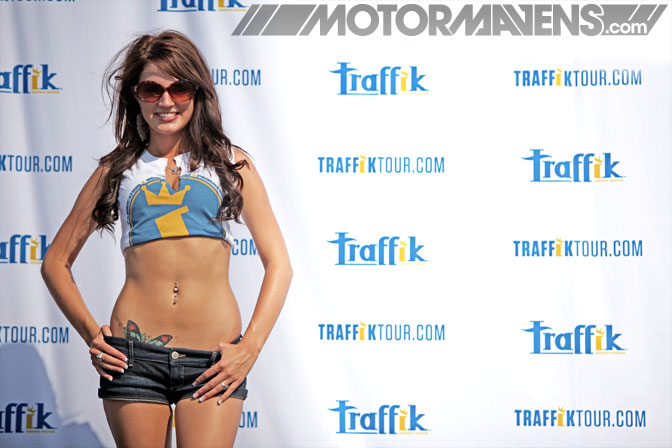 I met a new friend, Halie Gibbs, at the event. Apparently, she works at a sports bar/restaurant called Tilted Kilt. For those who haven't been to one yet (I haven't), they're a chain that's similar to Hooters, but with an Irish theme.
Pro drag race shop Jotech was in attendance with a car that most people might not normally associate with them – an R35 Nissan GTR. I just love GTRs in white. That is the color!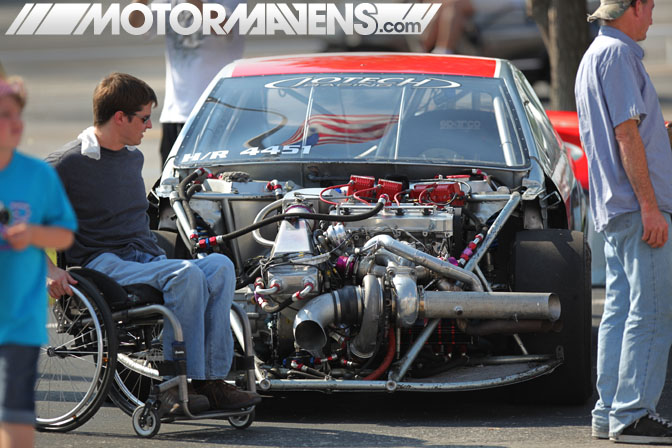 Of course, for those who know the Jotech name from drag racing, they had their pro import FWD drag car on display, with their crazy turbo setup! Awesome.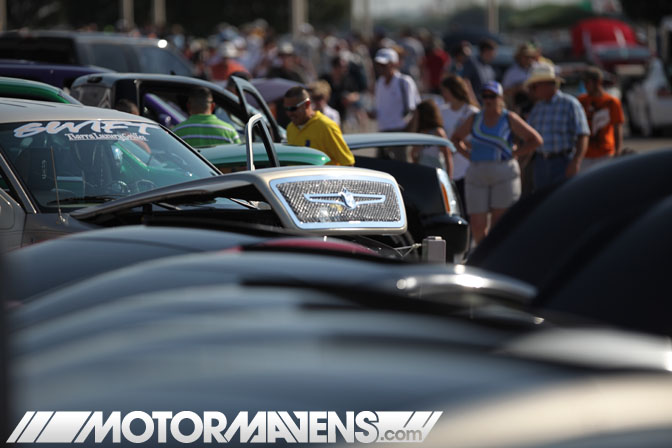 Traffik also had a section of the show that was catered more towards the "car club crowd," sponsored in part by Rides Magazine. In this section of the show, the Escalades and such stood out from the import cars. This scene is pretty big in Texas. Then again, everything is big in Texas!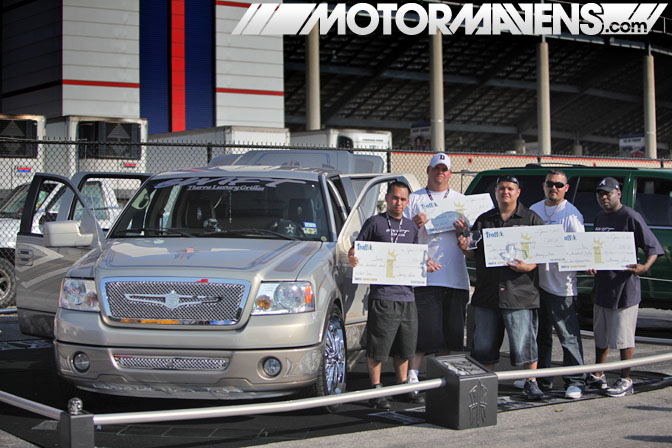 These are some of the homies from the Texas chapter of Swift Car Club. I'm not sure how those SUVs could even be "swift" on a race track, but these guys poured a ton of money and effort into their SUVs and their displays. As a result, these cats won lots of awards in their respective classes, which means they brought home cash money! I wanna see one of those guys try to deposit one of those big cardboard checks at the bank!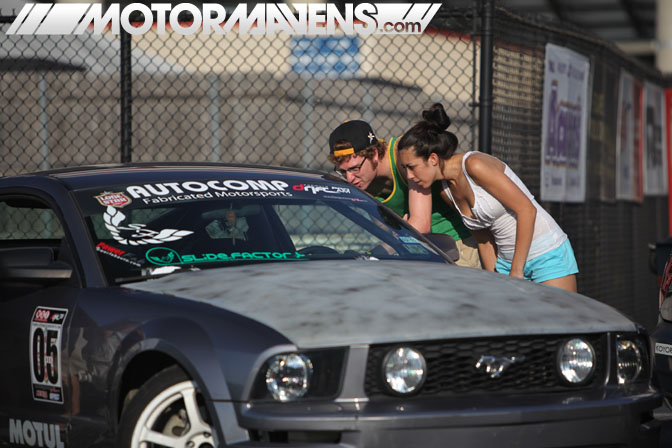 American muscle is obviously very popular in Texas, so this Ford Mustang fit right in… but wait! It wasn't done up with the typical American Racing wheels that you might expect. This thing was a rough and rugged drift car; it competes in the Fabricated Motorsports events that are local to Dallas/Fort Worth. Primer hood or not, it attracted a lot of attention all day!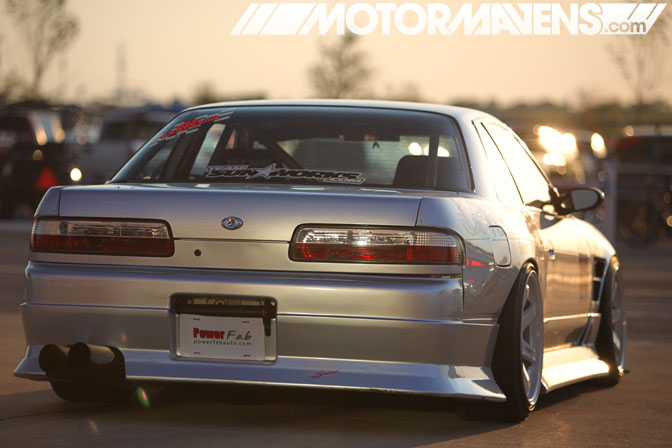 Popular drifter Stewart Leask had people (myself included) jocking his silver S13 Onevia all day long! Stew always tends to build super clean, super mean looking drift cars! Sometimes the bumpers need to be held up a little, and sometimes fenders fall off and such (haha!), but his car looks so awesome. From the big exhaust to the clean silver painted aero, to the crystal taillights, and the Volk Racing TE37 (and TE37 style) wheels it rocks… this car is bad ass!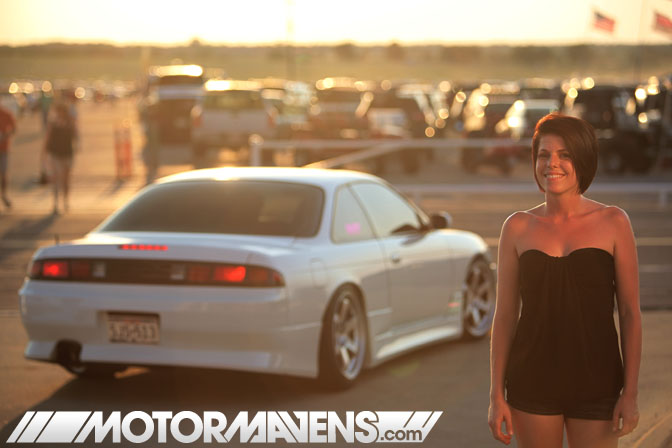 Stew's girlfriend Aubre Houck had people trippin on her engine bay all day long! I'm a big dummy, so I can't seem to find the memory card that contained the detail shots of her car. I'm sorry! She had an immaculately clean engine bay with pink valve cover and strut bar ends. Aubre's engine bay had all the guys saying, "damn, that's clean," and all the ladies saying, "that's CUUUUUUTE!" because they liked the pink. Haha! Props to Aubre for being able to immaculately maintain an S14 that fulfills both daily driven AND racetrack duties.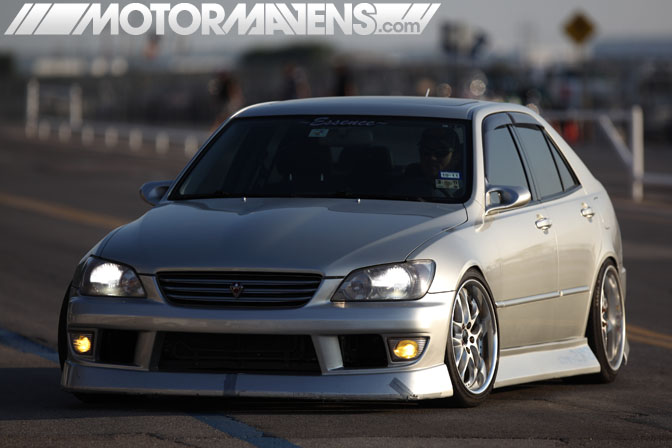 I'm a big fan of the Lexus IS300/Toyota Altezza. With a manual transmission, this car drives like an AE86 with more torque! Of course, I'm a big fan of this particular IS300, which is rocking a BN Sports kit and big wheels. Oh, and it sees drifting usage frequently?! SO AWESOME.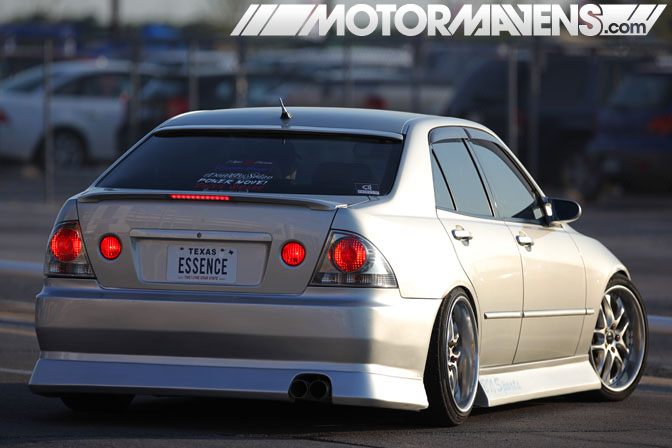 This IS300 definitely captures the Essence of what a clean IS should be. Love it.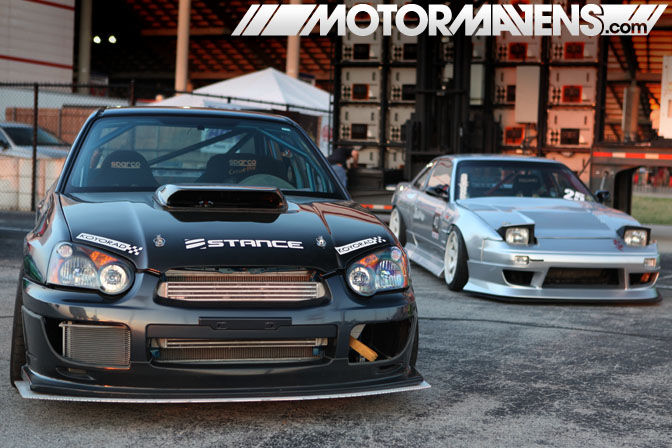 Houston-based drifter Russell Walker drove all the way from Houston (roughly 5-6 hours) to be at the Traffik Tour! He was out at Texas Motor Speedway with his newly build RWD-converted Subaru Impreza WRX. You might remember his awesome looking RPS13 240SX from its previous car feature on MotorMavens.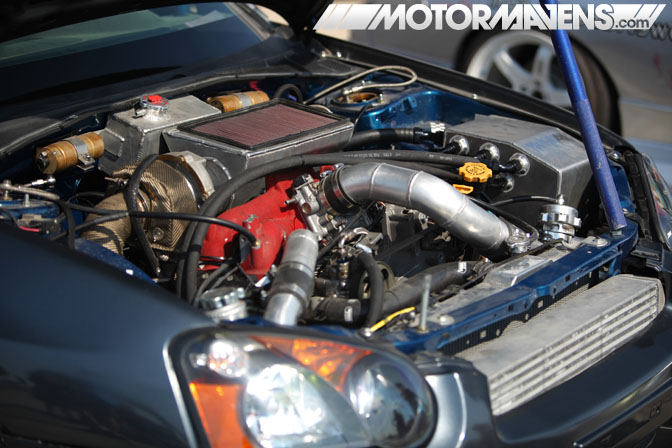 Here's the engine bay – definitely far from stock! I don't know much about the specs of the car, so maybe we can convince Mr. Walker to post the specs up in the comments!
The interior is all business – no carpets or sound deadening. Just a full roll cage and Sparco seats.
This was only the first event in the nationwide Traffik Tour, and I was glad to be able to attend! I can't wait to see how the rest of the tour pans out!
:: David Ponton
350Z
,
Aaron Losey
,
Aubre Houck
,
BN Sports
,
Bosch
,
Camaro
,
Dallas
,
drag racing
,
Fabricated Motorsports
,
Formula Drift
,
GTR
,
Halie Gibbs
,
homepage
,
Jotech
,
JZA80
,
Kenda Tires
,
Non Stop Tuning
,
NST
,
R35
,
Rides Magazine
,
RPS13
,
Russell Walker
,
S13
,
S14
,
S15
,
S2000
,
Stewart Leask
,
Sunworks
,
Supra
,
Swift Car Club
,
Texas Motor Speedway
,
Tilted Kilt
,
Toyota
,
Traffik Tour
,
Ultimate Drifting
,
XDC
,
Z33
---