David Ponton
Website:
http://www.motormavens.com
Profile:

For those who haven't been to
Texas Motor Speedway
in the Dallas/Fort Worth area, the complex is HUGE. It may seem like a cliche that "everything is bigger in Texas," but this is a case where that saying is actually true! I experienced the Texas Motor Speedway complex first hand recently when I attended the inaugural event of the nationwide
Traffik Tour
series, which is a car show series that has partnered up with the Indy Racing League (IRL).
For the first Traffik event, the entire car show was organized right by the main entrance of Texas Motor Speedway's main track entrance, so the 80,000 recorded event attendees for the IRL event and the special "Ultimate Drifting" Formula Drift competition event (not for series points) had an opportunity to check out all the cars in the Traffik show, as they melted underneath the sun's 100 degree heat.
Read more...
---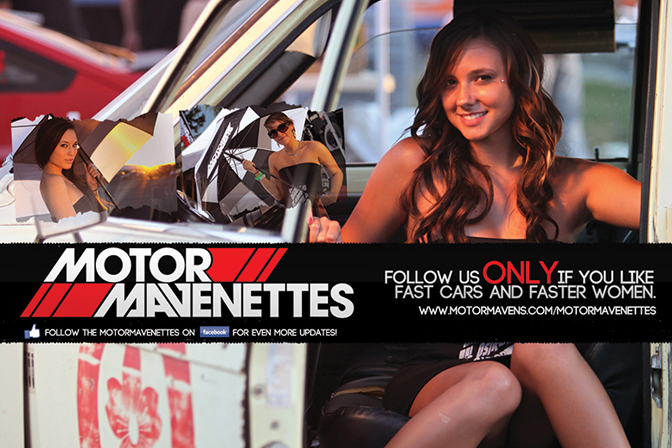 Meet Tailyr, Lauren, the other Lauren, Joanna, and Michelle… The MotorMavenettes! Like the MotorMavenettes on Facebook to check out their exclusive photos and videos ONLY found on (more…)
---
Subaru Impreza by FORMAT67.NET from FORMAT67.NET on Vimeo.
My friend Eric just got his driver's license, and along with it: his first car. Now, most people get a crappy, beat-up, old junker for their first car. But up here in Reno NV, due to the crazy winters and icy roads, that just won't cut it. So instead he took out a loan from his parents and got a 2006 Subaru Impreza WRX. How lucky!?
While browsing the internet, looking for inspiration on how to fix it up, we stumbled across this awesome Impreza video. Aside from the amazing videography and post-production, these two modified 2002 Subarus just look bad ass.
Now he may not be able to go racing on an airport runway, but I'm pretty damn sure Eric found his inspiration.
Enjoy!
:: David Ponton
---
For those who weren't there, in celebration of August 6th "Hachiroku Day" that was made into a worldwide holiday by our friend HerbrockOne on Club4AG several years ago… we just thought we'd dig into the vaults for this one.
Were YOU there? We were. It was August 31, 2003. The legendary Battle for Irwindale… and the first inaugural D1 Grand Prix event on US soil. AE86 vs S15. Katsuhiro Ueo from Kyushu Japan vs Nobuteru Taniguchi from Hiroshima Japan.
The video footage may be old, but the memories from this night are vivid as ever, in our minds. What an epic event. Listen to the crowd in the video. I still get goosebumps on my neck. Being on top of the grand stands watching the cars run so close to each other. The videos we had all seen at our friends house were now real in front of us. This event was the first time the chant "One more time!" was screamed from the fans mouths cause we all were in such disbelief at how awesome each run was we just had to say wait a minute wait a minute "One more time" cause that was just too unbelievable.
Long live the AE86!
:: Steve Starr
---
Wow… or Holy shizz… Thats about the only two reactions i get when i show this video to people. I worry about scratching my rims when parking next to curbs yet Ueo is flying in 3rd gear with his mirror an inch away from the pit wall AND THEN weight transferring by turning away, back into, then away simultaneously clutch kicking from the wall. Just sick. And how his car starts to slide out with just the slightest turn in and slightest lifting off throttle… just an amazing car set up too.
Hachi Roku and Ueo Fan for life.
:: Steve Starr
---
---