Right now, I'm updating the website live from the
Formula D Long Beach
media center (aka: the parking garage on Linden Ave), and all the drivers are practicing, so the sounds of screeching tires and thundering V8 motors are loudly echoing off the concrete walls all around me.
If you live in Southern California, you need to drop everything you're doing and head down to Long Beach RIGHT NOW. The line at the gate is already huge, and everyone is amped up from all the excitement (or it could be from all the energy drink sponsors giving out free drinks at the track). This is what Formula Drift is all about! Let's go through some of the photos that the MotorMavens Crew has collected from Long Beach thus far!
Read more...
---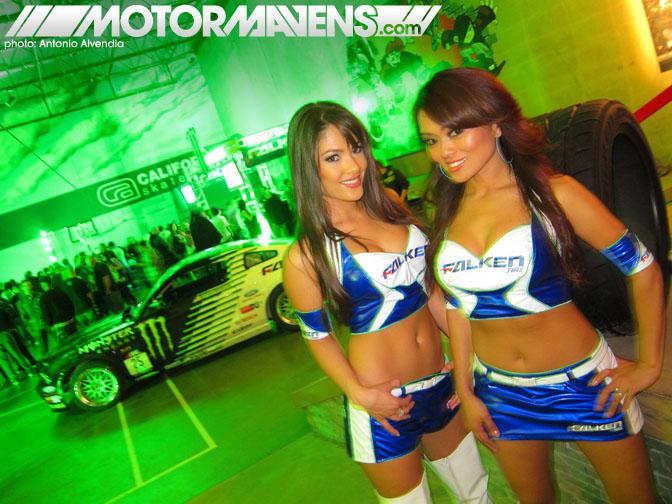 I just got back from Rob Dyrdek's Fantasy Factory in Los Angeles, where Monster Energy Drink and Falken Tires were having a party to announce their big news. Of course, quite a lot of media people already knew about it before the party, as the email invitations weren't exactly subtle; especially when several people kept asking me throughout the day, "Hey, are you going to the Monster party tonight?"
As with most of these types of shindigs, the event was pretty a much who's who of the drifting, automotive, and beverage industries, mixed in with skaters, media people, and a whole lot of females. For me, it was fun because it was a chance to hang out and enjoy some laughs and the open bar with some of my industry friends, as well as meet some cool people from the grassroots drifting scenes in different states (and countries). While several people were out there trying to meet pro skater Rob Dyrdek (of the MTV show, Rob Dyrdek's Fantasy Factory), Motor Mavens' resident skate fiends Edward Uche and Justin Shreeve were just salivating at the chance to skate the ramps at the Fantasy Factory. (They got to skate for a little bit until the security guards came up and said, "you guys need to stop because your skateboards might hit someone, and we could get sued." Aw man!
Regardless, I had a chance to chill for a bit with my buddy Vaughn Gittin Senior (JR's dad) and congratulate him on the new venture. Man, he was just beaming, super proud of his son's accomplishments thus far. So CONGRATULATIONS to Vaughn Gittin Sr. and to JR… we can't wait to see that thing out on the track!
:: Antonio Alvendia
PS: For more pics from the party tonight (and by more pics, I mean pics of the girls that were in attendance)… then add Motor Mavens Crew on Facebook and check out our albums! The photo above was shot with my Canon S90 point and shoot pocket camera! (Too bad Eri moved a little though… I forgot to tell her it was a long exposure.)
---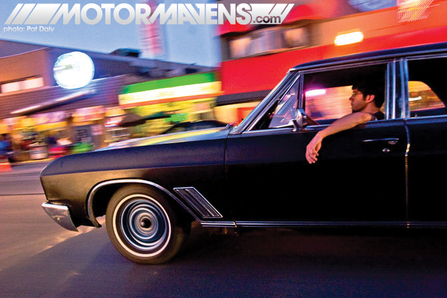 Detroit's annual
Woodward Dream Cruise
rolled into town this weekend along with droves of visitors looking to get in on the fun and Cruise Woodward. The estimated attendance was to the tune of just over 1 million visitors, which is said to be a few hundred thousand less than last year, although I'm not sure exactly how you'd go about counting everyone. Despite the Los Angeles-style traffic that comes with so many visitors, the boost in the economy is more than welcome around these parts. I even saw a few nuns, of all people, hustling visitors for their prime parking spots at a church parking lot. Well done sisters!
For Detroiters, it was a pleasant surprise to see the American automakers on hand and still showing their support for the event. Ford went as far as shutting down a portion of 9 mile Rd. in Ferndale,MI to turn it into Mustang Alley, lining both sides of the street with Mustangs from all generations and styles. It was pretty impressive such a variety of Mustangs including the original Shelby's from the mid-60's.
Read more...
---