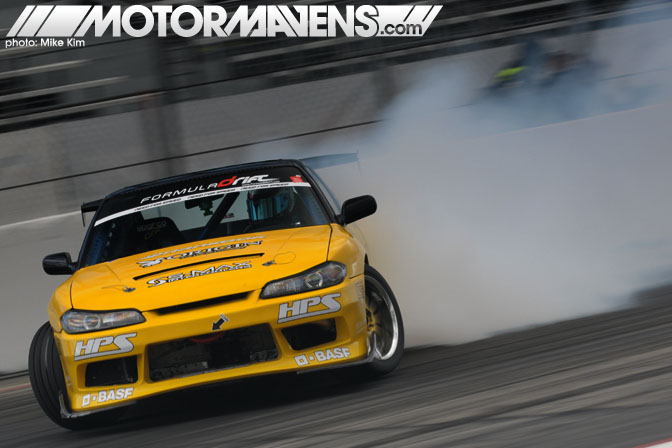 Right now, I'm updating the website live from the Formula D Long Beach media center (aka: the parking garage on Linden Ave), and all the drivers are practicing, so the sounds of screeching tires and thundering V8 motors are loudly echoing off the concrete walls all around me.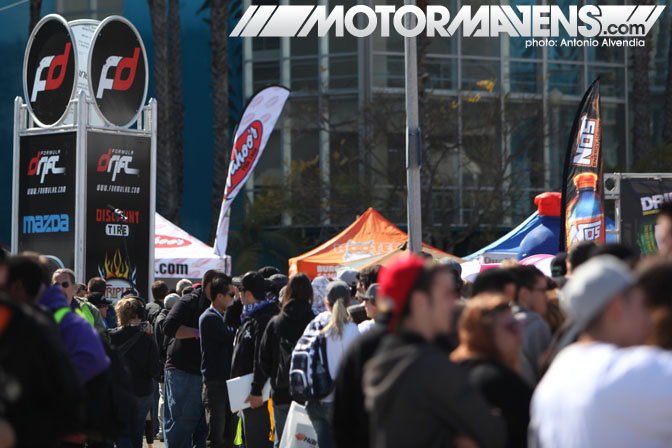 If you live in Southern California, you need to drop everything you're doing and head down to Long Beach RIGHT NOW. The line at the gate is already huge, and everyone is amped up from all the excitement (or it could be from all the energy drink sponsors giving out free drinks at the track). This is what Formula Drift is all about! Let's go through some of the photos that the MotorMavens Crew has collected from Long Beach thus far!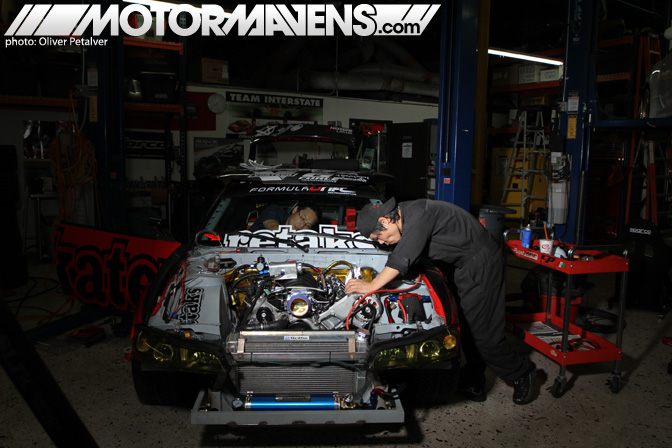 Just two nights ago, this was the scene at Driftspeed in Los Alamitos CA, as D1 Grand Prix champion driver Toshiki Yoshioka working on the Retaks S13 late into the night, only days before the event. Believe it or not, they just started their V8 engine swap on Monday. That's right… on the same week as Formula D Long Beach – talk about last minute!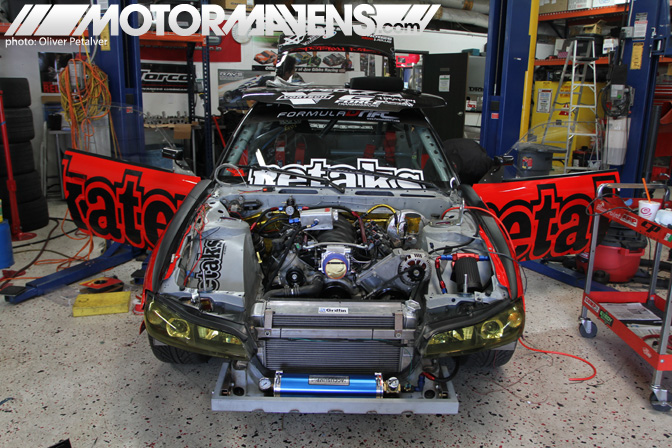 If I remember correctly, the build was initially to be performed by another shop, but they couldn't finish the engine install and wiring on time. Yoshioka then decided to take matters into his own hands and help out with the project. Here's a snap of the new LS1 V8 engine inside his S13, taken by MotorMavens shooter Oliver Petalver, who visited Yoshioka earlier this week to check on the status of the build.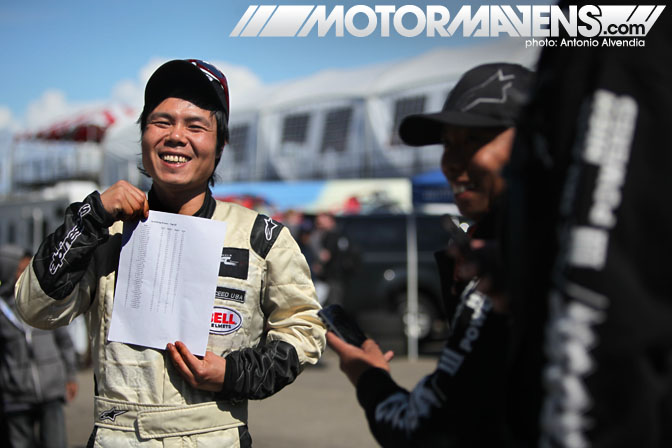 Apparently, Yoshioka is as skilled a mechanic as he is a driver, and he was able to make it into the Top 32 (in 32nd place), without even testing or tuning the newly built V8 S13. No wonder he was cheesing it up as he ran up to tell us the news after the driver's meeting! Congratulations, Yoshi!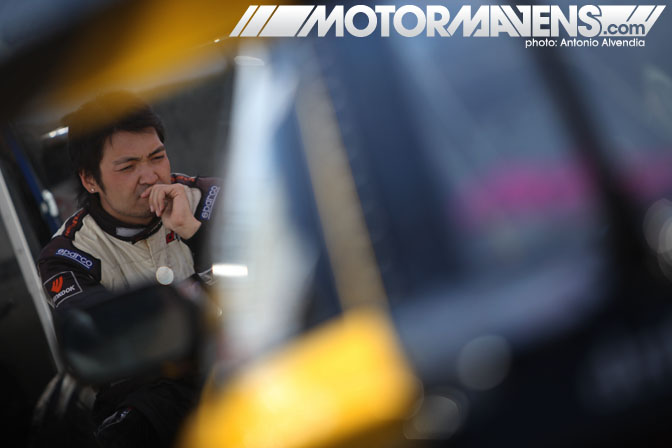 Not all of my stories about Formula D Long Beach are tales of triumph, unfortunately. Robbie Nishida from infamous Japanese street drift team Hey Man was crushed that he didn't make it into the Top 32. Since his sponsor from last year, Dynamic Autosports, opted not to compete in the series this year, Robbie spent his own hard earned money to fly himself out to Los Angeles for the event.
With most people in Japan still reeling from the devastating after effects of the giant earthquake and tsunami that ravaged the country, it's tough for most Japan-based drivers to commit themselves to something as trivial as drifting at the time being – especially when everyone else in the country is more worried about things like nuclear radiation, food, and shelter. However, Robbie remains passionate about drifting as a sport, and about Formula Drift as a series.
His plan was to compete at Long Beach and do well so he could find a sponsor to help him travel to the east coast Formula D events. It's really sad that those seemingly well-laid plans fell apart when he didn't qualify due to mechanical issues with the car. Robbie tried to remain as cheerful as he normally is when he interacted with fans and friends in the paddocks, but as I chilled in his pit area, I was able to catch a snap of Robbie in a silent moment of reflection. I really hope he's able to get some financial support for this season – I think a lot of fans would be disappointed if he was missing from the series.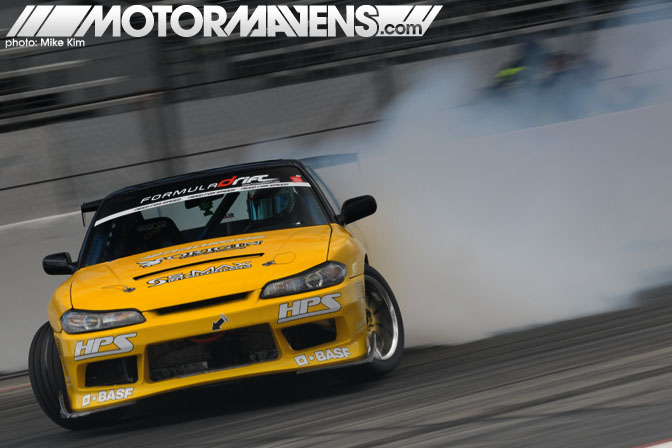 During yesterday's practice, Robbie was killing it, with big angle and big smoke… until his technical difficulties with his fuel system and axle took him out of the running, and he was unable to even drive the car on his last qualifying run.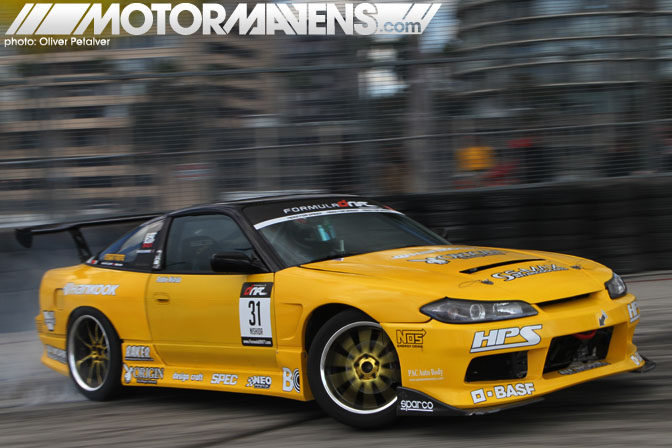 Here's Robbie again, driving his HPS S13 through the hairpin. I love the wheels he's rocking! Can anyone guess what kind of wheels they are?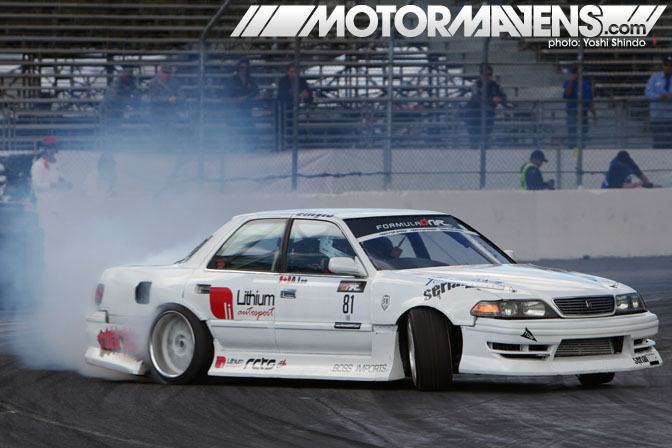 Admittedly, I don't know too much about this driver… other than the fact that his last name is Lee, and he was driving a super cool JZX81 from Canada!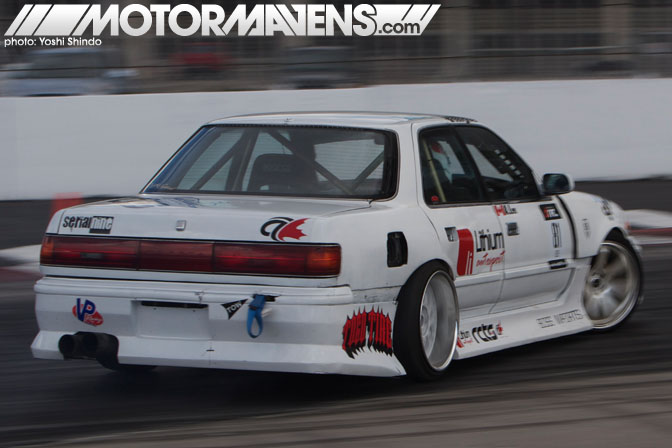 If you have a JZX project, you need to get down with parts from Serial Nine. Gerard and the rest of the Serial Nine crew are leading the charge when it comes to popularizing 1JZ and 2JZ-powered Cressida builds, and with good reason. Serial Nine has style, no doubt.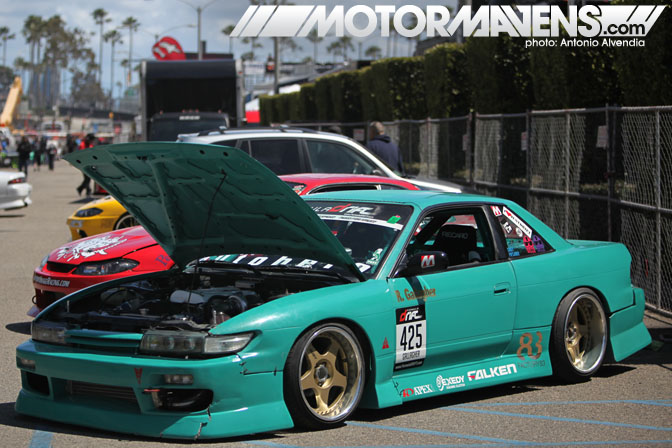 With monstrous V8s and 4×4 ride height steadily creeping into the Formula Drift series, I'm glad to see that some of the newly licensed Formula D drivers still have cool looking cars. Don't get me wrong – I completely understand the logic behind wide tires, full suspension travel, and the power and torque of a V8 engine. However, when I see cars like Roland Gallagher's S13 Silvia coupe, I get reminded of the reason why I even got into drifting in the first place – bad ass cars.
Unfortunately, this bad ass car owner from Bothell, Washington didn't drop off his car early enough to get his engine tuned for Long Beach. It's disappointing, as everyone on the MotorMavens Crew is always cheering for Roland as we're shooting photos trackside… but it's just another example of if you fail to plan, you plan to #fail. I hope Roland gets the car together in time for Atlanta.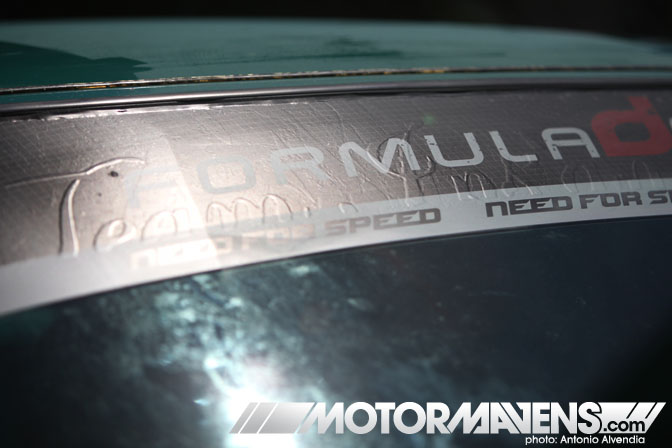 One of the things I like about Roland's S13 is the fact that he still has his original street team sticker underneath his pro Formula D windshield banner. It says Team Instant Party – one of the top drift teams out of the Northwest region.
Speaking of Team Instant Party, I'd like to officially congratulate FD rookie Walker Wilkerson on all his success in Formula D thus far! This is Walker's very first event driving in Formula D competition. Last year, nobody outside of the Northwest car scene even knew who Walker was (last year, more people had probably heard of his younger brother, Texas Ranger).
Walker's Long Beach debut was extremely strong, and I'll be honest – I didn't expect him to do as well as he did! I can speak for the entire crew when I say that we're all extremely proud of his qualifying score! As of right now, Walker Wilkerson is the top ranked rookie driver in Formula D. On his first ever FD pro event, he qualified #7 in a field of 44 drivers, beating lots of bigger name drivers with big corporate backing! I hope he can continue his momentum throughout the season. Walker's success shows that FD Pro Am graduates still have hope competing against a field of corporate backed V8s.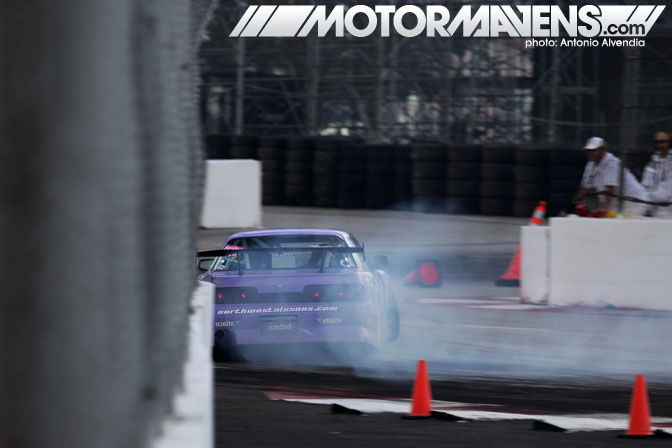 Here's a quick shot of Walker's S13 disappearing behind the wall as he negotiates the Long Beach hairpin. Go privateers!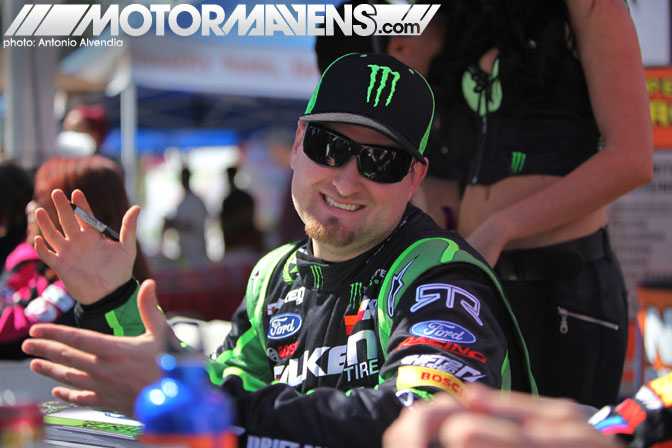 Here's a story from Long Beach that shocked the hell out of me. I could not believe my ears when I heard that Monster, Ford, Bosch, , EA Games, K&N, DC and Falken-backed pro driver Vaughn Gittin Jr did not make it into the Top 32 for Formula D Long Beach. Are you kidding me?! Ever since he first strapped into his Falken Ford Mustang in 2005, JR Gittin has been showing that he's a force to be reckoned with. I still can not believe that the 2010 Formula Drift Series Champion did not qualify to drive in "the big show" on Formula D Saturday. That's just crazy.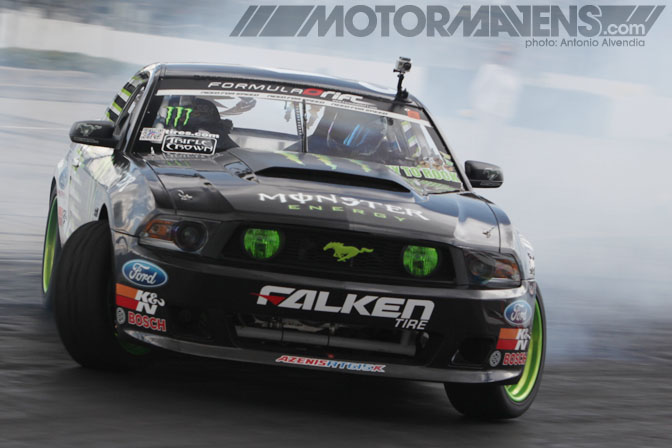 During practice, JR's runs looked strong and consistent, just like one would expect of Vaughn Gittin Jr… I didn't watch his qualifying runs though.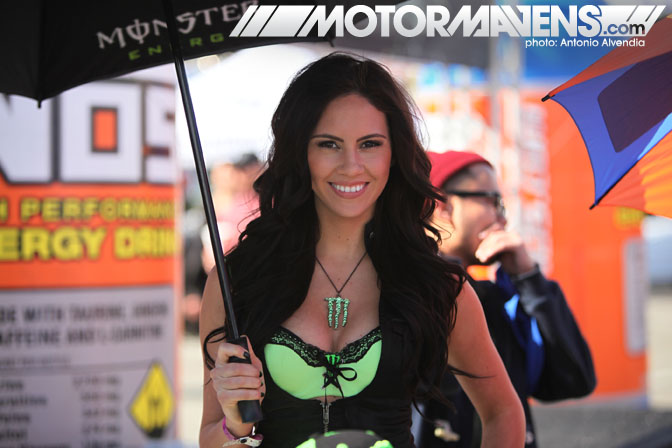 However, I did get a chance to lay eyes on his umbrella girl – Monster Energy model Ashley Sarto. That M around her neck stands for MMMMMMMMmmmmmmmmmm hmmmmmmmmm. LOL Even my boy DJ Erok (in the red beanie behind Ashley) had to cover his mouth and look away, like "dayummmmm."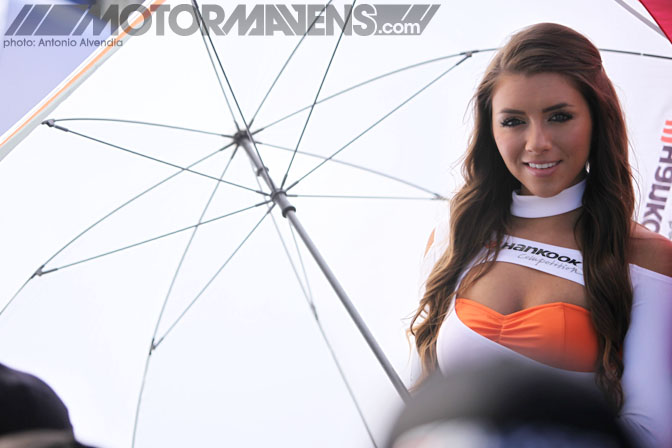 I don't know a thing about this new Hankook umbrella girl. I just thought the way she was holding her umbrella was cool, because it cast a soft light on her face, like a studio softbox.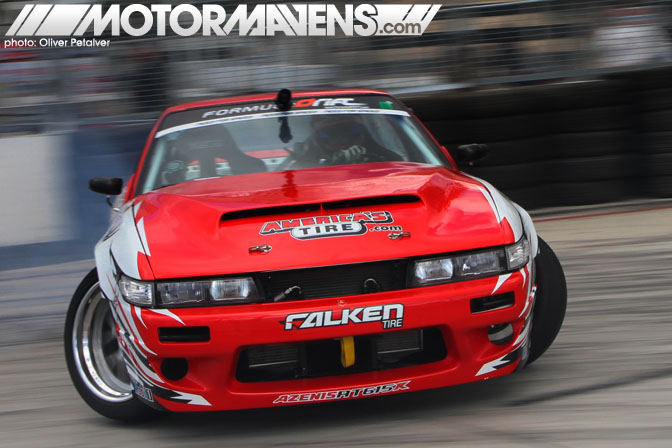 One of the strongest looking drivers in the Top 32 was definitely Daijiro Yoshihara, behind the wheel of his Discount Tire V8 S13.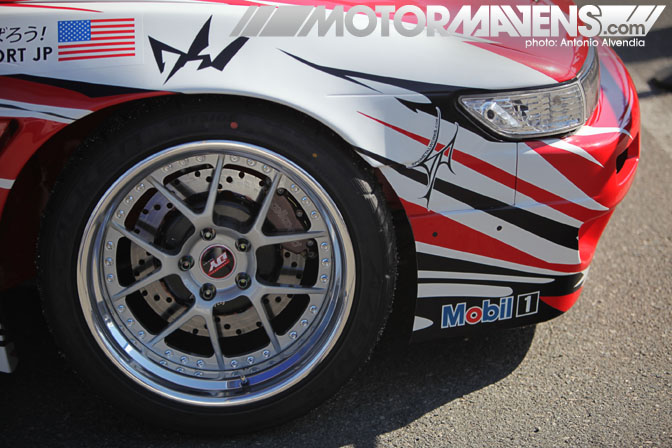 In the Falken pits, I noticed Dai's new wheels – they look dope! Falken Motorsports manager Jonathon Bradford told me that these are prototypes of Dai's new signature wheels. I love the way they look!
One odd thing I noticed though… look at the Wilwood brake rotor behind Dai's wheel. Those cross drilled holes are right on the very edge of the brake rotor – I haven't noticed holes that close to the edge before.
I'm not a brake expert by any means, but I would think that drilling holes that close to the rotor's edge might make it easier for the rotors to crack..? I suppose it might not matter as much in the sport of drifting, as the cars aren't braking all that much (compared to road racing). However, if any brake experts are reading this, I'm sure we'd all appreciate some more light shed on this subject.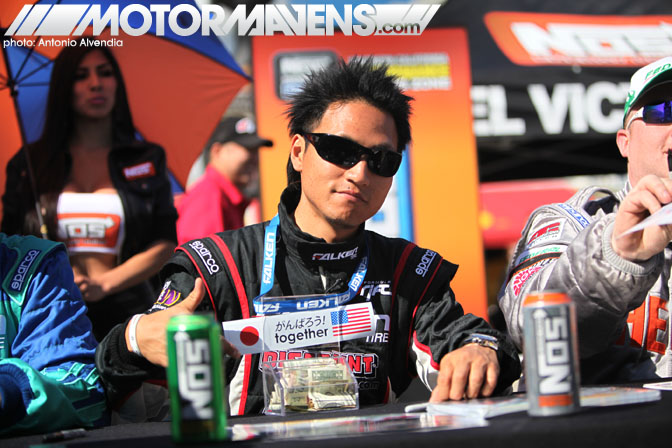 At the driver autograph session, Dai was holding a little plastic box for donations to Japan. Dai started a relief project to aid Japan in their time of need, and we strongly encourage people to get involved and donate money to his effort. More info can be found on his charity website: http://www.rfjp.org.
Okay, that's it for right now… I'm heading back to the track to shoot more pics! Please retweet and relink this to your friends!
:: Antonio Alvendia
Antonio Alvendia
,
Ashley Sarto
,
Daijiro Yoshihara
,
Driftspeed
,
Ford Racing
,
Formula D
,
Formula Drift
,
Formula Drift 2011
,
homepage
,
JR Gittin
,
Long Beach
,
LS1
,
Mike Kim
,
Monster
,
Mustang
,
Oliver Petalver
,
Retaks
,
Robbie Nishida
,
Roland Gallagher
,
S13
,
Team Instant Party
,
toshiki yoshioka
,
V8
,
Vaughn Gittin Jr
,
Walker Wilkerson
,
Yoshi Shindo
---