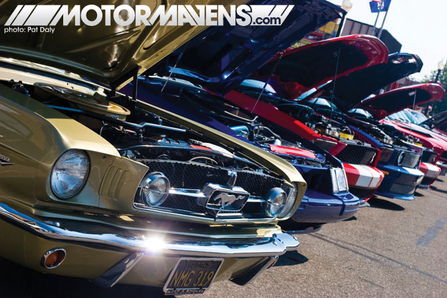 Detroit's annual Woodward Dream Cruise rolled into town this weekend along with droves of visitors looking to get in on the fun and Cruise Woodward. The estimated attendance was to the tune of just over 1 million visitors, which is said to be a few hundred thousand less than last year, although I'm not sure exactly how you'd go about counting everyone. Despite the Los Angeles-style traffic that comes with so many visitors, the boost in the economy is more than welcome around these parts.  I even saw a few nuns, of all people, hustling visitors for their prime parking spots at a church parking lot. Well done sisters!
For Detroiters, it was a pleasant surprise to see the American automakers on hand and still showing their support for the event. Ford went as far as shutting down a portion of 9 mile Rd. in Ferndale,MI to turn it into Mustang Alley, lining both sides of the street with Mustangs from all generations and styles. It was pretty impressive such a variety of Mustangs including the original Shelby's from the mid-60's.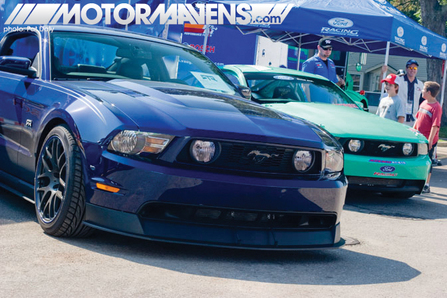 As for the 2010 Mustangs, well they had those too! Vaughn Gittin Jr made the trek to Detroit with his father to check out the Dream Cruise and show some love to the Ford fans. You're all pretty familiar by now with his drift car but the blue Mustang is a concept car that JR is working on, which he is hoping to make available as a special edition Mustang for sale in the future. JR told me that the front aero kit you see on the Concept will be the making it's way on to his drift Mustang very soon as well. The concept also features a rear aero and spoiler package which has since been finalized. If it's anything like the car on exhibit, it will strongly improve the visual of the Mustangs rear end and give the car a more sinister look. The display car also had a great looking set of HRE's on it, but JR says it isn't likely that those wheels will make their way to the production car when it becomes available.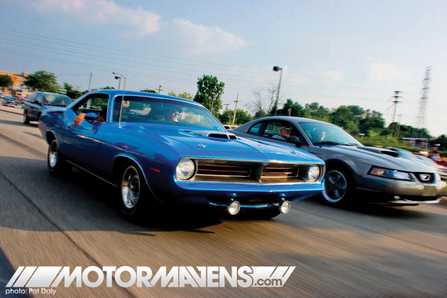 Back on Woodward, there was Cruisin' to be had! For much of the 16 miles of Woodward that are busiest, you can expect four lanes on either side and the stop and go traffic from about 9 am until 9 pm. When you get a chance to give your knee a break abusing your clutch all day, it's time to air it out and this Plymouth 'Cuda sounded great when it got some room to breathe.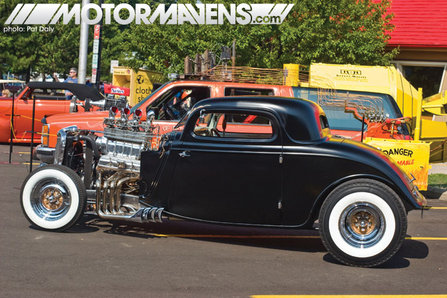 I'll be bringing you more photos on this Ford hot rod that caught my eye but here is a glimpse until next time. Check out those pipes! The owner's girlfriend's purse even matched his white and gold pinstriped interior. Now that's love!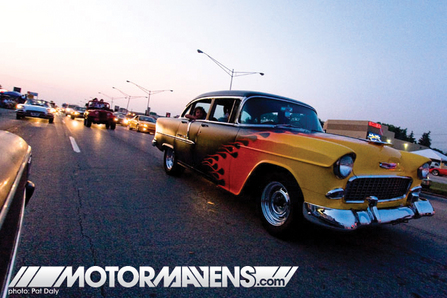 It doesn't get much more American or Detroit than this. We were cruising alongside this classic Chevy Bel Air for quite some time as the cops tried to shut down the roads to start clearing some of the crowd out. You can see in the background the traffic behind us that goes on for many miles and alongside both sides of the road are people camping out in spots they've been holding all day. You'll also notice that a lot of families come out in Jeeps and ride right in the middle of the Cruise to get the best seat in the house.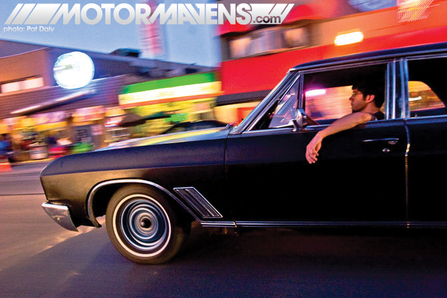 And lastly, here is my buddy Joe driving his 1967 Buick Skylark down Woodward into the night.  Joe, myself,  and a number of other friends dressed in "period correct" outfits to match the cars we were cruising in. I'll have more on that later but the sun is rising in Detroit and it's about time I hit the hay! Only 363 days left to get the cars ready for next years Dream Cruise!
:: Pat Daly
---