---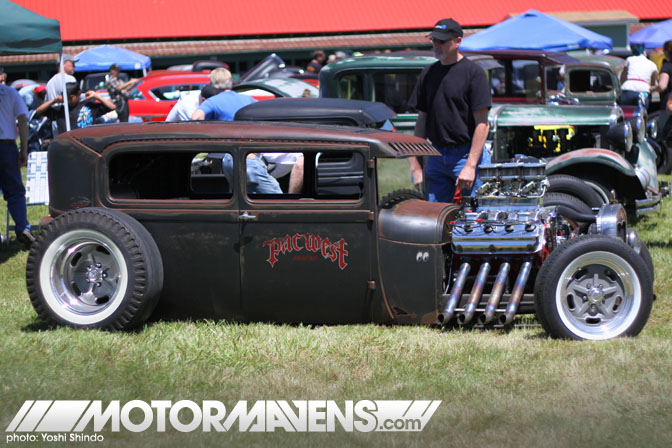 I always feel a strong sense of pride when I go to a hot rod show. Hot rodding is
as American as you can get
- home grown and originating fully here in the States. Starting with young servicemen after World War II, restless and full of
testosterone
, the whole sub-culture that has emerged from it has even influenced styles for clothing, current cars, and music. So, I'm pretty sure you would be hard pressed to find a car enthusiast who didn't like old American rods - there is just an appreciation for the whole lifestyle.
Yoshi Shindo
and I were able to make the trek down to Chehalis, WA on June 26th to attend the third annual
Billetproof Hotrod and Custom Car Show
, which bills itself as the
"World's Least Important Car Show!"
. Sounds a bit self-deprecating to me as it is one of my favorite hot rod shows and, since this marks the second year I have attended, it's clearly important to me.
The show is a bit different from most current hotrod shows, as you can guess by its name, because no cars with billet are allowed to participate. You might ask why, since so many parts are now being produced with this technology specifically for the custom car industry, but it's because the technology didn't exist back in the classic days of hotrodding. Only cars that are traditionally modified and those that precede 1964 are allowed to attend.
Read more...
---
---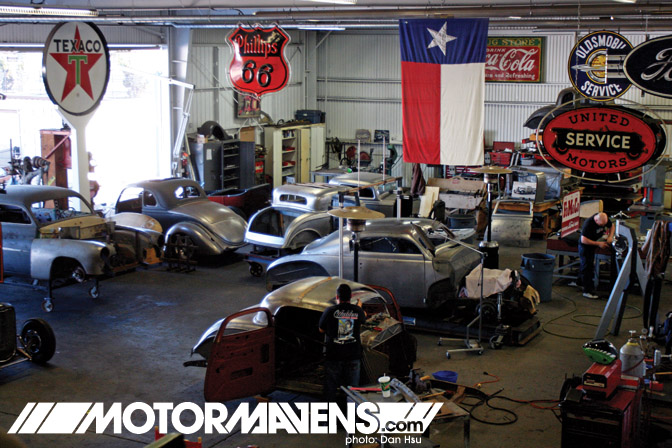 Earlier this week we stopped by
Walden Speed Shop
to observe what makes these world-class metalcrafters tick. Greeting us at the entrance were a beautiful
'27 T-Bucket
with a
Buick Nailhead 425
and a partially built
'36 Ford
smuggling an
L92
crate motor between its bulging fenders. A gorgeous collection of vintage gas station signs hung like tapestries of automotive art signaled good things in store.
Read more...
---
Antonio has just gotten back from Seattle Formula D, and I'm sure many of you are waiting to see the photos from the event. He is currently preparing photos and stories to post up, but while he's doing that, we thought we would change the pace just a little bit.
Many of you I'm sure have seen some of Antonio's stories and photos from the 2009 Ink and Iron festival. (There are A LOT more photos by the way… we just thought we'd spread out the postings in case not everyone was feeling the style.) While we were at the show, we decided to get some video footage of the event. This time we only used Antonio's Canon 5D Mark II digital SLR camera in video mode. He's just starting out with trying his hand at shooting video… it's a really different skill than shooting still photos, as there are different techniques that make both disciplines challenging.
Many of you may not be aware of this, but the 5D Mark II is becoming a huge favorite of the independent filmmaker. The 5D's insane depth of field, color quality and low light capabilies make it ideal. There's no high speed or time lapse capability, it simply has amazing picture quality.
Along with video footage we got from the 5D Mark II, we integrated some of Antonio's still shots. See if you can tell which shots are stills. Enjoy the new video and let us know what you think.
:: Travis Hodges
---