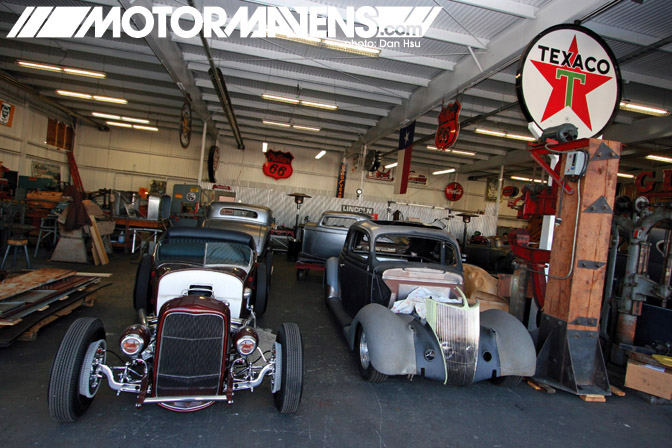 Earlier this week we stopped by Walden Speed Shop to observe what makes these world-class metalcrafters tick. Greeting us at the entrance were a beautiful '27 T-Bucket with a Buick Nailhead 425 and a partially built '36 Ford smuggling an L92 crate motor between its bulging fenders. A gorgeous collection of vintage gas station signs hung like tapestries of automotive art signaled good things in store.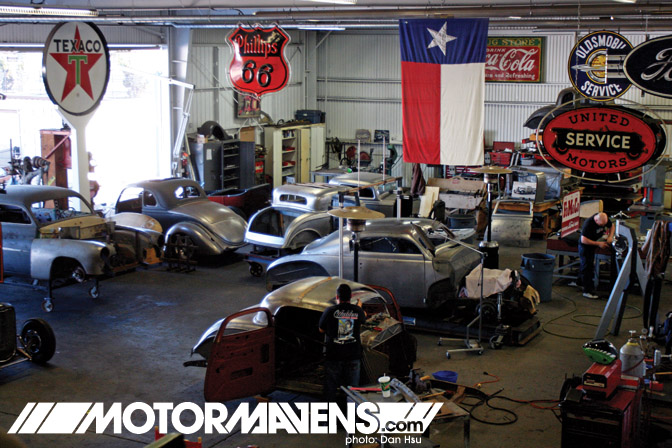 Walden specializes in metal. Got an old rod that's composed of more rust than steel? Or perhaps you can't even find an appropriate body to conjure the ride of your dreams. In the hands of the craftsmen here, metal becomes as malleable as a teenage girl to a rock star.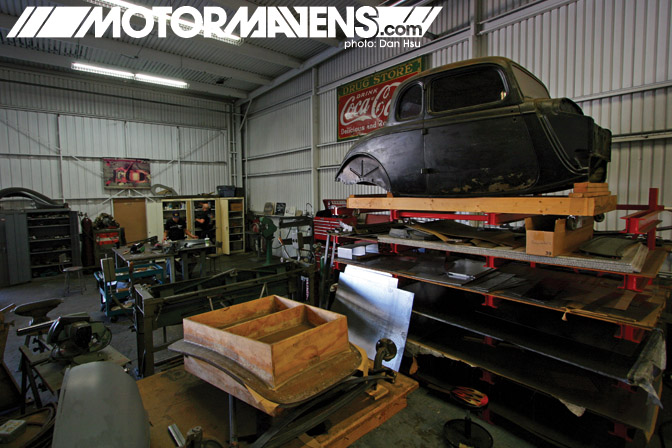 The '32 Ford is like the Honda Civic of hot rods, and probably the first car anyone on Earth ever decided to modify. An original body is worth up to $90,000 just for the shell. As a result, companies like Brookville Roadster have taken upon themselves to build all-steel bodies of the O.G. tuner platform like the one on the top shelf above. One can be had for the bargain basement price of about $35,000.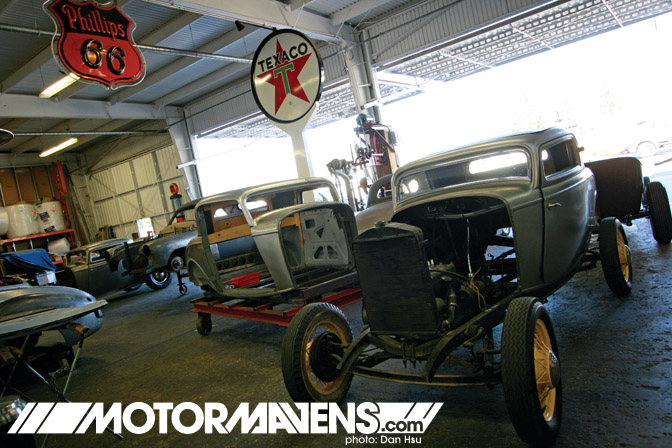 The only drawback is, most rodders prefer the chopped look, where several inches are taken out of the pillars to make the roof lower. This is where expertise in metal and the "Walden Speed Shop Chop" come in.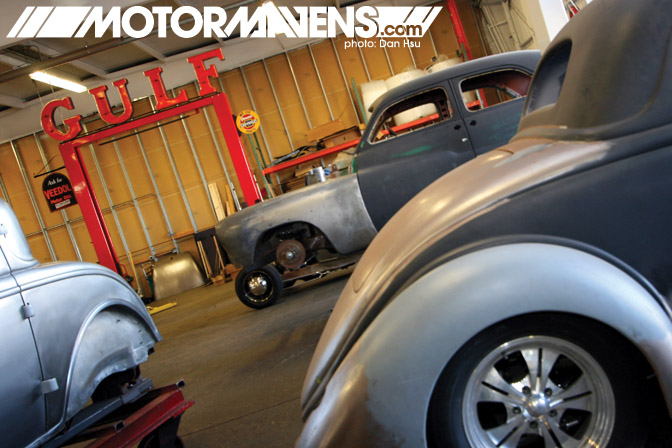 Owner Bobby Walden has nearly two decades of metal working experience under his belt. With his crew of modern day blacksmiths, he can basically reproduce body panels for any car — or fabricate custom ones from scratch — and have them come out fitting better than they did when they emerged from Henry Ford's factory.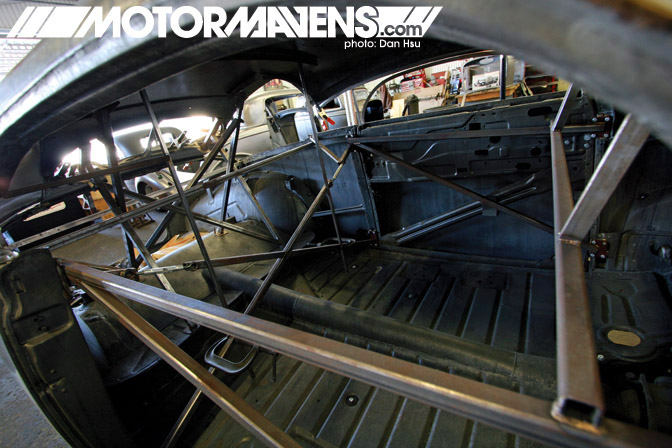 Take the Matranaga Merc, for example. This 1940 Mercury was originally customized by lead sled legend George Barris. It was a famous enough car to be named after its owner the way that volumes of rare books are. Many copied (or paid homage) to it, but sometime during its life the original was wrapped around a telephone pole and sat in a junkyard for years.
Now it's here at Walden, undergoing a complete rebuild. Peep the incredible scaffold of bracing that was constructed to keep the body in shape as structural pieces of the body are replaced. The entire skeleton is bolted in (as opposed to tack welded) so it can be easily removed. Notice how the arms of the X in the center are adjustable. The whole thing is temporary, to be scrapped when the car is complete, but most people don't even spend this kind of effort on their entire car.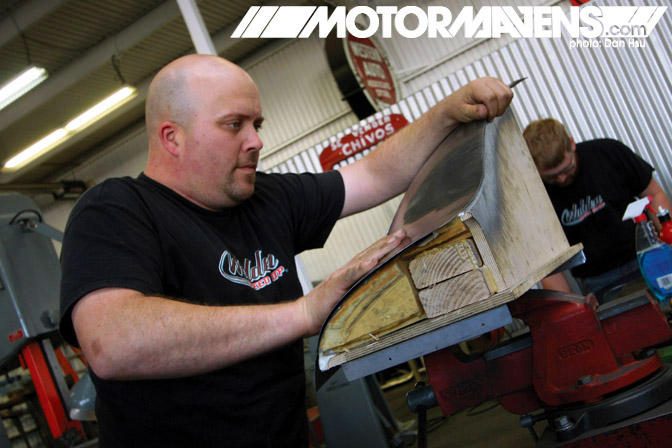 This is Wesley Kent, who built the bracing. Here, he's forming a section of the Merc's C-pillar on a custom buck made from lumber and Bondo.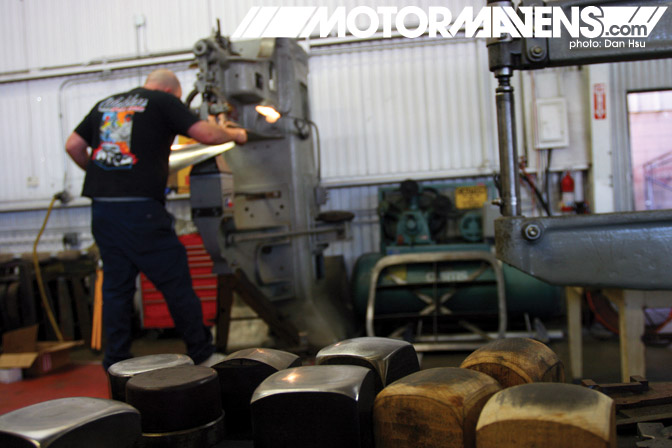 The metal goes through repeated rounds on the buck and this a Yoder power hammer. It bites down on the metal with different dies, which can be swapped out depending on how curved you want the metal to be. This piece of machinery is from the 1940s and was used to make WWII airplanes.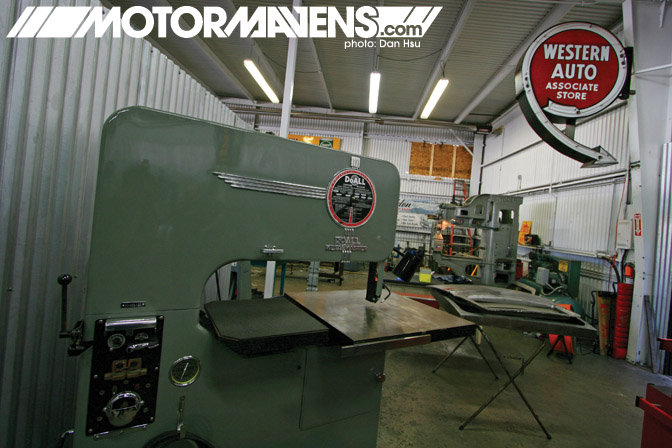 Many of the best machine tools haven't changed in decades and are still perfect for the advanced work Walden Speed Shop is doing. This DoAll band saw is another relic from the 40s, which the shop restored for use today. Its art deco styling is as beautiful as the cars themselves.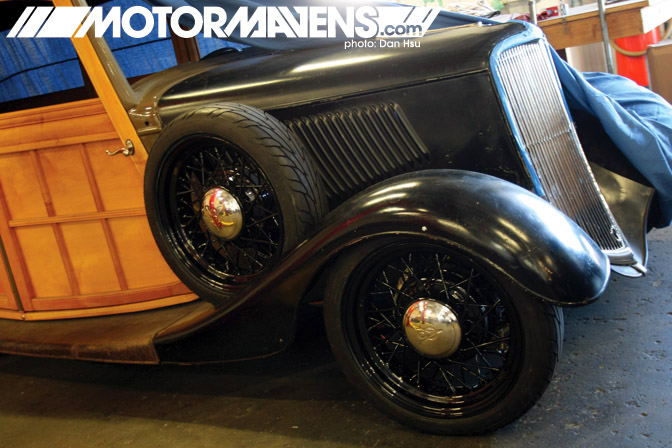 Speaking of beautiful cars, this '34 Ford Woodie belongs to one of the shop employees. All the panels and doors aft of the windshield are genuine tree trunk. The wire wheels were custom made so he could fit a lower profile tire on them — a subtle difference, but crucial for that proper old school look.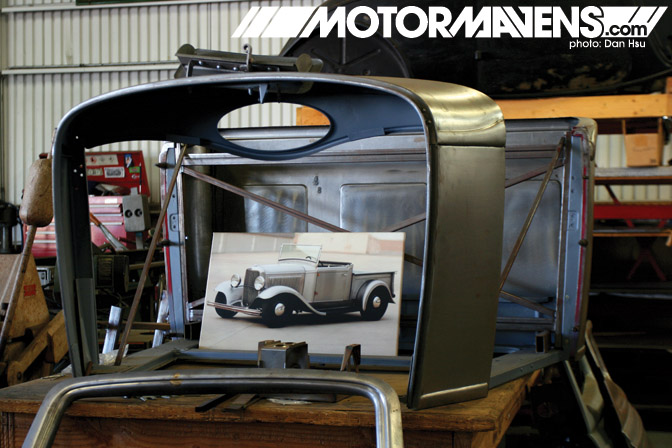 Lastly, here's a rare '32 Roadster Pickup that Walden is working on now. Less than 300 of these trucks were built by Ford. From this husk, a complete metal-bodied truck like the one in the picture will emerge.
Watching the team at Walden Speed Shop work, the realm of what is possible suddenly expands like the Big Bang. People often relegate a vehicle to "parts car" status because of a few spots of rust, but when you can see an entire body hewn from pure metal, it makes you think twice about taking a sawzall to that shell and sticking it in a dumpster.
:: Ben Hsu
---