---
---
---
---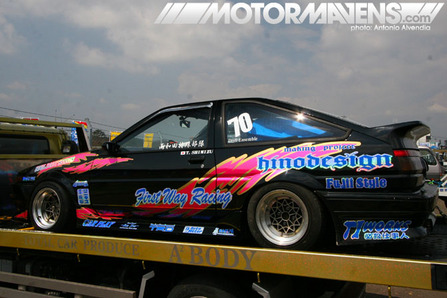 In celebration of our beloved "Hachiroku Day" today (8/6/2009), I thought I'd post up some photos from my archive of AE86 photos. I have sooooooo many AE86 photos in my hard drives and photo albums it's ridiculous. So many in fact, that I could start an AE86 only blog site if I felt like it! But no time for that right now, as right now we're concentrating on building Motor Mavens and telling the whole world about our site!
I wasn't sure if I should categorize this as "Point&Shoot" or "Archaeology" since these pics seem to fit into both categories. I just decided on "Point&Shoot" since these pics are more that style anyway... they aren't artistic or photographically dope, but it doesn't matter. The subject matter is off the hook!
These pics are three years old - they were taken back in spring of 2006, to be exact. I was in Japan for a "work/vacation," just hanging out with Team Orange, and I decided to roll up to D1 Sugo with them. When we arrived, the lower division D1 qualifying had just ended, and I was so happy to see all these dope AE86s around! I must have looked ridiculous as hell, taking a million photos of these AE86s on their loader trucks... the owners of the cars laughed at me, probably thinking "damn, this guy is going bananas taking all these photos!
Read more...
---