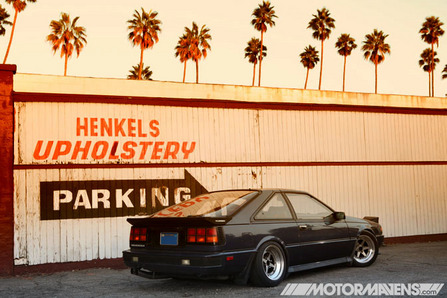 While I was walking around the sea of nostalgic Japanese goodness at the Japanese Classic Car Show last year, a particular S12 Nissan 200SX caught my eye. To be completely honest here, I've never been the biggest fan of S12s. Most people pretty much disregard the S12 as far as "cool Nissans" go… to most people, the S12 is definitely the red-headed stepchild of the 1980s Nissan family, especially when you compare it in popularity to S13s, Z32s, and Z31s… hell, even Nissan Sentras are more popular for some reason* than the S12 200Sx. (*Well… I think one of the reasons the Sentra was so popular for racing is because of all the R&D that Mike Kojima did with them when he was still working for Nismo as a race engineer) Either way though… I'd way rather have an S12 than a Sentra. There's no question about that… especially after seeing Henry's S12?! This has got to be the dopest looking Nissan S12 I've ever seen in my entire life.
So what was it about this particular 200SX that caught my eye? It just had to be the style in which it was built up. Let's take a closer look…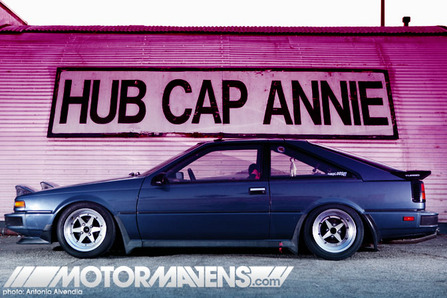 This S12 200SX is owned by a talented Bay Area-based photographer named Henry Nguyen. I was first introduced to Henry by videographer Ross Fairfield about a year and a half ago. At the time, I was testing out a pre-production Nissan 370Z at Willow Springs during the winter of 2008 and needed help capturing some pics of me driving the car (I never seem to have anyone around that can take pics when I'm actually driving on the track). Thankfully, Henry volunteered to help out, and captured a pretty awesome photo of me driving the 370 at Streets of Willow.
I didn't actually bump into Henry again until the JCCS event that just recently passed. I was standing next to the 200SX with my friend Chihiro, admiring the way its mismatched wheels really went together well, when Henry walked up and said hello. I didn't even realize it was Henry's car that I was admiring… nice surprise!
This side profile is by far my favorite angle to view Henry's S12. From this viewpoint, you can see how hopelessly low the car sits; I don't even think a box of cigarettes will clear underneath the front mudflaps! Additionally, I think the +20 year old 15×7.5J (-12) Work Equip 01 3pc wheels wheels on the rear look PERFECT with the 15x7J (-1) SSR XR4 wheels that Henry's running up front. (If it were my car though, I'd try running the Works up front, and the XR4s in back. I think it would look super dope that way.)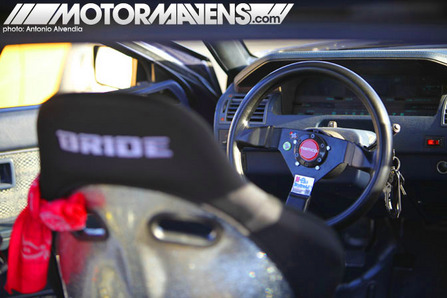 Walking around the car, I noticed that Henry had a bandana tied to one side of his Bride Low Max bucket seat… when I asked why he had the LA Bloods gang accessory tied to his FRP bucket, he explained that it was just a protective measure, so his OEM seatbelt wouldn't wear out the seat unnecessarily in that spot.
Looking past the seat, I thought at first that his car had a Momo Monte Carlo 350mm steering wheel. However, a closer look revealed that it was no Momo wheel… it had only 5 bolts in the PCD. I inquired, "WTF?! I know you didn't put a ghetto ass Grant steering wheel in your car, right Henry?"
Henry explained, "Nooooooo! It's actually a steering wheel from an Initial D sit-down console arcade game!" Henry insisted, "My friend jacked it from the arcade and gave it to me." Suuuuuuuure buddy. Whatever you say, sticky fingers.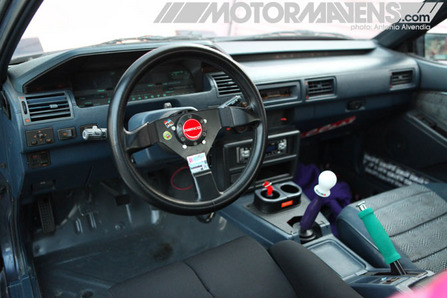 Inspecting the interior further, I was impressed at how clean the floor of the car was. It certainly looks like whoever removed the sound deadening on the floor did an extremely clean job of it, being careful not to scrape up the paint underneath too much.
Staring inside this car further, it also becomes painfully apparent that the car is owned by a young guy from the Bay Area… Aside from the Illest sticker on the glovebox, the hyphy purple and teal contrasting hues look like it were a streetwear outfit. In fact, I think that e-brake lever might just have a bicycle handle grip on it. What the… is that a fixie handle grip, Henry?!
Whatever, just remember not to ride one of those fixed gear bikes while holding your DSLR ever again. EVER. (Umm… well, I'll let Henry explain that painful story to you.)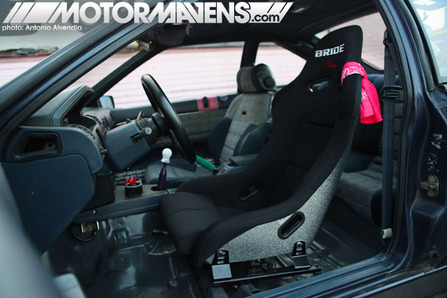 Even from this view, the cleanliness of the sound deadening removal is just so impressive to me. The floor was not repainted as far as I know. It just looks super clean like that, without the carpet. Just a bucket and seat rails. Awesome. I also love how the rear seats are still installed, and they're clean. (Stop gutting out your car interiors for no apparent reason, people!) Henry exhibited good taste in the way he removed the carpet and left the seats. Very nice.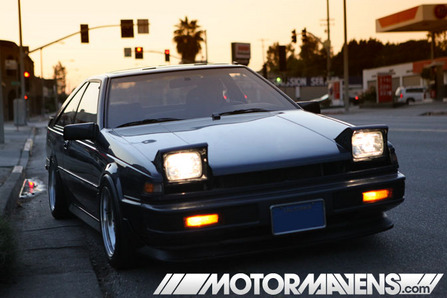 Actually, I'm just going to shut up now (finally!) and let Henry tell you about the car in his own words…
"The car was pretty much built to be a track/fun car and it's been
doing its job. I got it for 800 bucks about four years ago, right after
highschool, and I just decided to give it a try. Of course, with heavy influences
from the Corolla/240sx crowd and grassroots drifting too. The going price
for a decent running non-turbo S12 is still below $1000, though this chassis
type really lacks a decent community (or following for the matter) in the US…
so it only makes sense that the aftermarket is practically null.

It really is the red headed step child of 1980's Nissans, most trendy
s13/s14 owners have never even heard of an S12 before, even though it's
the predecessor to their own cars.
My S12 was a budget build, but like all budget builds, it went way over. I'm
more proud of the process of the build though, since I did 90% of the
work alone in my garage at home over the course of 2 years, with most
of the work done during the weekends when I was home from school. Just
a slow, thorough build, and with a "while I'm at it" attitude.

-Henry Nguyen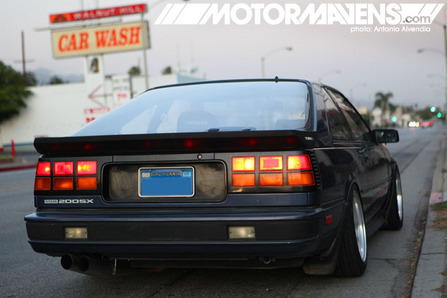 From the rear view, this car really screams 1980s. Its boxy lines and boxier taillights definitely suggest 1980s styling cues, while the newer, GReddy DD-style twin exhaust pipes indicate that the driver of this car is sports minded indeed.
Dig the 1980s period correct blue/yellow California license plate and the rear camber too.
Speaking of camber, the car sits low because Henry installed S13 coilovers, with the rear springs and shocks separated (somewhat like an AE86). He attempted to get rid of any squeaky old bushings by replacing all his bushings with urethane, and also fitted Q45 front brake calipers on the car to make it stop better.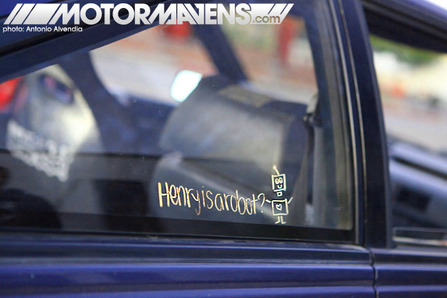 The side window has the words "Henryisarobot?" written on it, in Henry's girlfriend's handwriting. I don't like robots, but I like Henry. (Um… not in THAT way.) What's really important though, is that Henry's gf likes Henry, and if he's a robot, then whatever… that's just fine. I don't know what the hell they're talking about, anyway.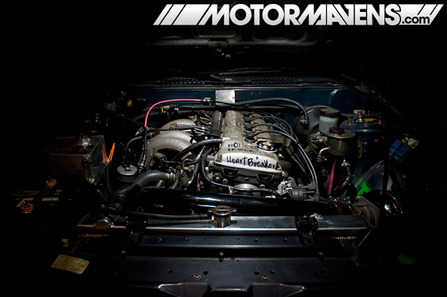 Underneath the hood, you won't find the CA18 that used to sit in Henry's engine bay, nor the turbocharged VG engine advertised by the car's exterior emblems. Instead, you'll find a KA24DE engine/trans from a 1993 240SX, with the words "Heartbreaker" written on the valve cover. Heartbreaker is the name of Henry's car crew, but I wonder if they came up with the name because they break engines a lot? Maybe, maybe not.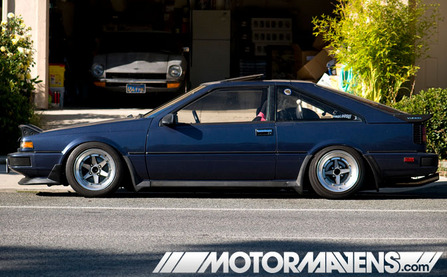 Here's the S12 sitting out in front of Henry's house… I'm sure everyone notices the S30 240Z sitting in the garage. That's actually Henry's other project car. He had another 240Z shell previously, but he sold it to a good friend of his, who began modifying the suspension to make it lower. In fact, if you've been on the internet at all in the past year, you might recognize the car.
I gotta give Henry props for choosing to build a relatively unloved car and making it look good… and if this car is any indication of his style, then I can't wait to see what he does with that 240Z once it gets underway!
:: Antonio Alvendia
---