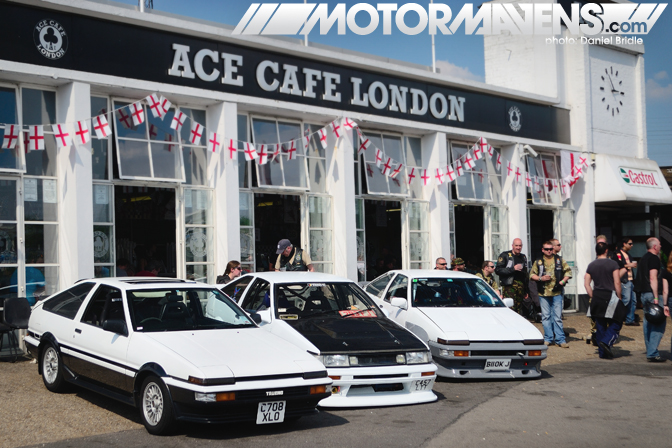 On the 25th of April, the legendary Ace Cafe in London was home to the first Retro Toyota Gathering. Organised by The Corolla Brotherhood, the meet was held to bring together some of the sweetest Corolla AE86s and other classic Toyotas from around the UK and even Europe!
I'm a big fan of Toyota's little AE86 (and I know a lot of MotorMavens readers are too) so, when I first heard about the plans for this meet earlier in the year, I knew I had to go! Let's take a look at some of the great cars that turned up!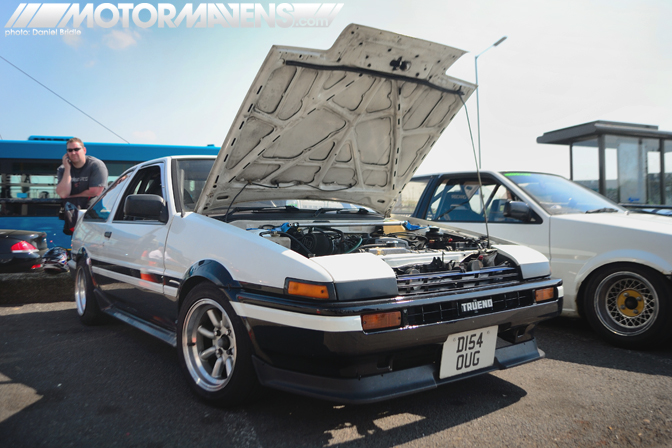 My good friend Ben Morrissey very kindly gave me a lift down to the meet in his 2-door AE86 Levin coupe. With the sun out, the windows down and a raspy 4A-GE motor for a soundtrack, it made the drive through the busy north London streets that little bit nicer.
As we pulled into the Ace Cafe's car park, I remembered how much history this place is drenched in. Originally opened in the late 1930s, the Ace was built as a roadside cafe for passing traffic – motorcyclists especially took a shine to it. During a World War II air raid on the railway opposite the cafe, the building was destroyed. In 1949 the building was rebuilt and, with the boom in traffic on the roads, the British motorcycle industry, teenage culture, and rock 'n' roll – the Ace Cafe became THE place to hang out and was home to a lot of biker crews and not-so-legal street racing on the roads nearby!
As society changed during the late 1960s and the motorcycle industry was on a decline due to the growing car industry, the Ace Cafe closed its doors in 1969. Fast forward to 2001 and, after a few HUGE reunions and steps taken to bring the cafe back, it was finally reopened. Ever since, the Ace Cafe has been a spot for hundreds of car and bike meets throughout the year – much like this Retro Toyota one!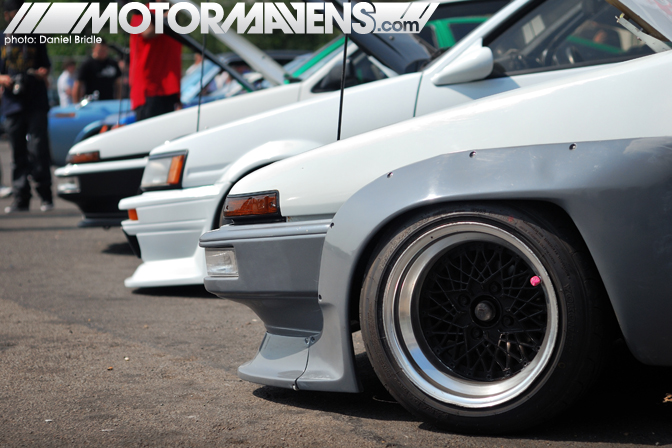 About thirty cars made it up to the meet. To some of you that may seem like a small number but, considering the amount of classic Toyotas on the road in the UK that actually work, it was a damn good turn out. I'd never seen so many in one place before!
There were a great variety of car styles on show, too. Whether they were grip-based cars, drift cars, daily drivers, or even showroom condition classics, they all came to make a great show of it.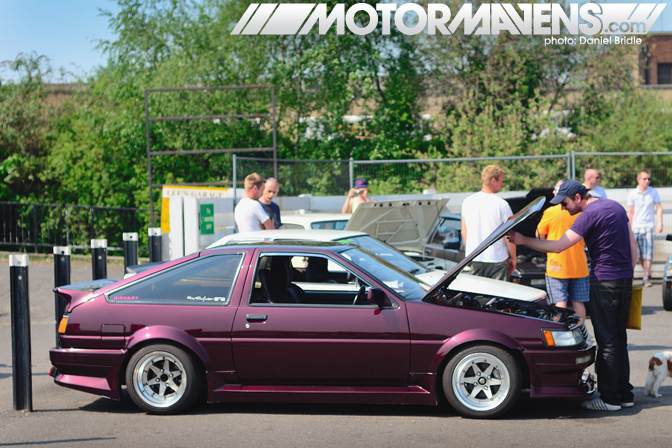 However, the majority of cars there were AE86s and, for fans of the lovable Corolla, this meet did not disappoint! Pretty much every model of the car was there – from Levins to Truenos and hatchbacks to coupes.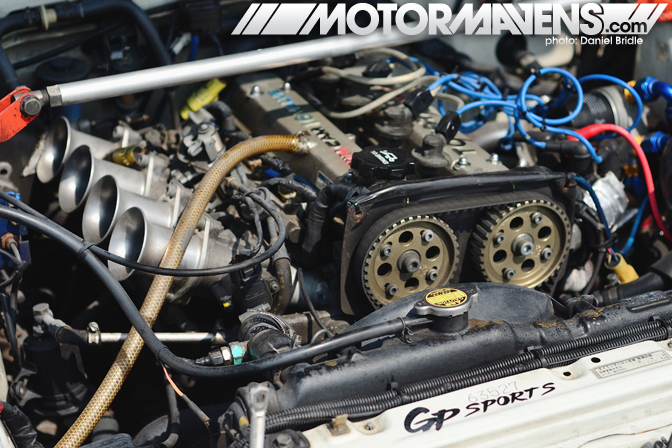 Not to mention a lot of different engines and modifications! The little 16V will always be my favourite version of the famous 4A-GE engine.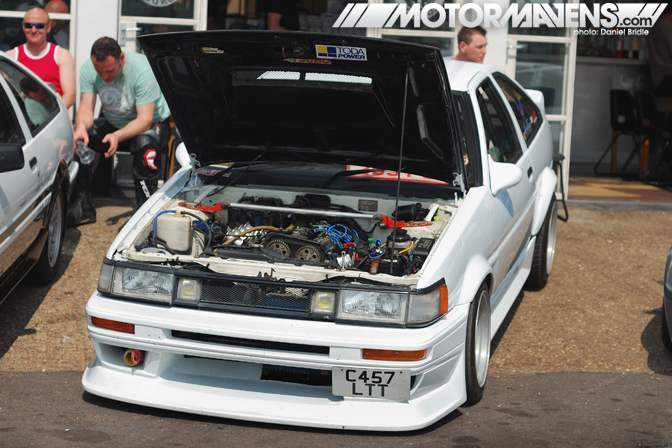 The 16V 4A-GE in the previous photo belongs to this AE86 Levin from JDM Garage. I recognised the car from a show last year at Castle Combe circuit, where 2010 JDM Allstars drift champion Luke Fink was driving it like a madman in a drift demo!
I met Jonny Fraga (the guy currently driving the Levin) and it turns out he actually works for JDM Garage. Jonny is a huge AE86 fan and, when he moved over to England earlier this year from Portugal, he sadly had to leave his own lovely red Trueno there. Fortunately for him, JDM Garage let him use this as his daily driver while he builds up his new AE86 coupe. Not bad for a company car, eh?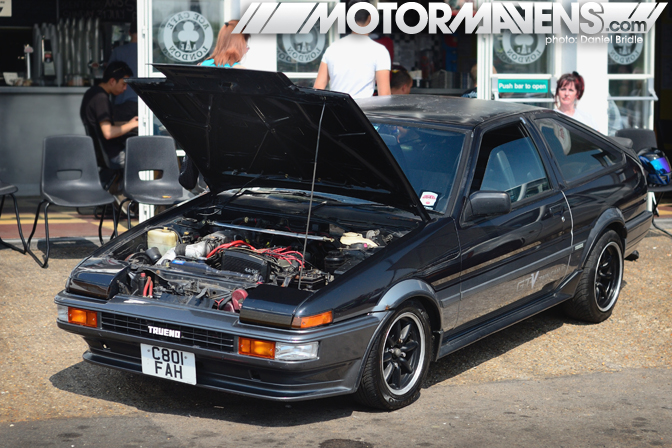 This really clean Kouki AE86 Trueno stood out with its black and grey two-tone paintjob. I know this is a factory colour option but I've never seen one in the UK before. Usually I've only seen the classic "panda" black and white paint or single colours!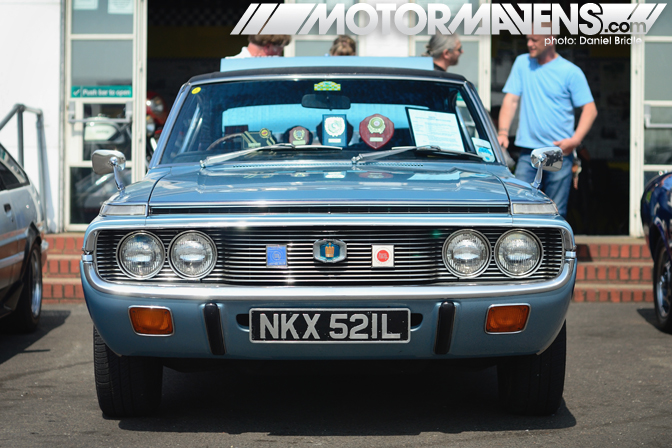 One of the first cars I spotted at the meet was this MS75 Toyota Crown Coupe. It was amazing to see one of these vintage Toyotas in the flesh for the first time – and in such stunning condition! I can't imagine there being many of these in the country at all, let alone as clean as this one. Inside and out it was SPOTLESS!
The car was adorned with many awards from previous car shows, and it's easy to see why.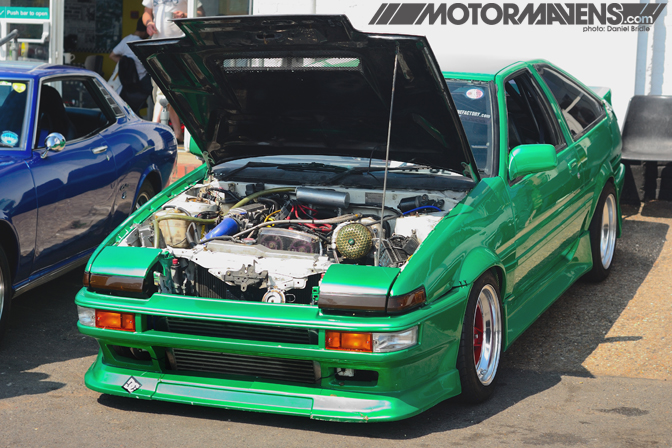 This Trueno was a little more "in your face" than some of the other Corollas, with its bright metallic green paintwork and beautiful SSR MK2 wheels.
Those of you with good eyesight will have already spotted that inside the somewhat busy engine bay lies a turbocharger conversion – and a fairly large one at that. Personally, I'm a bit of a purist when it comes to 4A-GEs, so I like them simple and N/A. I'm curious to hear how you guys feel about turbo conversions on this engine?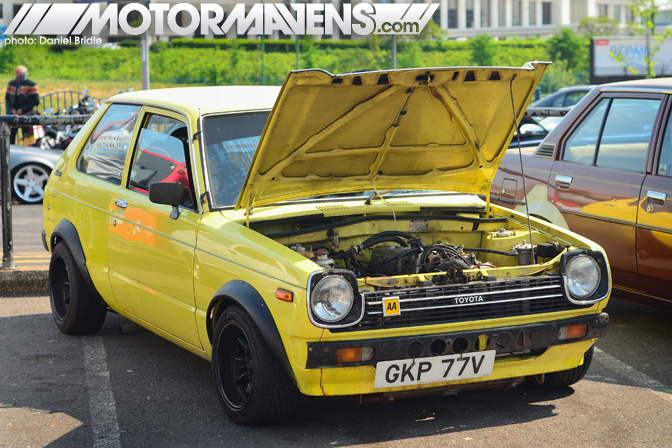 This bright yellow KP60 Starlet was awesome! I loved its simple styling with just a set of riveted on arches and 13×7 Superlite wheels. Inside it was fully stripped and had a set of bucket seats fitted. However, a quick look under the bonnet and you'll realise, this little Starlet it has a trick or two up its sleeve. It actually has a Pinto engine and full Ford Escort running gear?!
If I'm honest I know very little about Fords and was pretty dumbfounded, so I asked the owner why he chose to swap over the Toyota parts for Ford ones. He told me because it's cheap, easily sourced and strong!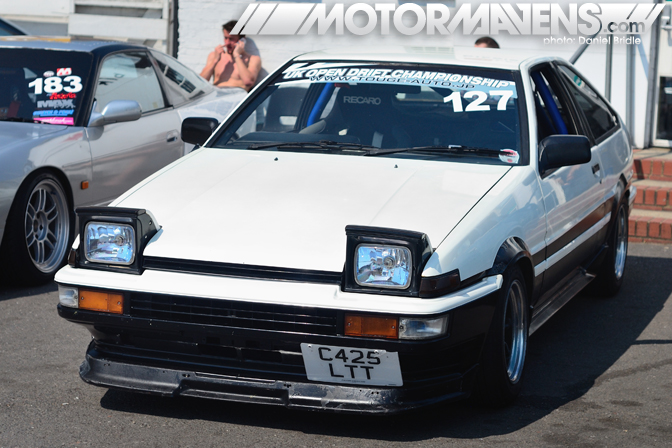 I promised myself I wouldn't make any Initial D comments in this feature, but Adam Agatowski's Trueno looks straight from the Mount Akina touge and ready to deliver some tofu!
Adam's Corolla is a simple drift car with a diff, coilovers, rollcage, Recaro bucket seats and a few other little modifications. You don't need much more than that to have fun other than a heavy right foot and a set of balls! Adam actually competes in the ODC (Open Drift Championship) with his Trueno. ODC is a small drift series that started recently in the UK to give people an easy and affordable entry into the world of competition drifting.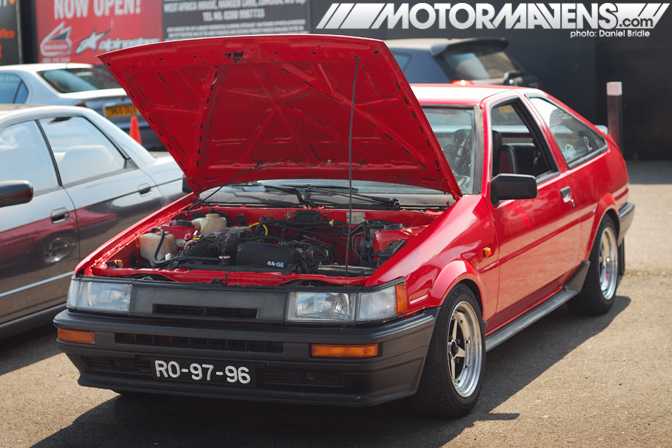 Now this was something special! The owner of this LHD Levin drove ALL THE WAY from Portugal to come to this meet – that's over 2000 kms worth of travelling! These 86 guys really are dedicated to these little cars! In fact, another guy drove all the way from France!
From what I could tell, the car was fairly stock with the exception of an aftermarket air filter, a set of very shiny Work Equip 01 wheels and a few other light modifications. It was cool to finally see an LHD Corolla!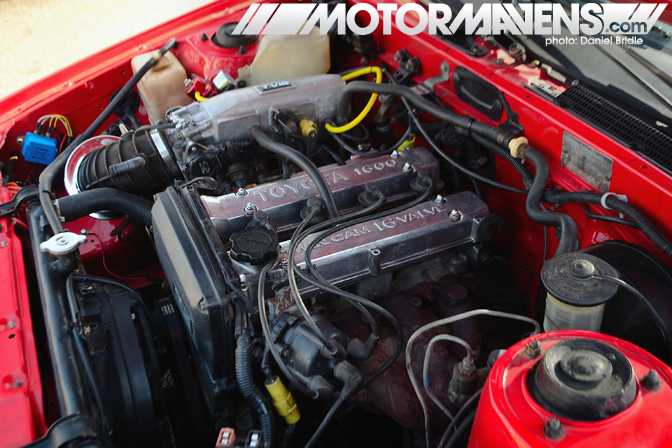 Plus, it was very clean! Jonny (white JDM Garage Levin) explained to me that a lot of AE86s in Portugal are in this kind of condition.
Representing the two-door club was my friend Ben Morrissey's Levin coupe. Ben's AE86 was imported over from a Japan awhile back and it's a simple drift car that gets used daily. It has its little weird problems now and again like most old car but it's full of character and the famous MotorFix sticker on the back makes me wonder if it was once owned by or related to the legendary Corolla drift team.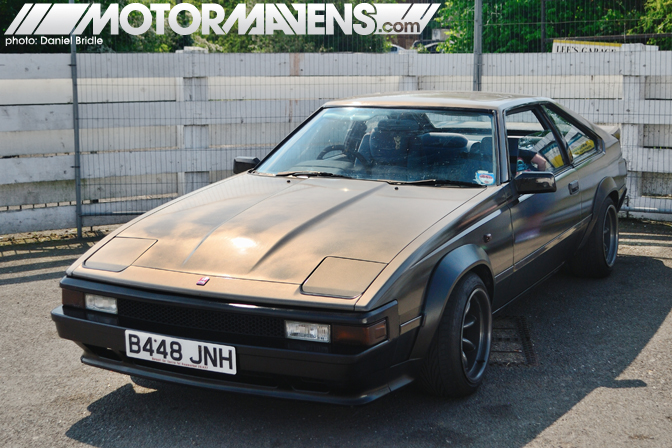 I love the way these MA61 Celica Supras look – it's like a Trueno's fat cousin. It's not every day you see a modified MA61 Celica Supra in the UK, let alone one built for drifting. I think Neil Walker has done a really great job with his!
Neil hasn't touched the awesome 80s retro styling too much – just enhanced it with a set of gorgeous Compomotive ML wheels and a customized AE86 TRD style rear wing. It's also been resprayed in Lexus Briarwood Pearl, which looks beautiful in the sunlight.
You can check out Neil's full build thread over on Driftworks.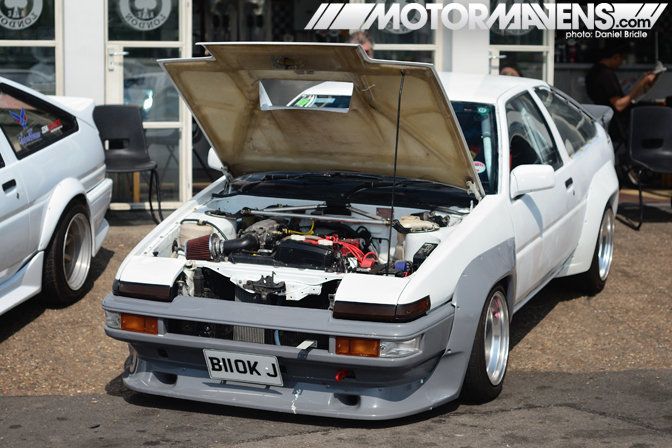 This N2 kitted Trueno belongs to Chaydon Ford. He is one of the guys who runs The Corolla Brotherhood blog and the organiser of the meet. I gotta give a big "thank you" to Chay for doing a great job organising everything and giving somewhere for classic Toyota owners and fans to come together to chat and see some great cars.
Chaydon's AE86 was imported from Japan a few years ago and it turns out the car has quite an interesting past. It was built by a badass indie AE86 tuning shop based in Tokyo called Garage Shapple. The car was also featured in a Japanese tuning magazine too. If anyone has any information about the car please let Chay know as he's always looking for more information about its history.
The Trueno has needed a bit of work done to it but Chay is slowly but surely restoring it back to its former glory. I can't wait to see it all finished and out ripping up the circuits again!
This lovely blue KE70 Corolla had to be one of my favourite cars of the entire meet – I thought it looked dope!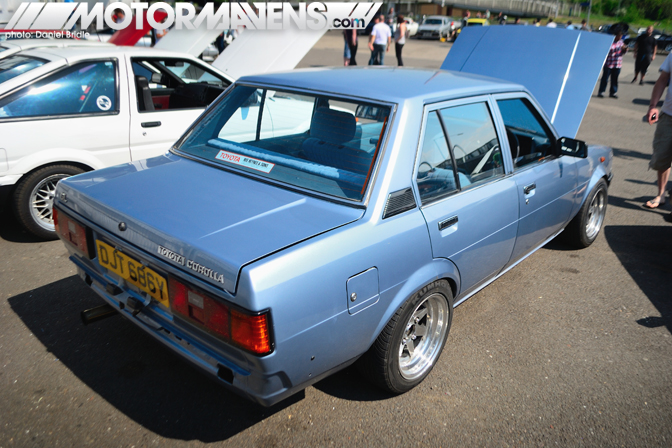 The XR4 Longchamps are one of my favourite classic wheels and they looked perfect on this KE70. I also like how the rear end looks more aggressive with the rear bumper removed. Simple and clean is the way forward with cars like this.
However there's something a little out of the ordinary with this Corolla…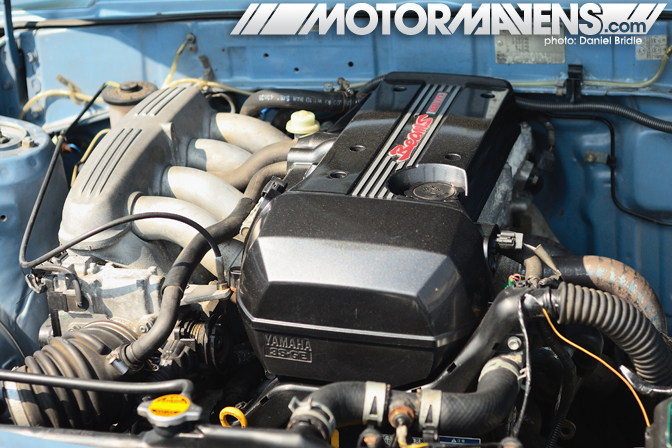 Under the hood is an almost factory looking engine swap in the form of a Beam's 3S-GE motor. I bet this gives the KE70 enough power to be quite the street sleeper. Awesome!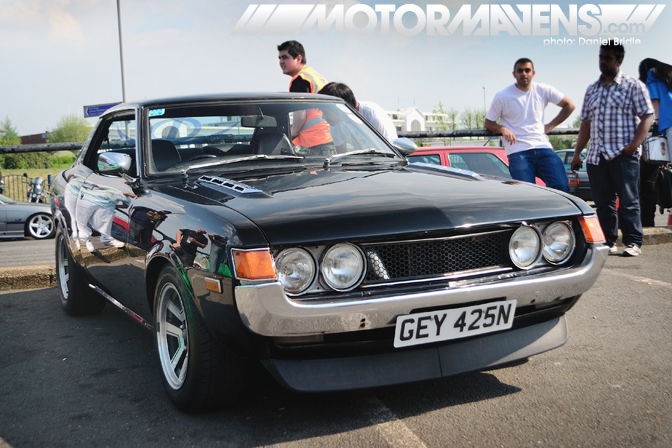 Just as I was packing up to head home, this beautiful black RA24 Celica pulled in slowly, parked up, and made for a perfect end to a great day!
Looking back on this meet I have to say it's one of the best I've been to in a long time! I really hope that the guys at The Corolla Brotherhood can hold more of these meets and that they get bigger and bigger. Although rare, I'm sure there are a lot more classic Toyotas in the UK so, if any owners are reading this, make sure you come to the next meet!
::Daniel Bridle
3S-GE
,
4A-GE
,
Ace Cafe
,
Adam Agatowski
,
AE86
,
Beams
,
Ben Morrissey
,
Briarwood Pearl
,
Castle Combe
,
Celica
,
Chaydon Ford
,
Compomotives
,
Corolla
,
coupe
,
crown
,
Daniel Bridle
,
drift
,
Equip 01
,
Escort
,
Europe
,
Ford Pinto
,
Garage Shapple
,
homepage
,
JDM Allstars
,
JDM Garage
,
Jonny Fraga
,
KE70
,
Kouki
,
KP60
,
Levin
,
Lexus
,
LHD
,
London
,
Longchamps
,
Luke Fink
,
MA61
,
MotorFix
,
MS75
,
N2
,
Neil Walker
,
ODC
,
Portugal
,
RA24
,
Retro Toyota Gathering
,
SSR
,
Starlet
,
Superlite
,
Supra
,
The Corolla Brotherhood
,
Toyota
,
TRD
,
Trueno
,
UK
,
Work
,
XR4
,
Zenki
---