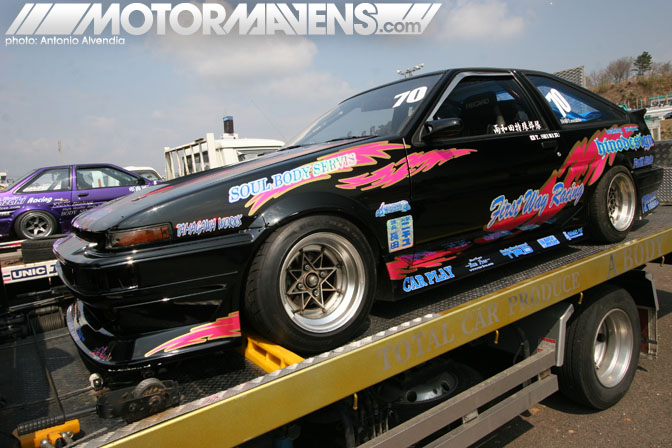 In celebration of our beloved "Hachiroku Day" today (8/6/2009), I thought I'd post up some photos from my archive of AE86 photos. I have sooooooo many AE86 photos in my hard drives and photo albums it's ridiculous. So many in fact, that I could start an AE86 only blog site if I felt like it! But no time for that right now, as right now we're concentrating on building Motor Mavens and telling the whole world about our site!
I wasn't sure if I should categorize this as "Point&Shoot" or "Archaeology" since these pics seem to fit into both categories. I just decided on "Point&Shoot" since these pics are more that style anyway… they aren't artistic or photographically dope, but it doesn't matter. The subject matter is off the hook!
These pics are three years old – they were taken back in spring of 2006, to be exact. I was in Japan for a "work/vacation," just hanging out with Team Orange, and I decided to roll up to D1 Sugo with them. When we arrived, the lower division D1 qualifying had just ended, and I was so happy to see all these dope AE86s around! I must have looked ridiculous as hell, taking a million photos of these AE86s on their loader trucks… the owners of the cars laughed at me, probably thinking "damn, this guy is going bananas taking all these photos!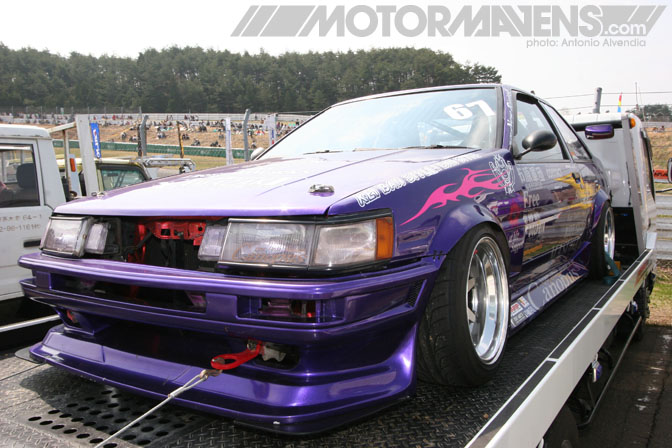 Can you blame me though? Just look at the purple kouki Levin 2 door above, with the Goodline bumper and XR4s! So dope! See the "Canopus" sticker on the sideskirt? Does anyone know which D1 driver came from that team? Here's a hint – his nickname is "Tokichan."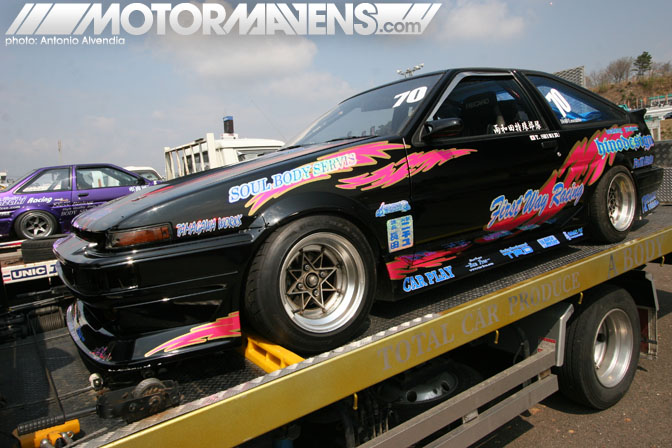 When I began talking to these guys, they said they were from a drift team called "Artchis" and they were super surprised when I told them that I recognized their team! They looked at each other and started laughing, like why the hell does this shaved head gaijin from LA know our drift team? It's because I used to be the American photographer for Hashiriya Battle Magazine (aka BM), which is how I cut my teeth on all the finer aspects of Japanese drifting culture. Of course I had heard of Artchis! They were always featured in BM, drifting their AE86s at BM Battle of Drift events!
I was super excited to have finally met them, even if it was on accident! Awesome.
And just look at how dope their cars are! Especially this black AE86 Trueno, rocking Run Free full aero.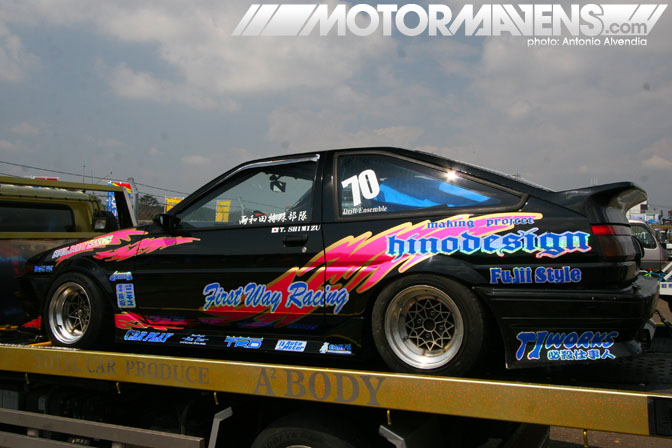 That Run Free rear hatch is my favorite hatch EVER for the AE86. Why? Some of you may be surprised that I, the AE86 purist of purists, prefer the Run Free rear FRP hatch to the TRD wingless hatch, especially since most of the parts on my own cars are either Japanese OEM or made by TRD Japan.
I like the Run Free rear hatch with integrated wing because Run Free has the longest rear wing available for AE86 hatchbacks. It's just slightly longer than the TRD wing, which I would have never noticed had it not been pointed out to me by turbo AE86 Trueno D1 driver Ken Maeda.
Up front, this awesome looking Sprinter Trueno 3-door is rocking 14×8.5J SSR Starsharks, but does anyone happen to know the name of those super rare rear wheels??? Let's see who the real wheel experts are!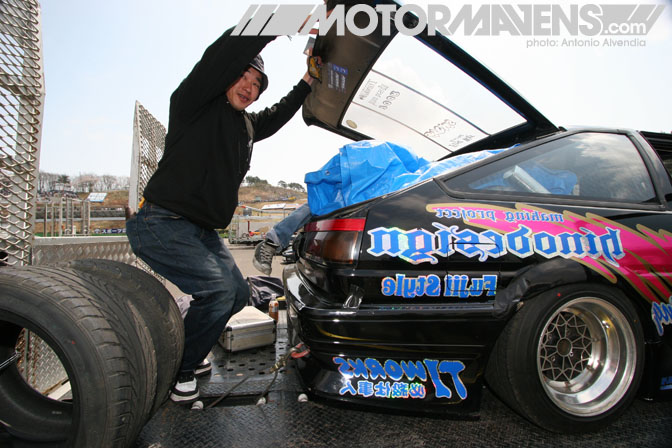 Here's the owner of the car, Shimizu san, clowning around as he loads stuff into the back of his hachiroku. Damnnnnnnn!!! Check out the rear lips on those wheels! Now that's what I'm talking bout!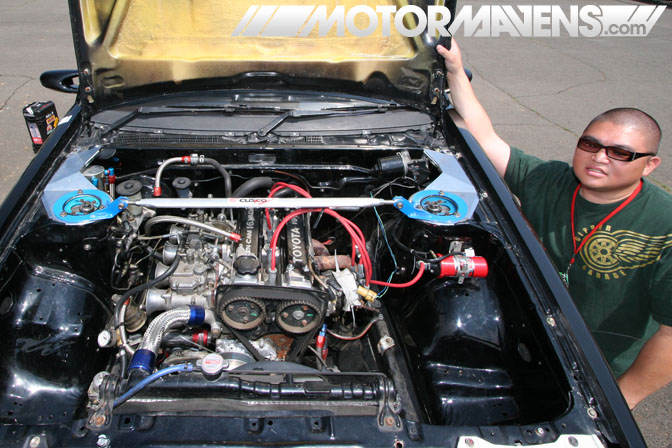 Popping open the FRP hood on Shimizu san's car, I discovered a kouki kyu-ni setup… or in layman's terms, a late model AE92 hi-comp 4AG setup, which has been converted from fuel injected to carbureted with the Solex/Mikuni 44phh twin carbs you see in the photo. The engine bay looks pretty sparse and simple with the carbs, and the battery relocated to the back of the car for weight distribution.
Check out those adjustable camgears! They are the old school HKS slider camgears, which I have in my collection now, thanks to my friend Jay Serrano from Glendora Toyota. Shimizu san's Trueno also has Cusco camber plates, custom coilovers, and Nagisa Auto "shakitto" plates, which do more to stiffen the chassis than that strut tower brace, according to Keiichi Tsuchiya in one of the old school AE86 Club videos that came out in the early 2000s.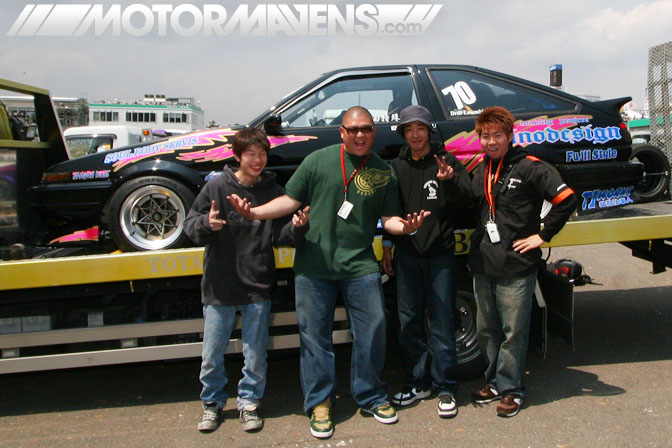 Here's the Artchis crew with me and Steve Enomoto from D1. Meeting Steve in Japan was pretty funny… Hide, the D1 starter from Team Orange walked me up to the D1 Media office at Sugo Raceway, asking them to give me a media pass for the event, and I introduced myself in Kindergarten-level Japanese… "Hajimemashite. Antonio Arubendia (Alvendia) desu. Dozo yoroshiku onegaishimasu. Ore wa Amerika no dorifuto no photographer desu…"
And then the response from behind the D1 media desk was… (in perfect English)… "Oh hey, I know you. You're a hachiroku guy, right?"
Startled as hell, I said "Yeah! How did you know…???"
The guy responded, "I used to live in Los Angeles, and I think I bought some AE86 parts from you before. Don't you live in West Covina off the 10 freeway, with a bunch of AE86s parked in front of the house?"
WOW! WTF! Now that's crazy! SMALL WORLD. And I have so many of those "small world" type of stories! Crazy, man. Anyway, the D1 media guy I had that conversation with was Steve Enomoto, the guy with the orange hair on the right side of this photo. Thanks for chillin with me at D1 Sugo Steve! (And no thanks for selling that burgundy AE86 dashboard to some other d-bag when I wanted it for my car, bastard!)
:: Antonio Alvendia
---