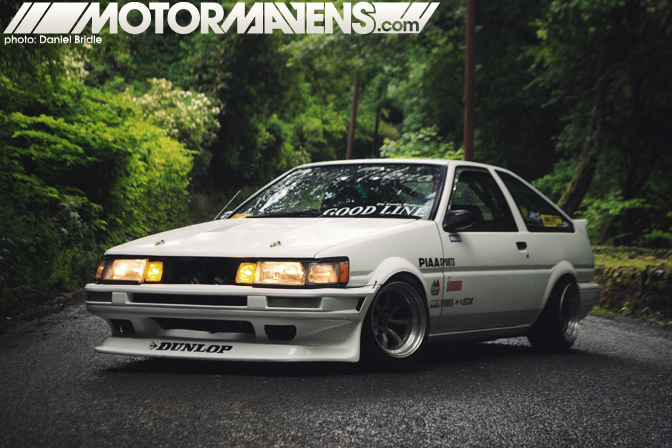 Late last month my girlfriend and I hopped on a plane and flew to
Dublin
, in
Southern Ireland
. However this wasn't your typical romantic getaway, instead, one of the main reasons for the trip was for another kind of love - of the Corolla kind.
When it comes to Japanese cars from the 1980s, I've never quite seen one that evokes as much love, nor as enthusiastic a following, as the
AE86 Toyota Corolla
. To some people they're just weird old hatchbacks that look more suited to being driven by elderly ladies to the supermarket and back; but to others they are lightweight, rear-wheel drive cars with fun engines that beg you to drive them hard - not to mention a certain character and style that you only get from 1980s Japanese design. It's just crazy to think that, when I was much younger, these cars could be picked up for a few hundred pounds. Nowadays, you can see some examples going for over £10,000!
On that note, if there's one country (excluding Japan) that has the biggest love for the AE86 as far as I've seen, it's got to be Ireland. I'm not sure what it is, but people the Irish are nuts for them and it always impresses me how such a small country can contain so many. There are more in Ireland than in most of the UK combined.
My personal love for the AE86 came about, like many others, through drifting. There's just something so right about seeing an AE86 being thrown sideways, foot to the floor, with the driver giving it everything he has. It's just
RAW
, and it's always been my dream, since I started shooting cars, to shoot an AE86. Not just any old 86 - it had to be the right one. So, when I came across some new photos of
Killian O'Brien
and
Kevin Reilly
's
Levin
and
Trueno
, I knew they were the ones I had to shoot. So, after organising things with Killian and Kevin, I and my girl (who happens to be a big fan of Corollas, too - luckily for me!) headed over for a taste of
Team Tekno
style!
Read more...
---
---
---
---