---
---
---
---
---
---
---
---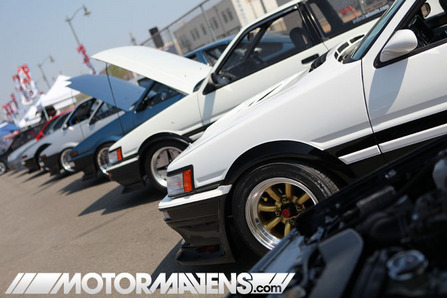 I know that many people have been waiting for our coverage of this weekend's
Nisei Showoff
carshow, which made its final show in Downtown LA/Little Tokyo. Since I knew I'd run into a ton of old friends at the show, I knew that it would be smart to come to the show early; that was a very good decision. Travis brought his Canon DSLR and his video camera to help capture the event too, since we knew that it would be hard for me to make my way around the whole show, in between saying hello to all our old school friends that come out the woodwork just for the Nisei Showoff. For some reason, some of these guys don't go to Formula D events or Just Drift events, but they always make it to Nisei. So for many of us, Nisei Showoff is a time for us to reconnect and chill with good friends who we don't have the pleasure of seeing all the time, due to the busy work and travel schedules that we all have.
I was happy to see several media outlets at the event covering the show as well; I'm hoping that all the magazines and websites out there run coverage of the show. Super Street Magazine and Project Car Magazine both had a strong showing at Nisei, with booths and a build-off competition of the magazine editors' personally owned cars. I also saw people from Import Tuner, Japanese Nostalgic Car, Urbanracer, Auto Otaku/Speedhunters, DSport, even an ex-Jtuned guy and several other media outlets out there to support and shoot photos of Nisei Showoff. Make sure to check out their coverage of the show as well.
For any other media outlets who weren't able to make it to the show, but still want to run coverage of the event, please contact us at
motormavens(at)gmail.com
and we will supply you with photos for free, just to help out our friend Ken Miyoshi who runs the show.
While it may seem to some outsiders that we've been hyping this event quite a lot, it's only because Nisei Showoff really is a big deal to those of us who go there with our friends and family every year - it's a tradition that we've all kept up for the past nine years.
In fact, the very first time I ever put my own AE86 in a carshow was at Nisei Showoff in 2000 - the first ever Showoff event in Little Tokyo. That year, I linked up with several of my other AE86 friends and old school Toyota heads, and we lined our cars up all in a row, parallel to 2nd Street in Little Tokyo. We all thought it was so cool to be in a carshow in that area, since we would always hang out in Little Tokyo after work. My friends and I were always there, whether we were buying Japanese drifting magazines at Kinokuniya Bookstore; renting Japanese car videos at J-Wave; getting ramen at Orochon or Daikokuya; buying Japanese market limited sneakers at the shoe store inside Japanese Village Plaza; or of course, getting drinks at Oiwake.
Read more...
---