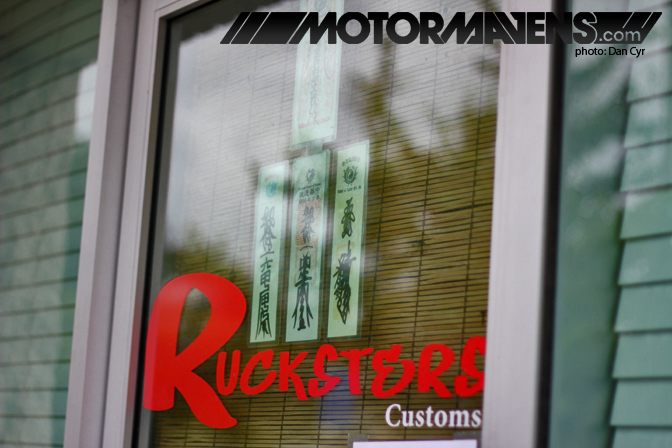 As some of you may (or may not) know, I'm definitely not from California. So when I found out that I would be going to California for a week, I knew that I'd have to check out as much stuff as I could possibly get around to checking out while I was there. Usually, when I go somewhere in the name of drift events, I don't really get to act like a tourist very much since the team is always busy taking care of race car stuff – but there was no race car stuff this time so I knew this was going to be my best chance to really see some cool stuff.
Once I got into town, my buddy Nick Soo suggested that we check out the Rucksters Customs garage. My experience with Honda Ruckus scooters was fairly limited, to say the least. I had seen a dude cruising on a fairly unmodified one at Drift Mania, and then this year at Formula Drift in Florida, I saw a stretched out Ruckus for the first time cruising around the paddock area. I was definitely intrigued but I was unable to get a really good look at the machine.
As soon as we pulled up to the Rucksters shop, it was clear we were at the right place. I figure that when your front door is this legit, you must have some awesome stuff behind it. We were greeted by shop manager Hai who was hanging out at the front counter, and he was more than happy to show us around the place and really school us on some crazy Ruckus knowledge.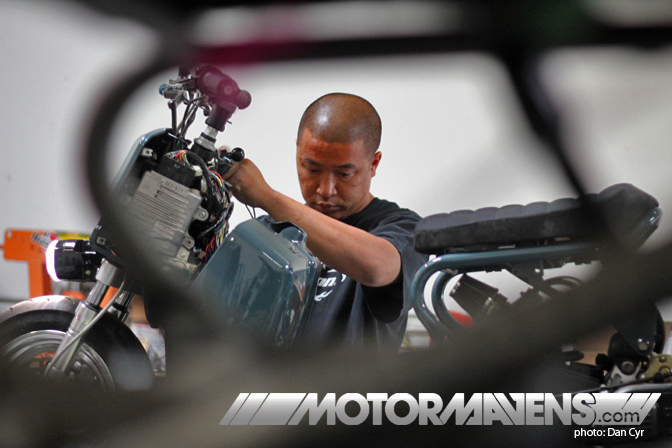 As soon as I stepped inside the shop where all the wrench turning happens, I found a technician named Tony hard at work on one of the many Ruckuses that they have in the shop. Even with me hopping around snapping photos, he seemed really focused on the work at hand. I think it's this kind of concentration which really produces the quality craftsmanship on all the Rucksters' projects.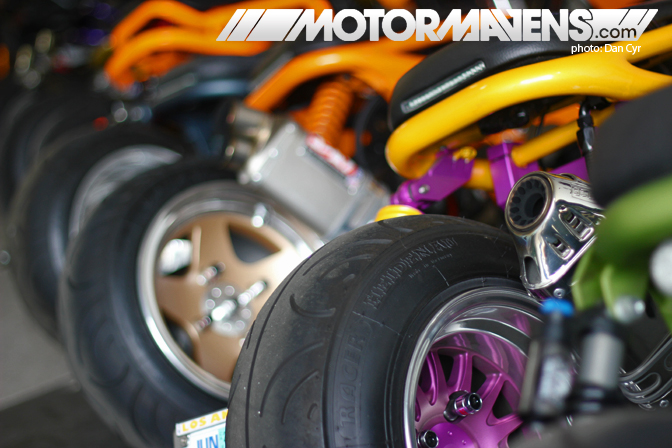 As I walked around the shop, I was met with a veritable treasure trove of stretched out Ruckuses and I couldn't help snapping pictures like crazy. I was amazed at how unique every individual build could be –  whether it was a crazy colour combo or the different rims that could be used. Also there were other little detail bits that help to make everything look so solid and well thought out – things you don't fully notice until you really get a close look at the machine. Some were even themed – such as the Lakers colour scheme on the Ruckus pictured above…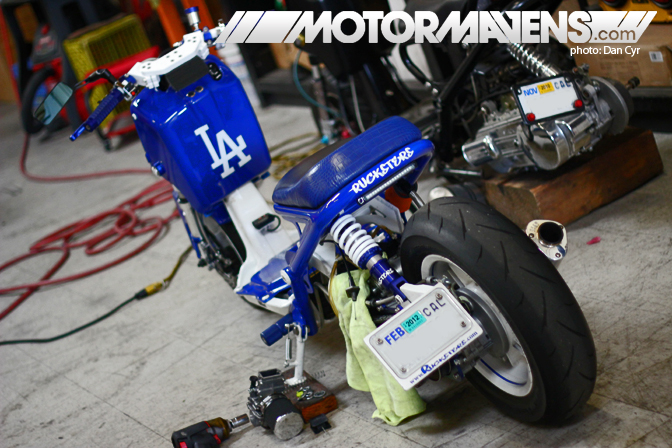 …or this LA Dodgers inspired machine. Throughout my tour of the shop it became more and more obvious that the little details that the Rucksters guys are so attentive to add are what really make the difference with these machines. Things like creative placement of their logo on parts like the shocks or the license plate cover tied each Ruckus together so nicely and ensured that Rucksters brand was well represented.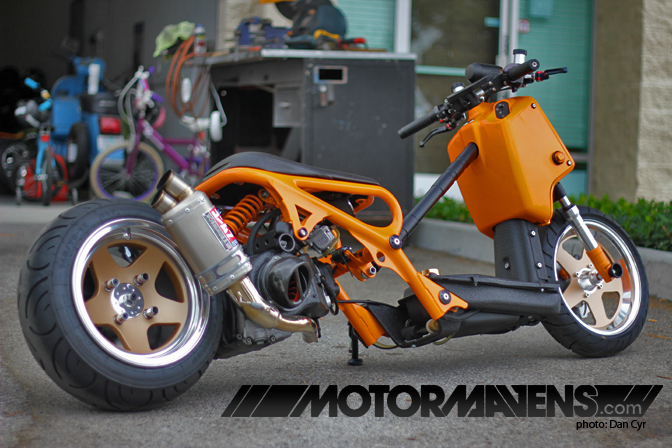 The Ruckus that had the most awesome little details, in my opinion, was this bright orange machine. So, we asked Hai to bring it outside to get a really good look at what makes the Rucksters work tick. Along with the bike itself being one of my favourite colours, the rims on this Ruckus really stood out to me. If you could call it 'stance', then I'd say this Ruckus kills it in that department.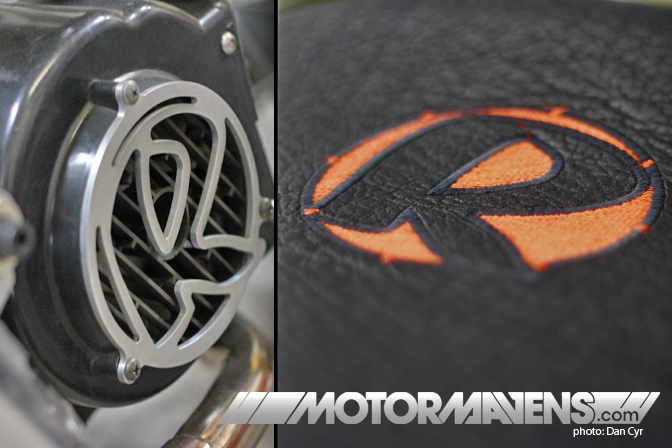 The details on this particular Ruckus are totally off the hook. The Rucksters guys have a real eye for custom stuff and this machine is no exception. As I was saying before, it's the little things that you may not notice at first that really make this bike truly custom in every way possible, from the embroidered logo on the seat and custom machined parts on the engine…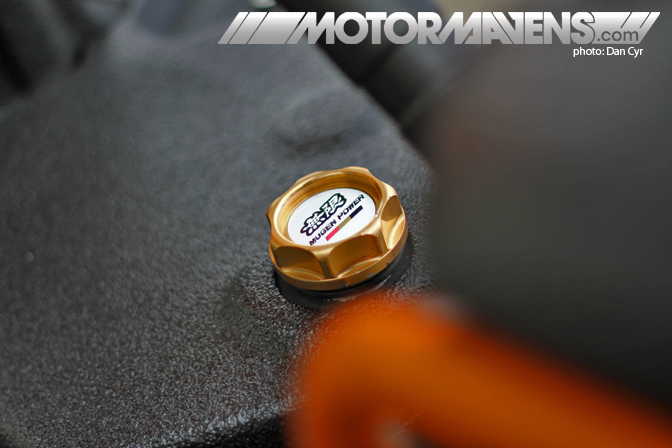 …to this super legit Mugen Power fuel cap! I was so surprised at how much time you can spend looking at just one custom Ruckus. It seemed like every different angle I got of this machine revealed some different, unique detail that just made it so much cooler.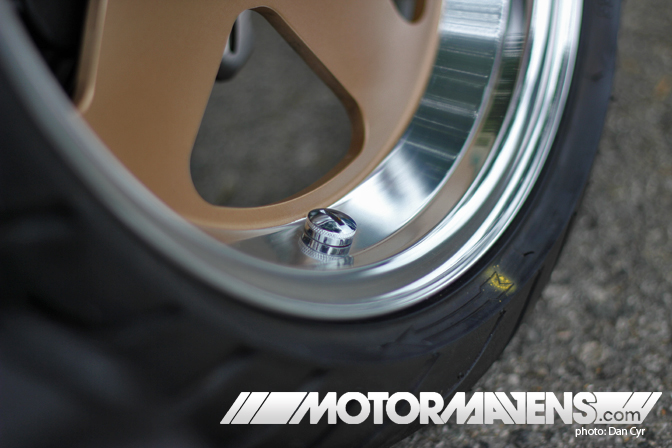 For instance, it took me a while to notice that these weren't your usual type of valve stems on this Ruckus…instead they had these radical hidden valve stems installed to give things a nice, clean look. Maybe this sort of thing is common on show cars or something but I'd never seen it before so I was pretty stoked about it.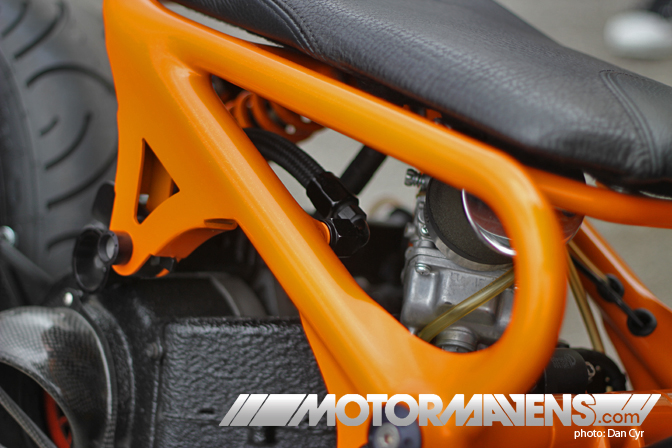 All the tucked and hidden wiring is just another example of how crazy attentive these guys are to the little details. Everything leads to a cleaner looking machine that makes you really think about how much effort and workmanship goes into each custom Ruckus. It's no wonder that people from all over North America order custom Ruckuses through the Rucksters' website, Rucksters.com.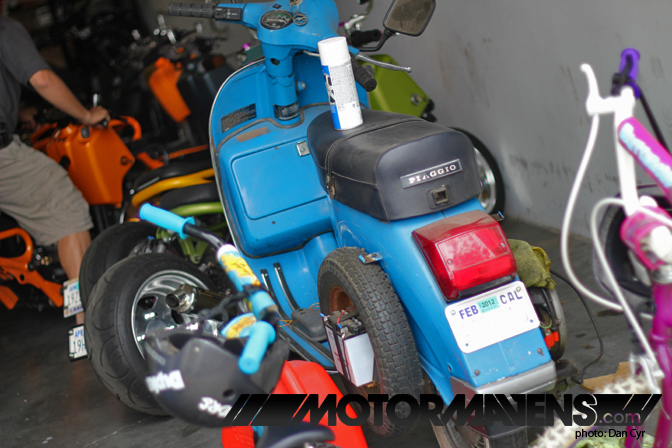 Heading back inside, I noticed this Piaggio scooter awaiting some repairs.  Not only do these guys do insane customs but they also do on-the-side repairs of scooters of all sorts – no one-trick ponies here! These guys know they've got the skills so they definitely use them to pay the bills!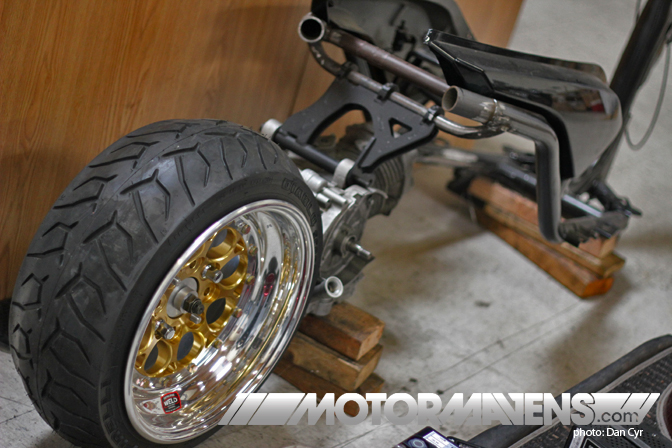 Projects of all sorts, shapes, and sizes were in different stages of completion at the Rucksters shop and here's another one that really caught my eye. Based on the rims alone, this project will look absolutely insane when it's finished! I found it really cool that it just seems like the possibilities for customization with all different types of scooters is limitless.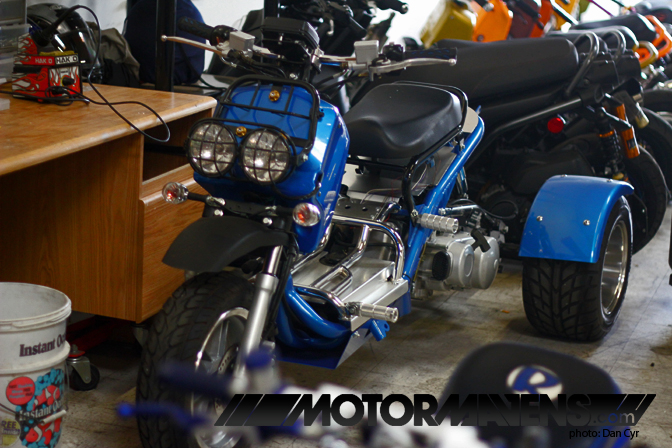 Another work in progress was this scooter which is apparently some sort of Ruckus copy made in China. I thought it looked pretty badass with three wheels and plenty of shiny bits as well. If all their other work is any indication of the things to come for this scooter, I think it's probably going to be quite the looker once the Rucksters dudes give it their magic touch.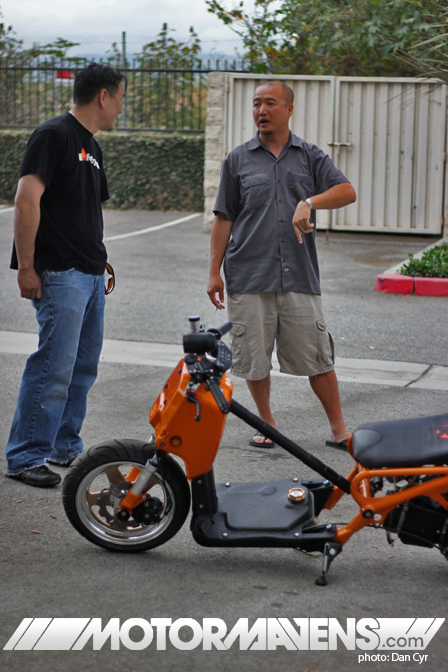 Before long, it was time for us to be off, and I (reluctantly) had to stop taking pictures. The above picture shows my buddy Nick talking with Hai (on the right) about all sorts of Ruckus related stuff before we left. I definitely have to send out a big thanks to Hai and Tony for letting us cruise around the shop and for letting us really take a close look at some of their finished work.
It was definitely a one-of-a-kind experience checking this shop out, since there's not much of anything like this in Toronto, so I feel lucky that I was able to visit!! Considering the limited amount of time that we had in LA, I was super stoked that I got the chance to check it out and I was more than happy to take some pictures and share them with our wonderful readers here on MotorMavens.com!!! Hopefully you enjoyed reading as much as I enjoyed the visit!
::Dan Cyr
Rucksters.com
Cyrious Productions on Vimeo
Cyrious Productions on Facebook
---