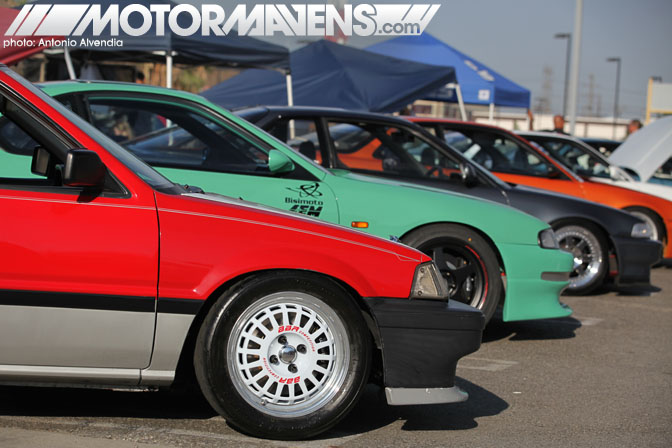 This past weekend, there were tons of automotive events happening, so those of us located in Southern California faced a dilemma – should we go to Nisei Showoff or Infamous?!
The tried and true Import Showoff event thrown by legendary import carshow promoter Ken Miyoshi during Downtown LA's annual Nisei Week Festival in Little Tokyo is always a good time. Everyone knows that Nisei Showoff symbolizes the best of the best – the highest standard in modified import cars, with attendance by the OG crews that used to run the streets of Los Angeles when the sport compact scene was just beginning to blow up. The whole vibe at Nisei Showoff feels a bit nostalgic, to be honest. Can it be that it was all so simple then? Good cars and good friends in a relaxed atmosphere, surrounded by good Japanese restaurants and boutique shops in Little Tokyo.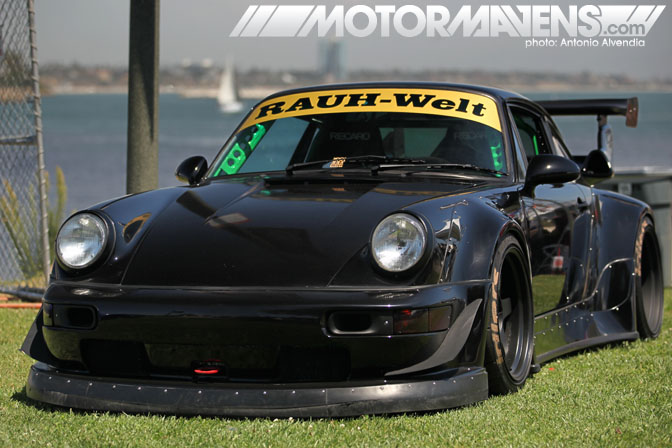 However, some young car enthusiasts don't care about memory lane nostalgia or waxing poetic about the good old days. For this rapidly growing new generation of frame-scraping tire stretchers, the newly conceptualized Infamous show was thrown as a collaboration between the Fatlace and Canibeat Crews at the Queen Mary in Long Beach.
It's obvious that MotorMavens connects to both scenes and both types of automotive taste, so those who follow @MOTORMAVENS on Instagram and Twitter already know that we decided to hit both shows. Here's a quick gallery of images from both events!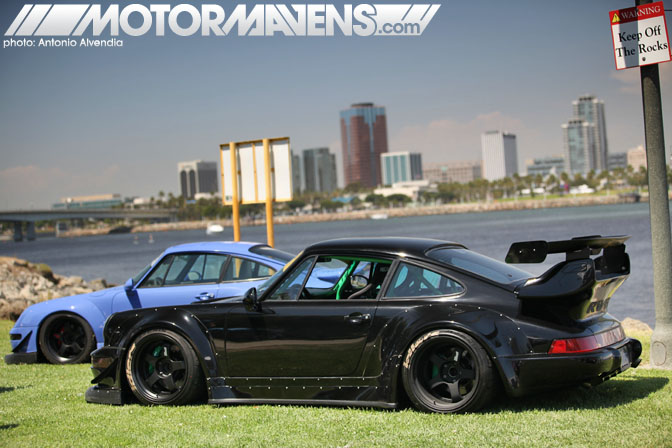 Since it's farther away from where I live, I decided to check out Infamous in Long Beach first. In the familiar grassy field next to the Queen Mary, I spotted the internet famous Rauh Welt Porsche 911s built in California by RWB USA. As the most widely publicized marquee vehicles in the entire show, I was surprised that the cars were staged in such a bad location for photographs. They had poles and trash cans and fences behind them – no bueno! But then again… they ARE Rauh Welt Porsches, so I suppose they'd look good even next to a trash dumpster.
It was cool to see Mark Arcenal's Pandora One RWB 964 911 redone in black! I like this black exterior much much much much much better than the matte green exterior it had when the car debuted at SEMA 2011. The new SSR Professor wheels look much better on this car too! No offense meant to the manufacturer of the car's previous wheels (those guys make awesome wheels too), but I think SSR wheels just fit the look of what an RWB car should look like.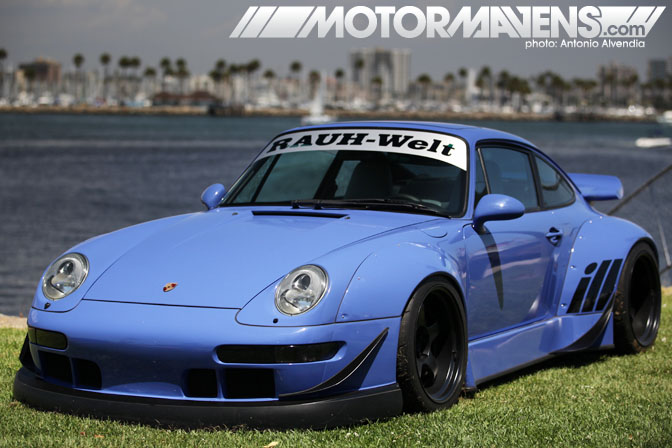 It was great seeing the new RWB 993 in person. This shade of blue looks GOOD!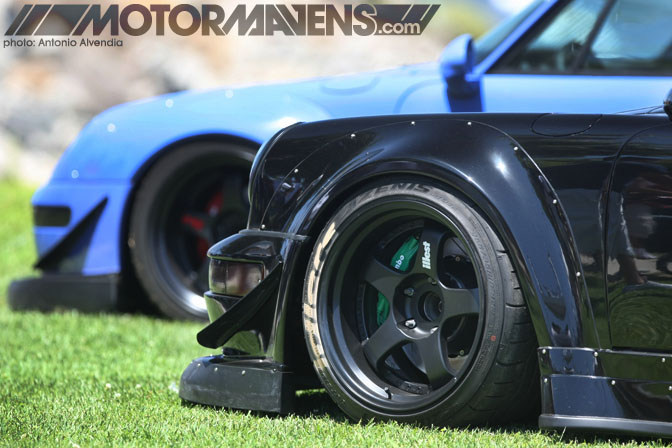 Of course, I love the wheels on the RWB Porsches. I wish the spoke said Rauh Welt though. Either way, they fill the overfender arches very nicely!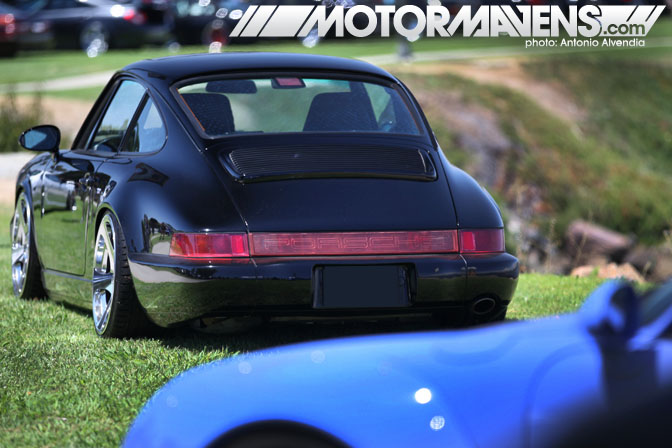 When I finally get around to buying a Porsche of my own, I think I'd most likely keep the body original. There's just something to be said about steel fenders. I love them! Brian Henderson from Rotiform definitely comes from the same school of thought. He kept the body of his 964 Porsche clean and original, but slammed it on his ever popular Rotiform wheels.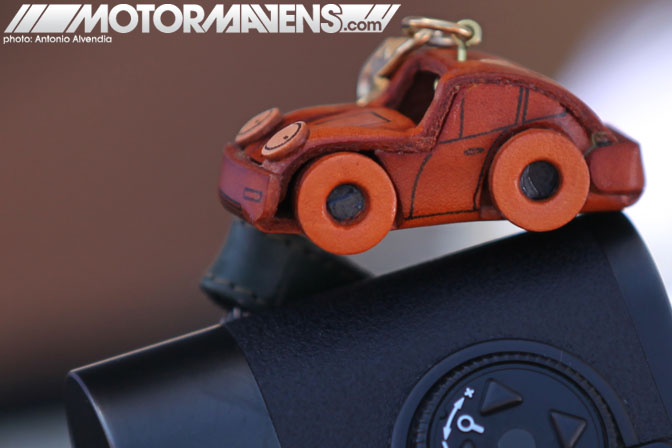 Perhaps the Porsche 911 that piqued my interest most at the Infamous event was this little leather handmade 911 that was strapped to Mark Arcenal's Leica camera! This thing is dope!!! I'm not exactly sure where he got it (I forgot to ask), but most likely it was made in Japan? Every time I go to Japan, I always find super cool handmade leather or wooden crafted goods. LOVE THIS.
Probably my FAVORITE wheel setup at the entire Infamous show was this single SSR Mark II wheel mated to a turbocharged Honda Ruckus from the SGV-based Standard Functions crew. I love army green, and I love black. This looks so sick!!! To whoever owns this Ruck, you have great style!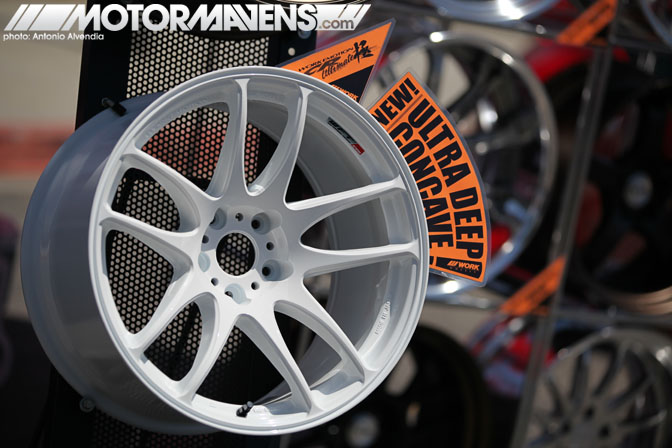 In the vendor row, my favorite booth was definitely from Work Wheels. Check out their all new ULTRA DEEP CONCAVE Work CR Kai Ultimate!!!! Amazing. This would look incredibly bad ass on the MotorMavens Scion FRS project car. I'm just saying.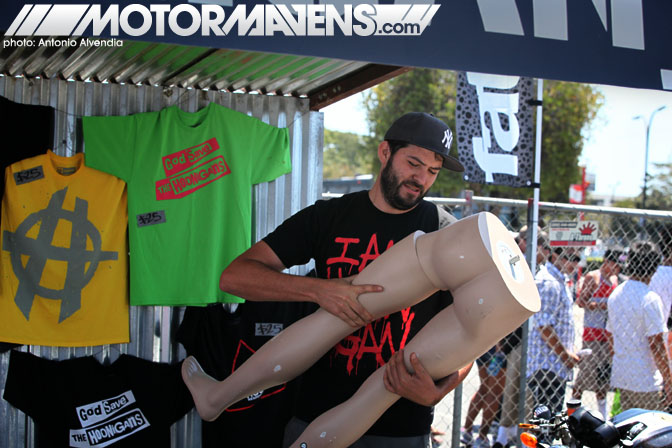 On the opposite end of vendor row, I spotted our boy Brian Scotto from Hoonigan. I don't even know what's going on here. Maybe someone else can figure out a better caption than I can. LOL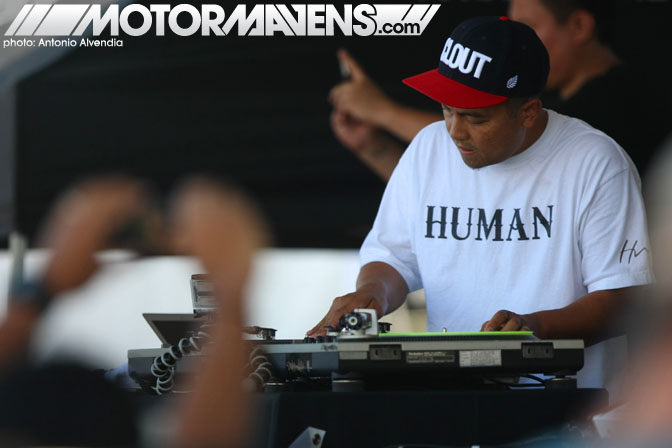 While everyone else was busy walking around staring at wheels, DJ D Styles of the legendary turntablist crew Invisibl Skratch Piklz was gettin busy on the wheels of steel. It was pretty awesome to see hip hop legends like the ISP crew out at Infamous… right after high school, I was pretty much obsessed with cars, girls, hip hop, and photography. This show had all that and then some.
D Styles is shown here rocking a hat from CLOUT Magazine. Clout is one of the top independent magazines about graffiti art and spraycan culture, and it was all started by a motivated, resourceful young lady named Jane from San Jose CA. Big ups Jane. Don't ever let your momentum stop.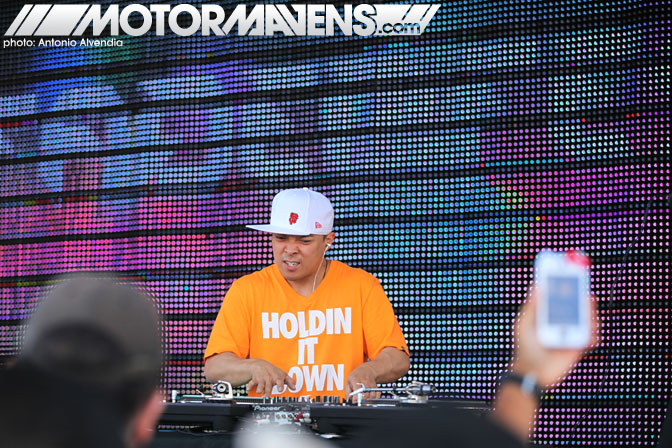 All that skratching… is making me itch… makin me itch… SF Bay area native DJ Qbert is the best in the world at rocking the tables. He was one of the first DJs to win multiple DMC championships for his skills at turntablism, cementing his name in hip hop history. I can't even emphasize enough how much of a legend this guy is!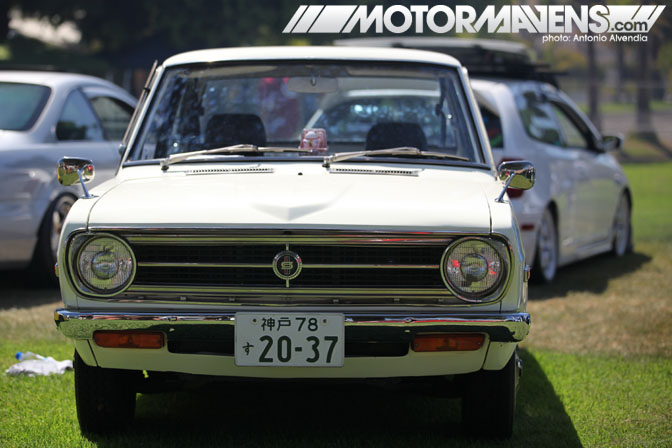 Speaking of legends, it was great to see a Japanese nostalgic car at the show. It actually stood apart from all the random slammed cars in the show, because this Nissan Sunny RHD looked pretty much bone stock and restored. Gorgeous car! I'm pretty sure we'll see it again at the Queen Mary during the Japanese Classic Car Show!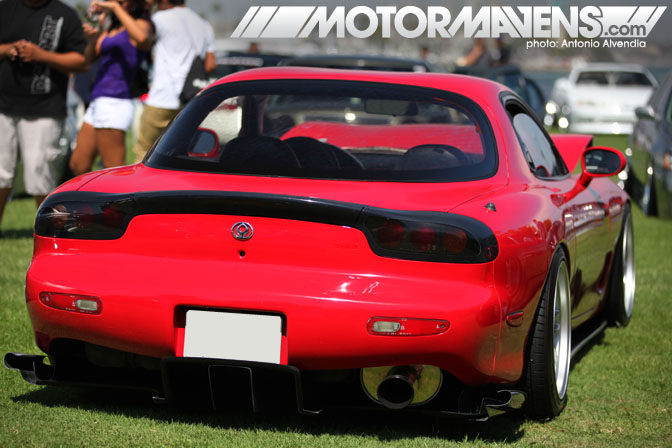 I liked the rear underbody splitter on this FD3S Mazda RX7. This car was just very clean and well done overall. I've always loved FDs, and this one was a great example of a clean FD streetcar!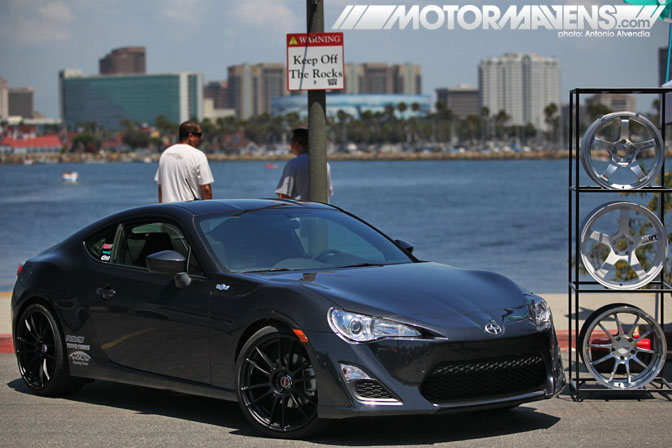 Of course the new kid on the block got a lot of attention. This Scion FRS in the Rays/Mackin booth was rocking some pretty big wheels. I like the sportiness and quality of the wheels (Rays wheels aren't cheap by any means), but they look super big on the car in my opinion…? Either way, this FRS looks super legit and it's obvious that no expense was spared on the wheels! As it should be! I wish everyone spent money on quality wheels.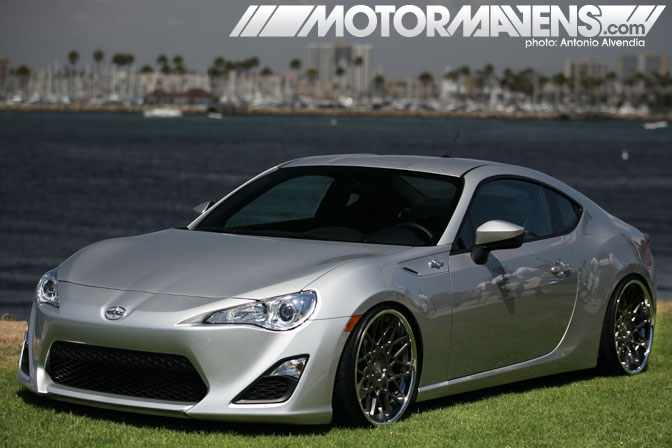 Rotiform is a wheel brand normally associated to European cars, but they are looking to change that! Jason Whipple's Scion FRS is pretty much the first FRS I've seen with good wheel fitment and stance. I've seen other examples of the Scion FRS with aftermarket wheels and such, but very few of the cars that I've seen thus far have attained the type of ride height and wheel size/offset that would inspire others to copy their setup. Jason is a pro at this, so his car is one of the better looking examples of an FRS I've seen in terms of stance. Don't worry… he wasn't the ONLY one out there that looked aggressive! (AFspecialK from San Diego, I see you! We'll get to your car in just a few.)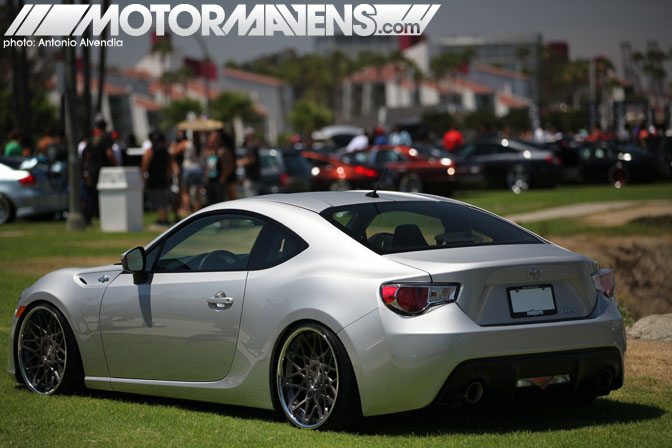 Here's a rear 3/4 shot of the Rotiform FRS. This thing looks good, and would be great for every day driving on the street!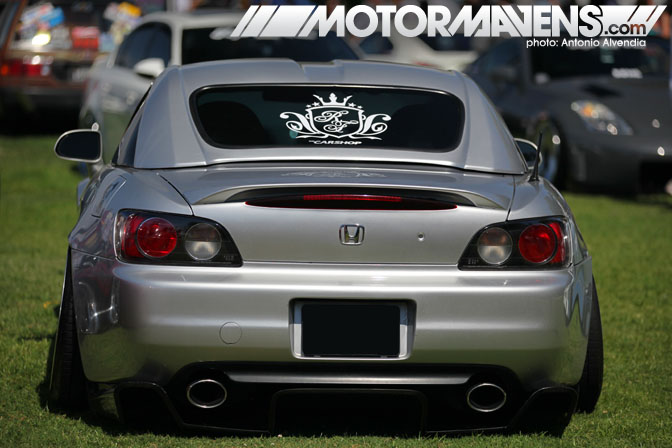 The Rotiform FRS wasn't the only good looking silver sports car in attendance. This silver S2000 looked pretty dope, especially with the hardtop.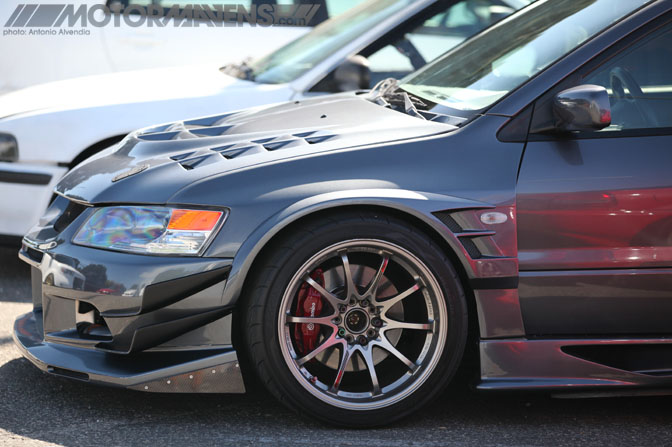 On my way out to the car, I spotted this genuine Cyber Evo aero equipped CT9A Mitsubishi Lancer Evo 9 in the parking lot, of all places. At first I thought this car belonged to my friend Karen Zorilla, but I was corrected by one of our readers (Thanks, Derek P!). This Evo is actually owned by Brian Nguyen. With all its details and rare/high end aftermarket mods, this Evo 9 certainly had the ability to school and afterschool 75% of the cars entered in the Infamous show. It made me wonder then… why the hell was it just sitting in the parking lot?!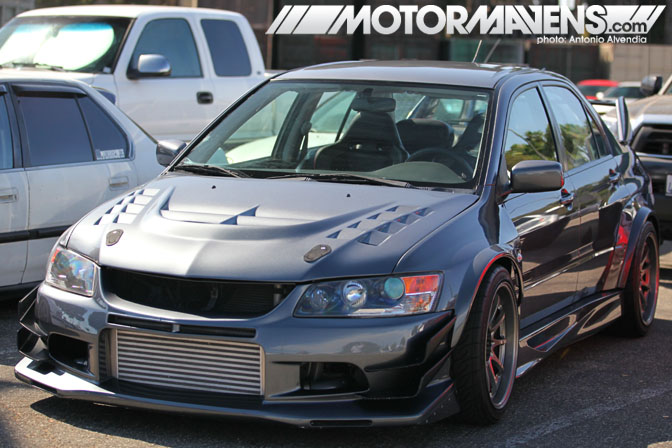 Here's another parking lot pic of the Evo, captured reallllll quick as I walked to the car and made my way over to Nisei Showoff. This car is so dope. It just goes to show that not all cars need to be frame scrapers!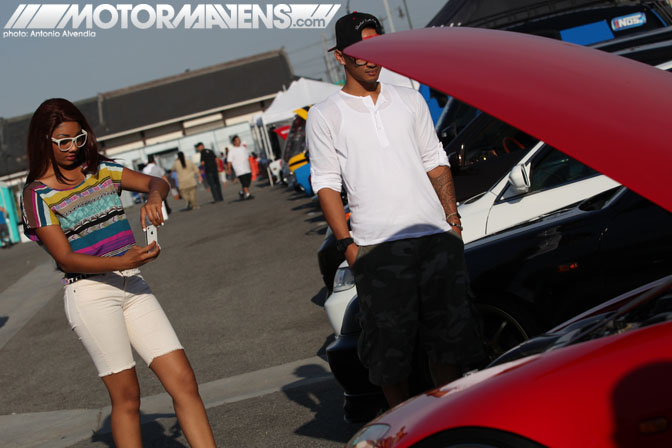 Once my friends and I found street parking and arrived at Nisei, our first reaction was "Gawt dayam it's hot!!!" Although many of the younger car enthusiasts chose to spend their day in the cool breeze of Long Beach Harbor instead of the heat-reflecting asphalt of Little Tokyo, Nisei Showoff certainly didn't disappoint.
While the Infamous show drew the majority of the spectators, Nisei Showoff definitely drew the cream of the crop when it came to cars. Nisei eventgoers braved the scorching heat just enough to take photos and post up on Instagram before seeking shelter underneath the EZ-up tents randomly scattered throughout the show.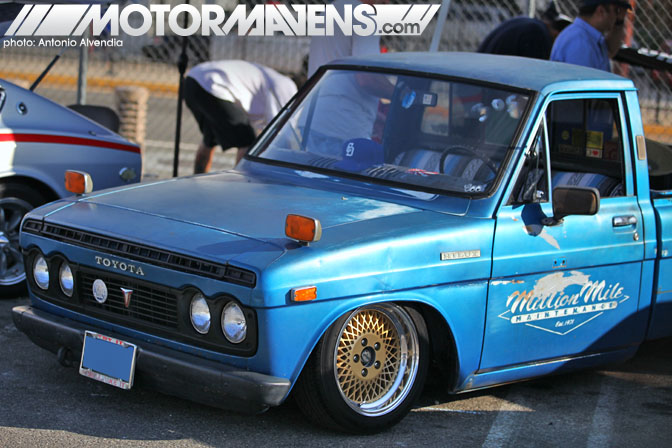 One of my favorite vehicles in the show was this slammed blue 1971 RN12 Toyota HiLux (LowLux) with a stock Toyota 8RC engine and American Racing 192 wheels. Just one week prior to Nisei Showoff, I saw this HiLux parked outside the Toyota Technical Center at Toyota National Headquarters. This truck looks so awesome, especially with the Million Mile Maintenance stencil on the door! LOVE IT!!!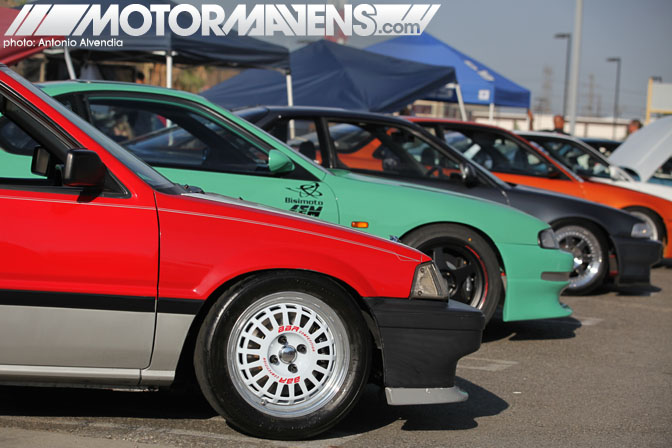 In the row of old school Hondas, this red Honda Civic E-AT was my absolute favorite car. Even in "unfinished" form, this Civic was just so raw and so bad ass in my opinion. It belongs to John Nguyen from AEM,who I've known since I lived in San Jose over 10 years ago! I love the way this car is set up, with its OEM 2tone paint and BBR Competition wheels. Man, those wheels.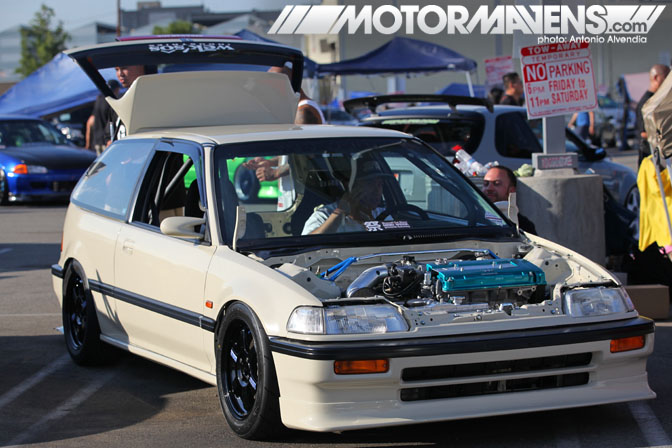 Check out this clean cream EF9 Civic from ATS Garage, with Volk TE37 wheels, roll cage, and a super clean engine bay. So clean, and so legit!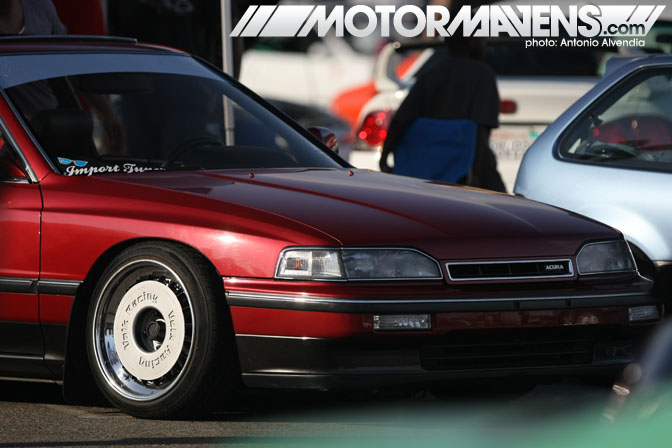 When you normally see an Acura Legend like this driving through Asian neighborhoods in Southern California, you'd better run for cover! A longtime favorite car of Vietnamese gangsters, this Legend is Super Streeter Charles Trieu's chariot of choice. It sure does look gangster, especially with those incredibly rare Volk Racing dish wheels.
As I admired the car further, I kept thinking, "this thing definitely looks like it would be at home parked in front of a Vietnamese cafe." Hey wait… don't get me wrong! MotorMavens supports racing, not racism. But hey. I'm just saying. You know I'm not the only one who had these thoughts when they saw Mr Trieu's car!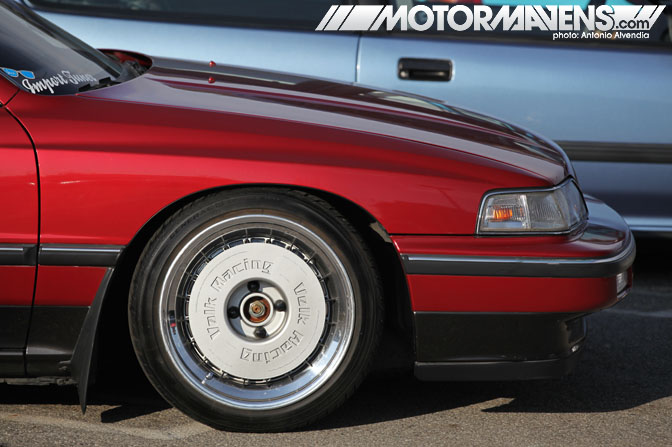 Just look at these wheels! Amazing.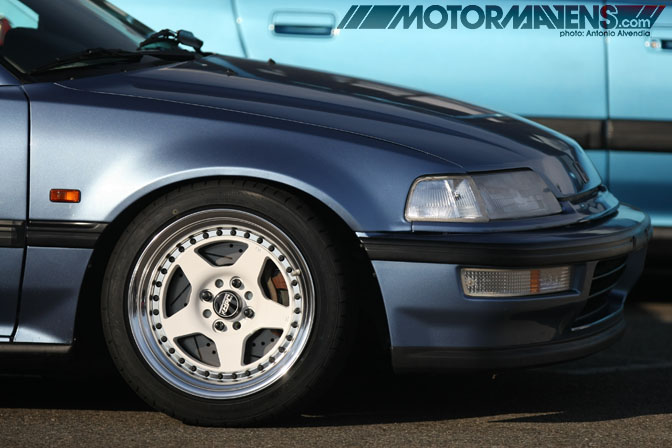 Parked next to the Legend was Super Street Magazine Editor in Chief Jonathan Wong's super clean EF Civic, sporting its Osaka JDM wheels. Sick.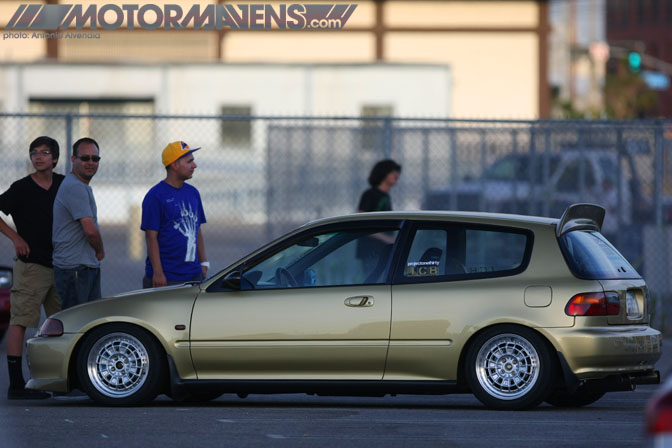 I've seen this gold EG Honda Civic hatchback several times before, but it doesnt lessen the impact of the car for me. This thing is so clean, and well done. I wish more car owners put this type of effort into their cars!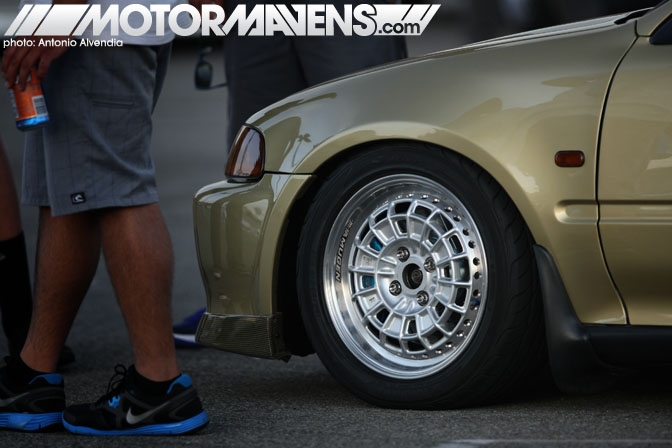 The icing on the cake – gorgeous Mugen wheels.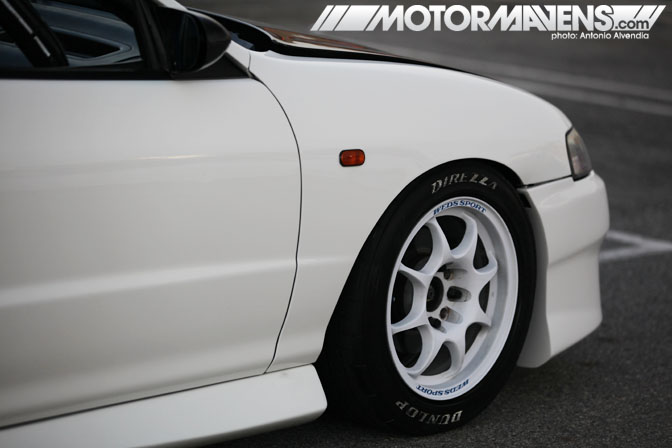 Nisei Showoff was pretty much a JDM Honda-with-rare-wheels festival. Check these Weds Sport wheels on this front end converted Integra Type R!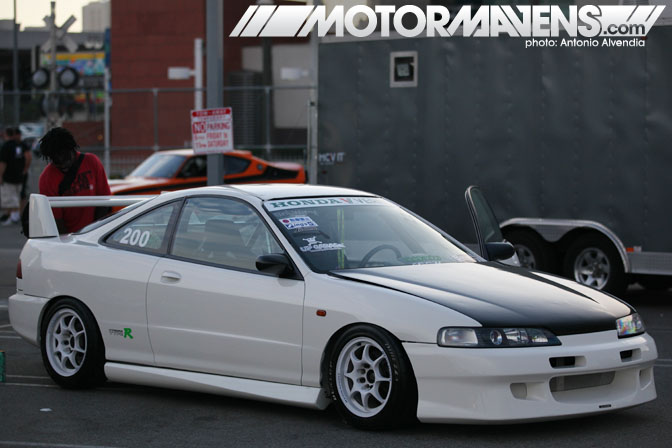 Coated in championship white paint, this DC2 looked real good.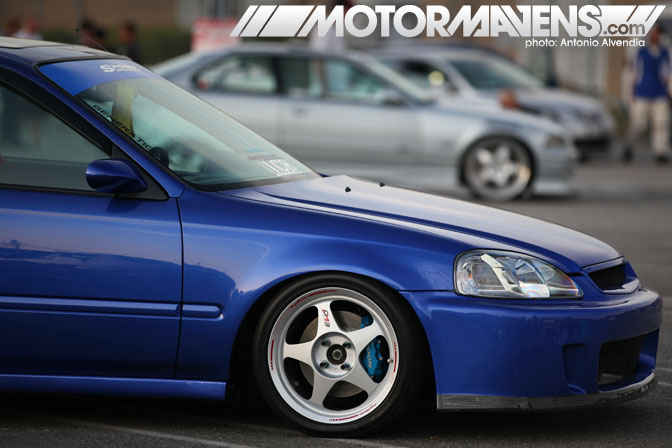 This Civic Coupe looked super clean with its Regamaster Evo wheels and Spoon Sports brakes! Baller status!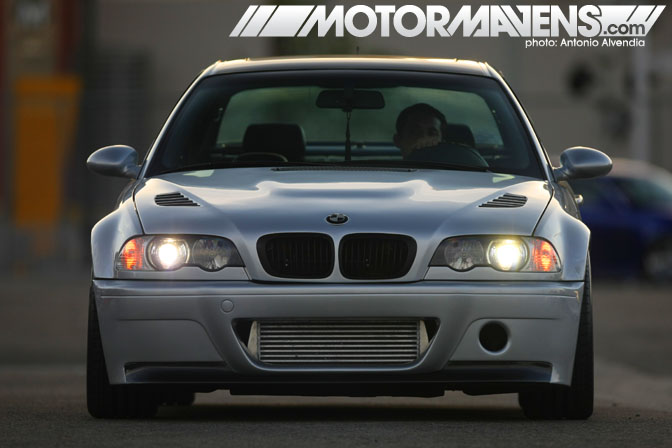 It was awesome seeing my longtime friend Dan Nguyen, who drove his E46 BMW M3 all the way out to Nisei from Colorado! Dan formerly worked with Showoff as a marketing and promotions manager for the Pike's Peak Drift Showoff several years ago. Because of Dan's promotional creativity and diligence, the Showoff in Colorado was one of the most successful and fun Drift Showoff events I ever had the pleasure of attending.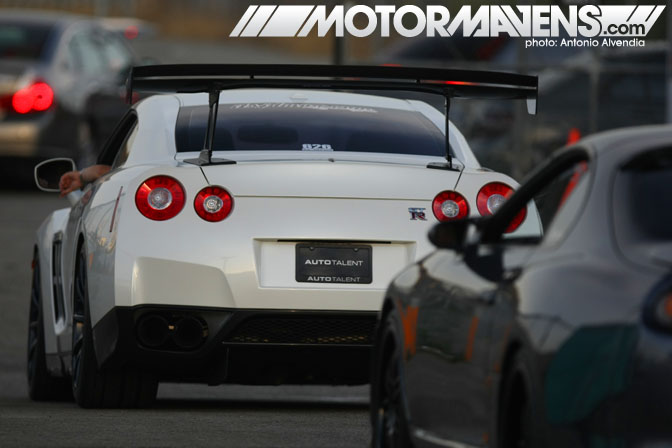 Nisei Showoff wasn't all about JDM Hondas though. There was a huge Scion FRS lineup in attendance, and there were also several supercars, like this R35 Nissan GTR and JZA80 Toyota Supra Twin Turbo.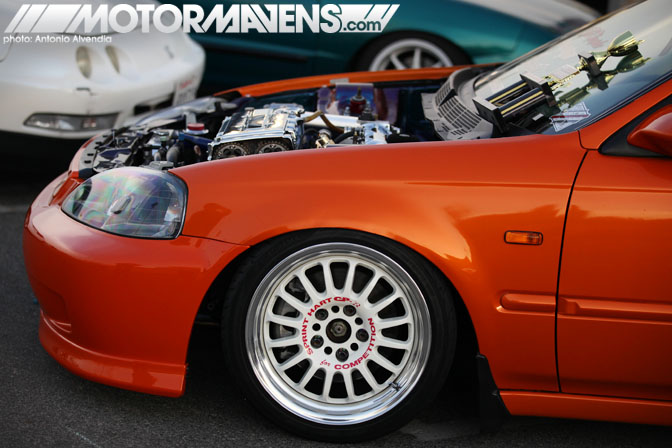 As my friends and I began to walk towards the exit, I had to stop and admire this EM1 Civic's Sprint Hart CPR wheels. I had a set of these wheels back in the late 1990s, and I still wish I never sold them!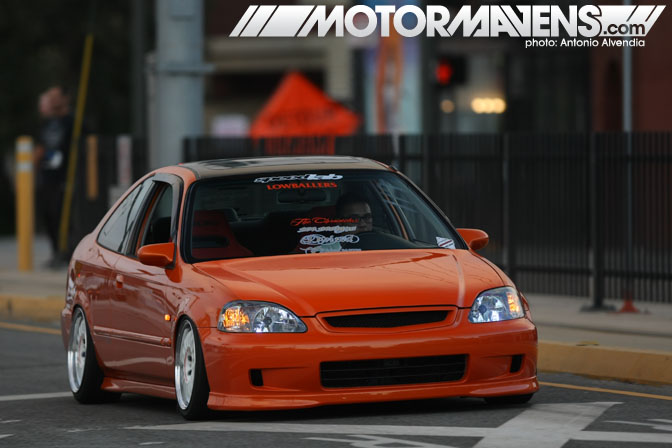 Here's the EM1 again, rolling through Little Tokyo on the way out.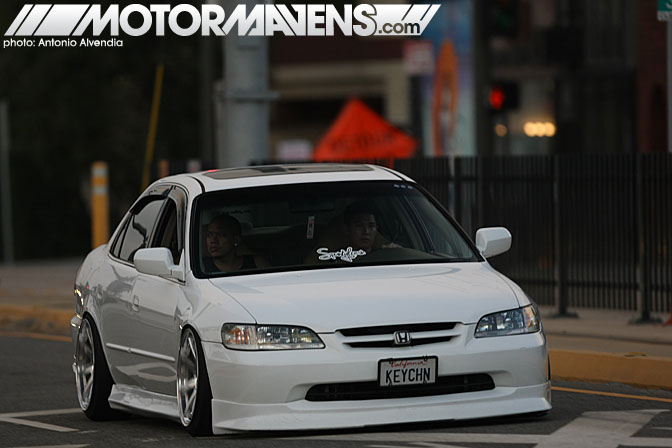 Right before I put my camera away, I spotted my friend Keychain driving his super low Honda Accord sedan. I knew Keith's car was low, but damn. Look at the front lip!!! It looks like it scrapes road reflectors! I remember Keychain posting on Facebook about how he cracked his oilpan because his car was too low… the things people will do to maintain that aggressive stance!
Nisei and Infamous were BOTH fun, and I look forward to going to both events again next year. Hopefully next time, they make the events on different days so the eventgoers don't have to choose one event over another.
We'll be posting more photos from the events on Instagram, so if you have some photos from either Infamous or Nisei Showoff, share them with our community at MotorMavens.NET and we'll blast out links to your photos!
:: Antonio Alvendia
192
,
1971 Toyota HiLux
,
8RC
,
911
,
Acura
,
American Racing
,
BBR Competition
,
BMW
,
Brian Nguyen
,
Brian Scotto
,
Canibeat
,
Charles Trieu
,
Civic
,
CR Kai
,
CT9A
,
D Styles
,
Dan Nguyen
,
E-AT
,
E46
,
Evo 9
,
Fatlace
,
FRS
,
GTR
,
Hilux
,
homepage
,
Honda
,
Honda Ruckus
,
Hoonigan
,
Import Showoff
,
Infamous
,
Integra Type R
,
Invisibl Skratch Piklz
,
James Nguyen
,
Jonathan Wong
,
JZA80
,
Ken Miyoshi
,
Lancer
,
Legend
,
Little Tokyo
,
Long Beach
,
M3
,
Mark Arcenal
,
Mark II
,
Mitsubishi
,
Mugen
,
Nisei Showoff
,
Nisei Week
,
Nissan
,
Osaka JDM
,
Pandora One
,
Porsche
,
Queen Mary
,
R35
,
Rauh Welt
,
Rauh Welt Begriff
,
Regamaster Evo
,
RN12
,
rotiform
,
Ruckus
,
RWB
,
RWB USA
,
S2000
,
Scion
,
Scion FRS
,
Spoon Sports
,
Sprint Hart CPR
,
SSR
,
SSR Mark II
,
SSR Professor
,
Sunny
,
Supra
,
Toyota
,
Voltex
,
Weds Sport
,
work wheels
---