For those who haven't been to
Texas Motor Speedway
in the Dallas/Fort Worth area, the complex is HUGE. It may seem like a cliche that "everything is bigger in Texas," but this is a case where that saying is actually true! I experienced the Texas Motor Speedway complex first hand recently when I attended the inaugural event of the nationwide
Traffik Tour
series, which is a car show series that has partnered up with the Indy Racing League (IRL).
For the first Traffik event, the entire car show was organized right by the main entrance of Texas Motor Speedway's main track entrance, so the 80,000 recorded event attendees for the IRL event and the special "Ultimate Drifting" Formula Drift competition event (not for series points) had an opportunity to check out all the cars in the Traffik show, as they melted underneath the sun's 100 degree heat.
Read more...
---
Formula Drift 2009 from Joshua Herron on Vimeo.
While 2009 may have come and gone, Joshua Herron dug through hours upon hours of footage to give us one last glimpse at what the '09 Formula Drift season held in store for us. This video is amazing on so many different levels. The cinematography is top-notch, it is jam-packed with unreleased footage, transitions through three songs – each with a unique vibe, and it does it all seamlessly. The last segment definitely feels like a throwback to the old skate videos I grew up with.
Amazing work on this video, Mr. Herron! I'm going to go watch it again (and again, and again)!!!
:: Andy Sapp
---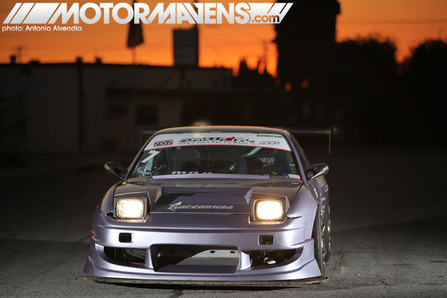 The drifter archetype has changed. Today in America, drifting has become the life, in part or whole, to many different people from all walks of life. When I met
Russell Walker
for the first time and learned he piloted this ready to rock machine, I wasn't too surprised. However, meeting him outside of a drifting event, you probably wouldn't suspect that he's a
newly licensed Formula D driver.
In high school, where most young men start to
entertain their desires
, he started to cultivate an interest in the automotive world. He grew up in Texas, so
of course
he had a truck at first... but that didn't stop him from causing mayhem. Running over curbs, signs and getting sideways in the rain was a common occurrence for Russell and his truck. However, as far away as
Japan
is from
Texas
, the drifting bug still bit him. He picked up this
Nissan S13 240sx
for $500 at the age of 17 and never looked back. It's his first actual car, and I'd say it's come quite a way from being the white hatch with black Silvia front end that it was a few years ago.
Read more...
---