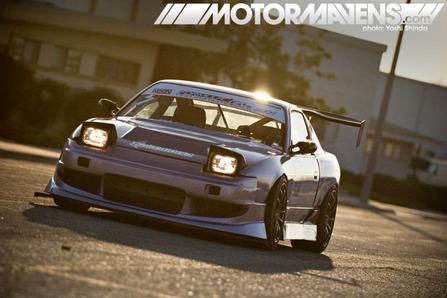 The drifter archetype has changed. Today in America, drifting has become the life, in part or whole, to many different people from all walks of life. When I met Russell Walker for the first time and learned he piloted this ready to rock machine, I wasn't too surprised. However, meeting him outside of a drifting event, you probably wouldn't suspect that he's a newly licensed Formula D driver.
In high school, where most young men start to entertain their desires, he started to cultivate an interest in the automotive world. He grew up in Texas, so of course he had a truck at first… but that didn't stop him from causing mayhem. Running over curbs, signs and getting sideways in the rain was a common occurrence for Russell and his truck. However, as far away as Japan is from Texas, the drifting bug still bit him. He picked up this Nissan S13 240sx for $500 at the age of 17 and never looked back. It's his first actual car, and I'd say it's come quite a way from being the white hatch with black Silvia front end that it was a few years ago.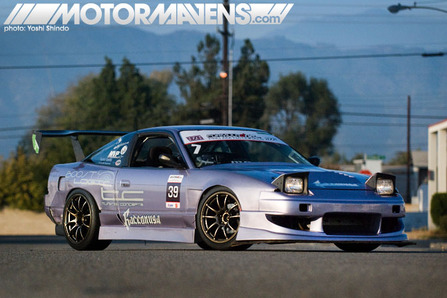 As the consummate Texan, Russell can often be found in dusty cowboy boots and jeans tight enough to rival Chuck Norris himself. On the day we did the shoot, I saw him hop into his car to drive it around on the street without a thought; it made me wonder if he drifted with boots on too. (The answer is yes, BTW.) Not in any pro Formula D events of course, but at the Mineral Wells events held in Texas. Pictures and video from those events always look amazing and someday I would love to drive at those events to experience some true wild west drifting – wind in your hair and smoke up your nose.
Russell started drifting at the end of 2005, and since then has started to make a name for himself. First, he gained recognition locally as part of the Viceroy team, and then branched out further by entering the D1GP USA series.
He says that driving against the top D1 Japan drivers was exhilarating, and a learning experience as well. His best finish that year was getting 6th place at D1 Anaheim. Recalling his favorite memory of the the season, he makes note of driving against Nobushige Kumakubo as the most fun he ever had, "I had my best run of the day following, and then leading my car dropped to three cylinders. There are still scuff marks on my rear bumper from Kumakubo running over the top of me."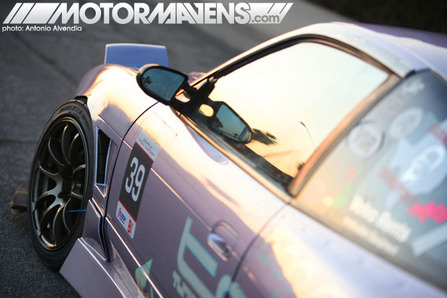 As 240s have become common place in drifting these days, it becomes increasingly difficult to stand out. To have something that reflects personal taste without becoming a caricature was Mr. Walker's ultimate goal. Russell's car is unmistakably his without going overboard. Visually the car might as well be wearing a Tuxedo T-shirt because it screams, "I want to be formal, but I'm here to party." Its a rad blend of pro and grass roots styling. Low, yet still functional, eye catching paint that doesn't yell at you, and flush wheels, but not without thought to the overall package.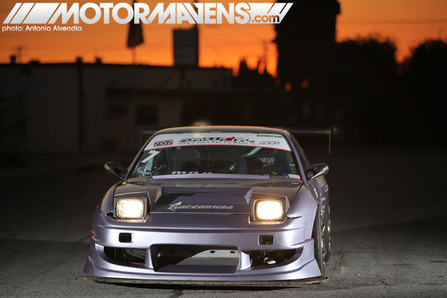 The exterior makes the car look hungry, ready to devour the leading car in tandem. The aggressive Works 9 front bumper may seem frail and weak to the uninformed; but if you place a bet on who would win between it and a cone or tire, you may lose your money. Mounted to the chassis and following the edge of the bumper is a splitter, but not made out of CF or aluminum as you might expect. It's made of hand carved wood (not really… well, yes really to the wood part), and has saved the front bumper on many occasions. Any drifter with aero knows that breaking your front bumper is the name of the game, but when you can find something that will protect and prolong its life, then by all means, it's a great idea.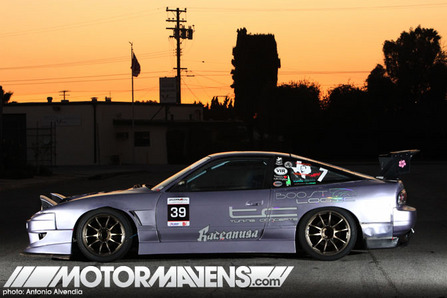 The rest of the body is rounded out by a D-Max hood, Origin over fenders, a carbon fiber hatch with Lexan rear window, and a RaceOnUSA rear diffuser. The Advan RZ wheels look like spiders trying to escape from underneath; the spokes give a classic concave feel that just looks right on a car like this. The front wheels are 17×9.5 +35 with a 20mm spacer, and the rear wheels are 18×10 +25 with a 25mm Spacer, using Dunlop Direzza Z1 Star Spec tires; 245/40/17 and 265/35/18 respectively.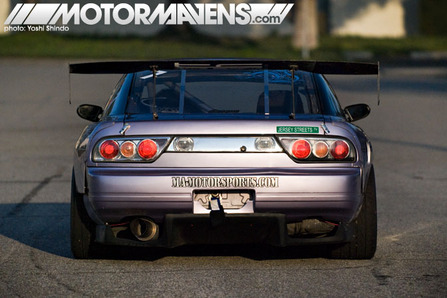 Now let's get to the obvious and take a look at the huge GT wing mounted on the hatch. (They say everything is bigger in Texas.)  This behemoth is actually the fabled Garage BB 1800mm wing, which is mounted to the trunk and towers over the rear. Wings are a hard thing to nail down right. You may not think so, but when it comes to aesthetics there is a lot to consider. Length, width, height, angle and mounting placement. If any one of those factors is off, it will totally throw off all the others. The execution and style on this car is a major victory in the battle against absurd and pathetic wings.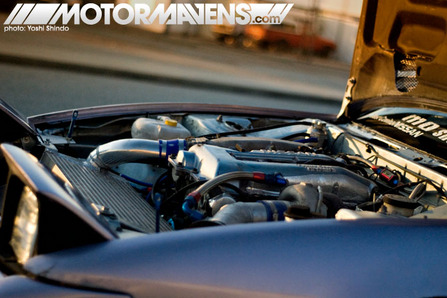 Having bad luck with engines is enough to make a grown man cry, or even worse, quit. Having one's first three engines blow in only a matter of days may drive some to insanity! Luckily the next engine, after those first three, lasted a couple years until it needed to be yanked out and a refreshed S15 SR20DET was dropped in.
Like most labors of love and performance, the mods list is extensive, but here are some notables – Boost Logic GT3076 turbo kit, SARD 850cc injectors, Tial bov and wastegate, all managed by an Apex-i Power FC D-Jetro and an HKS EVC S Boost Controller. Custom parts on the car include the Boost Logic V-mount setup, coolant expansion tank, oil cooler and relocation kit, as well as a custom power steering fluid cooler. The power is transferred to the wheels via the Exedy Stage II Clutch, Cusco MZ 2-Way differential, and a 4.3 ring/pinion set.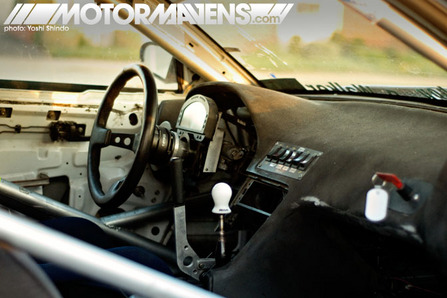 The interior is where the magic happens when it's business time. Each car is, of course, tailored to each driver, fitting like a glove. All parts must work together and feel like home. Russell's home is sparse and functional, with everything in its place and a place for everything. The dash has been flocked and the display coming out of it is an AIM Sports MXL Dash/Logger. No street light racer A-pillar gauge pod here.
The seat is a Sparco Circuit Pro Seat mounted super low, and wrapping around it is a Hooker 6pt harness. (Russell always wanted a hooker to hold him tight.) In keeping with the only what's needed theme, all the stock wiring was removed and replaced with a Painless Extreme chassis harness.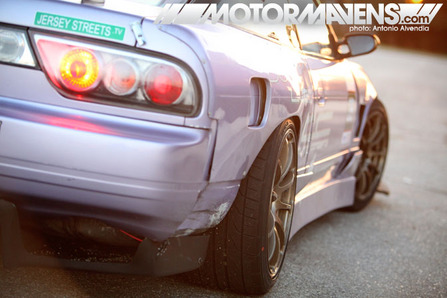 Most suspension arms underneath are from SPL, from front to back. The only things not SPL are the Nissan S14 240sx front lower control arms, which aid in adding more steering angle as a cheap and easy mod. Giving this car the intimidating stance are the KTS Beta coilovers. Stopping the car on a dime are the Nissan Z32 300zx brakes with Project Mu pads. Helping those out is the Z32 brake master cylinder, and when times are tough or need to be shaken up, the Drift Works hydraulic hand brake does the trick.
Russell competed in the 2009 FD Pro-Am Finals at Irwindale back in November, driving against the best pro-amateurs in the country. Lots of cars met their fate in practice and competition, but it was nothing he couldn't handle. Emerging from Irwindale's banking unscathed, he would ultimately make it to the Top 8, securing his 2010 Formula Drift Pro License.
After driving against some of the best drivers from the USA and Japan, I am looking forward to see how this new season goes for Russell. Unfortunately, it wont be in this particular car, as a rear wheel drive Subaru WRX STi is being prepped for his upcoming season of Formula D. Completing isn't easy for anyone (let alone a privateer), but as Russell plans on doing all the events next year, he's lined up a few sponsors to help out – Stance, SPL, and Hooker. If this Nissan is a testament to Russell's style and commitment I can't wait to see his new drift sled when it's finished.
As with all the Pro-Am fellows I met while I was in California for the Pro-Am finals, I wish you luck and all the best!
:: Lucas Perez
Photos by Yoshi Shindo and Antonio Alvendia
---