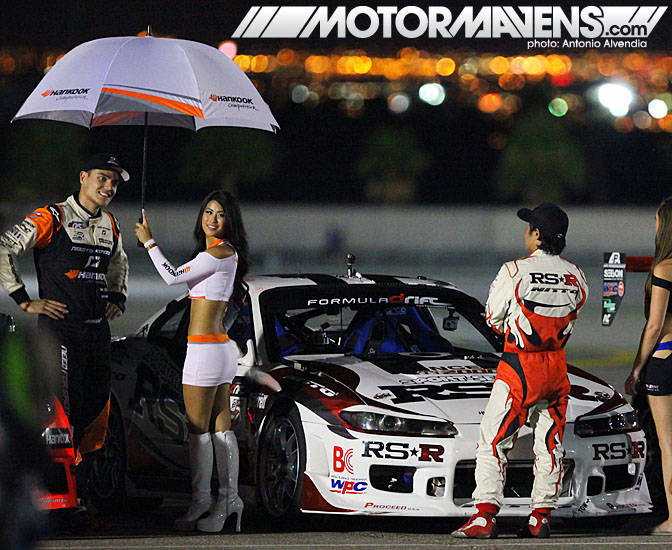 This last trip to Las Vegas for
Formula Drift
was one hell of an eventful weekend. With a new course layout and drastically changing weather, the conditions took a toll on a lot of the teams. There were lots of tire scraps and car parts littered around the track when the day was done, not to mention the plethora of tire smoke from these high horsepower monsters. The sweltering heat and the freak 45 minute rain storm made it an interesting day at the Las Vegas Motor Speedway. With extremely fast entry speeds and high speed turns, the new course layout took out many cars from the running all weekend long.
Read more...
---
2011 was a pretty spectacular year of drifting for me. Being a Canadian, I got to see a whole heck of a lot of America this year – not only from all the different rounds of Formula Drift that I and the rest of the Drift Posse participated in, but also as a result of a tour that saw me flying around the country for three months. (more…)
---
Ryan Tuerck shows YAER around the track at Formula D from Ryan Davis on Vimeo.
Have you ever wondered what it would be like to be in the DRIVER'S seat, drifting around Irwindale Speedway's oval? I asked Ryan Tuerck if he could show us around the track from a driver's perspective. He was excited to show us how an FD run went down, so we grabbed some cameras and followed him out. Have a look! (more…)
---
TRG takes on Road America from TRG on Vimeo.
Two weeks ago, I had the chance to shoot and edit a video for a Porsche team at an American Le Mans Series race (ALMS). I'll admit, when I got the call, I wasn't sure exactly what went down at these races. What would the vibe be like? How intense are the media regulations? Who was The Racer's Group?
When we arrived at Road America – just outside Elk Hart Lake, Wisconsin – on a qualifying day, I saw firsthand the amount of team work, technology, focus and resources that went into a race like this. I had no idea! They had engineers on site, top tier mechanics, 100% accurate pit crews… They had the car examined and tested every chance they could get. Once out of the car, the driver goes over corner-by-corner analysis of the track, vehicle/driver characteristics and stats with a team member. They have amazing food for the drivers to stay at their best, and multiple haulers and trailers for the team to rest and stay prepped in the heat.
Getting out to the track and finally seeing the cars fly by was out of this world. The Porsches I shot for The Racer's Group were sharing the track with the GTC3 cars and the prototypes! These guys are passing and sliding around the track at an unbelievable speed. (more…)
---
---
As the next Formula D nears, Andrew Coomes and a few other drivers had the chance to test their cars at Evergreen Speedway.
YAER had an opportunity to stop by and shoot a goodie for MotorMavens. A short featuring myself (Ryan Davis) and Andrew Coomes… (more…)
---
Formula Drift at Palm Beach International Raceway in Florida was AWESOME!!! First off, I was excited getting there being part of the first group to shoot this location. It's Florida, it's new, they were changing the track up last minute.. It was a very freestyle feel to the weekend. Much less structured seeming than the previous events this year.
Secondly, the YAER team was out and about running wild, the drivers were killing it, and Walker Wilkerson (YAER sponsored driver) had a new reverse gear installed that allows him to enter the turns backwards. (more…)
---
---
It has always interested me to watch the background area of a competition, and all that is involved to bring it to life.
Formula D has so many people working, moving, going… There is a full TV show being produced, professional race event taking place, thousands of fans… And yet, it seems like most things move at a different pace in Las Vegas. The cars are still in a rush, but everyone else, everyone behind the scenes…
Once I started editing to this song (Sundriped), I felt the pace change from some of the other videos I have done more recently, so I countered with a different choice of footage out of my stash.
In the last video, I featured Justin Shreeve, Joe Ayala and Yoshi Shindo. In this video, I threw in a quick clip of Abbitt Wilkerson, another Northwest videographer. His older brother, Walker Wilkerson, acquired an FD license at the final Formula D event in Irwindale. Keep an eye out for what Abbitt, Shreeve, myself and the rest of YAER Productions will do for Walker's upcoming 2011 driver package.
Ian Dillon, of Factory 83, also collaborated with YAER Productions, providing graphics for this and other upcoming edits.
:: Ryan Davis

YAER Productions on Vimeo
More Formula Drift coverage from MotorMavens
---
BIGFOOT BASH FINAL VERSION from Ryan Davis on Vimeo.
The very first Bigfoot Bash was held over this past weekend. A two day event that started with action at the Evergreen Speedway for the first day, followed by an overnight camp at Pacific Grand Prix to wake up for more drifting action the next day! Rob Primozich is the guy to thank for this awesome weekend. Because of him, everyone who attended had a great time! The drivers had tons of runs and Ray Stonehocker even brought out his tire machine to change tires. Ryan Davis made the drive from Oregon to attend this event, as well as our boys Justin Shreeve and Joe Ayala.
Ryan Davis is an up and coming videographer who has been making a big impact on the Northwest scene. After watching this video, I noticed that his style of video is far different from most videos that I see I simply had to ask him "What made you make your video the way you did?" This is what he told me:
I wanted to make this film a representation of the vibe and feel I got from each stage of the event. I have had so much fun at both of these tracks before: Formula D at Evergreen and the crazy tandem events at PGP. I knew that, whatever happened, it was going to interest people, so I edited accordingly. Justin Shreeve was singing the Tom Petty song on the ride back and that fell in so easily with the Evergreen section. The PGP portion was so high-energy and I knew Supernova by Loyale, an up-and-coming artist, was going to not only show the difference in pace, but also stick in peoples' heads leaving them wanting more.
Honestly, I think this video is one of Ryan's best yet! It's great to see different videographic visions of the same event. It's amazing to me how diverse these videographers' artistic perspectives can be. Great job Ryan!
::Yoshi Shindo
---