This past weekend, the
Formula Drift Season Finale
at
Irwindale Speedway
went by quicker than I could ever have planned. Whether it was the severe lack of sleep, being on the move at all times, nonstop action, or the three hour time difference, I wouldn't have changed a thing. It all started at 5am EST in Atlanta when I woke up to head to the airport in hopes that I could catch a flight to LA.
Flying standby, which may be cheap, is very risky and can be stressful when flights that were empty the night before, are full in the morning. Luckily, only the first flight out of Atlanta that morning was full and I could hop on the second flight to John Wayne at Santa Ana. If time had not been an issue, I could have arrived much later and taken an easier flight, but since I had to be there by 1:30pm PST to make it to the (all-caps) MANDATORY media meeting, I was starting to stress when I noticed the flights starting to fill up. I'm no stranger to the
pre-Formula D stress syndrome
though. I almost didn't make it to this point after all.
Media passes are a hot commodity, and the MotorMavens Crew rolls pretty deep, so actually getting a pass to cover the event for the site was an episode in itself. Even though we're
an official Formula D Media Partner
, and we have a
legitimate high traffic automotive site
, Formula D's PR agency didn't want to approve all our media pass requests. I didn't really understand the thinking behind that, but I suppose we did have a lot of photo and video shooters asking for passes!
This being the last round of the year for Formula D, and me traveling all the way out to Irwindale CA from Atlanta GA, I had to do it big. I always like to say 'go big or go home.' It's corny but it's a great way of seeing things - try it and see where it gets you.
Read more...
---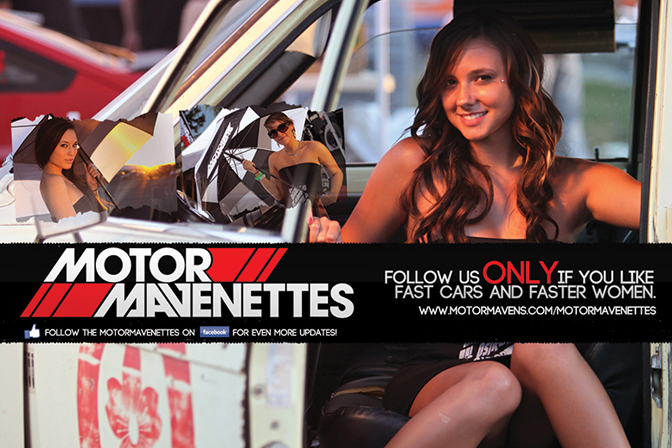 Meet Tailyr, Lauren, the other Lauren, Joanna, and Michelle… The MotorMavenettes! Like the MotorMavenettes on Facebook to check out their exclusive photos and videos ONLY found on (more…)
---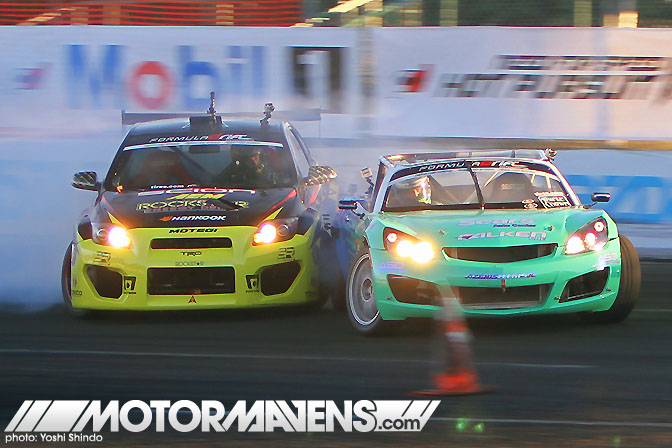 Since
Formula D Seattle
, all the members of the crew have all been super incredibly busy handling all sorts of things related to the website and promotions, so we decided to hold off on our normal "event coverage" stories so that I could write different type of story - something more of a perspective piece. Normally, we always have Antonio write the event stories, because he seems to have the most experience, and he knows all the details of the drivers and everything. However, this time, the guys asked ME to write about my own personal experiences at FD Seattle.
This year's Formula D Seattle marks my first anniversary as a part of the Motor Mavens Crew
. At last year's event, I didn't even know Antonio yet. In fact,
I only met him at the end of the event
, when he was out in the parking lot, chillin with our friends
Ian Dillon
and
Raymond Vazquez
.
I gotta say... this year has been one hell of a ride! Just in this past year, I've attended three other Formula D events, done multiple local drift event coverages, car features, cruises, meets, and everything else in between. As a local Seattle-based contributor for MotorMavens,
my main goal was to blow up the Pacific Northwest scene
since I know it has some of the sickest cars around! We also have some highly skilled drifters up here - such as Formula D drivers
Roland Gallagher, Nikolay Konstantinov, Ian Fournier,
and
Victor Moore.
Since this event was local, there was no doubt that all these guys would be attending. I knew this was going to be a great event!
Read more...
---