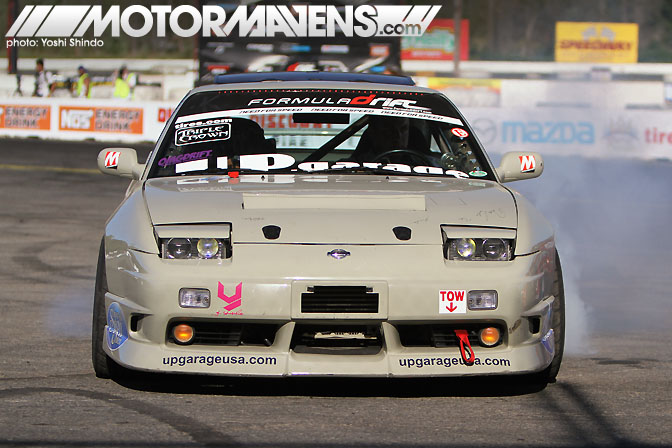 Since Formula D Seattle, all the members of the crew have all been super incredibly busy handling all sorts of things related to the website and promotions, so we decided to hold off on our normal "event coverage" stories so that I could write a different type of story – something more of a perspective piece. Normally, we always have Antonio write the event stories, because he seems to have the most experience, and he knows all the details of the drivers and everything. However, this time, the guys asked ME to write about my own personal experiences at FD Seattle.
This year's Formula D Seattle marks my first anniversary as a part of the Motor Mavens Crew. At last year's event, I didn't even know Antonio yet. In fact, I only met him at the end of the event, when he was out in the parking lot, chillin with our friends Ian Dillon and Raymond Vazquez.
I gotta say… this year has been one hell of a ride! Just in this past year, I've attended three other Formula D events, done multiple local drift event coverages, car features, cruises, meets, and everything else in between. As a local Seattle-based contributor for MotorMavens, my main goal was to blow up the Pacific Northwest scene since I know it has some of the sickest cars around! We also have some highly skilled drifters up here  – such as Formula D drivers Roland Gallagher, Nikolay Konstantinov, Ian Fournier, and Victor Moore. Since this event was local, there was no doubt that all these guys would be attending. I knew this was going to be a great event!
I was so excited for the event, I took Thursday off work so I could just hang out and chill with my friends all day before picking up Antonio from the airport later that night. Earlier on Thursday evening, Nikolay Konstantinov and Randy Sisler from U.P. Garage came to Garage Autohero with two subframes, because they made the upsetting discovery that Nikolay's car failed tech for using an R33 Skyline Subframe instead of the original S13 subframe. In order to pass tech, they had to chop both of them up and merge them to make a custom one. I wonder how some of the other cars in Formula D pass tech?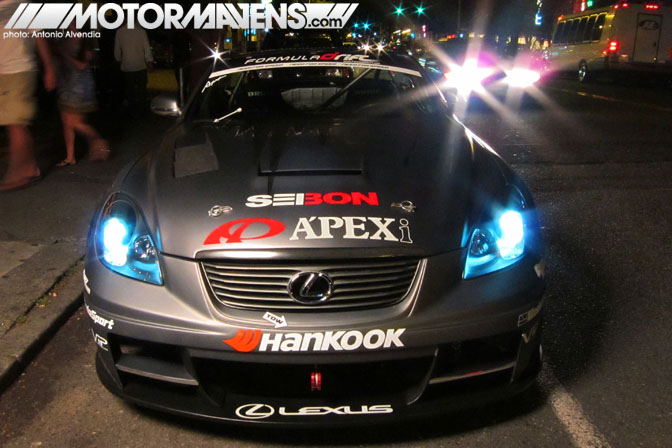 Thursday night before the event, the MotorMavens Crew was invited to the Lexus & Apex'i party down at Amber in Seattle for the unveiling of the Apex'i Lexus SC430. The party itself was fun and I got to meet a lot of people and see faces that I don't get to see that often.
Truly, it was a good night – and even better because I got to witness our boy, videographer/wunderkind, Justin Shreeve misjudge his alcohol intake in true "pre-baller" fashion. No question that the lesson stayed with him all day as he roasted in the aggressive heat of the track with his new BFF (or at least for the day) – Mr. Hangover! LOL!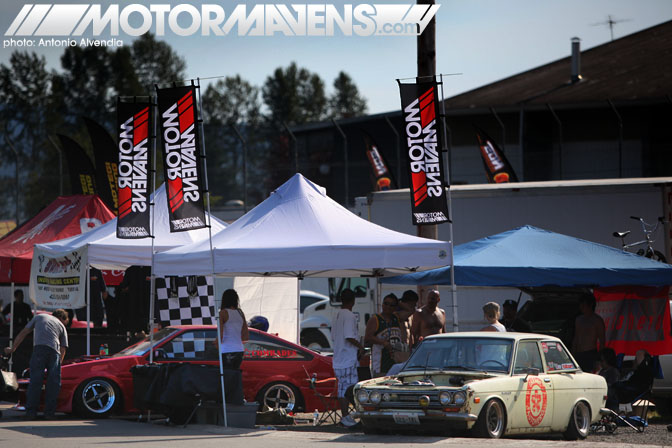 The highlight of this event for me wasn't the cars (nor the girls for once, haha)! It was the Motor Mavens x Garage Autohero booth. I was excited about the new Garage Autohero/MotorMavens collaboration shirt that we did, but what really surprised me was how fast those shirts sold out!
I was also pretty hyped about the fact that we had Tailyr Monette and Gretchen Llantada rocking the MotorMavens x Dstroyr dresses at the event. They were bringing the hotness as our designated umbrella girls! They definitely helped bring lot of attention to our booth! Thank you, ladies!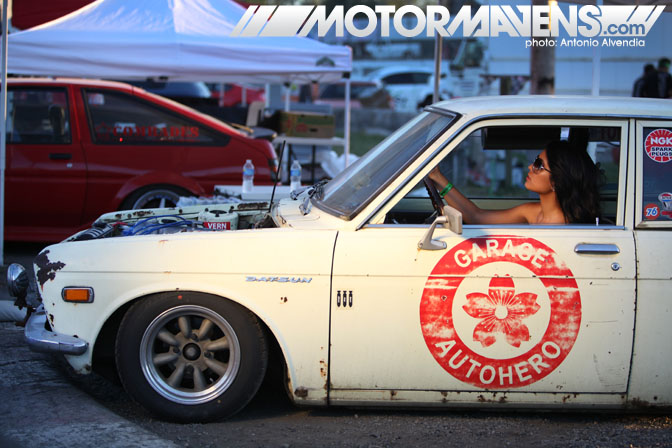 Here's a photo of Gretchen checking her makeup or something in the rear view mirror of Ray's 510. Seriously, Ray's 510 is so low that it had trouble making it over that speedbump/rumblestrip sitting in front of our booth. Looks awesome though!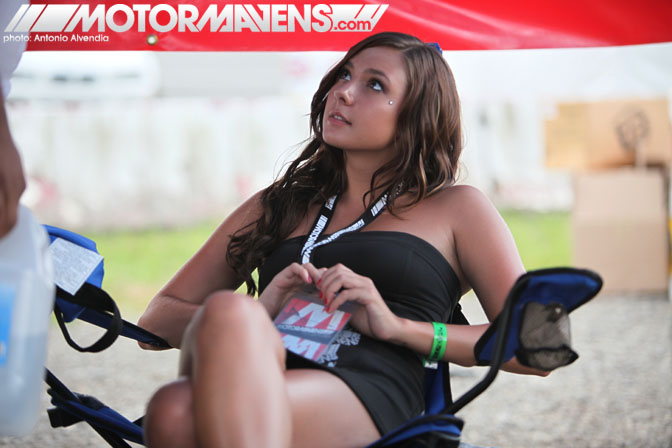 Tailyr was definitely looking good, regardless if she was walking around with her umbrella or just sitting down in one of the folding chairs behind the booth. Damn.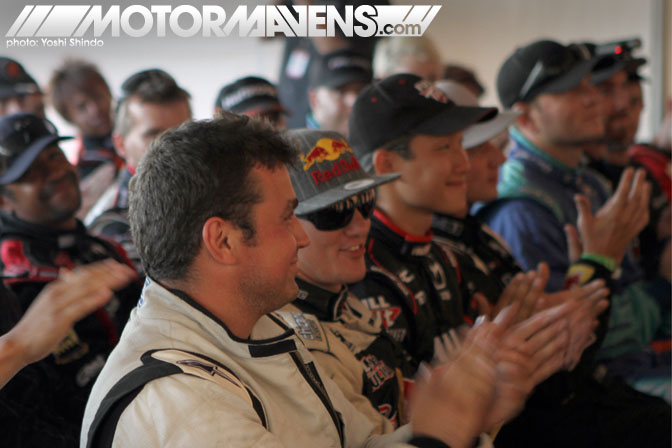 While at the drivers' meeting after qualifying, I was hoping to hear that all the Northwest boys made it into the Top 32. Unfortunately, Roland Gallagher broke his transmission before qualifying; it also sucks that Victor Moore and Ian Fournier weren't able to qualify. However, Nikolay Konstantinov placed 22nd – making it into the Top 32 in his first ever Formula D event! Northwest REPRESENT! Congrats Nikolay!!!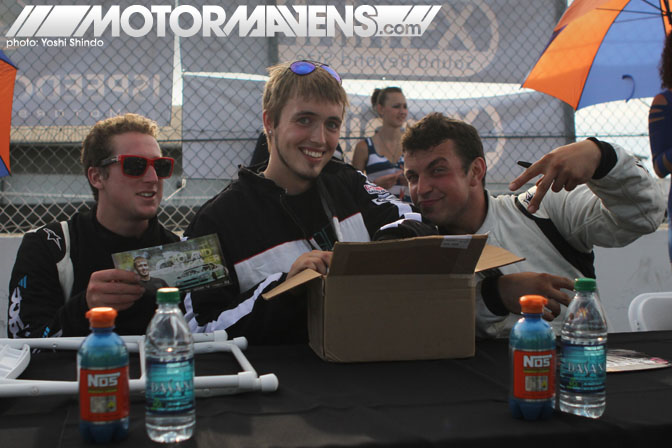 Here are Roland Gallagher, Nikolay Konstantinov, and Matt Field hanging out and getting ready to start signing flyers and shirts for the fans. Nikolay (on the right) always brings the drama to his pictures! I wonder if he practices all his poses in the mirror or something!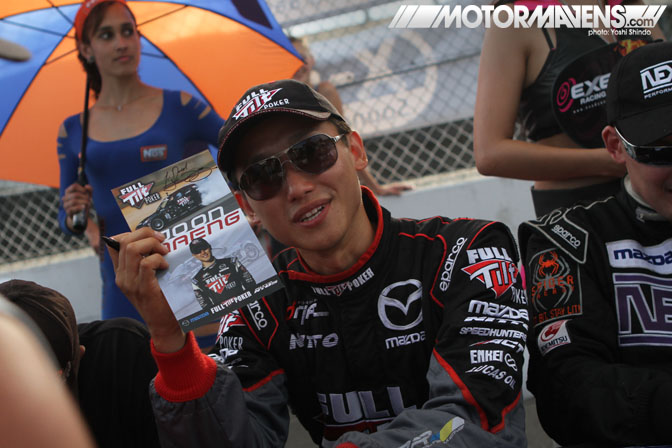 One of the nicest guys you can ever meet is Joon Maeng. I think he was the only one that randomly came up to me and said good morning on Saturday- caught me totally off-guard. Anyone want to hazard a guess as to what that says about me? I'm used to hearing the typical "Hey what up man" or "Hey Yoshi go take photos!" LOL!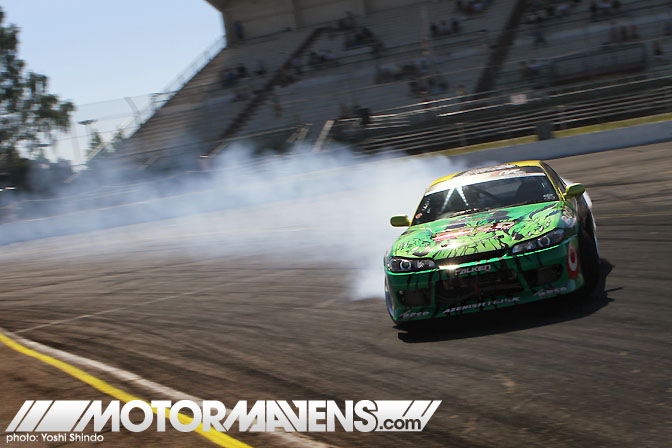 While playing around with Antonio's Canon EF 24-70 2.8L lens, I came up with this pretty cool photo of Ross Petty coming into the "power alley" – it's still one of my favorite cars in Formula D!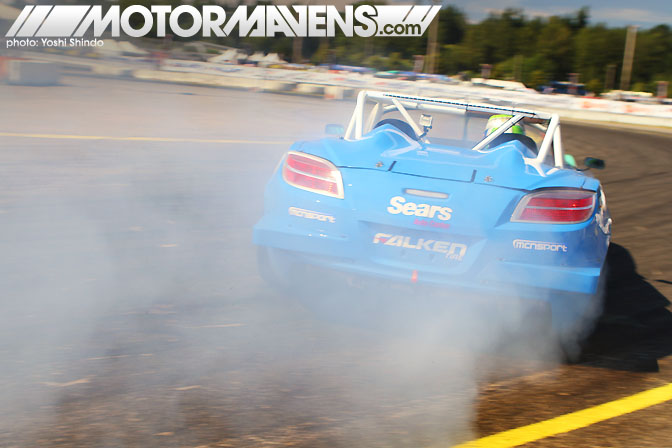 Darren McNamara's Saturn Sky kept getting super close to the wall while passing us in the infield. It was amazing how close we were able to get to the cars on track.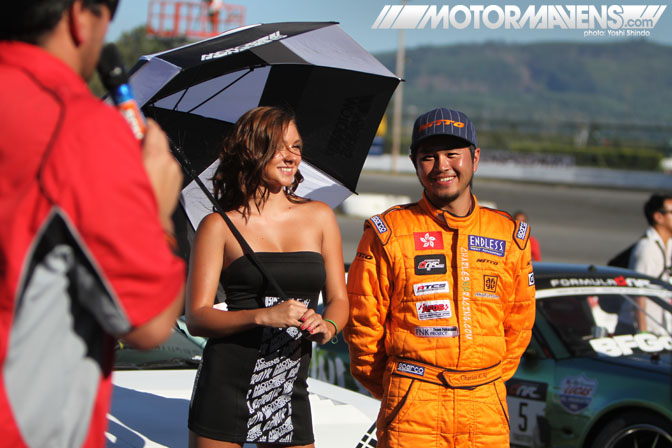 We were extremely happy to see Tailyr Monette and Charles Ng at the Top 16 driver introductions. Obviously, everyone was jocking Tailyr, but Charles was killing it out on the track! He's been getting better and better with his LS-powered FC3S RX7, and made it into the Top 16! Congratulations, Charles!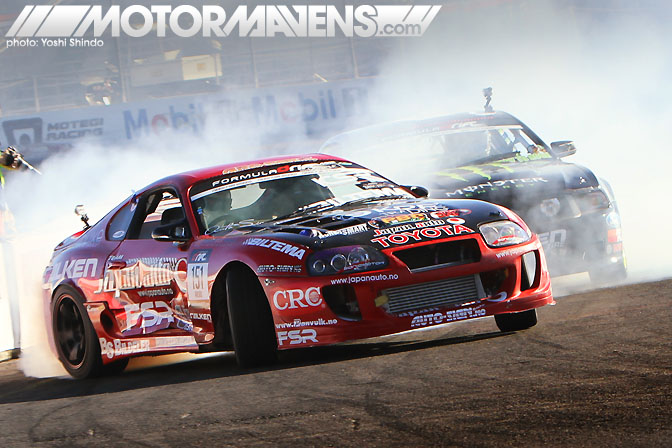 One guy that's been doing very well and getting lots of attention is Fredric Aasbo, with his JZA80 Toyota Supra. You can see the "battle damage" that he got going up against Patrick Mordaunt earlier in the day, but the best battle was the one between Aasbo and Vaughn Gittin Jr's Mustang. Aasbo was eventually beaten in a later tandem round, but I think he definitely impressed a lot of people in the stands, because we were ALL cheering and stomping for Aasbo – that guy is really aggressive with his Supra; no wonder he is so great to watch!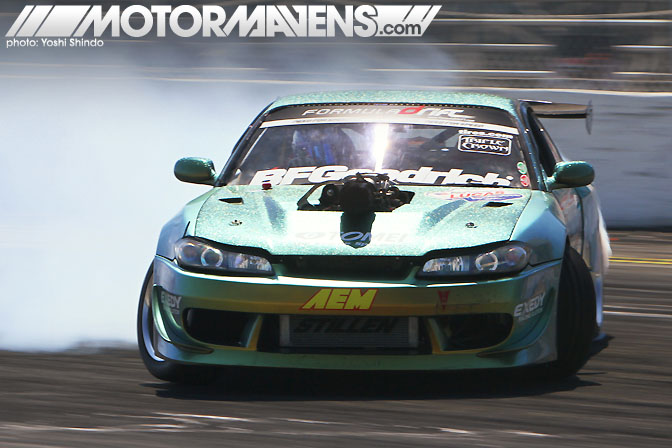 Michihiro Takatori in the Drift Emporium S15 always gives us a great show. Tons of smoke and lots of angle. Takatori is sick!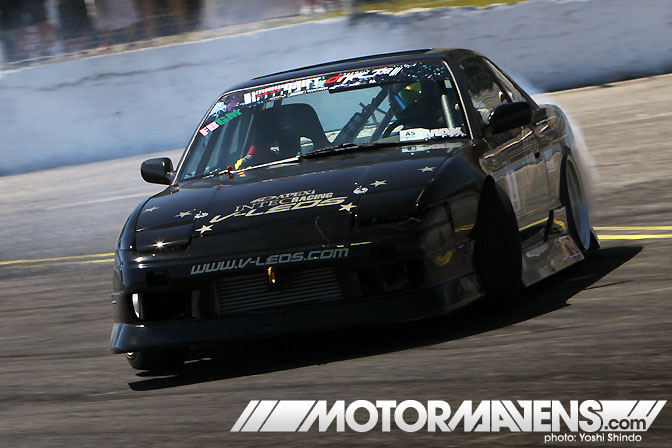 One of the local Seattle Pro-Am drivers, Nik Jimenez, was killing it all day. His car looks cool now that it's clean and black, but it was definitely better for standing out in photos when it had the bright metallic green color on it. Anyway, congratulations on your podium finish, Nik! You earned it!!!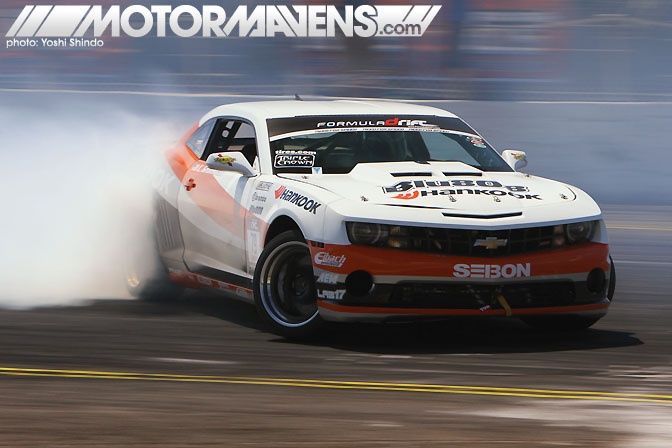 Conrad Grunewald and the Chevrolet Camaro which was one of my favorite V8 cars out on track. I think I like it because it's actually supposed to have a V8 in it. Antonio says he's rocking the MotorMavens sticker on the car because he's down with us, but I couldn't find it anywhere. Maybe it's underneath the car, hahaha.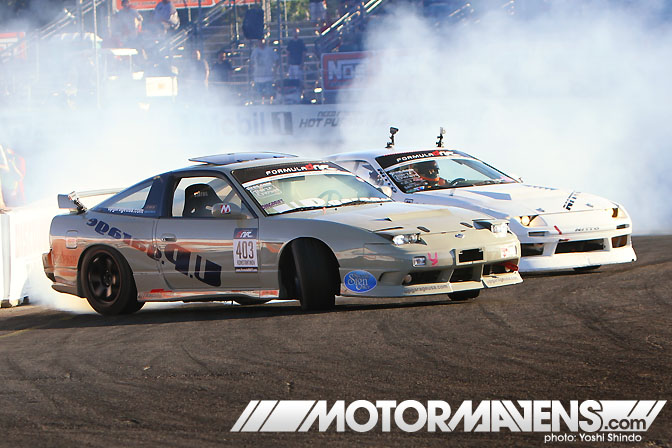 The two FD rookies, Nikolay Konstantinov and Charles Ng,were matched up in the Top 16. It was an intense battle, and at the end, Charles was able to beat Nikolay in a One More Time match. Either way though, everyone is proud of you Nikolay!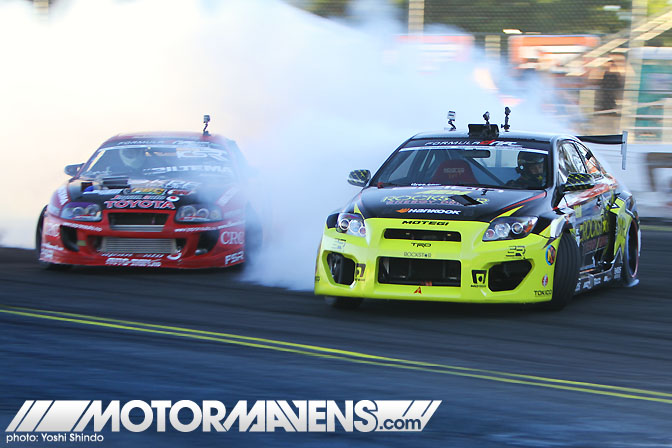 Tanner Foust and Fredric Aasbo seriously put out so much smoke during their tandem runs! I was literally blinded attempting to get a rear shot of them! Seriously, I'm still coughing randomly as I write this!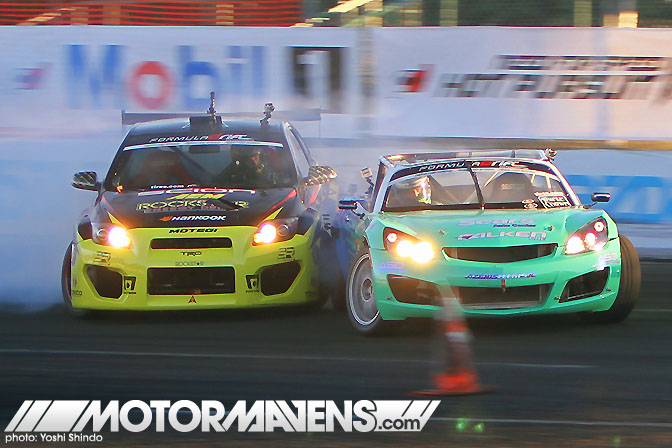 This was one of the craziest tandems I've ever seen. Darren McNamara and Tanner Foust made contact a couple of times, but were able to keep going like nothing happened. They don't call them "professionals" for nothing.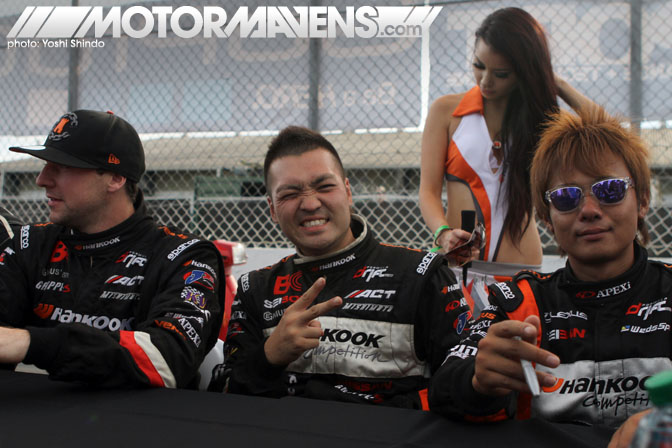 I got a chance to hang out with the Hankook Tire team for a little bit. They're very cool and down to earth, even though they're big time Formula D drivers. Here's Eric O'Sullivan from Ireland, and Robbie Nishida and Ryuji Miki from Japan hanging out at the autograph signing.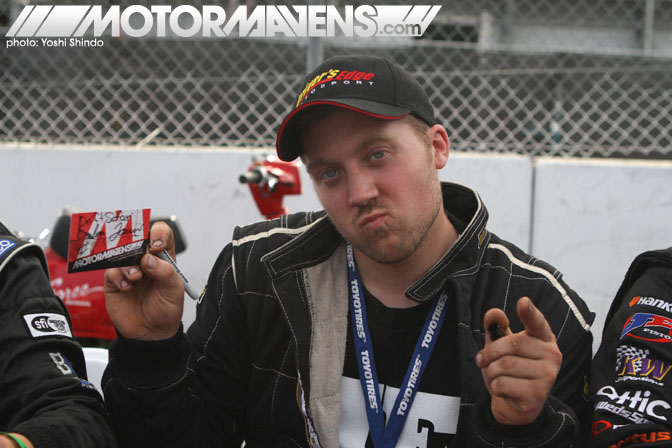 Ian Fournier from the Canadian team Drift Safari was showing us love by signing our MotorMavens flyers and handing them out to the fans! MotorMavens loves Drift Safari and Drift Safari loves MotorMavens! (Hey, but not in that way.)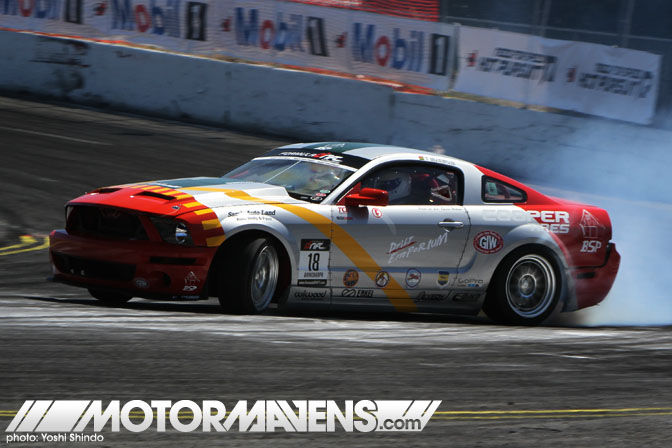 Tony Brakohiapa was coming off the 5/8s bank with lots of speed. Love the paint scheme! I can almost imagine this car swooping down on German fighter pilots like the original Tuskegee Airmen Redtail Mustang fighter planes that the livery commemorates.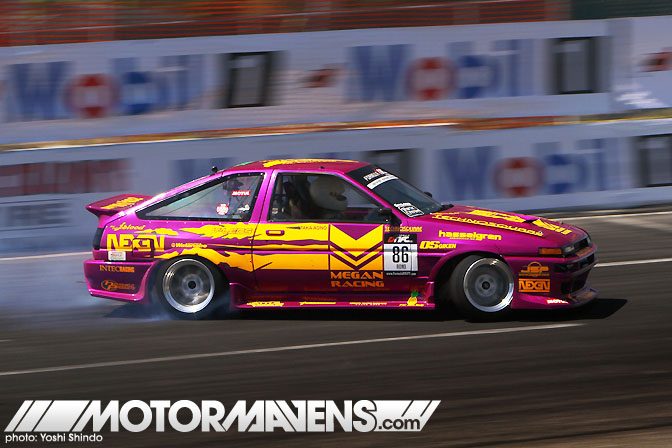 Taka Aono has to be one of my favorite drivers since he still drives an AE86 against the big V8 powered cars. He drives so hard ALL THE TIME. However, during one of his runs, he hit the wall hard enough for his firewall to cave in (towards the driver) and broke his tibia.
For those who don't know, the tibia is one of the major bones in your lower leg – it's not a JDM suspension component! I wasn't even out on track when it happened but Mike Kojima from MotoIQ came by our booth and told us the news. We hope for a speedy recovery Taka!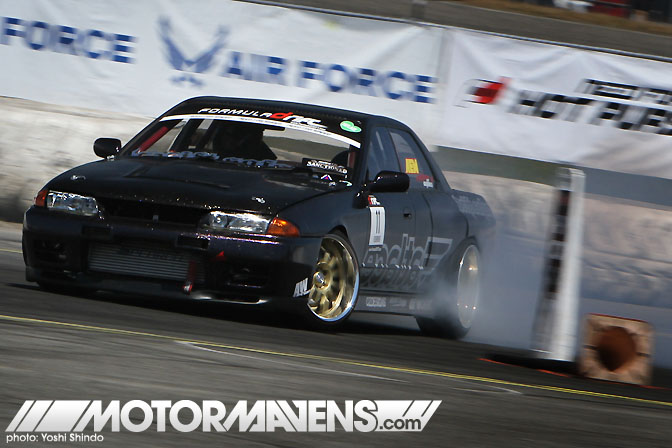 Ian Fournier's four door R32 Skyline looked incredible as Ian drove it, staying super close to the clipping point during one of his practice runs. This has got to be one of the best looking cars in the Formula D series now. Outstanding!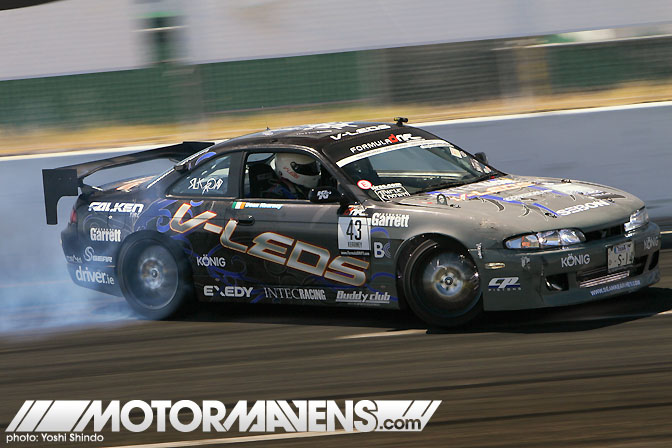 Dean Kearney showed some good agressive driving. He even scraped wall on the 5/8s in the Intec Racing/V-LEDS S14. He broke a good chunk off of his rear wing also.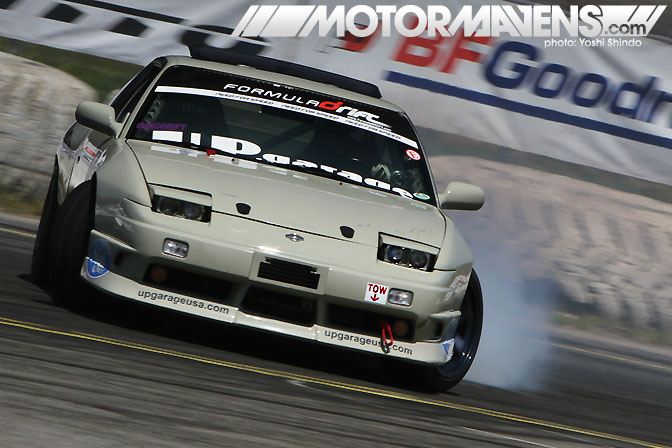 I guess we can call him the hometown hero now.  Nikolay Konstantinov had the biggest crowd cheer I heard all day, and he deserved it!
Here's Mad Mike showing how to get lots of angle. I want his wheels haha!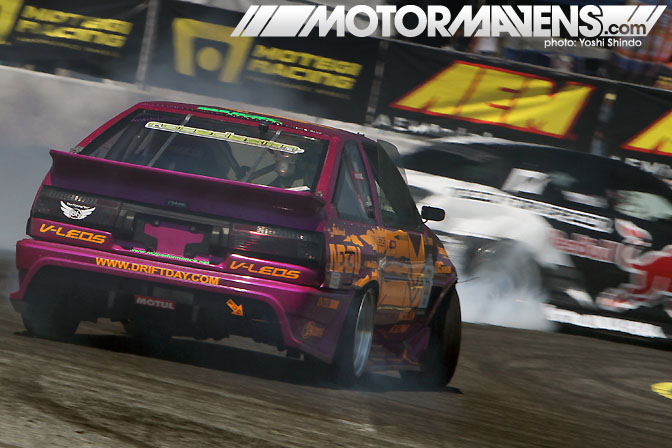 Here's Taka Aono at the final hairpin during one of his practice runs. I hope Taka and his crew can get his car (and his leg) back in shape soon!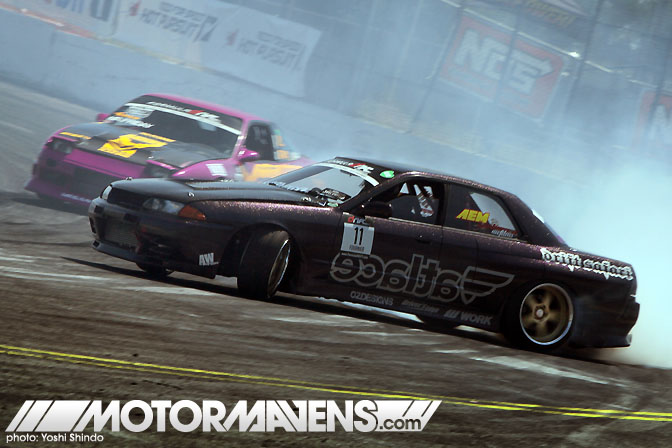 Here's Ian Fournier taking the lead with Cyrus Martinez following. Cyrus placed 33rd in qualifying… 33rd is a disappointing place to be, because he just barely missed qualifying! Cyrus is definitely a driver to look out for… I wish both drivers had made it into the Top 32!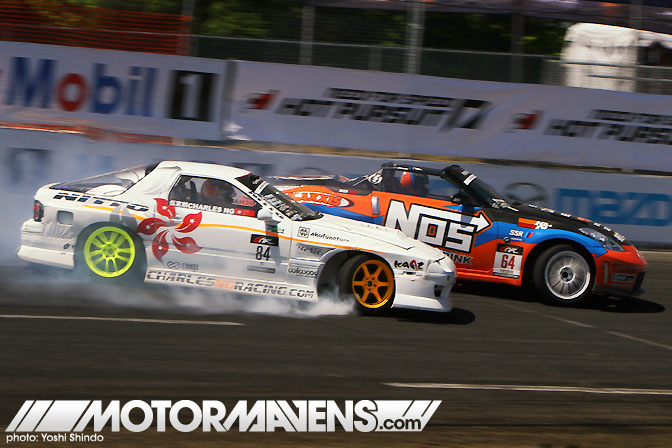 Here's Charles Ng following super close to Chris Forsberg! Charles was moving so fast in his FC that he had to lock up all four to avoid hitting Chris and his Nos 350Z Roadster!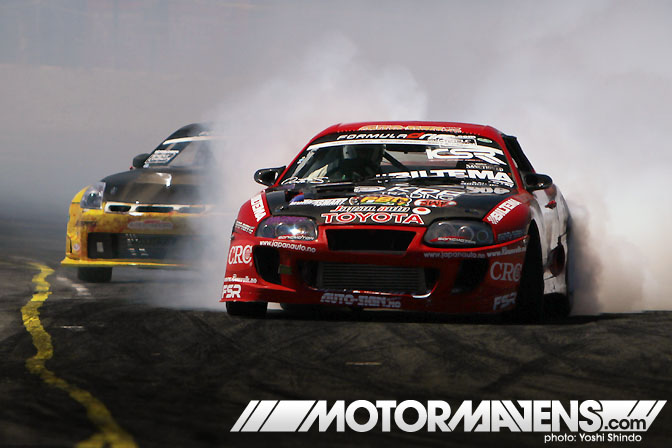 Here's Fredric Aasbo smoking out Patrick Mordaunt. I wonder if Patrick has his eyes closed trying to navigate his way out of there. The day after the event, we spotted Fredric and his crew on the freeway driving into Seattle. Good thing he wasn't driving like this at the time! (Actually, it would have looked pretty awesome to see him manji through the lanes and dip through all the traffic!)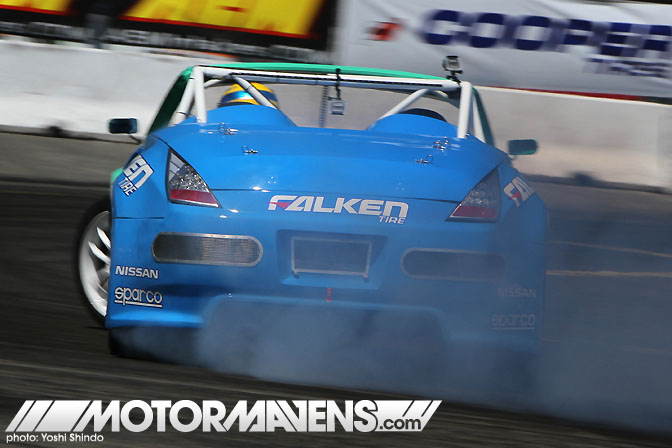 Tyler McQuarrie's day was ended early by a crash. I wish him luck at Formula D Vegas. Tyler is a really cool guy, even though his Falken drift car sits too high. At least his personally owned, daily driven E90 M3 sits legit!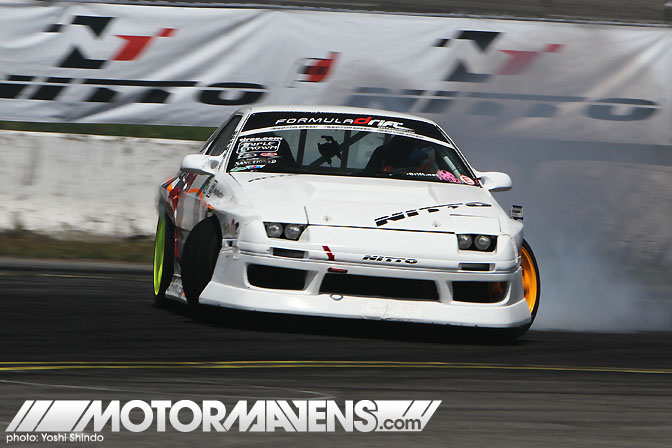 Here's Charles Ng's FC3S RX7 again. As most people know, it's Mike Essa's old car. I need to give Mike props on his car, because it did really well for him, and for Charles as well! Maybe LS engines in FCs are the way to go if you need to compete in Formula D on a budget. However, I heard that this car was something like $30K… so I don't know if you'd really call that "on a budget."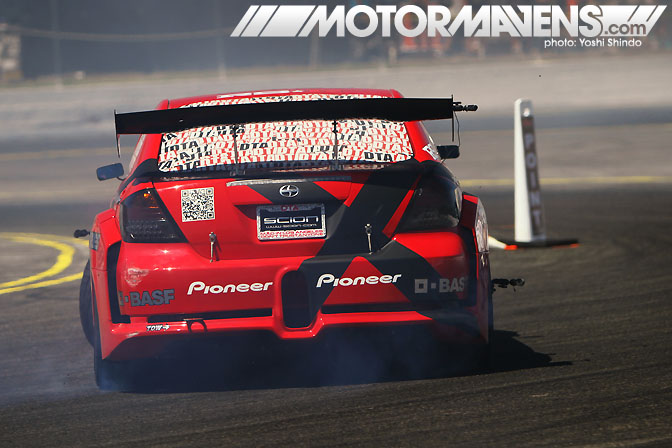 Ken Gushi is a really cool guy, and so are the people from Scion… especially the hot chick that they had at their booth at FD Seattle. (What was her name again, Antonio?) Check out this video footage of Ken Gushi and his Scion Racing tC that Justin Shreeve captured with the ContourHD POV camera.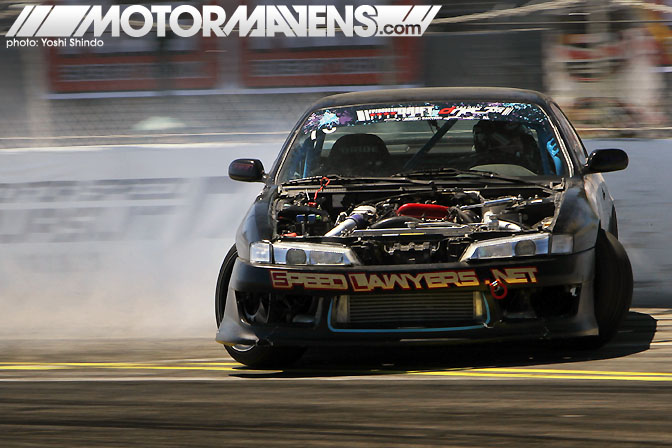 Usually we see local driver Mike Phillips in his light blue RPS13, but for this Pro-Am event (maybe more in the future?) he was driving this S14. It's great to see the Northwest boys coming up!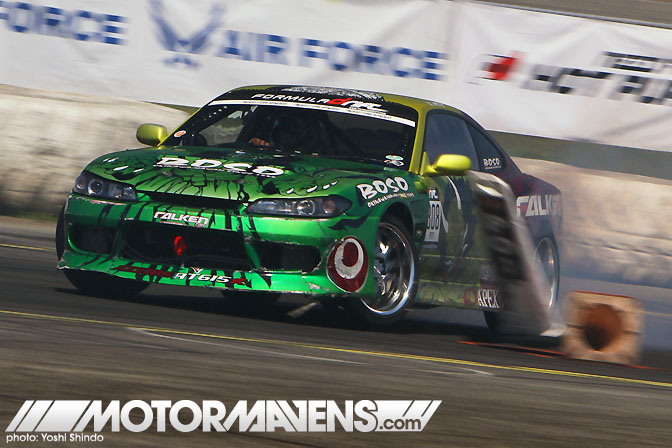 I thought it was cool to see Ross Petty just barely hitting the clipping point. Bad ass! Check out the bottom of his bumper breaking from the hit! Ross is definitely pretty aggressive, and I like that! I also like the fact that he was driving around on a golf cart with Ms Formula D. That's even cooler than driving the S15… GO ROSS!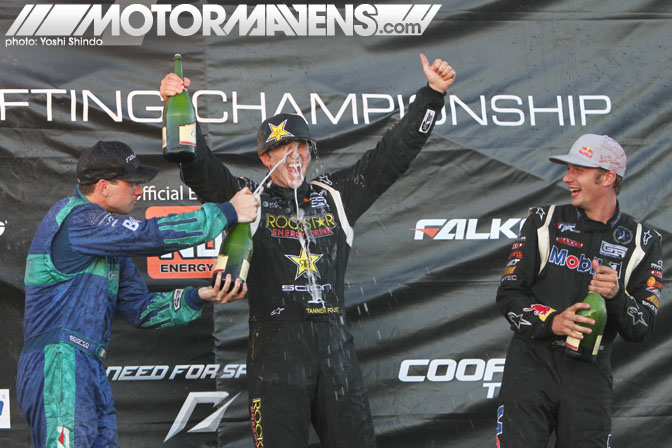 I suppose we should end this story with a podium shot… and it sure is a hell of a shot! When I first began snapping pics of the podium, I was kinda like whatever… until I zoomed in closer to see the drivers' faces!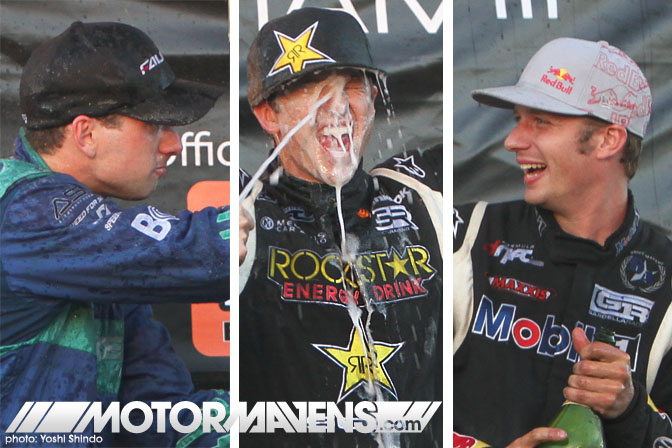 Check this out! It just looks hilarious to me! On the left, you have Darren McNamara looking all pissed off, thinking something like "I'm supposed to be on top of the podium, you bastard!" I guess his lucky charms weren't working for him this round. The funniest thing to me is the look on DMac's face, as he tries to squirt Tanner in the eye so intently! LOL!
Then in the middle, you have Tanner trying to celebrate on top of the podium, where at first he was smiling, like "Yesss!!!" …but then it turns into "Arghhhhhhh, it's in my eye!" Seeing it drip off the rim of Tanner's hat is also pretty funny to me, because DMac just had to be shooting it up there with some intent and precision.
Of course, on the right side, we have Ryan "Hampshaa" Tuerck, trying to stay away from all that mess, like "oh damn, don't get any of that on ME!" hahahahahahahahhahaha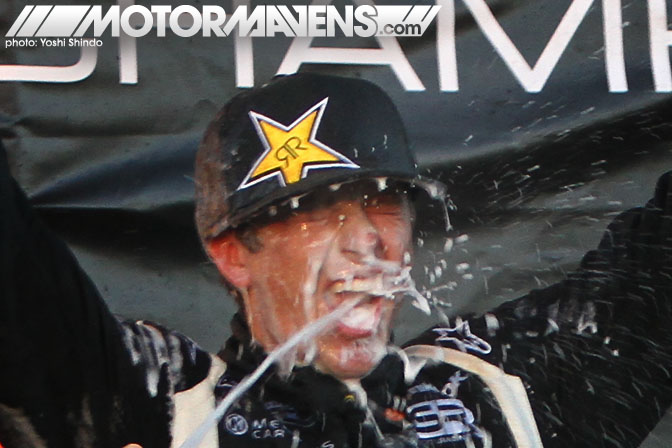 Perhaps the last frame is the craziest. I had to zoom in a bit on this one… because DMac was just going CRAZY with the precision of his aim! He got it all up in Tanner's mouth. Man, that is the craziest champagne ceremony on the podium that I've ever seen in my life.
Regardless, CONGRATULATIONS TO ALL THREE DRIVERS who made it to the top of the podium, and congrats to everyone who made Top 16! Keep racking up those points, guys! We'll see you in Las Vegas!
:: Yoshi Shindo
Apex'i
,
ContourHD
,
Formula D Seattle
,
Formula Drift
,
Formula Drift Seattle
,
Fredric Aasbo
,
Garage Autohero
,
Gretchen Llantada
,
Ian Fournier
,
Justin Shreeve
,
Lexus
,
Nik Jimenez
,
Nikolay Konstantinov
,
Roland Gallagher
,
Ross Petty
,
Ryuji Miki
,
SC430
,
Tailyr Monette
,
Tanner Foust
,
Vholdr
,
Victor Moore
,
Yoshi Shindo
---